Finally, the "bye season" is done. Hopefully you have avoided the injury bug and your team is at full strength for the final few weeks of the fantasy regular season. If it's not, it's time to make a bold move.

To strengthen a team in one of my leagues, I traded away the depth I had at quarterback and a starting wideout for a top quality wide receiver. I'm gambling that I can stay healthy to make my starting lineup as strong as possible over the final five weekends. Now is the time to make a final move to put yourself over the top.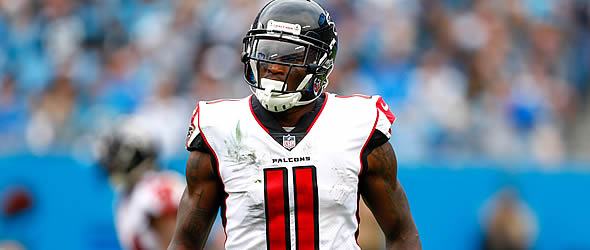 Underperforming: Julio Jones is currently a low-end WR2 with only one touchdown on the season.

Truths

"If the words don't add up, it's usually because the truth wasn't included in the equation." - Unknown

1) I'd rather take my chances with a Bill Belichick running back than a Seattle back.
Itís a trick statement since I have frequently said I wouldnít want a back from either team. But if I was forced to choose a side, it would be with the Patriots because they actually give their guys a fair chance to score. The main problem for the Seahawks is, in the red zone, they would rather pass. Seattle has just 32 rushing attempts in the red zone through Week 10 and the only guy to score is Russell Wilson (RBs are 0-for-30). Meanwhile, they have passed the ball 65 times in the red zone, including 24 times to tight end Jimmy Graham and heís scored on seven of them. Thatís just under 33%. In 2016 it was 39.2% and in Marshawn Lynchís final season in Seattle the team had a much more balanced 47/53 split. By contrast, the Patriots have 61 red zone rushing attempts in 2017 with seven rushing touchdowns and thrown the ball 69 times (46.9/53.1 split).
2) Week 12 could be a difficult time for two of the three hottest quarterbacks.
Since Week 7, the three highest-producing quarterbacks are; Russell Wilson, Carson Wentz and Matthew Stafford (at least two games played). While Wilson has a stellar matchup against San Francisco (ranked 28th in QB fantasy points allowed), Wentz faces No. 4 Chicago (17.1 FPts/G) and Stafford has a Thanksgiving Day matchup with sixth-ranked Minnesota (17.4 FPts/G). And donít look for Blaine Gabbert, who posted a stunning 26.2 fantasy points in his first start this season for help as a fill-in Ö he has the unenviable task of playing the top-ranked Jacksonville Jaguars defense.
3) Paxton Lynch is expected to be named starter Wednesday and might be a decent one-week fill-in on Sunday for those with a poor matchup.
If you go that way, you can be pretty sure you wonít see him pull a ďNathan Peterman.Ē Denver plays at Oakland where the Raiders have somehow managed to go 10 games without an interception (an NFL record). They also are last in sacks with 14, which translates to very little pass rush and no worries about getting the ball picked off Ö ideal conditions for a solid performance. Lynch started two games last season and looked like the rookie he was. Perhaps heís learned a bit in his second season and playing an inferior defense with a new defensive coordinator (Ken Norton Jr. was fired Tuesday afternoon) can showcase his abilities.
4) Justin Tucker is barely start-worthy in a 12 team league.
Based on his scoring average over the first 11 weeks, is no better than 14th-best at his position. He is scoring 7.9 FPts/G although heís been a bit better over his last five (9.8). Many think Tucker is an elite kicker, but from 2012-16 heís finished in the top half-dozen just once (2016). Previously he finished, 2nd, 11th, 11th, 8th and 10th.
5) All signs point to Julio Jones continuing to struggle.
His targets are down. His catch percentage is down. His touchdowns are down. His yards per games are down. See chart below. As the Falcons have improved as a team, and added more talent around him, his production has fallen. Diversification is a bitch, ainít it? Jones still makes ďsickĒ catches, but whenever I see him on the sidelines he seems to be nursing an injury. Iím not sure he comes out of it this season.
| | | | | | | |
| --- | --- | --- | --- | --- | --- | --- |
| †Year | Record | Targets/G | % Team Passes | Catch % | YPG | TDs |
| 2017 | 6-4 | 8.6 | 26.9 | 62.8 | 78.6 | 1 |
| 2016 | 11-5 | 9.2 | 27.1 | 64.3 | 100.6 | 6 |
| 2015 | 8-8 | 12.8 | 32.9 | 67.0 | 116.9 | 8 |
Lies

ďTruth is hard-hearted and unrelenting, too clear, precise; a lie is much more imaginative.Ē Ė Dejan Stojanovic

1) Target hogs guarantee top production.
False. At least not lately. Over the past five weeks, only two of the top-five receivers (based on total targets) have averaged double-digit fantasy points (Jarvis Landry and DeAndre Hopkins). Michael Thomas (51 targets), Dez Bryant (49 targets) and Julio Jones (49 targets) are doing very little with their opportunities. Over the same five-week span, just seven of the top-16 targeted receivers averaged 10 points per game or more. Meanwhile, of the 18 receivers who did average 10 FPts/G, an even dozen of them scored three or more times. Touchdowns are a better indicator. When itís time to score, who does the quarterback look to? Heís your guy.
2) Remember when everyone was praising Nelson Agholor for surviving 2016 and finally showing what he can do?
Not so much lately. He averaged 9.5 FPts/G for the first seven games but posted a three-game combined total of six fantasy points while facing San Francisco, Denver and Dallas in his most recent trio of games. Check the numbers, heís only cracked the 60-yard mark twice in 10 games and heís never earned you the 100-yard bonus. The offense now runs through Alshon Jeffery, Zach Ertz and the three-headed running back committee. Agholor is a WR4.
3) When Aaron Rodgers went down, so did the value of every Green Bay receiver.
False. In case you havenít been paying attention, Davante Adams has been doing just fine, thank you very much. Adams is Brett Hundleyís go-to guy. After a game to adapt, Adams has seen 28 targets over three games and caught 20 of them for 269 yards and a touchdown. Even as the Packers were getting shutout by Baltimore last Sunday, Adams posted 126 yards. Heís ranked 12th among all wideouts and Rodgers might be back in time for the fantasy championship.
4) Mark Ingram and Alvin Kamara can continue at this pace.
Over the past five games the pair is ranked second and third in FPts/G behind the suspended Ezekiel Elliott. They have been fantastic. But going back through history (or at least to 2001), I canít find any examples where two backs on the same team, who stayed healthy, finished the season in the top-five. The closest I saw was a pair of top-10 backs in 2009 Ė Ronnie Brown (ninth) and Ricky Williams (10th). At some point a defensive coordinator is going to decide to take away the running game. Of course when they do, Drew Brees is going to hurt them, but thatís the secondary coachís problem.
5) Jimmy Garoppolo could be a wild card down the stretch and worth stashing.
Unlikely. When last we saw rookie quarterback C.J. Beathard he was leading the 49ers to a big 31-21 win over the New York Giants. Therefore, Beathard is likely to start in Week 12 against Seattle. San Francisco plays Chicago in Week 13 which isnít a good matchup. The Bears rank fourth in QB fantasy points allowed. At best, Garoppolo could start in Week 14 against a weak Houston team. Then itís Tennessee and No. 1 Jacksonville. Remember, he doesnít have Julian Edelman, Chris Hogan or Rob Gronkowski to throw at. He doesnít even have Pierre Garcon. His starting wideouts are; Marquise Goodwin and Aldrick Robinson. Tread lightly.

---
Steve Schwarz served as the fantasy sports editor of The Sports Network and is the 2014 FSWA Football Writer of the Year.