Fantasy Football Sleepers




8/13/10



Why is it that some fantasy owners start losing focus once their draft gets down to the last half-dozen or so rounds? It seems visits to the restroom become more frequent during this time, and a general sense of ambivalence sweeps across the room. Not dramatically, but enough where it's noticeable. But while this may be a time when others simply go through the motions, you should use this time to show your preparation and tact by solidifying your roster with late-round selections other may have allowed to slip by. Here's a look at a handful of players who could sneak into the latter part of your draft and represent big bargains for your fantasy squad.

TE Chris Cooley, WAS
ADP: 10.08

When you've scored a total of three TDs in your last 23 regular season games, it's easy for you to fly under the radar of fantasy owners everywhere. That's been Chris Cooley the last two years. Whether his below-average numbers are the result of a dreadful offense in Washington, a downward trend in his skill set, a number of nagging injuries, or a combination of all the above, it should be known that Cooley's true value isn't in the previous 23 games; it's in the immediate future.

New QB Donovan McNabb and new head coach Mike Shanahan will look to use the most talented receiving option the Redskins' roster. McNabb helped put Philly TE Brent Celek on the fantasy radar the last couple years, and Shanahan often formulated his offensive gameplan around the skills of TE Shannon Sharpe while in Denver. Both the signal-caller and the coach know what it takes to incorporate a TE into the attack. Cooley, when healthy, is one of the top 4 or 5 TEs in the NFC, and with his recent history, can be had for a blue light special kind of price.

WR Steve Breaston, ARZ
ADP: 9.02

Some may look at the retirement of Kurt Warner and the probability of Arizona depending more on the ground game in 2010 and downgrade Steve Breaston on their cheat sheet. While those are strong likelihoods, Breaston remains a solid fantasy option this season. Sure there may be fewer called pass plays this year, and sure Larry Fitzgerald will see the king's share of pass attempts. But Breaston will step into the role of Anquan Boldin and put up big numbers.

Keep in mind that when Boldin was injured in 2008, Breaston replaced him and immediately put up ridiculous numbers: 33 catches for 392 yards in the four games following Boldin's injury. His production fell off a bit in 2009, but make no mistake about it—Breaston is as solid as a low #2/high #3 fantasy WR can be. His value may plummet about a round or two based on the circumstances around him, but Breaston is definitely someone to keep your eye on come draft day.


QB Jason Campbell, OAK
ADP: 14.02

I've always been a fan of Jason Campbell and felt he never truly got an opportunity to shine in Washington. It seems they were always looking to replace the guy, and certainly former 'Skins head coach Jim Zorn's anemic offensive game plans didn't help. Campbell is now in a situation where he's needed and wanted and will be looked to produce. Oakland is my surprise team this year, and a lot has to do with who's under center. Campbell's going to have something to prove this season and will play well as a result.

Outside of TE Zach Miller, Oakland's receivers aren't anything special though. However, I still believe Campbell will utilize the weapons around him and maximize their ability. Unlike the QB he replaces in Oakland, Campbell doesn't make a lot of mistakes, plus his completion percentage has increased each of his four years in the league. Bottom line: Campbell is an ascending player, both fantasy and in the NFL. He could turn out to be a solid late-draft selection.

QB Matthew Stafford, DET
ADP: 11.10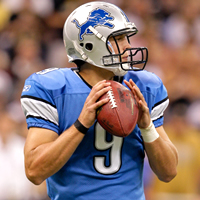 Stafford could be one of the biggest darkhorses this season.
As a longtime suffering Detroit Lions fan, believe me when I say it's a task putting Matthew Stafford on this list. But as a trained journalist, I learned many years ago the tenets of objectivity in the industry. So with that said, (gulp) I think Stafford could be one of the biggest dark horses this season, and here's why. Detroit addressed every conceivable weakness on the team, especially on offense. A fortified offensive line, an improved running game with a multi-faceted rookie in Jahvid Best, as well as the addition of other receiving options outside of Calvin Johnson—WR Nate Burleson and TE Tony Scheffler. None of these players could do much individually, put collectively they give Stafford the kind of supporting cast that could help propel the youngster to surprising things in 2010.
Stafford took a beating in 2009. His courage and focus under fire, though, helped endear him to the entire city. That in and of itself won't help win football games, but the fact that Stafford is thought of so highly by the fans and, by all accounts, his teammates, can go a long way. He's going to have to cut down on the 20 INTs he had last year, but another year in offensive coordinator's Scott Linehan's scheme should help. His play last season was hit or miss—mostly miss—but I think he's primed to shock a few people in 2010.
WR Golden Tate, SEA
ADP: 11.04

It may appear on the surface that rookie Golden Tate has a long climb up the receiver depth chart in Seattle, but a look at who's above him reveals why the Seahawks drafted him so early in the first place: Ruvell Martin, Deion Branch, Deon Butler. Only Branch has done anything significant in his career—and his last relevant season was in 2005. Tate's skill set was put on display on a weekly basis at Notre Dame, thanks in no small part to former Irish head coach Charlie Weiss. I see new Seahawk head coach Pete Carroll using him in a similar fashion.
Tate is not a speedster by any stretch. He's a possession receiver much like fellow receiver TJ Houshmandzadeh, so the short passing game could be the M.O. for this offense that's led by QB Matt Hasselbeck. Seattle could be a boring offense to watch. They have no real deep threat and Hasselbeck is getting up there in age. But Tate strikes me as one of those rookie WRs that could be money in PPR leagues. Finishing with 60-65 catches is a realistic possibility for the former Fighting Irish wide out.
WR Demaryius Thomas, DEN
ADP: 10.01

The Denver Broncos had to replace Brandon Marshall and look to have done so with a physical clone of the veteran. The 6-3, 230 lbs. rookie receiver Demaryius Thomas should quickly move up the depth chart and become Kyle Orton's (or Brady Quinn's, or Tim Tebow's) favorite target. Replacing Marshall was job #1 for the Broncos heading into the season. Names such as Jabar Gaffney, Brandon Lloyd and Brandon Stokley occupy the receiver position as well. All of them fine human beings, I'm sure but relying on that stable of stalwarts to win football games would be a bit of a stretch.

Thomas will take over the flanker position left vacant by Marshall's departure—a position, remember, that saw Marshall catch at least 101 passes each of the last three years. Thomas won't catch 100 passes this year, but his role and importance in the offense should be understood as you decide to use a late-round pick on the rookie. The potential three-headed monster at QB in Denver notwithstanding, Thomas could really be the focal point of an offense in need of a true identity.
RB Ahmad Bradshaw, NYG
ADP: 7.05

Despite battling two sore feet all last season, Ahmad Bradshaw still finished with the best numbers of his career. His seven rushing TDs led the New York Giants, even though the G-men suffered offensive line woes most of the season. Bradshaw is a good change-of-pace RB who is more than capable of filling in for the oft-injured manchild, Brandon Jacobs. And therein lies Bradshaw's true value. The nicks and scraps Jacobs routinely gets will inevitably give Bradshaw an opportunity to become a worthy fantasy player.
Bradshaw is far from being an every-down back, yet he remains a good fantasy option beyond those Jacobs owners looking to simply use him as a handcuff. His speed to the perimeter complements Jacobs' brute running style very well, and he runs tough between the tackles. Bradshaw had a few really productive games last year—a 104 yard game against Tampa Bay and a 110 yard game against Oakland. The interesting part is he did that damage on only 24 carries COMBINED. That illustrates Bradshaw's explosiveness and the possibility that exists with him on your team.