Do not forget that the season is still early, and the sample size is still small. However, at the same time you must balance that reality with the fact that we are through 1/8 of the fantasy season. We must pay attention to the trends we are seeing as it relates to player usage, as opportunity is a prerequisite to fantasy success.

Here are some of the most important usage statistics through Week 2: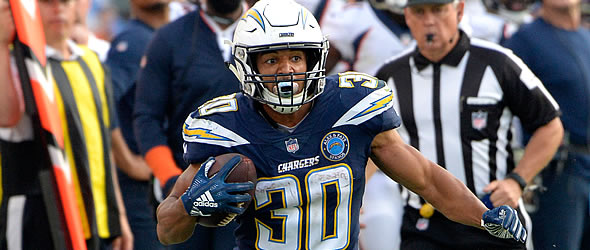 Christian McCaffrey again played 100% of snaps. In Week 1 he was a stud and in Week 2 he was a dud, but his snap count stayed at the max. His success will likely depend on game script and on Cam Newton's effectiveness.


Five backs other than McCaffrey played over 70% of snaps: Leonard Fournette, Saquon Barkley, Ezekiel Elliott, Austin Ekeler, and Dalvin Cook. More often than not, a high snap count will lead to more opportunity and better stats. In Fournette's case, I would advise patience as he is the only one of the group underperforming.
Alvin Kamara played 65% of snaps while Todd Gurley played 64%. It was expected that the Rams would scale back Gurley's snaps, but it was a bit of a surprise to see Kamara's percentage decrease by 11 percent, particularly in a game where the Saints trailed throughout.
Peyton Barber jumped from 36% of snaps in Week 1 to 65% of snaps in Week 2. It is impossible to tell if that trend will continue or if head coach Bruce Arians will continue to tweak his backfield week to week.
Carlos Hyde played on 61% of the Texans snaps, and garnered 20 carries to Duke Johnson's 6. Hyde is the lead back in Houston.
Aaron Jones' snap percentage remained steady at 59%. He just did a lot more with them in Week 2 (23-116-1; 4-34-0). This was the second straight week he faced a stout defense, indicating big things are coming for him this season.
Chris Carson fell from 77% of snaps to 54%, as Rashaad Penny had a nice day (10-62-1). Penny had 11 touches to Carson's 18. What looked like a dominant hold on the rushing work for Carson now looks much more like a timeshare.
Derrick Henry and Dion Lewis each got 50% of the snaps. Now might be an excellent time to sell Derrick Henry.

Notable running backs who played under 50% of snaps: Sony Michel (49%), Phillip Lindsay (48%), Josh Jacobs (46%), David Montgomery (44%), Miles Sanders (43%), Tarik Cohen (38%), Devin Singletary (33%). All are risky given this low snap count, although be aware it could be related to game flow or matchup.

Tarik Cohen went from 70% snap count in Week 1 (mostly playing as a slot receiver) to 38% snap count in Week 2. Not a good sign for consistent fantasy production.
Robert Woods had an off game (2-33; 1-9) but played on 99% of snaps.
With injuries to Alshon Jeffery and DeSean Jackson; Nelson Agholor, JJ Arcega-Whiteside, and Mack Hollins moved into every-down roles (all over 85% of snaps).
Demarcus Robinson played on 91% of snaps for the Chiefs. He is worth a start for as long as Tyreek Hill remains out of the lineup.
Stefon Diggs went from 60% to 89% of snaps in Week 2. He only had one reception but had seven targets, so better days are ahead.

Marquez Valdes-Scantling had a rough day as well, but played in 88% of snaps (Allison played only 46% of snaps).
The wide receiver snaps for Jacksonville were again dominated by D.J. Chark (82%), Chris Conley (85%), and Dede Westbook (87%).
Deon Cain jumped from 17% of snaps to 46%. However, he wasn't targeted. Chester Rogers (40%) got 4 targets. For Cain to be relevant, he needs to jump into the 60-70% range.
Hunter Renfrow jumped from 28% to 75% of snaps and led the team in targets with 8. He is worth a speculative add if you have a deep bench.
Antonio Brown played in only 33% of snaps, yet had 8 targets, by far the most on the team. His usage was limited because he is still learning the offense and the game was a blowout.
Miami's Preston Williams jumped to 68% of the snaps. If the offense improves at all, he could become relevant quickly.
Marquise Brown played in 65% of snaps, up from only 18% in Week 1. He received 13 targets! The coaches are apparently comfortable with his health, and he looks to be locked in as a starter in this exciting Ravens offense.

Anthony Miller jumped to 52% of snaps, which is likely the reason Cohen's snap count fell. Miller only got 1 target, however.
Dante Pettis jumped from 3% to 49% of snaps. However, he did not have a target. It is difficult to tell if there is an issue between Pettis and Shanahan or Pettis and Garoppolo. For him to have any fantasy value at all, the issue(s) must get fixed.
Cole Beasley fell from 70% to 49% of snaps. It is likely because the Bills took a lead on the Giants and shifted to a ball-control offense.
Snap percentage for the 49ers receivers: Goodwin 51%, Pettis 49%, James 46%, Samuel 40%, Bourne 32%. Until they figure out how they want to play offense, avoid them all.
A.J. Brown did not receive a significant increase in his snap count (45%), even after an excellent Week 1
Donte Moncrief fell from 90% of snaps to 32%, as I would have expected. He is playing poorly.

KeeSean Johnson of the Cardinals fell from 76% of snaps to 32%. He can be dropped, as Michael Crabtree is stealing his opportunities.
Darren Waller played 95% of snaps (100% last week). He is a top-10 tight end.
O.J. Howard had zero stats on 92% of snaps. He appears to be in Bruce Arians' dog house who stated this week: Howard can play "a heck of a lot better than he's playing."
Virgil Green played on 88% of snaps after Hunter Henry's injury but only had two targets.
T.J. Hockenson played on a higher percentage of snaps in Week 2, but obviously struggled to get free. The defense likely schemed to take him away.
Gerald Everett played on 71% of snaps, up from 39% in Week 1. If that continues, his production will increase.
George Kittle's snap count fell from 91% to 67%. What is Kyle Shanahan doing?
Matt LaCosse played in 58% of the Patriots snaps, catching 2 passes. He may be worth a speculative add for those hurting at tight end.
Unbelievably, Mark Andrews played only 53% of the snaps while playing 42% in Week 1. He is the top-scoring tight end in the league. Imagine if he was playing 90% of snaps.