The NFL reported 56 cases of Covid-19 for the week of November 1 - 15 players and 41 tier 1 and 2 personnel. Ben Roethlisberger has been placed on the COVID-19 list for just sitting next to Vance McDonald (positive) on the flight home from Dallas. This type of issue should only increase as teams (and the country) fight the ever-increasing virus. Fantasy owners must continue to value roster depth over a thin, but talented starting roster, as the virus, and byes, force multiple lineup adjustments.

Week 10 byes: Atlanta, Dallas, Kansas City and New York Jets.

Truths

"All great truths begin as blasphemies." – George Bernard Shaw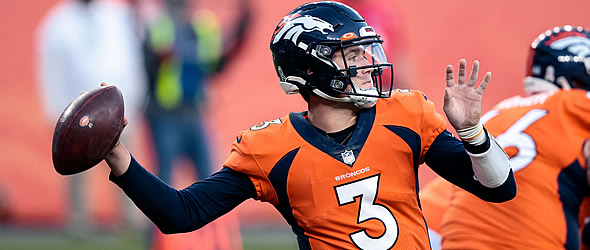 1) Beware of overvaluing Drew Lock.
Yes, Lock has played very well the past two games producing 58.7 fantasy points (29.3 FPts/G), but remember who the Broncos were playing before going overboard in your evaluation. He faced two bottom-10 fantasy defenses (QB fantasy points allowed) in the Chargers (ranked 25th) and the Falcons (31st). He'll have two more "playable" games (Las Vegas and Miami) before the schedule gets tougher. By Week 12 you should have either traded him or have another plan in place for the fantasy playoffs.
2) Russell Wilson is still the favorite for NFL MVP (+125 at Parx Casino in suburban Philadelphia), but if I were a betting man I'd be putting down some coin on Arizona quarterback Kyler Murray (+3300).
Wilson, Patrick Mahomes, Aaron Rodgers Dalvin Cook and Alvin Kamara are having excellent seasons, but the second-year quarterback out of Oklahoma is playing at an MVP-caliber level. Murray's numbers look similar to, or better than, those Lamar Jackson produced in 2019 when he took home the award. Through eight games Murray is on pace to throw for 4,260 yards and 32 touchdowns and run for 1,086 yards (7.1 ypc) and 16 touchdowns. He's producing a league-leading 34.1 FPts/G. In 15 games last season, Jackson threw for 3,127 yards and 36 touchdowns while he rushed for 1,206 yards (6.9 ypc) and seven scores. Jackson averaged a league-leading 30.9 FPts/G. If Murray carries the Cardinals to the playoffs, in what might be the toughest division in football, he should be a top candidate for both NFL MVP and fantasy MVP.
3) There is Christian McCaffrey (30.1 FPts/G), Cook (28.2) and Kamara (26.5) … and then there is every other running back in the league.
The trio has easily separated themselves from the rest. There is more than a five point-per-game gap between No.3 Kamara and No.4 Aaron Jones (21.3). By the way, in Week 7 I wrote that Mike Davis would get about 17% of the snaps/usage when CMC returned to the lineup (similar to the 2019 Ezekiel Elliott/Tony Pollard usage rate). In fact, McCaffrey played just 71% of the snaps and Davis 31%. McCaffrey's 28 touches were 82% of the 34 touches the two backs received. Of course, CMC did a lot more with his (37.1 FPts – 8.7) than Davis. McCaffrey injured his shoulder in the game and fantasy owners will have to stay on top of this injury as it appears Davis won't be fantasy-worthy unless McCaffrey sits.
4) Richie James is a mirage.
Sure, anyone who simply looks at a box score will see 13 targets, nine receptions, 184 yards and a touchdown will say "I must have him." Look again. San Francisco was without Brandon Aiyuk, Kendrick Bourne, Deebo Samuel and George Kittle. They are still without Kittle, but Aiyuk and Samuel were just "close contact" list players not test positive cases and should be back. Bourne might be back too. Raheem Mostert might be back as well and that would mean the 49ers go back to being run-first. It is unlikely Nick Mullens throws the ball 35 times or James sees 14 targets.
5) New England backfield is a disaster to be avoided.
True, as it is most seasons. First off, there are four options going in and out of the lineup: Rex Burkhead, Damien Harris, Sony Michel and James White. Harris and Michel are pure runners, White is the best receiver and Burkhead the best combination runner/receiver in the group. Together the four have played a combined 22 games (due to multiple injuries) and have produced just one game above 16 points (Burkhead in Week 3). And of course the worst of all worlds plays quarterback – Cam Newton. He's an inaccurate passer, who gets his fantasy points by poaching running back touchdowns. He's scored eight times with his legs, all from the red zone and seven from inside the five-yard line. Those should be RB points and makes starting any Patriots running back an act of desperation.

Lies

"Statistics: The only science that enables different experts using the same figures to draw different conclusions." – Evan Esar
1) "I actually thought they should've kept Nick Foles rather than Carson Wentz just based off production and where they got to," Brett Favre said on First Take Tuesday morning. "They won a Super Bowl with Foles."
Horribly wrong. As we have seen since Foles left Philadelphia, he couldn't keep the job he was given in Jacksonville and he's been even worse in Chicago. His record since leaving the Eagles is 2-8. Sorry, Mr. Favre, but Foles played three excellent games in the 2017 playoffs (and all Philadelphians thank him), but it was Wentz who got the Eagles in position to make the Super Bowl run. And it's Wentz who has a much higher upside both in real life and for fantasy owners. Additionally, Wentz is four years younger. Hopefully, Favre's friendship with Doug Pederson isn't influencing (read poisoning) the Eagles' head coach in any way. By-the-way, Wentz's idol growing up was Favre. Any wonder why he's a gunslinger who takes foolish chances.
2) The Indianapolis backfield is a fantasy mess.
False. Jonathan Taylor was supposed to the star draft choice to take over the backfield, but Nyheim Hines and Jordan Wilkins have both been involved this season. Still, a closer look shows Taylor is still the first option and the most reliable. He's produced double-digit points in six of eight games. The only times Taylor didn't lead this backfield were in two games when Hines scored multiple touchdowns. Taylor hasn't put up any really big numbers because he's still not involved enough in the passing game and he's yet top crack the 20-point mark which frustrates fantasy owners, but he's the steadiest back in the RBBC.
3) JuJu Smith-Schuster is now getting the targets and could return to his 2018 production level.
Never going to happen. Yes, over the past three away games the wideout has seen 29 targets (and caught 22 for 245 yards and one score), but he will never return to his 2018 heights (111-1,426-7). First reason being he doesn't have Antonio Brown getting double coverage and allowing him to roam free. He's the guy defenses are watching allowing Diontae Johnson, Chase Claypool and even tight end Eric Ebron to make the big plays. That's good for the Steelers, but bad for Smith-Schuster's fantasy value. Time to face facts, he's not a fantasy star. At best he's a WR2. At worst he's a decoy for the more elusive Johnson and Claypool.
4) Eagles executive vice president and general manager Howie Roseman will straighten out the team's wide receiver issues.
Sorry no. Howie has no clue how to draft wide receivers. Here are just four examples of his ineptitude at this position since 2013. This season he chose Jalen Reagor (8-112-1) over Justin Jefferson (34-627-3). In 2019 he selected JJ Arcega-Whiteside (2-45-0) over D.K. Metcalf (43-788-8). In 2015 Tyler Lockett (53-615-7) was drafted 49 picks after the Eagles drafted Nelson Agholor (17-347-5 with Las Vegas). In 2014 he chose Jordan Matthews (out of the league) 11 picks ahead of this year's No.1 wideout Davante Adams (53-675-8). I could continue, but as a loyal Eagles fan, it's just too painful.
5) Ravens tight end Mark Andrews (ranked ninth at 10.7 FPts/G) is a consistent fantasy option.
Actually, Andrews has put together three great days (20 points plus) and five ugly games (6.2 points or less). He's yet to crack the 60-yard mark. It's not likely to get better anytime soon. In his next three games he goes up against two top-three tight end defenses (No.2 New England, No.21 Tennessee and No.3 Pittsburgh). Considering he was a top-five player at his position, this season has been a bit disappointing.