Extraordinary claims require extraordinary evidence.
- Carl Sagan
Every year since 2011, I have concluded my preseason writing with a bold predictions column. I am not a "hot take" guy, so I will only write about occurrences that could be possible if things go right for each player below. I do not care about shock value. At most, it may only take me being a little more optimistic about a player (than I was on the Big Board) to make it a bold prediction. What I will guarantee with the first six below is that I will explain how it could happen.
After two down years of bold predictions, I was able to rebound with a solid batch of strong calls involving Jalen Hurts, Saquon Barkley, Cam Akers and Brandon Aiyuk. There were misfires as well, as I was one of the countless managers who was hurt by Allen Robinson. So it goes.
Let's see if I can make it two years in a row: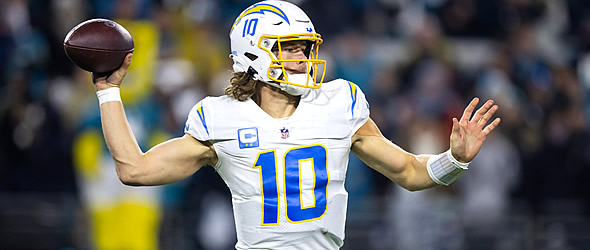 1. Justin Herbert will be the highest-scoring player in fantasy football.
There is a general consensus around the league that Herbert has as much arm talent as any quarterback, which is a cool way to say that a quarterback does a great job of mixing accuracy with power. Whether that is true or not is beside the point; the fact of the matter is that his accuracy does not suffer as a result of the power he generates. The true shame of Herbert's NFL career up to this point is that he has only had one "normal" season. In that year (2021), Herbert was fortunate enough to get Keenan Allen and Mike Williams for 16 games apiece and threw for 5,014 yards and 38 touchdowns. In his rookie year of 2020, he began the season behind Tyrod Taylor and was a surprise starter in Week 2. In 2022, he not only suffered a rib fracture in Week 2 and was hindered by that injury for several weeks, but Allen and Williams also combined to miss 11 games.
Another small but still very important reason Herbert has not reached his ceiling yet is that he was tied to the hip of former OC Joe Lombardi over the last two years. Lombardi has proven to be a bit on the conservative side as a play-caller. While a conservative approach may be the advisable approach for 20 or so starting quarterbacks around the league, special talents like Herbert play by a different set of rules and need to be able to spread their wings when necessary.
HC Brandon Staley moved on from Lombardi this offseason and made a swift move to add new OC Kellen Moore days after Moore and the Cowboys parted ways. Moore called plays in Dallas for four seasons, two of which resulted in the Cowboys leading the league in total offense. Dallas also finished sixth or better three times in scoring offense under his watch. In the first three of Moore's four seasons with the Cowboys, his offenses finished inside the top 10 in pass attempts and the top eight in passing yards.
As loaded as the Cowboys are on offense, the Chargers are arguably more talented across the board (we will call CeeDee Lamb and Allen a tie). Los Angeles also does not have a workhorse running back like Ezekiel Elliott to handle a huge rushing workload, so it seems reasonable to expect the Chargers to be as pass-heavy as any team in the league again. While it is worth noting Herbert's 699 pass attempts should have been more than enough to lead the league in several passing categories last season, Herbert, Allen and Williams were rarely ever healthy at the same time. All those injuries played a huge role in Austin Ekeler's 107-catch season, which means far too many of Herbert's throws were at or behind the line of scrimmage (BLOS). In 2021, Herbert's BLOS throw percentage was 12.2 percent. In 2020 and 2022, it was north of 18 percent. With the healthy return of Williams, the addition of first-round pick Quentin Johnston and Josh Palmer a more than capable contested-catch receiver, there should be no shortage of successful downfield throws in 2023.
Let us not forget perhaps the most underrated part of Herbert's game: his athleticism. While he has to register more than nine rushing attempts in an NFL game, he has run for at least 60 yards twice. Herbert may never win fantasy managers a week with his rushing upside, but there is a decent chance he will scramble more often in this new offense because the vertical passing threat will keep safeties from playing too close to the line of scrimmage.
2. David Montgomery will finish inside the top 15 running backs.
As of this writing, I have drafted 16 redraft teams. Montgomery is on nine of them. (I even added a share in a startup dynasty league, which is not included in the aforementioned total, and have him on two other dynasty teams.) The earliest I selected him in any draft was the sixth round. I only mention this to note what must be an overwhelming disdain for what he did in four years with the Bears and a wildly inaccurate expectation about how involved rookie Jahmyr Gibbs will be in the offense.
Ask yourself the following: What important path to running back production has not improved with his move from Chicago to Detroit? Better play-calling? Check. Better offensive environment (scheme and supporting cast)? Check. Likely goal-line back in a better offense? Check. Better offensive line? Check+.
Montgomery is without question a better version of the running back whose role he is expected to inherit, Jamaal Williams. No one is expecting Montgomery to score 17 touchdowns as Williams did last year, especially when we consider how lucky Williams was. He scored 10 times from the 1 and 14 times from inside the 5. That is good luck for Williams and poor luck for players such as Amon-Ra St. Brown, who was routinely tackled inside the 5 to set up the aforementioned TDs from Williams. What is more telling is that Williams was by far the league leader in carries inside the 20 (57), 10 (45) and 5 (28). That part should thrill Montgomery's fantasy managers, even if Gibbs steals a few of those high-value touches from time to time.
Detroit has big expectations for Gibbs; no one is questioning that. The bigger issues for those who are quick to dismiss Montgomery are the Lions: 1) gave him a three-year contract worth $18 million - including $11 million guaranteed - in what was a brutal market for his position; and 2) are unlikely to change their offensive approach much. That approach resulted in 509 touches for the running back position last season. Gibbs never handled more than 195 touches in three college seasons, so the odds he tops 250 - at less than 200 pounds, no less - are slim. That alone would suggest Montgomery will probably push for at least 250 touches himself, and he will do so behind what is widely considered one of the best offensive lines in the league.
One of the reasons Detroit sought out Montgomery was his ability as a receiver. Will he catch 40 passes? Probably not, but he will be more involved than Williams was during his two years in Detroit. In the event Gibbs misses time due to injury, whom do you think the Lions are going to ask to handle more work? It probably will not be third-stringer Craig Reynolds. Jared Goff will also not steal touches in the same way Justin Fields did from Montgomery in 2022. If Williams was capable of 1,000-plus rushing yards and 17 TDs last year, a 1,000-yard and 10-score season for the Iowa State product should not be too much to ask.
3. J.K. Dobbins will be a top-10 running back.
Among running backs in the Super Bowl era, Jamaal Charles leads all running backs in career yards per carry at 5.4 (minimum 750 rushing attempts). Dobbins is a long way away from meeting the minimum requirement (226 carries through three seasons), but he is on a very good track to own the record in two or three years at his current pace of 5.9. The reason this is pertinent is that throughout his career, Dobbins has not had the benefit of consistently good health or playing in a scheme designed to give him clear running lanes. What has worked in his favor is that he is a very explosive player. He has also had the threat of Lamar Jackson running to keep defenders on their heels. Now imagine what is possible if that last part remains true and the Ravens introduce some level of a dynamic passing game into the equation. Entering the prime of his career at age 24 (25 in December) and two years removed from his horrible knee injury, Dobbins is about to find out what it is like when defenses have to respect Baltimore's passing game.
Dobbins is not about to average seven yards per carry as a result of facing lighter boxes in 2023, but what is clear is he is not a player who needs a heavy workload as a rusher to do a lot of damage in fantasy. In his one healthy season (2020) in which he shared carries with Gus Edwards (and Jackson, of course), he finished as the RB28 on 152 touches (138 carries) and despite limited involvement in the passing game (18 catches on 24 targets). Now imagine Dobbins doubling his work as a receiver! If you don't take my word for it, take his. I have him conservatively projected for 33 catches, 246 receiving yards and a touchdown, but I think that number could go north of 40 in new OC Todd Monken's offense.
Baltimore will play with more pace (i.e. more plays) and put defenses into a bind more often than former OC Greg Roman ever did. Make no mistake about it: Roman is a very good run-game designer, so it would not surprise me if Dobbins' YPC drops a bit. With that said, an athlete like Dobbins needs to be in space more often. It is a good bet Monken saw that on tape less than a month after he took the job and will make sure Dobbins is used in more of a dual-threat role in 2023.
4. Calvin Ridley will finish inside the top 10 wide receivers.
How much readers want to buy into this bold prediction depends largely on how much they believe receivers need to shake off "rust." To hear Ridley tell it, he was not healthy in any of his first three seasons. In 2018 and 2019, he admitted to playing with bone spurs. In 2020, he took painkillers daily to play through a misdiagnosed foot injury (believed to be a bone bruise, turned out to be a broken foot). The last time we saw him on the field in the regular season was when he was attracting 10-plus targets per game from a declining Matt Ryan in 2021. According to Ridley, the painkillers affected Ridley's mental health, which led to him taking a leave of absence later that season. During that leave of absence (and presumably to deal with his newfound free time and/or to avoid boredom), he bet on NFL games, ultimately leading to his being banned for the 2022 season.
Ridley is about to turn 29 years old (in December) but he may have a shot at a healthy season for the first time since he starred at the University of Alabama this year. While there is no question Ryan was a good quarterback for most of his career, he was not at the height of his powers during his time with Ridley (2018-21). Trevor Lawrence has yet to prove he is an elite quarterback himself, but the world was able to see why he was such a hyped prospect in 2022. Jacksonville gave him some toys to play with, and he unsurprisingly improved rapidly.
While Christian Kirk, Zay Jones and Evan Engram each enjoyed some level of success before joining Lawrence last year, there is little doubt that the play of the No. 1 overall pick of the 2021 draft was a major reason each of them had a career year. Maybe adding Ridley turns this group into a "four is a crowd" situation and no one benefits. More likely, however, Kirk, Jones and Engram will take on more of a secondary role in this offense while Ridley enjoys a career year. There are only some shades of Antonio Brown in his prime when Ridley is right, and we have seen the magic that can happen when a very good quarterback and elite separator join forces. A 100-catch, 1,200-yard, 10-plus touchdown season is well within his range of outcomes.
5. Although both will finish inside the top 30 at their position, Elijah Moore will be a better fantasy receiver than teammate Amari Cooper.
Mention Moore's name to fantasy managers and wait for their reaction(s). Once they stop throwing things at you, they will tell the story of how their favorite sleeper candidate from last season disappointed them in the biggest way possible. I know about this feeling, as I probably drafted him on 50 percent of my teams. (Yes, I am willing to get hurt again.) The thing about it is that outside of how he handled not being a bigger part of the offense in New York in 2022, I am not sure Moore deserves a lot of the blame for what went wrong.
By now, many fantasy managers know what went down with the Jets. Garrett Wilson wasted little time proving he was the alpha in New York. Zach Wilson may only be a one-read quarterback and Garrett Wilson was often that read a year ago. Last but certainly not least, all hell broke loose once Moore and then-offensive coordinator Mike LaFleur exchanged words, which led to Moore's trade request. The third-year wideout managed to post a couple of decent fantasy efforts once he returned to the team in Week 11, but LaFleur had no interest in dialing up plays for him by that point.
GM Joe Douglas and HC Robert Saleh both knew what Moore was capable of because both men were around when Moore erupted over a two-month stretch as a rookie - when he delivered six top-36 weekly finishes, including three in the top 10. However, I am willing to believe Moore was so upset at the end of last season that New York decided it was going to get what it could in a trade and move on. Sure enough, the Jets used Moore as a sweetener to move up 32 spots and turn a third-round pick into a second-rounder in a trade with Cleveland shortly after the start of the new league year.
As much as things went wrong for Moore since the late surge in his rookie year, just about everything has gone right for him since joining the Browns. HC Kevin Stefanski recently told the team's website that Moore reminds him of another all-purpose dynamo he used to coach with the Vikings (Percy Harvin) and "there's no shortage of plays" for a player with his skill set. Cooper went so far as to say that he thinks about "great tandems like Torry Holt and Isaac Bruce" when he thinks about what he and Moore can become.
This bold prediction has less to do with Cooper declining at age 29 and more to do with Moore's talent - not to mention the Browns' desire to get him the ball in any way possible. (However, it is worth noting that Cooper only averaged 3.5 catches, 61.3 yards and 0.33 TDs (11.6 fantasy points) in six games with Deshaun Watson starting, as opposed to 5.2 catches, 72 yards and 0.6 TDs in 11 games with Jacoby Brissett under center. In a league that is playing zone about 70 percent of the time nowadays, Moore is the most likely of Cleveland's top receivers to play a lot of snaps in the slot and get open quickly, which is especially important against zone defenses. The Browns have already made it clear with their preseason usage of him that he will get a bit of work out of the backfield as well. I currently have him ranked as my WR23 in PPR and projected for 69-961-7 as a receiver as well as 18-126-1 as a runner. I think there is a real chance I may be underselling him in both areas.
6. Mark Andrews will finish as the overall TE1 and Darren Waller will fall a point per game short of Travis Kelce for TE2.
This bold prediction assumes a few things, which is always a bad idea when it comes to making bold predictions. It assumes that Kelce - a modern-day ironman - either begins to feel his age (34 in October) or misses multiple games in a season for the first time in his career. (Let me be clear: there has been nothing to suggest Kelce is about to decline. At some point, however, age or the violent nature of football catches up to all players.) It also assumes Waller WILL stay healthy for the first since 2020.
I will readily acknowledge that Waller could be the overall TE1 and Andrews will be the one that falls just short of Kelce for overall TE2 honors, but I am leaning in the direction of Andrews for one simple reason: while the Giants' offense should be better than it was last year, the Ravens' offense could be lethal. Baltimore has everything an offense could want in today's game: a dual-threat quarterback who can score on any play through the air or on the ground, a game-breaking running back (Dobbins), three legitimate receivers (Odell Beckham Jr., Rashod Bateman and rookie Zay Flowers) and an elite tight end. In short, the Ravens could score upwards of 50 offensive touchdowns after setting for 33 in 2022.
While some of these aforementioned team positives would seem to suggest Andrews might have too much competition for targets, he will continue to be the focal point of the passing game. Remember that Jackson has largely been a middle-of-the-field passer for most of his career. Jackson has also relied heavily on Andrews in the red zone over the years. With game-breaking talent all over the field, defenses can either play nickel and dime defenses all day long and get pummeled on the ground or stay in base defense and watch Andrews wear out linebackers over the middle of the field. Andrews already has one overall TE1 title under his belt (2021) and he did that in the one year Baltimore essentially had to throw the ball. The Ravens will enter this year choosing to throw the ball, which makes a huge difference.
Regarding Waller, it seems clear - via practice reports and in limited action in the preseason - that Giants HC Brian Daboll considers him New York's best receiver. The only player on New York's roster who is somewhat similar to Waller in terms of body type is Isaiah Hodgins (who is criminally underappreciated). Last season showed the world how much Daniel Jones appreciated having someone with some size as Hodgins took little time breaking out once he and Jones established their chemistry.
However, Waller is in a different class athletically and will not draw regular coverage from cornerbacks as Hodgins will. Much as Greg Cosell of the NFL Matchup Show notes at the end of this clip, more teams are looking for a tight end that can do what Kelce has done for years: work as the "boundary X" on one side of the field with three receivers on the other side. This formation makes life much easier on quarterbacks pre-snap and almost always gives them an easy throw because defenses are forced to declare whether they are playing man or zone against it. Making matters worse for the defense, even the most athletic linebackers/safeties struggle to check Waller (or Kelce) when he lines up out wide.
For those concerned about the talent New York added at receiver (namely Jalin Hyatt and Parris Campbell) to a group that had Hodgins and Darius Slayton, it bears mentioning that the Giants decided to add copies of receiver profiles they believe complement Waller. It is unlikely they will take a large number of looks from him. Campbell, Sterling Shepherd and Wan'Dale Robinson are very similar in their ability to work out of the slot and get open quickly. Slayton and Hyatt both have speed to burn, which will stretch the field for Waller.
Last year, Kelce averaged 5.1 fantasy points more than any other tight end (PPR). One of the reasons for that was neither Andrews nor Waller were in an optimal situation to reach their ceiling. Both players also battled injuries. This year, both players are in positions more like Kelce. (Baltimore will be more pass-heavy, while Waller no longer has to compete with Davante Adams. He is also his team's clear alpha.) In short, while Kelce should offer his managers a sizeable advantage over league-mates again this year, it says here that the "Kelce advantage" will be minimized considerably against the managers who have Andrews and/or Waller on their roster.
Bonus bold predictions:
- Sam Howell will be a top-20 fantasy quarterback.
- Sean Tucker will overtake Rachaad White on the depth chart and be a viable RB2/3 fantasy option by Thanksgiving.
- Kadarius Toney will stay healthy for long enough to prove he is the unquestioned alpha in Kansas City.
- Juwan Johnson and Jake Ferguson will finish as top-10 tight ends.

---
Doug Orth has written for FF Today since 2006 and been featured in USA TODAY's Fantasy Football Preview magazine since 2010. He is also a high-stakes player who often appears as a guest analyst on a number of national sports radio shows, such as Sirius XM's "Fantasy Drive." Doug is also a member of the Fantasy Sports Writers Association.