Anyone who is followed my work for any length of time knows I start planning for the playoffs during the summer. I don't place a lot of weight on projected matchups that may or may not occur six months in advance, but I'd just as soon not find out in Week 10 or 12 that any of my weekly starters will be playing two or more games against the likes of the Steelers, Ravens, Buccaneers or Colts.

Matchups may not matter as much to players such as Christian McCaffrey or Alvin Kamara, but they do to roughly 95 percent of most mere mortals. Even if I end up being completely wrong on three of every 10 color codes (I'm not) I give to players before setting up my Big Boards, it means I'm right about 70 percent (and accounted for) something most analysts and fantasy owners don't consider until it's too late.

Even if you don't put any stock into my Preseason Matchup Analysis during the summer, owners in a somewhat comfortable spot (a high scoring average and all-teams record - your record if your team played every other team every week - are the ways I usually judge this, although your overall record obviously matters), Week 8 is about the latest any owner should procrastinate before setting up their roster for a deep postseason run. In many leagues, the trade deadline is this weekend. Thus, it's about time to get busy and get better.

It should go without saying the purpose of any trade is to improve your team, first and foremost. With that said, targeting soft matchups over the second half of the season - and particularly during Weeks 14-16 - needs to be a major consideration. That will be the goal of this article: to identify players worthy of being traded for that can be very good for fantasy owners over the next six weeks and potentially great over the final three.

For the sake of time and space, I'm going to stick to quarterbacks, running backs and receivers. I'll keep it basic with the elite options and go into more detail with the less obvious options. Green highlights are favorable matchups, while red highlights are not.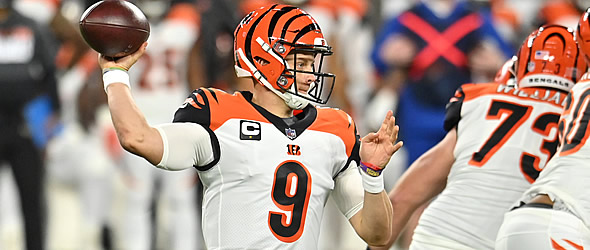 Quarterbacks
Proven options who will be difficult to acquire:
Lamar Jackson: PIT, @IND, @NE, TEN, @PIT, DAL, @CLE, JAC, NYG
Aaron Rodgers: MIN, @SF, JAC, @IND, CHI, PHI, @DET, CAR, TEN
Patrick Mahomes: NYJ, CAR, bye, @LV, @TB, DEN, @MIA, @NO, ATL
Tom Brady: @NYG, NO, @CAR, LAR, KC, bye, MIN, @ATL, @DET
Assets that may not require as much to acquire:
Joe Burrow (TEN, bye, @PIT, @WAS, NYG, @MIA, DAL, PIT, HOU)
Burrow is worth acquiring based on volume alone (41.9 attempts per game) - something that is highly unlikely to change this year. He has a dynamic trio of receivers (Tyler Boyd, Tee Higgins and A.J. Green), an offensive line that does not consistently give Joe Mixon a chance on the ground and a porous defense - all of which tends to lend itself to sustained volume and fantasy success in the passing game. The biggest fear of his owners is if the four sacks per game he is taking will catch up to him at some point. The next month or so is admittedly not particularly easy (PIT, WAS, NYG, MIA), but his fantasy owners should be delighted to see Dallas and Houston in Weeks 14 and 16, respectively. Those defenses have allowed a total of 33 touchdowns and combined for two interceptions through seven weeks. Considering just about every fantasy owner drafted Burrow to be a QB2 or matchup-based starter, he is a quarterback that could keep pace with the above group in the first and last week of the fantasy playoffs.
Justin Herbert (@DEN, LV, @MIA, NYJ, @BUF, NE, ATL, @LV, DEN)
Herbert has done enough in five starts to warrant consideration for the above group. Once upon a time, he was a strong candidate to go No. 1 overall in the 2019 draft. Oregon's conservative offensive philosophy made many draftniks rethink that stance prior to this spring, and his mild-mannered nature convinced some that he may not have the necessary leadership skills for his position. Well, it turns out Herbert is actually a plus-version of Burrow from a fantasy perspective in that he has a Pro Bowl receiver in his prime that he targets on about 30 percent of his throws (Keenan Allen), a Pro Bowl tight end to control the middle of the field (Hunter Henry) and seems to get enough time on each of his deep throws to show off his impressive arm strength.
The Patriots in Week 13 - as well as the Broncos in Weeks 8 and 16 - are not great matchups for quarterbacks in general, but most fantasy owners will be more than happy to start Herbert against the Raiders (Week 9), Jets (Week 11), Falcons (Week 14) and Raiders again (Week 15). We've already seen him thrive in difficult matchups - most notably against the Buccaneers in Week 4 - so he should be very competent if he is your only option at quarterback. Much like Burrow and the Bengals, the Chargers have little semblance of a running game, so it going to be on Herbert to carry the offense. Austin Ekeler's return - presumably in December - only enhances Herbert's ceiling in that Ekeler is as good as any running back in the passing game. One more positive to keep in mind: the Chargers don't play a cold-weather game after visiting Buffalo in Week 12.
Carson Wentz (DAL, bye, @NYG, @CLE, SEA, @GB, NO, @ARI, @DAL)
This season has been a spectacularly bizarre one for Wentz, who is somehow simultaneously a turnover machine and proving to be a player capable of carrying an offense on his back. It admittedly hasn't been pretty a lot of the time. He's looking for the big play far too often with a supporting cast that is among the worst in the league, putting himself in danger far too often as a runner and absorbing too much punishment (28 sacks). Then again, Philadelphia hasn't had the same offensive line combination start multiple games, the projected top three receivers have yet to play together and the league's best tight end duo is currently on ice. Even Miles Sanders has missed two games due to injury. Never fear, though. Philadelphia's remaining schedule is ridiculously soft for quarterbacks. Among the five highlighted matchups highlighted above, the four green defenses have surrendered a total of 12 30-point fantasy performances (not double-counting the three Dallas has yielded) to quarterbacks. Perhaps the Cowboys offer such little resistance that the Eagles can ride their struggling running game to a pair of victories, but the other three green matchups figure to put Wentz in a position where he will need to do everything he can to keep the Eagles competitive. His weekly volatility figures to stabilize as soon as Alshon Jeffery and Jalen Reagor join Travis Fulgham in three-receiver sets and Zach Ertz and Dallas Goedert return. The offensive line will almost certainly be a mess all season long, but Philadelphia's offensive weapons are good enough to minimize that against this schedule.
Running Backs
Proven options who will be difficult to acquire:
Aaron Jones (MIN, @SF, JAC, @IND, CHI, PHI, @DET, CAR, TEN)
James Conner (@BAL, @DAL, CIN, @JAC, BAL, WAS, @BUF, @CIN, IND)
Derrick Henry (@CIN, CHI, IND, @BAL, @IND, CLE, @JAC, DET, @GB)
Assets that may not require as much to acquire:
Joe Mixon (TEN, bye, @PIT, @WAS, NYG, @MIA, DAL, PIT, @HOU)
Mixon hasn't been as aggravating to own in fantasy over the first half of this season as he was through the first half of last season. With that said, volume hasn't saved him this time around as it did late in 2019. He's currently dealing with a foot injury and the Bengals have a bye next week, which makes now about the best time to pester his current fantasy employer about his availability if your team is in good shape. November will not be kind to him and Week 15 against the Steelers will not be good for him either, but he's got a great chance of being a top-10 fantasy back in Week 14 versus the wretched Cowboys' defense and the awful Texans' run-stopping unit. Mixon's offensive line may not get much better between now and next spring, but it is hard to find the combination of Mixon's talent and volume at a decent price during a fantasy season. That combination should be enough to power him through Dallas and Houston in late December.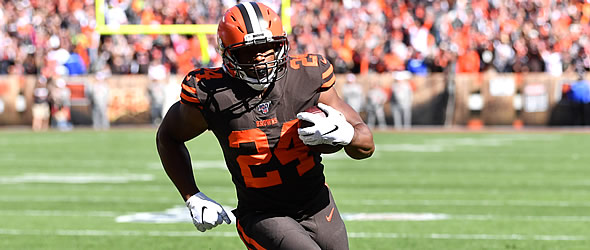 Nick Chubb/Kareem Hunt (LV, bye, HOU, PHI, @JAC, @TEN, BAL, @NYG, @NYJ)
The same things that applied to Chubb and Hunt in September figure to remain the same for the duo after the former returns from his knee injury after the Week 9 bye - heavy volume, good run-blocking, etc. One could make the case Hunt will be more involved than he was before Chubb's knee injury following the loss of Odell Beckham Jr. The Browns have the ability and desire to run the ball against just about any opponent, and their remaining schedule is such that they should not have a problem with volume. The five opponents highlighted in green above rank among the 10 most friendly matchups for running backs, and there is some question as to whether or not the last three (Jaguars, Giants and Jets) will be able to put up enough points to force Cleveland to throw more than 25 times. If Chubb is on the block in any of your leagues, use this week to see if his current fantasy owner needs some help to make the playoffs. We should not be surprised if both Chubb and Hunt are top-15 fantasy backs over the second half of the season.
Melvin Gordon/Phillip Lindsay (LAC, @ATL, @LV, MIA, NO, @KC, @CAR, BUF, @LAC)
The mystery here isn't so much whether we should acquire Gordon or Lindsay as it is which one of them should be the target. If we believe this is just going to be a year where Lindsay keeps getting hurt, then Gordon is probably your man. If we base it more on the eye test, then Lindsay should be in your sights. Either way, we are probably talking about a pair of backs who need to be considered low-end RB2s, and that's only because Denver's offensive line isn't on the same level as a team like Cleveland. On the plus side, the Broncos have been a more running back-centric offense since their Week 5 bye, giving their backs 32 opportunities (carries plus targets) in a Week 6 win at New England and 35 opportunities in a 27-point loss to Kansas City in Week 7. If Denver can consistently find at least 30 opportunities AND ever get Gordon and Lindsay back on the field again at the same time, there should be enough volume to meet the low-end RB2 expectations their fantasy owners should have for them.
Jonathan Taylor (@DET, BAL, @TEN, GB, TEN, @HOU, @LV, HOU, @PIT)
Taylor may have the best combination of second-half matchups and potential workload among all running backs. Let's be clear about a few things first: the vaunted Colts' offensive line has not played up to preseason expectations. The big-play runs we expected once he secured the starting job for himself have not come as a result. Injuries to Parris Campbell and Michael Pittman Jr. - not to mention the decline of T.Y. Hilton - have greatly contributed to Taylor seeing eight men in the box 27 percent of the time. Now for some good news: Taylor has seen more work in the passing game than most expected and has yet to fumble, which were his two biggest question marks in college. But let's look a bit deeper as to why we should be optimistic about him moving forward. Taylor has averaged 4.5 yards per carry over the last four games while Jordan Wilkins and Nyheim Hines have combined for 2.7 YPC over that same stretch. The absence of LB Darius Leonard over the last two games has greatly affected the defense, contributing to less volume than we might have otherwise expected.
Fantasy owners want results, not excuses. But the truth of the matter is the Colts have yet to play in what they want to be a "normal" game since Taylor became the unquestioned starter. Weeks 2-4 were games in which Indianapolis put away its opponent quickly and had little need to expose Taylor to unnecessary punishment. The absences of Leonard and other key defenders in Weeks 5-6 put the Colts in a negative game script and took away the team's ability to feature one of Taylor's best traits: the ability to out a defense with his powerful running style. Indianapolis should be getting Leonard and others back this week and should have ample opportunity to feed Taylor as much as it wants moving forward. Matchups in Week 9 versus the Ravens and Week 16 against the Steelers are far from ideal, but owners need to remember Taylor was drafted as an RB3 with upside this summer, so consistent RB2 production with upside for more isn't so bad. And let's not forget the first point: Indy's offensive line has underachieved. IF LT Anthony Castonzo and LG Quenton Nelson rediscover last year's form - the lack of offseason work affects offensive linemen too - there is still a very good chance Taylor becomes the RB1 many of us hoped he could be by the time December rolls around.
Wide Receivers
Proven options who will be difficult to acquire:
Allen Robinson (NO, @TEN, MIN, bye, @GB, DET, HOU, @MIN, @JAC)
Davante Adams (MIN, @SF, JAC, @IND, CHI, PHI, @DET, CAR, TEN)
Tyreek Hill (NYJ, CAR, bye, @LV, @TB, DEN, @MIA, @NO, ATL)
Keenan Allen (@DEN, LV, @MIA, NYJ, @BUF, NE, ATL, @LV, DEN)
Tyler Boyd (TEN, bye, @PIT, @WAS, NYG, @MIA, DAL, PIT, HOU)
Assets that may not require as much to acquire:
A.J. Green (TEN, bye, @PIT, @WAS, NYG, @MIA, DAL, PIT, HOU)
As the overall WR9 in PPR formats, I'm going to assume most of Boyd's fantasy owners understand what he brings to the table. Most of Tee Higgins' fantasy owners may feel likewise with at least seven targets in four of his last five games and 18 PPR fantasy points in three of those contests. With that said, we may be on the verge of the Cincinnati coaching staff making a breakthrough with how to use a player for the second time in as many years (the first being the technical adjustments they made for Joe Mixon after the bye last year). Green appeared to be almost done as a real-life and fantasy asset just over two weeks ago, but the Bengals have done a good job significantly reducing his average depth of target. They have done this by using him more often on slants and comebacks that take advantage of his size and less often on vertical routes that often require a level of athleticism he may not possess anymore at age 32.
While Cincinnati's passing volume and the lack of attractive other options at tight end and running back will inevitably lead to a steady diet of targets for its top three receivers, it's not very often a team's supposed third-best receiver gets at least nine looks in four of his first seven games. (He has 24 targets over his last two games alone.) Will defenses adjust as the season progresses? It's possible. It's also possible coordinators view him as the third-best receiver on this offense. Not many game plans are constructed with the idea of shutting down a team's third-best receiver. There figure to be more bumps in this road for Green - we also need to keep his recent injury history in mind - but I'm going to lean toward trusting him in at least three of the team's final five games (it's unlikely the Giants will have James Bradberry shadow him in Week 12).
Michael Thomas (@CHI, @TB, SF, ATL, @DEN, @ATL, @PHI, KC, MIN)
It takes multiple factors for a player like Thomas to end up in the discount section of any fantasy article, but here we are. It's very likely his fantasy owner is at .500 or worse as a result and has been teased with the promise of his return for a few weeks now. In recent days, reports have surfaced about him being on the block. I'm not going to pretend as though we can overlook the possibility of him getting hurt again (he sandwiched a suspension in between a high-ankle sprain and a hamstring injury that might keep him out Week 8), but the odds of him getting traded are incredibly slim. The team just extended him last year and would take in a $20 M cap hit if they deal him. Maybe the relationship between him and HC Sean Payton or Drew Brees is frosty at the moment. It's pointless to speculate on that anyway; we don't have the luxury of watching them interact regularly, so we probably need to assume the best considering how well this marriage worked for more than four years.
However, I do feel comfortable in suggesting the major issue here is getting him back to 100 percent physically and that he will once again become the dominant force he has always been as soon as he cleared to go. In leagues with a Week 8 trade deadline, it's going to take a little faith the Saints will do the right thing by Thomas by not pushing him (they haven't to this point) and Thomas will do right for himself by not rushing back from this latest setback. We've seen throughout Thomas' career that difficult matchups don't matter very much. We also have seen what he can do in favorable matchups, so it's hard to ignore the fact he will get two shots at the Falcons' defense, a Week 15 showdown against the Chiefs in which points should be scored in bunches and a Week 16 matchup against a Minnesota secondary that currently ranks third in terms of most points allowed to the receiver position.
Jamison Crowder (@KC, NE, bye, @LAC, MIA, LV, @SEA, @LAR, CLE)
I know, I know. A Jet? It's 2020, what do you want me to say? If there's one thing HC Adam Gase's offenses have been good for throughout his coaching career, it is making sure his slot receivers stay busy. (It should be noted here Gase did hand off play-calling duties to OC Dowell Loggains last week, but there is no word yet whether that is a permanent move or not.) Regardless of whom is calling the shots in New York at the moment, receivers have drawn 160 targets through six games. Of those 160 targets, 75 have been to a slot receiver (46.9 percent). I donít care if Breshad Perriman and Denzel Mims have been hurt; that's a heavy dose of targets for a slot receiver. Week 7 was the first time a primary slot didn't lead the Jets in fantasy production and also the first time a primary slot didn't hit double figures in fantasy points.
With that said, fantasy owners shouldn't be targeting Crowder (or Braxton Berrios if Crowder can't get or stay healthy) because of "the matchup," but rather due to the likelihood New York will find itself in negative game script so often. There figures to be a garbage time aplenty with the Jets the rest of the way, and defenses are often more than happy to give up short throws when leading by three scores if it means time is coming off the clock. They certainly won't let Perriman and/or Mims beat them over the top, and the running game doesn't figure to strike enough fear into the safeties to get them into the box. It means fantasy owners should continue to see a lot more of the same, namely heavy volume to slot receivers and running backs.
Antonio Brown (@NYG, NO, @CAR, LAR, KC, bye, MIN, @ATL, @DET)
Putting even the slightest amount of trust in Brown over a prolonged period (even two months) could easily end up being a complete waste of FAAB money for fantasy owners. Or, it could be the very thing that powers us to fantasy titles. While the same two sentences could be said about any number of players picked up off waivers, it is very much the case with Brown. This isn't a situation where Brown is going to step onto the field, deliver a 5-70-0 line consistently and serve as a WR3. Fantasy owners are most likely either getting a low-end WR1 by December or a malcontent who will be off the Bucs' roster by then. One has to believe the promise of playing for a Super Bowl contender and getting another chance to catch passes from Tom Brady will be enough to keep him in line, but believing he is anything more than a high-upside wild-card is a recipe for disappointment.
With the obligatory mention about his poor character out of the way, Brown is in the best spot any receiver could hope for with the Bucs. Mike Evans has probably been operating at about 75 percent for a month but still gets enough respect from opponents to warrant the opponent's top perimeter corner. Chris Godwin is spending a higher percentage of his snaps in the slot this year than he did last year but may miss the next week or two. Godwin's history also suggests he is more effective against zone coverage than man. Brown, on the other hand, has typically destroyed man coverage. So, when all three receivers are on the field, they will have one of the league's top field-stretchers in Evans, a zone beater in Godwin and a player in Brown that can consistently get open about as quickly as Brady hits his back foot on his drop back. Given the current state of Tampa Bay's receivers, however, Brown could legitimately step into a WR1 role in this offense and take us all back to his glory days in Pittsburgh. The good news doesn't stop there either. The Panthers, Rams and Chiefs (Weeks 10-12) rank among the six stingiest defenses versus receivers, but the Buccaneers' other five opponents above are in the top half of fantasy points allowed to receivers. If that's not enough, the fantasy playoff slate features defenses that currently rank third, fifth and sixth in points allowed to the position. None of those three teams have one - much less three cornerbacks - capable of tracking Tampa Bay's wideouts. Brady could legitimately average four TD throws during the fantasy playoffs.
---
Doug Orth has written for FF Today since 2006 and been featured in USA Today's Fantasy Football Preview magazine since 2010. He hosted USA Today's hour-long, pre-kickoff fantasy football internet chat every Sunday in 2012-13 and appears as a guest analyst on a number of national sports radio shows, including Sirius XM's "Fantasy Drive". Doug is also a member of the Fantasy Sports Writers Association.