It's shocking to think most leagues are on the verge of crossing over to the second half of the fantasy regular season. Football is cruel like that. Thousands, if not millions, of people spend months waiting for the season to start only to have their fantasy fates go up in smoke in less than a month.

For those fantasy owners who are in decent shape, however, there are two main goals over the next 1 1/2 months: navigate the perils of the upcoming bye weeks and attempt to identify some players who may be the missing piece to a second-half run. Those goals are not necessarily mutually exclusive. Considering bye weeks are still very much an issue, many of us don't have the luxury of stashing high-upside players yet. But that's kind of the point to what I want to do with this article: provide readers with a few players to follow and watch in the coming weeks who I believe could have some staying power at some point in November and December.

Each of the nine names below is unowned in at least 40 percent of MFL leagues; most are available in at least two-thirds of leagues. Players are ordered in descending order based on their ownership percentages at MyFantasyLeague.com: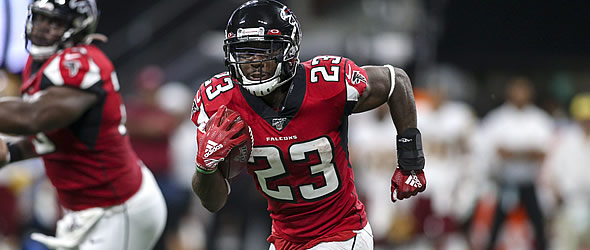 RB Brian Hill, Falcons (54 percent)
There is a reasonable chance Hill is on a roster in most 12-team competitive leagues with at least 16 rosters spots, most likely by the same owner who is handcuffing him to Todd Gurley. However, it would be a mistake to overlook his ability to be a weekly fantasy starter should Gurley miss some time. Hill is already seeing more work than a traditional backup running back typically does (12 touches in Week 6 and an average of nine touches over the last four contests). Even though Gurley has a sizable advantage in every meaningful rushing statistic (99-422-5 for Gurley, 35-161-1 for Hill), Hill has essentially mirrored Gurley in the passing game despite running 41 fewer routes (11 catches on 14 targets for 58 yards on 108 routes for Gurley, 11 catches on 12 targets for 75 yards on 67 routes for Hill).
No one should expect Hill to assume Gurley's full workload should the latter miss time, but fantasy owners also shouldn't dismiss Hill's ability to capably fill his shoes should it happen just because "all Atlanta does is pass" or the fact Hill might have let you down last year. It seems relatively clear the Falcons believe Hill is not much of a downgrade from the current version of Gurley. Much like this version of Gurley, Hill probably won't power his teams to fantasy titles should Gurley go down, but he could easily see enough work to be a serviceable RB2. If there is one constant in fantasy football almost every year, it is the lack of backs capable of being weekly starters. While Hill would share some snaps with Ito Smith in the event of an injury to Gurley, the University of Wyoming product would be right on that borderline.
TE Irv Smith Jr., Vikings (44 percent)
Much like last season, Minnesota took its time integrating Smith into the offense. Over the last two weeks, however, it appears the Vikings may be correcting that oversight. He ranks eighth among all tight ends with 59 routes run over the last two weeks. In the interest of full disclosure, routes run isn't the end-all and be-all of fantasy production: over that same two-week stretch, Dalton Schultz and Hayden Hurst are tied with Travis Kelce for the most with 73. What is encouraging is that Smith ran a total of 62 routes over the first four games combined, so we have tangible evidence his involvement is increasing besides simply looking at the box score. Prior to Week 6, QB Kirk Cousins spoke highly of Smith:
"We love what he brings to the table and love giving him more opportunities like we did (in Week 5). Hopefully, we can keep that going. We expect him to keep putting impressive plays on tape when the ball comes his way. He's wired to be a great player."
Perhaps the best part for fantasy owners in determining whether this is a fad or a trend is looking at the game script over the last two weeks: in almost two wildly different contests (outside of a high volume of plays being run), Smith logged 68 percent of the snaps in a game Minnesota controlled for more than a half (Week 5 versus the Seahawks) and 79 percent in a game where the Vikings fell behind 23-0 against the Falcons in Week 6.
Sometimes, the best under-the-radar players are ones that fantasy owners know have the talent to be special but are just waiting for their stubborn coaches to get on board. Smith is one of those kinds of players. As defenses begin to wise up and play more Cover 2 against the Vikings to put more of a cap on some of the big plays that are fueling Justin Jefferson's recent surge, it stands to reason Cousins will look to Smith underneath and down the seam more often. The question with Smith is not if, but when. Another pertinent question: when will Cousins stop doing his imitation of Jameis Winston?
RB AJ Dillon, Packers (43 percent)
Dillon's inclusion on this list is more of a reminder than a recommendation, at least for now. Anyone who watched the Bucs pummel the Packers in Week 6 knows the rookie's five carries for 31 yards rushing in that game were the product of garbage time in a blowout loss. With that said, it seems incredibly unlikely he will remain in his No. 3 role all season long despite how well Aaron Jones can use to play and how much Jamaal Williams has improved his game. HC Matt LaFleur has expressed on multiple occasions that he wants to be able to use three backs if/when necessary. There's also had to be some dialogue between LaFleur and GM Brian Gutekunst about getting Dillon more involved over the second half of the year, if only because Jones and Williams are set to become free agents after the season. One would think LaFleur and Gutekunst want to see the second-rounder in something more than mop-up duty before potentially committing to him in 2021.
To be clear, there is probably no circumstance other than Jones and Williams both getting hurt that Dillon becomes a 15-touch player this season. But it would also be hard to believe the rookie not pushing for at least 75-85 carries in Year 1 (he's at 13 right now) if the objective is for Green Bay to see what it has in the 247-pounder. There is a case to be made about the Packers potentially "redshirting" him this year too after he handled 845 carries in three years at Boston College, but that seems unlikely. The better bet is Green Bay finds an excuse (maybe in potential lopsided affairs this week against the Texans or in Week 10 versus the Jaguars) to hand him significant work, giving LaFleur and Gutekunst a convenient excuse to put him on equal footing with Williams. If Jones were to get hurt, however, odds are that Dillon would handle the bulk of the early-down work, while Williams would steal a series or two from him and handle most of the passing-down work along with Tyler Ervin.
WR Andy Isabella, Cardinals (35 percent owned)
We've already seen the potential of Isabella, who flashed in a big way with two touchdowns in Week 3 against the Detroit Lions in place of an injured Christian Kirk. For now, the second-year pro has little choice but to accept the fourth receiver role in Arizona - one that will occasionally get him a low-percentage deep target or two. There's virtually no way he'll be able to crack the top three at his position (DeAndre Hopkins, Larry Fitzgerald and Kirk) barring an injury.
So why does he belong here? Fitzgerald is 37 years old and has yet to top 50 yards this season. While his status as an NFL legend was secured years ago, there is a non-zero chance the Cardinals begin reducing his snaps as the season progresses if nostalgia is their only rationale for continuing to play him. Kirk has already missed time with injury this year and has yet to play more than 13 games in three-plus years as a pro. But the most important reason why he belongs on this list is what he brings to the table that no one else in Arizona's receiver room does. If the Cardinals feel compelled to increase their ability to create more explosive plays, there's no question they need to look his way. If fantasy owners need a multi-game replacement for an injured Kirk at some point and/or Fitzgerald begins to get phased out ever so slightly, they should not hesitate to scoop up Isabella right away. He may boast more week-winning upside than any other player on this list.
WR Gabriel Davis, Bills (33 percent)
John Brown has been shut out in two of his last three games and missed another as a result of calf, foot and knee injuries. There isn't much question he hasn't been right physically for some time and there's see no guarantee he will get right at any point over the next two months. Any recent fantasy owner of Brown knows about his injury history, and it's not a great sign for a receiver that relies heavily on his speed is dealing with so many lower-body injuries. Head coach Sean McDermott recently admitted to the media Brown's knee isn't 100 percent, so it's a good bet the idea of sitting Brown has crossed the mind of the coaching staff more than once.
Davis has already flashed in a big way when given a chance and has the look of a receiver capable of filling Brown's shoes should the veteran need some time off, which may happen sooner than later. He is also a player that Buffalo has raved about almost from the time training camp started, in part because his 6-2, 210-pound frame gives the Bills a bigger-bodied option that Stefon Diggs, Brown and Cole Beasley can't. (All three all less than six feet tall and weigh less than 200 pounds.) It seems almost inevitable Davis' role will continue to grow whether Brown needs time off or Buffalo utilizes more four-receiver sets to make Josh Allen's post-snap reads a bit easier (there is some thought that part of Allen's drop-off in the last two games is due to defenses doing a better job of changing up their looks after the snap). Spreading out the defense with four- and five-wide sets tends to limit how much defenses can do this.
WR Devin Duvernay, Ravens (27 percent)
The Ravens have yet to attempt 30 passes in a game and struggle to keep two pass-catchers (Marquise Brown and Mark Andrews) fantasy-relevant every game, so trying to jam a third one into that group seems like a waste of time. Nevertheless, Duvernay's snaps and routes have increased in each of the last four weeks, topping out at 26 and 17, respectively, in Week 6. He's generally maximizing the minimal number of touches he's getting each week (three in each of the last two weeks). Most fantasy owners probably still remember his 93-yard kickoff return in the Week 3 loss to the Chiefs on Monday Night Football in which he showed off the speed that made him a Texas state champion in the 100-meter dash. He flashed that speed again on a 42-yard end-around in Week 5 versus the Bengals.
The key here for fantasy owners is not to look at his meager production and/or involvement to this point, but rather the fact he is earning more opportunities and capitalizing on them. Brown was not the picture of health last year nor is he built to last. Duvernay would be the most logical selection to fill in should Brown get injured again. Moreover, he made his name in the slot at the University of Texas in 2019, and it is only a matter of time before he overtakes Willie Snead at that spot if Brown manages to stay healthy. It's also worth mentioning at this point that Lamar Jackson has been much more willing (and productive) throwing in between the hashes than on the perimeter, which makes Duvernay's possible promotion in the slot worth monitoring.) Duvernay offers more explosiveness than Snead and more after-the-catch (at least in terms of powering through contact) than Brown. Baltimore will learn at some point - assuming it hasn't already - that it needs players like Duvernay to eventually beat teams like the Chiefs. Look for his involvement to continue to increase after the Week 7 bye.
WR Denzel Mims, Jets (20 percent)
Mims has yet to play this season due to hamstring injuries in both legs. There's also the fact he comes attached to an Adam Gase-coached team, which is no small issue. And yet, there's a real possibility the rookie emerges as the team's No. 2 option before Thanksgiving and makes a bit of a dent in fantasy leagues. Whether that dent is significant enough for 90 percent of fantasy owners is another story. However, we've seen Robby Anderson experience occasional success in this offense in recent years, so we know it's possible (even if Gase did his best to stunt it). Breshad Perriman is going to have a head start in terms of games played and overall experience, but Mims is a special talent even if he is a bit raw. The rookie's 6-3, 207-pound measurements also don't do him justice. Mims checked in at the NFL Combine with near 34-inch arms, 4.38 speed, 6.66 three-cone and 10' 11" broad jump. Only 17 receivers at the NFL Combine since 2000 who stand at least 6-3 have run a sub-4.4. Of that group, Mims' three-cone is tied for first with Julio Jones.) In other words, he is a bit of an athletic freak who should be able to contribute immediately in the red zone - whenever the Jets make it there. But it would be a mistake to think that is all he could be.
The Jets aren't going to set the world on fire offensively, but they figure to be in negative game script more often than any other team, so reaching 40 pass attempts should not be a problem. With Chris Herndon being asked to block so much and Le"Veon Bell's touches no longer an issue, this offense should be able to support seven-plus targets for three receivers on a fairly regular basis. Sam Darnold's return from his shoulder injury should make those targets worth a bit more. New York is a dumpster fire in large part because of Gase, but injuries and a lack of talent at receiver have contributed to the problem. Mims has the talent to overcome his situation, albeit maybe not very often.
TE Harrison Bryant, Browns (17 percent)
Bryant was my favorite tight end prospect in April's draft, but I thought it was a complete waste for his immediate playing future that he landed in Cleveland. After all, The Browns just gave Austin Hooper a huge contract about a month earlier. Never mind the fact David Njoku was already on the roster. However, Njoku doesn't look long for Cleveland after asking to be traded for a second time this season within the last week. Bryant logged more snaps than Njoku in each of the first five games of the season, although that has partially been a product of Njoku being injured. Njoku owned a 23-21 advantage in Week 6, although that could have easily been the product of the lopsided nature of the loss to the Steelers and an attempt to "showcase" Njoku before the trade deadline.
The fantasy industry has been quick to compare most of what's happening in Cleveland this year to what happened in Minnesota last year because HC Kevin Stefanski ran the offense in both places. I think it makes sense to do so here when discussing Hooper and Bryant. While Hooper is the clear leader at the position right now, I see a parallel in which he becomes the Kyle Rudolph to Bryant's Irv Smith. Whether that transition takes place this year or next is my only question; I comped Bryant to Mark Andrews before the draft and stand by it. With Baker Mayfield not playing particularly well, it's not hard to imagine a scenario in which he starts to play more conservatively and targets his tight ends more often. (We are already seeing this to some degree with Hooper's recent increase in target share.) Jarvis Landry is still not right physically and the Browns need someone in this offense other than Odell Beckham Jr. to create big plays. It wouldn't come as a shock if Bryant is tasked with the responsibility of being that guy.
WR Marcus Johnson, Colts (two percent)
This one comes with the caveat of Michael Pittman Jr. not returning by Week 8 after undergoing surgery to repair compartment leg syndrome in his calf. Johnson is most likely just keeping the seat warm for Pittman, so just about everything I'm going to say about Johnson would apply to Pittman if he returns after the team's Week 7 bye, although he will almost certainly need a week or two (and possibly more) to get back to where he needs from a fitness perspective. Until then, Johnson could easily be what most expected Pittman to be - the team's best vertical playmaker.
With that said, there's a case to be made that Johnson has already emerged as the most impressive receiver on the team following Parris Campbell's knee injury. Last week against the Bengals, Johnson posted the first 100-yard game by an Indy wide receiver since Week 14 of last year when he turned the trick versus the Bucs on three catches. It's just not happening for T.Y. Hilton, be it due to a lack of chemistry with Philip Rivers or some undisclosed injury. The 30-year-old has long been a stud on the fast track of Lucas Oil Stadium and highly inconsistent just about everywhere else, but he doesn't even have that going for him anymore. Even if we still buy into the narrative of him thriving at home moving forward, upcoming home games against the Ravens and Packers don't inspire much confidence.
Johnson comes with plenty of risk if only because the Colts have shuttled him to and from the practice squad so much in the two years he's been with the team. This time feels different, however. Perhaps it is because Indianapolis might not have anywhere else to turn. Hilton has been a non-factor as I previously stated and Zach Pascal should be a third receiver at best. The Colts are deep at tight end, but how long will they be able to depend on Trey Burton for 50-plus yards per week with his injury history? Jack Doyle is playing more snaps than Burton, but the latter is running slightly more routes (45-40 over the last two games) and getting targeted more than twice as much (11-5). The point is this: Johnson is the only Colts' receiver that has been given a chance to succeed and delivered on more than one occasion recently. It also works in his favor he can stretch the field, as having someone capable of doing that is critical for run-based offenses that want to keep defenders honest and steer them away from loading the box.
---
Doug Orth has written for FF Today since 2006 and been featured in USA Today's Fantasy Football Preview magazine since 2010. He hosted USA Today's hour-long, pre-kickoff fantasy football internet chat every Sunday in 2012-13 and appears as a guest analyst on a number of national sports radio shows, including Sirius XM's "Fantasy Drive". Doug is also a member of the Fantasy Sports Writers Association.