A Little History

My annual draft strategy article is, without question, my favorite article to write every year – and I write a lot of articles spanning five fantasy football websites. I like to think I've been on point in the six years I've written this piece. My favorite was back in 2018 when I wrote about Single RB as there were approximately six late-round running backs that finished as RB1s (or close to it), which was ideal for Single RB drafters. The best plan for that season was to draft one RB early and then load up on WRs. While I certainly wasn't the first person to come up with the idea of anchoring your team around a singular running back, I didn't read or hear about the strategy very much until this year.

In 2020, I wrote about Robust RB and I still believe it's the optimal strategy as the most valuable asset in fantasy football is an elite running back. However, there is a caveat, and it's a big one – one that I was blind to last season – and it cost me. Robust RB only works if the running backs you are drafting are, in fact, trustworthy. You're probably thinking, "But there are only a handful of truly reliable running backs," and you'd be correct. If that statement seems to conflict with the basic tenet of Robust RB, that's because it does. The most valuable lesson I learned in 2020 is that a draft strategy only works if the right players are available. Otherwise, you need to adapt.
Draft Philosophy

That brings us to my approach for 2021 fantasy football drafts (PPR), which I can best illustrate by deferring to Leonard Snart's four rules of planning:

1. Make the plan.
2. Execute the plan.
3. Expect the plan to go off the rails.
4. Throw away the plan.

How does this apply to fantasy football? Well, heading into your draft, you should always have a plan of attack Ė a paradigm you hope to achieve. The problem with sticking to that plan is there are 11 other managers either directly or indirectly trying to mess your plan up. Most often, they succeed.
In 2020, I was committed to coming out of the first three rounds with at least two running backs. I justified prioritizing inferior running backs over superior wide receivers by appealing to the lower fantasy point differential between WRs as compared to RBs. Last season, the RB12 averaged 15.7 FPts/G (PPR) compared to the RB24, who averaged 12.9 FPts/G. The WR12 averaged 16.4 FPts/G compared to the WR24, who averaged 14.6 FPts/G. My reasoning for preferring running backs early was sound and proved to be correct. The reason my strategy ultimately failed is because the running backs we had to take to execute the plan werenít actually RB1s.
The best example I have from 2020 is Kenyan Drake. I was not a fan of Drake as I thought he was overvalued as a second round pick. However, he was locked into a primary back role on a good offense and I was willing to draft him based purely on perceived situation and opportunity, even though I didnít want to, because I felt like I needed to get that second ďreliableĒ running back. That meant passing on the top wide receivers. Heading into 2021 fantasy drafts, I am not passing on the top wide receivers in favor of running backs I donít actually believe in.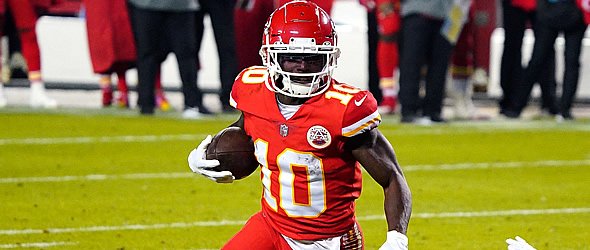 Early-Round Approach

Now that Iíve laid out the general philosophy, letís get into some specific players to really hammer the point home. Please note that the players Iím using are based upon my rankings and my opinions Ė you can and should use your own opinions on players to implement the draft strategy.
Last season, I had about 14 running backs I was willing to take before even considering a wide receiver. This season, that number is five. I would love to start RB-RB, but I am not going to take someone I donít truly believe in like Derrick Henry or Jonathan Taylor over Tyreek Hill or Davante Adams. Hill and Adams have been elite WR1s for multiple seasons. Henry has been an elite RB1 and Taylor is a strong bet to have a true breakout 2021 season, however, I have minor concerns about those RBs while I have zero concerns about Hill and Adams. Once Christian McCaffrey, Dalvin Cook, Alvin Kamara, Ezekiel Elliott, and a healthy Saquon Barkley are off the board, I am going to take an elite wide receiver or Travis Kelce.
Part of why I can do this is my confidence in the availability of a running back in the second round. If you pick in the front half, itís easy Ė you just take the running back. But if you pick in the back half, you can take an elite wide receiver or Kelce and still feel good about being able to get a running back in the second round. There is a 99% chance one of Antonio Gibson, Austin Ekeler, Najee Harris, or Joe Mixon will be there. If youíre feeling good about Nick Chubb, Clyde Edwards-Helaire, DíAndre Swift, or J.K. Dobbins, you know one of them will be there as well.
I donít want to start WR-WR because I do not believe in the third/fourth round RBs nor do I believe in Zero-RB as an optimal way to construct a roster - although, Iíd be willing to do it in extreme circumstances. However, I know I wonít have to because there will be a running back Iím comfortable with in the second round.
This also works in reverse. Letís say you really like Aaron Jones and grab him in the late-first round; do not force a running back in the second round if you donít really like any of them. If anything, I would be more inclined to force the wide receiver if itís one of the top five (Hill, Adams, Stefon Diggs, DeAndre Hopkins, Calvin Ridley) as I feel the odds of any of them busting are significantly less than the running backs and they all have overall WR1 ceilings.
Middle-Round Approach

Rounds 3-6 are where it gets very subjective. Thereís been a lot of talk of the ďRB dead zoneĒ over the summer and while it objectively exists, itís not as if a running back suddenly becomes a bad fantasy asset when his ADP goes from Round 2 to Round 3. The reason these rounds typically are home to busts is because in recent years, itís where fantasy managers typically draft replacement level talents based purely on situation and opportunity.
In 2021, there may be running backs you believe are legitimately talented that are values. I am not going to be the one to take Miles Sanders, Josh Jacobs, David Montgomery, Myles Gaskin, or Mike Davis. I just donít believe in them enough. But that doesnít mean you canít draft them with confidence in rounds 3-6 if you are high on them.
I will be drafting wide receivers in that range, specifically rounds 3-4. There are so many talented wide receivers in good situations with a ton of upside. I am not going to list all of the names because there are so many, but thatís kind of the point. There are so many wide receivers and I can get at least two, if not three, and if things break really right, four of them.
One important aspect I cannot neglect is your league settings, specifically your starting roster construction. If you start RB/WR, but you only start a total of five RBs/WRs, you canít rattle off three more WRs because it doesnít benefit you to draft a bench WR before your RB2. With more and more leagues moving toward three WRs and multiple Flex spots, you have much more maneuverability drafting in those league settings.
Letís say my league starts 3 WR, 2 RB, 2 Flex, and I want to load up on WRs in rounds 3-6. By only taking one running back early, Iím opening myself up to being weak at the position. However, Iím willing to accept that because ultimately, the goal each week is to score as many points as possible. If my weakest position is RB2, but I have a stronger Flex, whatís the difference? Most teams will have a weak Flex but instead, your team has a weak RB2. Donít be afraid to be scrambling every week for an RB2 the same way other teams scramble every week for their Flex.
In an ideal world, I want the maximum amount of starting wide receivers through eight rounds. I will have at least two running backs as well. The final position can either be a third running back or one of the onesie positions (QB/TE). That segues nicely into...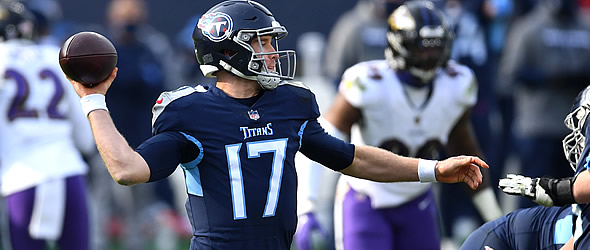 Quarterback

I am fine being one of the last managers to select a quarterback as this year guys like Ryan Tannehill, Joe Burrow, and Matthew Stafford can be had in the ninth or 10th round. However, there is value in a middle-round quarterback in 2021.
Last season, ten quarterbacks averaged at least 21.5 FPts/G (11 if you count Dak Prescott). Compare that to 2019 and 2018 where just eight quarterbacks averaged over 20.0 FPts/G. In 2017, just three quarterbacks eclipsed the 20.0 FPts/G threshold. If the trend continues towards increased passing in the NFL, having a strong QB will provide a tangible edge over a random back-end QB1.
Last season, Ryan was the last QB1 by FPts/G averaging 18.3 FPts/G. The QB6 (Russell Wilson) averaged 23.2 FPts/G. That is a very relevant advantage. As a result, Iím going to target one of the top six quarterbacks in the fifth or sixth round. I wonít reach and if I have to settle for a Brady or a Tannehill I will, but my plan is to spend one of those middle-round picks on a quarterback.
If the value keeps falling to you at WR and RB, donít be afraid to scoop it up and go full late-round QB. Worst case scenario, you can grab Matt Ryan and pair him with Justin Fields or Trey Lance. Ryan can tide you over until Fields and Lance inevitably are named starters.
Tight End
At tight end, itís much simpler. If Travis Kelce falls into my lap in the late-first/early-second round, I will take him. If I ever had an early pick (spoiler: I never do), I would be fine taking Darren Waller in the late-second round. Otherwise, Iím punting the position.
In 2020, Kelce averaged 20.8 FPts/G and Waller averaged 17.5 FPts/G. Comparing them to the WRs, they would have finished as WR3 and WR7. They also gave you a significant edge on a random backend TE1 who average about 10.0 FPts/G.
Meanwhile, the TE4 (Mark Andrews), averaged 12.2 FPts/G which is merely a 2.2 FPts/G advantage over a random TE. Sure, we can probably project some progression for guys like Andrews and T.J. Hockenson. We can also believe Kyle Pitts will have the greatest rookie tight end season of all time. However, when looking historically, there just isnít enough of an edge gained from taking a middle-round tight end. As a result, Iím perfectly fine streaming the position.
Before I move on, I do want to address the omission of George Kittle. He is the clear TE3, but I donít view Kittle on the same level as Kelce and Waller. Kittle averaged 15.6 FPts/G in 2020, 15.9 FPts/G in 2019, and 16.0 FPts/G in 2018 which makes me feel confident saying thatís his ceiling. What Iím concerned about is the inevitable Trey Lance takeover and the fact that Kittle is an elite blocker. NFL teams love when their tight ends can block but I want my tight ends to be glorified wide receivers. Kittle does not run nearly as many routes as Kelce and Waller and will soon be dealing with a rookie QB that is a prolific runner of the football. I expect Kittle to be closer to around 13-14 FPts/G this season, which is not worthy of a third-round pick.
Late Rounds

In mocks, Iíve found that worthwhile wide receivers dry up quicker than worthwhile running backs. Once guys like Mike Williams, Michael Gallup, and Jarvis Landry are gone, the rest of the wide receivers feel very similar. This typically happens by the end of the eighth round. There are still plenty of darts worth throwing, but I donít see much of a distinction between the caliber of receiver I take in Round 10 compared to Round 14.
In rounds 9-10, there are still decent flex-worthy running backs with plausible upside available. Guys like Kenyan Drake, Jamaal Williams, AJ Dillon, Nyheim Hines, Gus Edwards, Latavius Murray, and David Johnson come to mind. Thatís why I prioritize wide receivers in the middle rounds before taking shots at running backs in rounds 8/9/10. Then, in the final few rounds, I can draft my tight end, defense, kicker, and throw darts at wide receivers.
Wrapping up
As with any strategy, be ready to adapt. I mentioned earlier how much I hate Zero-RB, but if you pick at the turn and somehow Tyreek Hill and Davante Adams are both there, maybe you just lock them up and figure out the rest later. The goal is to maximize value and the best way to do that is by sticking to your draft board and taking the player you feel most confident in, regardless of position.
Remember, every draft is different, and you canít be married to one specific strategy if the room pushes you towards another. Have a plan. Practice your plan. And, most importantly, practice what to do if your plan goes awry. Heed the sage advice of Leonard Snart and you will be prepared for anything that comes your way. Good luck to you all this season!