In fantasy football, we're always looking for the best ways to predict future success. There are many methods to do this, and one of the best places to start is to simply look into the past. We look for players who finished last season with a good amount of momentum. If a player was able to come on strong late in the previous season, logic would suggest they are primed to carry it over into the following year.

Today I am going to take a look at a few guys at each major fantasy position who finished the 2013 season in impressive fashion but might not have that strong finish reflected in their current 2014 values. I wouldn't necessarily vault anyone way up my draft boards because I pointed them out here, but I would definitely look their way when approaching the round they normally come off the board (this is why knowing average draft position is important).

To come up with the following players, I used the excellent Consistency Calculator tool provided right here on FFToday.com.

Here's a quick primer on how the Consistency Rankings work (if you know how it works, skip to the next paragraph). In this article, I will often reference things like elite or No. 1 score. An elite result is considered a top-two finish at a position in a week, while No. 1 is considered top-12. Results are based on fantasy points per game at the position. For example, since Jimmy Graham finished second at tight end in the last eight weeks with 10.36 points per game; any week where a tight end scored 10.36 or more points is considered an elite week. The 12th-highest scoring tight end of the second half, Mercedes Lewis, averaged 7.03 FPts/G, so any score greater than 7.03 is a No. 1 finish.

Iím leaving out guys who I think are a little too obvious. Everyone knows how crazy Nick Folesí finish to the season was (QB1 in 100 percent of games), but people are drafting like thatís not a realistic expectation this year because of that thing called regression. Jamaal Charles and LeSean McCoy were amazing down the stretch. All the usual suspects at wide receiver performed well. In this piece, I want to give you guys who I think arenít being recognized like they should be.

Note: Anytime you see me reference ADP in this article, Iím referring to the ADP numbers provided by FantasyPros.com, which combines ADP data over multiple draft sites.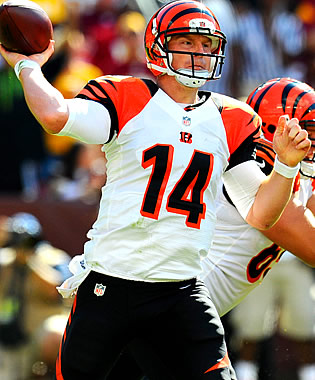 Strong Second Half: Andy Dalton tossed 11 touchdowns in the final four regular season games of 2013.
QUARTERBACK
Andy Dalton, CIN Ė Our own Doug Orth is down on Mr. Dalton after doing his Consistency Rankings Analysis, which you should check out if you havenít because itís a great read. His point is well taken and I agree with it 100 percent: Andy Dalton is NOT a top quarterback. I would never dream of suggesting Dalton is anywhere close to a top quarterback.
But (of course you knew there was a ďbutĒ coming) Iím also not ignoring the Red Rifle.
Iíve never owned Dalton in any league. I wasnít planning on owning Dalton this year. Iíve never thought highly of the guy--until I did this.
In the second half of 2013, Andy Dalton was one of only three quarterbacks to put up a top-12 performance in at least 70 percent of his games. Five out of seven times he played in a game, he produced a QB1 score.
How much should we appreciate that 70 percent number? Well, I just went back as far as the Consistency Calculator would take me. I had to go all the way back to the year 2000 to find a season in which more than five quarterbacks gave a QB1 performance in more than 70 percent of their second-half games. What Iím trying to tell you is, what Dalton did was pretty good.
Anyway, this quarterback that had one of the most consistent final eight weeks this millennium is the 17th QB being picked in fantasy drafts. Donít get me wrong; I wouldnít rank him as a top-12 quarterback. However, after seeing this, heíll definitely be a target in drafts where I go with the late-round QB method.
Alex Smith, KC - Peyton Manning, Drew Brees, Alex Smith. That is a list of the only quarterbacks in the NFL that had elite performances in at least 50 percent of their games in the second half. Thatís kind of mind boggling, even for an Alex Smith adorer like myself.
Overall, Smith was the fourth-most consistent provider of QB1 performances in the second half. Itís interesting that the second half of his first season with head coach Andy Reid and the Chiefs saw a huge improvement over the first half. Quarterbacks can evidently get better once they learn their new offense and new receivers.
This year heís back with the same Reid, the same offense, mostly the same receivers and the same Charles in the backfield. Heís the 20th QB off the board, according to ADP. Apparently there are a lot of good fantasy football quarterbacks in the NFL if one of the best in the last half of 2013 has 19 guys going ahead of him.
Under the Radar: EJ Manuel, BUF. Manuelís ADP is N/A because heís going undrafted. He only played five games in the back half of 2013, and he put up a QB1 performance in three of them. Only six other quarterbacks can claim they managed to put up top-12 numbers in at least 60 percent of their games over that time. You probably donít have to draft him, but keep your eye on Manuel if youíre big into the quarterback-by-waiver wire method of filling the position.
RUNNING BACK
DeMarco Murray, DAL Ė What do we want out of top picks in our fantasy football drafts? Iíd say we want guys who are consistent and have the ability to carry our teams with top-end scores in any given week.
According to the Consistency Calculator, in the second half of the 2013 season, only two running backs were able to give us an RB1 performance in at least 80 percent of their games AND an elite performance in at least 40 percent of their games: Charles and DeMarco Murray. (Actually, they were the only two running backs to give us an RB1 performance in at least 75 percent of their games and also have at least one elite performance).
When I drop those numbers to RB1 in 60 percent and elite in 30 percentMcCoy and Eddie Lacy join the party. Three of the four names I just mentioned are well within the conversation for the top five overall picks in fantasy drafts, while one sits firmly in the second round. Hmmm.
If youíre picking at the tail end of the first round of your fantasy draft, take Murray, then rest easy knowing you have a top-tier player at a second-tier price.
Ryan Mathews, SD Ė Remember that parenthetical statement a couple paragraphs ago that said Charles and Murray were the only guys who hit RB1 status 75 percent of the time AND gave us at least one elite performance? Well, only one other running back even hit that 75 percent mark. The third was, you guessed it, Ryan Mathews.
Only 12 running backs were able to put up RB1 numbers in at least 50 percent of their games down the stretch in 2013. Just 15 were able to do it at least 40 percent of the time. Eighteen were able to do it at least 30 percent of the time. Have I done enough to convince you that 75 percent is an impressive number yet?
If this isnít enough for you, what if we just talk about guys in terms of starting-caliber performances? Only two guys finished with at least seven weeks as a top-24 RB in the final eight weeks of the season: McCoy and Mathews. Although, to be fair, Charles only played in six games, so he never had a chance.
As of this writing, Mathews is currently the 18th running back off the board in standard fantasy drafts. Apparently finishing as an RB1 in six of your final eight games and a locked-in starter in seven of eight is not enough to gain the love and trust of the fantasy football universe..
What did I think of Ryan Mathews when I started fooling around with the Consistency Calculator? I was an unabashed hater. Now? Sign me up in round three.
Under the Radar: DeAngelo Williams, CAR. In the second half of 2013, he finished as a top-24 back 57.14 percent of the time, one of only 14 running backs to accomplish that feat in greater than 50 percent of his games down the stretch. He also mixed in two RB1 finishes and one elite finish. His ADP has him going after four kickers and nine defenses.
WIDE RECEIVER
Anquan Boldin, SF Ė I am about to give you a list of wide receivers. On this list you will find the six wide receivers that gave us a top-24 (starter) score in at least 75 percent of their games in the second half in standard scoring, along with their current ADP in 12-team leagues: Demaryius Thomas (1.10), A.J. Green (2.01), Josh Gordon (N/A, pending suspension ), Brandon Marshall (2.05), Antonio Brown (3.03) and Anquan Boldin (9.01).
Well, thatís interesting. Four of them are being drafted like big-time fantasy studs (deservedly so), one of them , and one of them is being drafted as bench fodder.
Of all 116 wide receivers that played four or more games in the last eight weeks of the season, 21 of them put up a WR1 (top 12) score in at least three games. The other 20 guys are being drafted in the top 80 overall. Boldin is going 109th . Canít a guy get any respect around here?
When I get to the middle rounds, Iíll let other guys take their rookies, defenses and backup running backs. I will grab a solid starter in Boldin.
Julian Edelman, NE Ė Iím just going to say it right off the bat: I am not a big Julian Edelman fan. I probably wonít own him in any leagues this year because the Patriots scare me in a ďDanny Amendola will get all the attention now that weíre ignoring himĒ sort of way.
But Iíd be silly to pretend Edelmanís finish to the season in PPR leagues didnít happen. In the last half, Edelman was one of only six wide receivers to have a top-12 PPR score over 50 percent of the time and one of only four wide-outs to have a top-24 PPR score at least 85 percent of the time.
So maybe my fear of Edelman is unfounded. There has to be some connection with Brady that is allowing him to load up all these stats in PPR leagues, right? Seems like it.
I personally will continue staying away from him, but donít let my scared brain influence you too much here. It may just be in your best interest to take advantage of all of us scared suckers that are letting this PPR monster fall into the late fifth round of drafts.
Under the Rader: Tavon Austin, STL. The exciting rookie wide receiver of yesteryear has tumbled down to in WR ADP this year. Did you know Austin and Gordon were the only two wide receivers in the NFL to put up an elite score in at least 50 percent of their games in the second half of the season (minimum four games played)? Sure, we didnít even get a top-24 score in the other 50 percent, but this is a 12th round pick weíre talking about. Iíd feel pretty awesome about getting a guy with that sort of ability that late in my drafts.
TIGHT END
Rob Gronkowski, NE Ė Gronkís name seems too big to even point out in a strong finish article, but I feel like itís necessary anyway. Heís coming off an ACL injury, which is scary, but every report Iíve seen suggests Week One is his targeted return date.
In case you forgot how dominant he can be, let me remind you: in the four games Gronkowski played in the last eight weeks of 2013, he put up an elite score in three of them. Only two other tight ends even put up top-12 scores in three-quarters of their games in the second half, and no other tight ends were elite in more than 50 percent.
In his four second-half games, Gronk averaged 12.20 points per game in standard leagues. First-round pick Graham is the only other tight end that averaged double digits over that same time (10.36).
I get the injury concerns. Heís always had trouble staying healthy. But if you honestly think Graham is a locked-in first-round pick, youíve got to be drooling at the idea of taking a tight end in the third round who showed over the last half of the season (before his injury) that thereís a decent chance heís better.
Delanie Walker, TEN Ė Iím doing something a little different here by including Walker. Every other player Iíve mentioned up to this point had some level of sustained success in the second half, whereas Walker is being brought up despite putting up a subpar (below starter level) performance in four of his final seven games.
Why would I do this? Because the other three games were elite.
Four other tight ends put up an elite score in at least 42 percent of their second-half games, and those other four are going off the board within the first 60 picks of an average fantasy draft. Walker has an overall ADP of 218.
Here are some guys with ADPs higher than Walker, according to FantasyPros: Eric Ebron (rookie), Ladarius Green (No. 2 TE on own team), Tony Gonzalez (retired), Jermichael Finley (free agent) and Owen Daniels (No. 2 TE on own team). A guy who showed down the stretch heís more than capable of providing top-end production is going after all of them? Iíd describe that as insanity.
Under the Radar: Anthony Fasano, KC. And I mean really under the radar. Fasanoís ADP currently sits at 73rd among tight ends. Earlier I told you only two other tight ends besides Gronk put up top-12 scores in at least 75 percent of their second-half games. One of them was Vernon Davis; the other was Fasano. Just keep that in the back of your mind if heís starting Week One.