QB Tom Brady, NE
2013 ADP: QB4 (4.09)
2013 Finish: QB14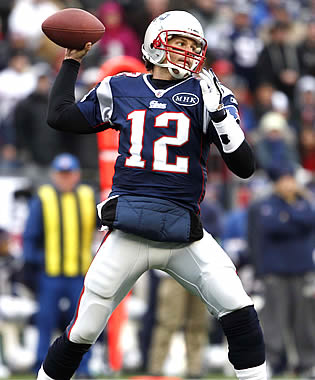 A healthy Gronk is the key to Brady's fantasy success.

To the fantasy football owners who drafted Tom Brady early in their 2013 drafts, I am sorry. Last season, Brady was considered a top-five fantasy quarterback and was generally taken within the first five rounds. It seems that fantasy owners failed to place enough emphasis on Brady's shaky and oft-injured group of receivers.



What Went Wrong:

Everyone knew tight end Rob Gronkowski was recovering from an injury heading into the season, and sure enough, he missed the first six weeks then tore he tore his ACL in Week 14 against the Browns. Whenever one talks about wide receiver Danny Amendola, it's always about how he can never stay healthy. Wouldn't you know, Amendola injured his groin in Week 1 and never seemed to be playing at 100 percent. When Brady doesn't have a healthy Gronkowski and Amendola, can any fantasy football owners really expect him to be a top-five quarterback with Julian Edelman, Aaron Dobson and Kenbrell Thompkins as his top targets?



2014 Outlook:

Heading into the 2014 season, it's the same old story when it comes to drafting Brady. Owners need to seriously take the health of Gronkowski and Amendola into consideration before they draft Brady early on. I still consider Brady a top-10 fantasy quarterback this year even if Gronkowski and Amendola get banged up. This is Tom Brady we are talking about. There is no way he has two disappointing seasons in a row. Look at his 2009 and 2010 performances. In 2009, Brady threw for 28 touchdowns and 13 interceptions, very similar to his 2013 stats (25 touchdowns and 11 interceptions). The following season, Brady had arguably one of his best seasons ever, throwing for 36 touchdowns and only four interceptions. Expect him to be taken anywhere from rounds six through eight.

RB C.J. Spiller, BUF
2013 ADP: RB7 (1.07)
2013 Finish: RB27

2013 was supposed to be the official coming out party for C.J. Spiller. After running for over 1,200 yards in 2012 while sharing carries with Fred Jackson, it was inevitable that Spiller would become the workhorse of the Buffalo Bills' backfield and an absolute fantasy stud. Spiller was selected in the first round in nearly every draft, and it turned out to be one of the biggest mistakes a fantasy owner could make for the 2013 season.



What Went Wrong:

After all the talk about Spiller taking over as the Bills go-to running back, it turned out that was not the case. In fact, fantasy owners could make the argument that Jackson remained the team's top running back. Jackson received 206 carries to Spiller's 202, but when it counted most, it was Jackson getting the red zone touches. Jackson scored 10 touchdowns on the season to Spiller's measly two. At the heart of Spillers fantasy flop was an ankle injury that battled through for much of the season. Some first-round pick, right?



2014 Outlook:

For 2014, there is absolutely no chance Spiller comes close to going in the first or second round. In fact, I wouldn't draft Spiller as anything more than a FLEX position or very low-end No. 2 running back. Jackson is still on the team, and to make things worse, the Bills added another running back in Bryce Brown. Expect Spiller to only receive about 10-15 touches per game.

RB Ray Rice, BAL
2013 ADP: RB9 (1.08)
2013 Finish: RB30

Has Ray Rice officially fallen off the running back cliff? This is one of the biggest questions heading into the 2014 season after Rice's dismal performance in 2013. Rice always has been known as one of the best fantasy running backs and has consistently been a first-round draft pick the last couple seasons.



What Went Wrong:

2013 was a nightmare for all Rice fantasy owners. Saying Rice had a down year would be an understatement. After recording at least 1,100 rushing yards in each of the last four seasons, Rice only managed to churn out 660 rushing yards, to go along with a forgettable four touchdowns.



2014 Outlook:

The Baltimore Ravens have made some huge upgrades to the offense. The offensive line was miserable last year, arguably one of the worst in the NFL. Marshall Yanda was never playing at 100 percent, Kelechi Osemele missed a majority of the season due to injury, and the combination of Gino Gradkowski and A.Q. Shipley was pathetic to watch. Yanda and Osemele are back at full strength this season, and Gradkowski and Shipley have been booted from the starting lineup with the addition of center Jeremy Zuttah. Add in the fact that the Ravens brought in Gary Kubiak as their new offensive coordinator, along with the additions of Steve Smith and Owen Daniels, and there is no reason why Rice should not have a bounce back season and become a dependable No. 2 fantasy running back.

A lot of people have jumped off the Rice bandwagon heading into 2014 without much surprise. However, I'm not ready to give up on him just yet. There is no way I am drafting Rice in the first or second round, but he is still worth a spot as your team's No. 2 running back.

WR Alshon Jeffery, CHI
2013 ADP: WR47 (10.10)
2013 Finish: WR9

If you were to ask fantasy owners who the best wide receiver duo is in the NFL before the start of last season, most of them would say either Julio Jones and Roddy White or Demaryius Thomas and Wes Welker. After a breakout season from Alshon Jeffery, there is no question that he and Brandon Marshall have taken the top spot as the best wide receiver duo in the league.



Why He Was Undervalued:

Jeffery's breakout performance in 2013 came out of nowhere. Fantasy owners didn't think anything special of Jeffery, resulting in his 10th- to 12th- round ADP . It was assumed that he would get no love from Jay Cutler. Why should he, when Marshall is lined up on the other side of field? The Chicago Bears somehow figured out a way to produce two of the NFL's most dominant receivers and have a rising star in Jeffery.



2014 Outlook:

After recording 89 receptions, over 1,400 receiving yards and seven touchdowns, Jeffery will certainly be drafted within the first couple rounds in 2014. Sure, it may be frustrating at times to see Marshall getting more targets than Jeffery, but I wouldn't let it scare you away from taking Jeffery as your No. 1 fantasy receiver.

WR Julian Edelman, NE
2013 ADP: WR62 (14.03)
2013 Finish: WR18

When the New England Patriots signed Amendola, it was inevitable that he was brought in to be Welker's replacement for the 2013 season. Fantasy owners also thought rookies Kenbrell Thompkins and Aaron Dobson were poised to be sleepers, considering they were Tom Brady's primary targets.



Why He Was Undervalued:

Everyone seemed to forget about Julian Edelman, and he made us look foolish for doing so. In most drafts, Edelman either went undrafted or was taken in one of the last rounds. After recording 105 receptions for over 1,000 yards, he might as well have been called "Wes Welker 2.0."

It was clear with Gronkowski's injury and Amendola's ineffective play that Brady and Edelman developed a chemistry that no other receiver on the Patriots roster could match. The Patriots even showed they believe Edelman will continue to play a vital role in their offense by signing him to a new four-year contract.



2014 Outlook:

After Gronkowski, there is no question that Edelman should be the next Patriots receiver taken. With the questionable health of Gronkowski and Amendola, Edelman will receive plenty of targets and should surpass 100 receptions again. He is extremely valuable in PPR leagues and considered a top-20 fantasy receiver in standard-scoring leagues.