As fantasy football team managers, we have to weigh many pieces of information when making decisions with drafting, trades, waiver-wire transactions, and lineup choices. In this piece I look specifically at the draft and highlight a few players that stand out as some of the more interesting, as well as some complicated players who we should all think twice about before selecting, especially when compared to their current ADP.

Note: ADP based on 12-team, standard scoring leagues.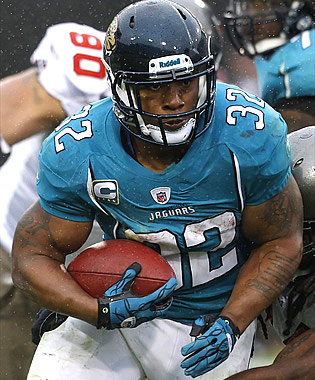 The time is right to pull the trigger on Maurice Jones-Drew before his price goes any higher.

RB Maurice Jones-Drew


(ADP: 2.07)





Risk:

It was not long ago that there was no risk involved in drafting MJD as a top 10 overall player, but oh what a difference a year makes. After holding out last summer, MJD got off to a slow start then got hurt and missed the rest of the season. Now, at 28 years old with a good amount of mileage on his legs, MJD enters the year without a long-term contract and on one of the worst offenses in the league. On top of that, the Jaguars are reportedly switching to a zone blocking scheme, which MJD will need to adjust to, assuming he is all the way back from his injury to begin with. While MJD may put up a good front, it is clear he is unhappy. And if the Jags start to struggle, like they probably will, don't be surprised if MJD shows his frustration on the field. All in all, your second- and third-round picks should be locks to be productive and consistent, if not elite, and MJD is probably far from that this year.



Reward:

In his first six years in the league, MJD averaged well over 1,100 total yards and 10 touchdowns per year. Sure, last year was a bust, but most stud players have a down or injury-plagued year at some point if they stick around long enough. Still a few years away from 30, MJD is one of the NFL's most versatile workhorse backs. He can pound it down the middle at the goal line, break outside for a long run, or catch a swing pass for big yards. With very little real competition in the backfield, and a fairly anemic passing offense, MJD should be a lock for at least 15 touches every game. Add this to the fact that you are getting a recent top 10 overall player as your second player drafted, and MJD could be the biggest steal of the year.



Buy or Sell:

I'm not a huge believer in a total return to top 10 form for MJD this season, but the fact is that he is being drafted as the 15th RB off the board—not 15th player but 15th RB! To me, the value this presents makes him a definite buy at that ADP. In many mock drafts I've done, mangers are consistently pairing MJD with guys like Arian Foster, Doug Martin, and Ray Rice. To me this presents a huge opportunity to dominate your league by having the best 1-2 RB combo. There are very few RBs who have the combination of resume, opportunity, and skill set MJD has, never mind the fact that you can get him in the mid-second round. Sure he has some risk, but most RBs do, so if you are going to go all-in in the second round, why not do it on a guy you know has done it before?

RB Reggie Bush


(ADP: 2.11)





Risk:

As the former No. 2 overall pick, Reggie Bush has been a bit of a bust, although he finally had a very nice season last year, finishing among the top 15 RBs in most standard leagues. A move to Detroit this offseason seems like a nice fit; however, there are some possible issues here. First is Bush's injury history, missing more than 21 games in his seven-year career, even while being just a part-time player for much of that time. Second, Bush's skill set is not exactly ideal for a fantasy stud, especially in non-PPR leagues, and the Lions have Mikel Leshoure to take on a lot of the heavy work. Third, it remains to be seen what kind of role Bush will have in this offense. It could be merely as a glorified third-down back. In a standard league Bush has a great chance to be a nice RB3 or provide quality depth at the position, but he is being drafted as a high-end RB2, and taking him there is really banking on everything going the right way.



Reward:

Last season, 144 passes that Matthew Stafford threw were directed at running backs, and Reggie Bush has way more talent in the passing game than any of Detroit's other backs. Catching 80 passes in this offense is probably a conservative number for Bush, but even if he does only that and adds 7-plus carries per game (also fairly conservative), we are looking at an RB with big-play ability in an explosive offense easily getting 12 or more touches per game. With Calvin Johnson taking much of the defensive attention downfield, the underneath should be wide open for Bush in both the passing and run game. Bush may not have the typical makeup of the traditional stud fantasy RB, but numbers are numbers, and Bush should see a healthy share of those this year.



Buy or Sell:

I like Reggie Bush as a nice and intriguing fantasy back this season, but he is being drafted as a high-end RB2 (and occasionally a RB1), so for me he is a sell at this point. Bush had a nice season last year and proved some doubters wrong, but I still see him as a great third-down back who is best when kept fresh and healthy by limiting his overall touches. Now, in a PPR league, Bush is worth every bit of his ADP, but we are talking about standard leagues here. Even if he does get 12-15 touches per game, he will still be passed up for Leshoure at the goal line and Calvin Johnson just about everywhere else. This means Bush's touchdown total will almost certainly be in the single digits (between 5 and 8), making him a steady but lesser-upside option. I also believe Joique Bell did enough last year to take touches away from Bush both on the ground and in the passing game. Like I said, I think Bush will have a nice year, but a high-end RB3 kind of year, not that of a higher end RB2. Do yourself a favor and let someone else take him in the second round while you get a similar or better RB a full round or two later.

RB David Wilson


(ADP: 3.08)





Risk:

Fumbling issues put Wilson firmly in Tom Coughlin's dog house last year, and a lack of pass protection skills kept him off the field for much of the season. With the departure of feature back Ahmad Bradshaw, Wilson has an opportunity for a huge second-year leap in production, but he must contend with Andre Brown for carries. Brown is almost certainly the goal-line back either way, but he may get more touches than Wilson overall, as Brown looked like the more consistent runner most times. While Wilson has the skill set to be a good receiver out of the backfield, he caught only four balls last year (Brown caught 12) and, thus, has a lot to prove before the Giants and fantasy owners can trust him.



Reward:

Wilson is an electrifying talent with speed, agility, vision, and surprising power for his frame. While he didn't get a lot of playing time until later in the season, he showed glimpses of elite ability both in the run game and on special teams. With the ability to take any run to the house on any given play, Wilson won't have to touch the ball 20 times a game to make a significant fantasy impact. Yes, he will lose some touches to Brown, but Brown also has proven to be a bit injury-prone, so the Giants may want to use him as more of a situational player to keep him healthy. In a potentially explosive offense, with downfield weapons and a good quarterback to keep the pressure off, Wilson should find plenty of holes to exploit, and some long touchdown runs may become a weekly occurrence.



Buy or Sell:

Wilson is one of those guys that I am lukewarm about this season. I'd love to have him as a third RB or possible flex play, but he is being drafted as a mid- to lower-end RB2 in 12-team leagues, so for me he is a sell at that ADP. Wilson seems to be on many people's sleeper or breakout list this year, but he is being drafted as an every-week starter. Because of that, he has become a bit overvalued. It's not that I don't think he is good or could possibility become an every-week fantasy starter, because I do. The problem is that Wilson has a lot going against him that could just as easily make him a bye-week fill-in only. We all know Tom Coughlin has a short leash for players that fumble or make fundamental mistakes (like poor pass-blocking), and Wilson certainly has had issues with those types of things. If Brown stays healthy, this will be a committee approach, and that will make Wilson's consistency frustrating to fantasy owners. As a bench stash or third RB, or even a flex play, Wilson looks like a nice player to have this season. But if you are counting on him to be a consistent and productive starting RB right away, I believe you will be very disappointed.

Wide Receivers

Suggestions, comments? E-mail me.