As fantasy football team managers, we have to weigh many pieces of information when making decisions with drafting, trades, waiver-wire transactions, and lineup choices. In this piece I look specifically at the draft and highlight a few players that stand out as some of the more interesting, as well as some complicated players who we should all think twice about before selecting, especially when compared to their current ADP.

Note: ADP based on 12-team, standard scoring leagues.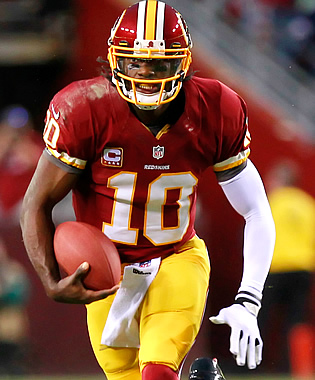 Robert Griffin III will be a steal at his current ADP if he can remain healthy for an entire season.

QB Robert Griffin III


(ADP: 7.01)





Risk:

The first and foremost risk with GR3 is the obvious: the injury concern and how soon he can be back to 100 percent after tearing his ACL just eight months ago. After hearing how much he's ahead of schedule and witnessing Adrian Peterson's remarkable comeback a year ago, it's easy to dismiss the injury as a non-issue, but we must remind ourselves that it was not that long ago that tearing an ACL could be a career-ending injury, not just a minor problem. Even if Griffin is ahead of schedule recovery-wise, it will be hard to totally trust him until we see him playing at a high level for the first few weeks of the regular season, which of course is many weeks after your fantasy drafts. If RG3 does actually make it back to 100 percent by the first week, we still have worry if he becomes an injury prone type player, especially because his body type is more Michael Vick than Cam Newton. In addition, one must wonder if the coaching staff will cut down a lot on using RG3's legs in order to prolong his career. This of course would severely hurt his fantasy value. Finally, even if health is not a concern, there is the threat of a sophomore slump and the fact that Griffin had more games where he threw for less than 200 yards (6) than he did 300-plus-yard days (3). If defenses adjust and take away his legs, it may not be a good thing for RG3's fantasy owners.



Reward:

Before getting hurt last year, RG3 looked like an absolute stud, scoring seven rushing touchdowns and rushing for the fifth most yards by a quarterback in a single season. As a passer, RG3 was very efficient, throwing just five interceptions versus 20 touchdowns. While the Redskins passing playbook relied mostly on shorter passes, Griffin certainly has the arm strength to open up the field, and with a full season under his belt, it is likely the coaching staff will let him do more of just that. To add to the exciting possibilities this year, RG3 should have two of his most talented pass catchers (Garcon and Davis) back from injuries that limited them to just 17 games combined last season. With elite running ability, efficiency in the passing game, more experience, and better weapons, RG3 might actually outperform what he did last year, making him a draft day steal in relation to where he is being drafted right now.



Buy or Sell:

I'm not totally sold on RG3 right now, but as the ninth or tenth QB currently being drafted, I am a buyer. That's partly because I think he presents a very good value at that point in the draft and has the upside to outperform four or five of the QBs taken ahead of him. I also like him at his current ADP because I see a drop in the quality of both RBs and WRs right around where RG3 is being drafted. This means that if you load up on RB/WR for the first six rounds and then take RG3—rather than grabbing a higher-ranked QB a few rounds earlier and risking missing out on a quality RB or WR, which are not very deep positions this year at the top of the spectrum—you should have a very solid and relatively deep team. If you do draft RG3, however, be sure to back him up with a more predictable/reliable QB (with less upside, most likely) in the later rounds (Cutler? Flacco?), just in case RG3's recovery hits a speed bump, or worse.

QB Michael Vick


(ADP: 11.01)





Risk:

Michael Vick is a risky fantasy pick this year mainly because of his injury history and high risk for continuing that history. In Vick's 11-year career, he has started 16 games just once and has started 12 or fewer games six times due to injury, including last year when he started just 10 games. Vick's style of play combined with his stature make him vulnerable to big hits and, thus, he is always one play away from holding the clipboard on the sideline. Add this to the fact that even when healthy last year Vick looked like he took a step back, and now he will have to learn a new system. And he's not even guaranteed the starting job. While Vick's raw athleticism and explosiveness is very enticing, there are way safer options out there this year.



Reward:

Before Chip Kelly was hired as Eagles coach, it looked as though Vick would be without a job, much less be a starting quarterback. But with his history of wanting athletic and mobile quarterbacks, Kelly decided to keep Vick around to see if he would fit his system. The jury is out on exactly what Kelly's offense will look like, but early word is that it will be very fast-paced and up-tempo, a style that would seem to fit Vick perfectly. Whether Vick can stay healthy long enough and grasp the system remains to be seen, but the upside is certainly there for a monster season if the cards fall the right way.



Buy or Sell:

Currently Vick is being taken as the 14th QB on average in 12-team leagues, meaning that unless some team drafts two QBs before you draft your first, Vick is nothing more than a backup option if you take him. In this scenario, as a backup, I am actually buying Vick as one of the biggest boom-or-bust candidates this year. My reasoning is this: if you draft Vick as a backup and he either gets injured or busts, you should know this by the time you will actually have to use him (on your starter's bye). If this happens, you simply pick up a QB off waivers for a week and continue with your starter the rest of the season. Sure, you wasted a pick on Vick, but at that point in the draft (late 10th round) you are probably not drafting any starters anyway. If, on the other hand, Vick stays healthy and all cylinders are firing on Kelly's new offense, you not only have an awesome backup, you may be able to play the matchups on your starting QB, or trade Vick to a team whose starter may be having a down year. The bottom line is, with not a lot of investment needed to get Vick, he provides one of the best values for managers looking for a possible stud in the later rounds, but without the risk of relying on him as a starter.

Running Backs

Suggestions, comments? E-mail me.