As fantasy football team managers, we have to weigh many pieces of information when making decisions with drafting, trades, waiver-wire transactions, and lineup choices. In this piece I look specifically at the draft and highlight a few players that stand out as some of the more interesting, as well as some complicated players who we should all think twice about before selecting, especially when compared to their current ADP.

Note: ADP based on 12-team, standard scoring leagues.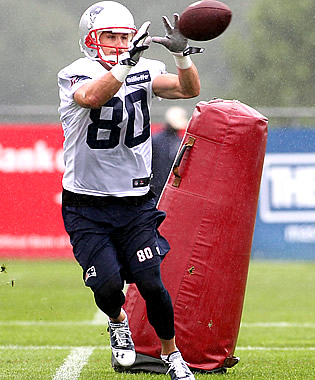 Patience: It may take half the season before Danny Amendola and Brady start to click.

WR Danny Amendola


(ADP: 5.02)





Risk:

There are two main risks associated with Amendola at this point: possibility of injury, and fitting in with a new team. The injury risk is probably the bigger concern, as Amendola has missed 22 games in just four years, including five last season. Besides being a smaller player (5'11", 190 lbs.) Amendola is a receiver who finds himself going over the middle a lot and being tackled by huge linebackers and defensive ends, not just similar-sized defensive backs. Filling the role Wes Welker left behind, Amendola will probably be targeted 10-plus times per game, which likely means getting hit that many times per game. Non–injury-prone guys alone would have trouble getting hit that many times and staying healthy, but for a guy who has missed about a third of his NFL career because of injuries, Amendola might be lucky to play half the season. As for fitting in with a new team, we have seen talented receivers (Chad Johnson, Brandon Lloyd) come to the Patriots lately and bust because they could not grasp the offense and get involved. While Amendola is known as a smart player, it is not a given that he will immediately jump right in and be Wes Welker 2.0. It may take half the season or more until he and Brady are totally comfortable with each other, and that's if he can stay healthy long enough to get that rhythm going.



Reward:

Besides being a little bigger than Wes Welker, Amendola is also a bit faster, meaning a lot of those plays in which Welker got caught from behind Amendola may take to the house. If he catches on to this offense quickly enough, he may not only approach Welker's targets and catches but actually surpass Welker's touchdown numbers, which was always what kept Welker from being an elite fantasy WR. With no Aaron Hernandez and Gronk's injury status up in the air, Amendola should easily become the first option of super-accurate Tom Brady, who most likely will throw the ball 30 or more times every game. A full 16-game season from Amendola should put him among the league leaders in targets, catches, and yards, meaning he is a steal at his current ADP. Even if he misses a couple of games, Amendola should be a top WR2 option in every game he plays. And with a few long touchdowns here and there, he could win you some weeks almost single-handedly.



Buy or Sell:

Amendola's injury history certainly is a legitimate reason to shy away from him this year, but as a mid- to lower-tier WR2 (where his ADP is), I'm buying Amendola at this point. To me this becomes a case of upside and value at a position that is relatively deep in the mid-range. For a guy that you will get as your second WR (and I've even seen him as a WR3 in many mocks), Amendola provides the kind of upside that few WRs in that range can produce. If healthy for most or all of the season, Amendola should provide low-end WR1 numbers most weeks, meaning you should dominate versus most opponents' WR2s without reaching high in your draft to get him. With this being said, I would certainly spend another mid-round pick on another WR2 (Garcon? Desean Jackson?) a round or two later to insure against injury to Amendola. While the Pats' injury report may give you heartburn many weeks, the high-end production that you should get from this fifth-round pick should ease your pain most weeks.

WR Tavon Austin


(ADP: 6.10)





Risk:

It is very rare that an NFL rookie at the WR position comes in and makes a big impact in the fantasy world. It is even more rare if that rookie is 5'9'' and 174 pounds. Tavon Austin was the first WR taken in this past draft (8th overall pick) and the Rams traded up for him, so there is no doubt they plan to use him right away. How he will be used is the big question. The answer is probably in the return game mostly—which will not provide much value in most leagues—and as a slot receiver in three-wide sets. Of course, the slot receiver position has become productive, at least in terms of volume of targets, but it's usually a poor source for touchdowns, which we all know can make or break a fantasy player's value. While the Rams have a fairly talented quarterback in Sam Bradford, their offense isn't exactly explosive, and the pecking order of receiving options is still very much in doubt. While Austin has a lot of potential in the right situation, it is very likely that he will be overmatched and underutilized in the passing game in his first year, making him much closer to a deep bench player than the high-end WR3 he is being drafted as.



Reward:

There is no doubt Austin has elite speed and quickness, and if college career is any indication of NFL success, Austin could become a stud as soon as this year. Besides his quicks, Austin's biggest strength may be his versatility, as he has returned kicks and lined up all over the field, including in the backfield as a runner. As a senior, Austin racked up 572 all-purpose yards... in one game against Oklahoma. After losing Steven Jackson this offseason, the Rams are very thin on proven playmakers and Austin is probably already the offense's greatest talent. In order to utilize this, don't be surprised to see the Rams use Austin as a Percy Harvin/Randall Cobb type player, where he will be force-fed the ball in the backfield, in the slot, and even on the outside in order to capitalize on his incredible after-the-catch ability. The sheer amount of targets and touches Austin should get make him an excellent WR3 candidate, even in standard leagues. And if he can turn a handful of those touches into long touchdowns, he may actually be a bargain at his current ADP.



Buy or Sell:

I'm excited by Austin's potential. And in a dynasty league I'd love to get my hands on him now, but in a standard redraft format his current ADP is way too high for me, making him an easy sell this year. Wide receiver is not an easy position to play, and often the learning curve is huge for rookies. While I do expect Austin to be heavily involved in the Rams' plans, a lot of what is coming out of training camp is saying he will be counted on mainly as a return man until he gets a better idea of how to effectively play out wide at the NFL level. It's possible this could come sooner rather than later, but I would not bet on it, and I especially would not trust him as my third WR, which is what he is being drafted as. The main reason I dislike him at his current ADP is that there are way safer options at WR that are being taken a round or two after him and that should not only be more consistent, but offer as much or more upside. These guys would include James Jones, Cecil Shorts, and DeSean Jackson, just to name a few. I know Austin is exciting and a sexier pick than some older veterans, but don't be fooled, Austin is way too risky to be drafted anywhere near his current ADP.

Quarterbacks

Suggestions, comments? E-mail me.