Everyone knows to start Peyton Manning every week, regardless of the match-up. But not all decisions are as easy at that one. So to help you decide who you should start and who you should bench I have identified the players at the QB, RB and WR positions that should excel this week and should be started, as well as the players who will struggle this week and should be benched.

Let's start with the QB position. You shouldn't have to be told, but just in case... always, always start the following players: Peyton Manning, Tom Brady, Drew Brees, Aaron Rodgers, Matt Schaub, Tony Romo and Philip Rivers. Now onto the question marks…


Quarterbacks
Bye Weeks: Denver, Jacksonville, San Francisco, St. Louis, Tennessee, and Washington, so that means Kyle Orton, David Garrard, Troy Smith, Sam Bradford, Vince Young, Kerry Collins, and Donovan McNabb are all benched.

Start 'Em:
Quarterbacks Who Will Outperform Relative To Their Draft Position And Recent Hype

Josh Freeman @ ATL
Freeman is quietly turning into a pretty good QB. He's completing 60% of his passes, averages 219 yards per game and has 8 TDs against only 3 INTs – and he hasn't thrown an INT in his last 3 games. This week he faces the 27th ranked pass defense. Atlanta is giving up 260 yards a game and has allowed 11 TDs. They also allow the 3rd highest yards per completion average at 7.8 and Freeman is coming off a week where his yards per completion was 11.1; so this could be another big week for Freeman and the upstart Bucs.

Jay Cutler @ BUF
Cutler's missed a game due to injury so his total yards rank him 18th in the league, but for yards per game he's 10th overall with 247. He's also 2nd in the league in average yards per completion with 8.2. He's only got 7 TDs – as many INTs and of course he's the rag doll of the NFL, leading all QBs in times sacked with 27. Buffalo ranks 6th overall in pass defense giving up just 196 yards per game – their only good passing defense stat. They've given up the 3rd most TDs (15), have the fewest INTs (1), allow the highest QB rating (110.0), and rank 22nd in QB completion percentage allowed (64%). The give up 7.5 yards per completion and their defense is the only one in the NFL giving up 30+ points per game. But perhaps most importantly, Buffalo only has 11 sacks all year – Cutler must be giddy! He should be able to stay on his feet and give you some decent numbers this week.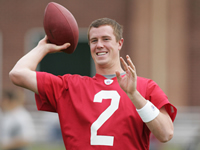 Matt Ryan: Steady as they come.

Matt Ryan vs. TB
Ryan is good for 245 yards and almost 2 TDs per game, while averaging less than 1 INT per game and completing 62% of his passes. Tampa Bay is giving up 210 yards and 2 TDs per game, and has allowed the 2nd most pass plays of 40+ yards in the league. Ryan should be able to connect with Roddy White on some long pass plays while dealing with the low QB rating and completion percentage the Bucs keep on opposing QBs.

Ben Roethlisberger @ CIN
The Steelers are 29th in passing offense, but its been a different story in the three games that Big Ben has started. Roethlisberger is averaging 251 yards and 2 TDs per game, and has a QB rating of 103.4. Cincy's pass defense is average, giving up 221 yards a game. For the year, they have the same number of TDs and INTs, but get no pressure on the QB and that will kill them this week. Look for Ben to bounce back from last week's rough outing against the Saints.


Bench 'Em:
Quarterbacks Who Will Under Perform Relative To Their Draft Position And Recent Hype

Matthew Stafford vs. NYJ
Stafford had a nice game in his return from injury against the Redskins last week, but this week the defense is stout. The Jets give up 218 yards per game, which is about average, only have 5 INTs and 15 sacks, but they allow the 7th lowest QB rating and they're the only team in the NFL to allow under 50% QB completion percentage. Expect Stafford to be pressured all day, have to deal with tight coverage on his receivers, and struggle against a very gnarly Jets team that lost 9-0 to Green Bay last week.

Matt Hasselbeck / Charlie Whitehurst vs. NYG
Hasselbeck and his misfit group of WRs only average 201 yards per game. He has more INTs (7) than TDs (6), gets sacked the 2nd most in the league, and Seattle has no vertical passing game with just 18 big plays all year - 2nd worst among all fulltime starters. The Giants have the 2nd ranked pass defense, giving up 179 yards per game, average 1 INT a game, have the 2nd most sacks in the league, allow the fewest big plays in the league, the 3rd lowest passer completion percentage and the 5th lowest QB rating. Clearly this is not a good matchup for Hasselbeck so better to leave him on the bench. Editor's Note: Hasselbeck has been ruled out with a concussion. Charlie Whitehurst will get the start but should remain on your bench.

Matt Cassel @ OAK
Cassel is ranked as the 5th QB in the league and gets you just 171 yards a game. He has the fewest big plays and the 5th lowest yards per completion average. Kansas City is a run first, dump it off second kind of team and this game will be played on the ground by both teams. The Raiders 4th ranked pass defense gives up just 183 yards per game and while its a little concerning that they give up the 5th most TDs and the 5th most big plays, they have the 3rd most sacks, and allow the second lowest completion percentage. The Raiders get beat deep and are tough underneath which doesn't fit KC's style. Stay away from Cassel.

Jon Kitna @ GB
Against the Giants he struggled except for two late TDs; against the Jaguars he was great except for 4 INTs, so which Kitna will show up this week? Against Green Bay I expect a combo of struggling with more INTs than TDs. The Packers give up 218 yards and 1 TD per game, but have more INTs than TDs allowed (12 to 8). They are in the top 5 in sacks, points allowed, QB rating allowed, and completion percentage allowed. Kitna had huge yardage last week – don't expect that here.

Running Backs