Everyone knows to start Peyton Manning every week, regardless of the match-up. But not all decisions are as easy at that one. So to help you decide who you should start and who you should bench I have identified the players at the QB, RB and WR positions that should excel this week and should be started, as well as the players who will struggle this week and should be benched.

Let's start with the QB position. You shouldn't have to be told, but just in case... always, always start the following players when healthy: Peyton Manning, Tom Brady, Drew Brees, Aaron Rodgers, Michael Vick and Philip Rivers. Now on to the question marks...


Quarterbacks
Start 'Em:
Quarterbacks Who Will Outperform Relative To Their Draft Position And Recent Hype

Tim Tebow vs. HOU
Tebow's first career start last week against Oakland saw him run for 1 TD and pass for another, and although he only threw for 138 yards on 8 of 16 attempts, he did have 78 yards rushing. As a result he was named the starter for the rest of this lost season in Denver, and this week he gets the worst pass defense in the league to practice against. Houston's pass defense is actually improving; they are down to just 275 yards allowed per game. They are second in big plays allowed with just under 5 per game, and they average 1 pass play of 40-plus yards each game. Their 103.1 QB rating is the league's worst, and their 27 sacks are in the bottom 10 in the NFL. Tebow's athleticism will get him big plays. He's already second on the team in rush yards, and he's just one TD behind Knowshon Moreno's total of 5. He could have another big game against this horrible Texans defense.

Josh Freeman vs. SEA
Seattle, who is still alive and well in the mighty NFC West, is 29th in the league in pass defense, giving up 259 yards and 2 TDs per game. They allow the most big plays in the league—yes, even more than the Texans—and they have the seventh-fewest INTs. So the odds are pretty good that Freeman (who is averaging 211 yards and has 18 TDs) and his desperate Buccaneers will be able to pick on the Seahawks secondary all day and give you some pretty nice stats.

Ryan Fitzpatrick vs. NE
It's amazing how the Patriots, with the 31st-ranked pass defense and an average run defense, are dominating the league right now. I guess it's good to have Tom Brady on your side. New England's pass defense is allowing 263 yards and 2 TDs on average, while allowing quarterbacks to complete 66 percent of their passes—the second-highest percentage in the NFL. Meanwhile, the Buffalo Bills continue to play everyone tough and actually come away with a win here and there. Fitzpatrick is currently 18th in the league with 229 yards per game, and his 23 TDs rank eighth in the NFL and fifth in the AFC. He only completes 59 percent of his passes, but his team has won two games in a row and his completion percentage over the last three games has been a little bit better at 62 percent. The biggest concern I have with him is turnovers. In the last three games he's thrown 2 INTs and fumbled the ball 4 times, losing 3 of them. But if he can hold onto the ball against the Patriots pass defense, he could be a nice sleeper play this week.

David Garrard vs. WAS
Garrard and the Jaguars took a step back in their loss at Indy last week, but he's still a hot QB and this week he faces the league's 30th-ranked pass defense. I'd look for him to rebound nicely and put up some big points—easily passing his season average of 187 yards per game, while adding to his 22 TDs. The Redskins give up 263 yards a game through the air, and Jacksonville is in playoff desperation mode. They need help in the form of the Colts losing, but they should be motivated to score early and often. Look for Garrard to add to his hot streak of 5 TDs over the last two weeks.


Bench 'Em:

Quarterbacks Who Will Under Perform Relative To Their Draft Position And Recent Hype

Eli Manning @ GB
I can't blame last week's collapse on Eli this time, although he certainly didn't step up during the last series of the game. Still, Manning's turnover issues aside, he's been good for fantasyland with his 247 yards and 2 TDs per game. In fact, his 28 TDs are the fourth-most in the league. After stinking it up the previous two weeks, he went off against Philly with 289 yards and 4 TDs. However, do not expect numbers close to those this week against the Packers' third-ranked pass defense. Green Bay gives up just 192 yards and 1 TD per game. They have more INTs (18) than TDs allowed (14), and their 18 INTs are fifth-best in the league. They also have the fifth-lowest passer completion percentage, the best QB rating (70.3), and the third-most sacks in the league, so expect Eli to be under the gun all day long. And Eli is not known for his composure—lack of emotion, yes, but not composure (bad decisions, stupid throws, turnovers, etc.).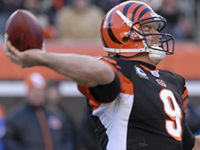 Bench: No better time than now.
Carson Palmer vs. SD
It wasn't bad enough that the Bengals lost their top WR for the year, they now have to face the league's best pass defense without him. The Chargers allow a league-low 170 yards per game and have given up just 12 TDs on the year (only the Saints have given up fewer). They are in the top 10 in passer completion percentage (58.7%) and QB rating (72.5), and they lead the league in sacks and fewest big plays allowed. Palmer is averaging 243 yards per game and has 21 TDs on the year, but the problem is that he also has 18 INTs (only Brees, Eli, and Favre have more). Over his last three games he's thrown for 637 yards, 2 TDs, 3 INTs and has taken 6 sacks. You can expect those same types of numbers this week.

Jason Campbell vs. IND
The Colts don't do anything particularly well in pass defense; they're pretty much below average in all the usual categories (passer completion percentage, QB rating, sacks, INTs, big plays allowed). But they only give up 210 yards a game—11th-best in the league. Add to this their new lease on their playoff life and you should see Indy picking it up a notch at home against the Raiders. Jason Campbell is good for 182 yards, 1 TD, and 1 INT per game, which is what you should expect to see this week, despite his improved performance over the past two games (324 yards and 2 TDs and 238 yards and 1 TD, respectively). Watch for a potential turnover-fest in Indy.

Mark Sanchez @ CHI
The Bears give up 221 yards per game, which is only 14th in the league, but their pass defense is far from average. Only the Saints give up fewer TDs (10 to Chicago's 12) and only the Eagles and Patriots have more INTs (23 and 21 respectively). Also, Chicago's QB rating allowed is fourth-best in the NFL. Sanchez may have broken out of his slump last week (even though his only TD was a rushing one) with a huge win against Pittsburgh, but I'm not sure he will do that again this week in Chicago. Look for him to come up short of his 216 yards per game average, and expect this to be his fourth week in a row without a passing TD.

Running Backs