Everyone knows to start Peyton Manning every week, regardless of the match-up. But not all decisions are as easy at that one. So to help you decide who you should start and who you should bench I have identified the players at the QB, RB and WR positions that should excel this week and should be started, as well as the players who will struggle this week and should be benched. Don't forget the Thursday night game this week—get those lineups in on time!

Let's start with the QB position. You shouldn't have to be told, but just in case... always, always start the following players: Peyton Manning, Tom Brady, Drew Brees, Aaron Rodgers, Eli Manning, Philip Rivers, and Kyle Orton. Now on to the question marks...

Quarterbacks
Bye Weeks: Green Bay Packers, New Orleans Saints, Oakland Raiders, and San Diego Chargers, so that means Aaron Rodgers, Drew Brees, Jason Campbell, and Philip Rivers are all benched.

Start 'Em:
Quarterbacks Who Will Outperform Relative To Their Draft Position And Recent Hype

Michael Vick @ WAS
Vick's return last week against the Colts was pretty impressive, and this week's game against the Redskins should be even more so. The Redskins' pass defense and their overall defense are both ranked 31st in the league. They give up 281 yards and nearly 2 TDs per game passing, and their run defense is just middle-of-the-road, so Vick should be able to get some nice rushing yards as well. The last time Vick faced the Redskins he was knocked out of the game and missed a few weeks, so he might be a little apprehensive initially. But once he sees how easy it is to put up yards against this defense, he should loosen up and light it up.

Drew Stanton / Shaun Hill @ BUF
Aside from passing yards, the Bills are a quarterback's dream defense. Buffalo allows just 193 yards per game, which is sixth-best in the NFL, but they make everything else way too easy for opposing quarterbacks. They are 31st in QB rating, 21st in pass completion percentage, 30th in TDs allowed, last in INTs, 31st in first downs allowed, and 29th in sacks. In addition to all that, the Bills give up more points than any other team—just under 30 per game. If Stafford could just stay healthy he'd be a great play every week, but he's out…again. The Lions offense has survived without Stafford before, and although it's Stanton, not Shaun Hill this time (although Hill has practiced with the first team this week), they'll still survive, especially against a horrible defense like this.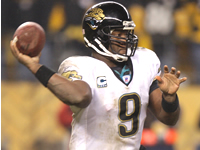 What do you do against the Texans? You throw the ball.

David Garrard vs. HOU
So what if Philip Rivers has basically tripled the passing yardage of David Garrard, Garrard gets to play Houston this week, just as Rivers did last week. Garrard is 29th in yards per game, with just 157, and 31st in pass attempts per game with 21. But he's fourth in the NFL in passer rating with 98.8, third in completion percentage at 67.8, and seventh in TDs with 13. So when he throws the ball, good things are happening. And what do you do against the Texans? You throw the ball…all day. Houston gives up 298 yards and allows an average of more than 2 TDs passing per game. They allow quarterbacks to complete 68% of their passes, for third-worst in the league, and they give up the third-most big plays and allow the third-highest QB rating. They are next to last in INTs and tied for 30th in sacks, plus they give up the third most points per game (28). In this week's game you should see more of the David Garrard that played against the Cowboys a couple weeks ago.

Ben Roethlisberger vs. NE
The Patriots get to test their defense against Big Ben this week after being destroyed by the Cleveland Browns last week. New England's pass defense is 29th in the league, giving up 269 yards per game. Their QB rating is the fifth-worst, and their pass completion percentage is the worst in the NFL at 70 percent (Colt McCoy was 14 of 19 last week). They have very little pass rush, so there won't be a lot of pressure on Roethlisberger, and he should be able to hit Hines Ward and Mike Wallace all day, even with the league's 28th-ranked pass offense.


Bench 'Em:
Quarterbacks Who Will Under Perform Relative To Their Draft Position And Recent Hype

Colt McCoy vs. NYJ
Rookie quarterback Colt McCoy had an impressive game against the Patriots and their 29th-ranked pass defense last week, and even then he only passed for 174 yards (almost 100 yards less than the average yards the Patriots give up per game). He completed 74 percent of his passes (14 of 19) and ran for 1 TD. But things will be a little different for the rookie this week. First off, teams now have a couple weeks of tape on McCoy, so unless he's "really good" expect a decline in his productivity, which is currently only 175 yards per game. Secondly, he faces the Jets defense this week, and although ranked 18th in the league and giving up 220 yards a game, they are pretty harsh on opposing quarterbacks. They lead the league in lowest pass completion percentage allowed at 49.5 (the only team holding quarterbacks to under 50 percent), and their QB rating allowed is just 77.4. Plus, the team as a whole only gives up 16 points a game, so there won't be a lot of scoring or even scoring opportunities for the rookie.

Jon Kitna @ NYG
The Dallas quarterback against the Giants defense. There's really not much else to say. But in case this crazy NFL season continues and Kitna goes off on the G-men, here's my reasoning. The Giants have the second-ranked pass defense, giving up 170 yards per game. They allow the third-lowest yards per completion (6.1), the least big plays (they're the only team in the NFL not to give up less than 20 big plays so far), the third-lowest QB rating (72.6), and the third-lowest pass completion percentage (54.6). They have the fifth-most sacks and the ninth-most INTs, and they are the top-ranked overall defense, giving up just 250 yards per game. Jon Kitna is struggling to lead a sinking ship with an interim head coach and is simply outmatched this week. These two teams met in Week 7 in Dallas, and the score was 41-35, but really the Giants dominated the game and should do so again this week.

Josh Freeman vs. CAR
Freeman and the Bucs take on the fifth-ranked pass defense of the Carolina Panthers this week. Freeman averages 215 yards and a TD per game as he steps up to lead his 19th-ranked passing offense against the Panthers, who are giving up just 190 yards per game. Carolina does not get a lot of sacks, but their coverage is solid, as they are in the top 5 in QB rating, passing yards per completion, and INTs. Freeman ended a streak of three games without an INT by throwing two last weekend. He also completed just 50 percent of his passes for 189 yards against an average Falcons pass defense, so I'd be very hesitant to play him against Carolina this week.

Donovan McNabb vs. PHI
McNabb ranks 12th in passing yardage with 246 yards a game, but at just 57 percent he has the second-lowest completion rate among full-time starters. He has more INTs (8) than TDs (7), and only Jay Cutler has been sacked more times. He's coming off his bye week, which should help things, but based on the "2-minute benching" and subsequent media attacks regarding his inability to learn the playbook, and his "cardiovascular endurance" problems, all signs point to another Rex Grossman showing in the upcoming weeks. The Eagles pass defense gives up 215 yards a game but is in the top 5 in QB rating, completion percentage, sacks, and INTs. Plus Philly is thinking payback for the earlier loss. McNabb is not someone you want to rely on right now and should be avoided.

Running Backs