There is a theory in fantasy football that wide receivers are ready to break out during their third year in the league. At that point in their careers, they have fine-tuned their route running, developed chemistry with their quarterback, mastered the playbook, and added the muscle necessary to fight off jams at the line of scrimmage and fight for balls with NFL cornerbacks.
While the debate may rage whether the theory is real or not, the 2010 year certainly offers little hope in proving that it is correct.
That is partially because the 2008 draft did not yield a single wide receiver worthy of being taken in the first round. In addition, of the ten receivers taken in the second round of the draft, only DeSean Jackson has performed well above expectations.
Of the other nine second-round selections, one will spend 2010 on injured reserve, two are unlikely to be on the roster of their current teams, two are approaching bust status, and one will likely be fourth on his team's depth chart.
Clearly, the prospects of this group of players collectively achieving solid fantasy production in 2010 is marginal at best. In fact, it would not be a total surprise if all of these players, other than Jackson, fail to bust out in 2010.
Here are the rankings with each player's original team and draft position.
Tier One – Already There
1. DeSean Jackson, Philadelphia (2nd) – Remarkably, Jackson was the seventh wide receiver taken in the 2008 draft. If he doesn't top a third-year wide receiver list, then stop reading.
Tier Two – Opportunity plus Ability
2. Mario Manningham, New York Giants (3rd) – Manningham was a flop as a rookie but came on strong in 2009 with 47 receptions for 882 yards and 5 touchdowns in only 14 games. He's competing with Hakeem Nicks and Steve Smith for playing time, but the Giants have a healthy passing game so he should see plenty of targets.
3. Pierre Garcon, Indianapolis (6th) – Garcon clearly has ability but only caught 51% of his targets last year, in comparison with Peyton Manning's overall rate of 68.8%. He will compete with Anthony Gonzalez and Austin Collie for opportunities in 2010.
4. Earl Bennett, Chicago (3rd) – Gets the opportunity to play in a Mike Martz offense but is not a dynamic player, lacking speed and not suited to the slot. He's here based on his projected stats, but there are lower-ranked players with much more upside.
5. Chaz Schilens, Oakland (7th) – Finally gets a decent quarterback in Jason Campbell but will have to fight off Darius Heyward-Bey and Louis Murphy for playing time. Again, another solid player who figures to produce but lacks upside.
6. Early Doucet, Arizona (3rd) – Doucet played well in the playoffs subbing for an injured Anquan Boldin and now gets an opportunity to replace him in the desert. It won't be a surprise if he assumes Boldin's role, with Steve Breaston maintaining his role from past seasons. Unfortunately, Matt Leinart is no Kurt Warner, which limits Doucet's upside.
7. Eddie Royal, Denver (2nd) – Royal was a complete non-factor in his sophomore year after displaying plenty of potential as a rookie in 2008. With questions at quarterback and a pair of rookies in Demaryius Thomas and Eric Decker, Royal will have to fight to earn playing time in Denver in 2010. He appears to be headed for a role in the slot, which limits his upside.
8. Devin Thomas, Washington (2nd) – With questions swirling around the availability of Santana Moss, due to his connection with a Canadian doctor charged with smuggling and distributing human growth hormone, there is a greater likelihood of a bigger role for Thomas in 2010. Unfortunately, he hasn't done much when given an opportunity, with only 40 receptions for 445 yards and 3 touchdowns in two years.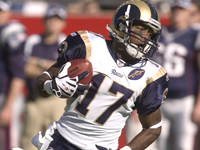 9. Donnie Avery, St. Louis (2nd) – Avery has struggled with injuries, inconsistent route running, and poor quarterback play during his two years with the Rams. At this point, he doesn't appear to have the ability to develop into a true number one receiver, and his likeliest role is that of a deep threat in St. Louis. With rookie Sam Bradford at quarterback, Avery's prospects of a breakout season appear remote at best.
Tier Three – Fighting for Opportunity, Hasn't Shown Much
10. Josh Morgan, San Francisco (6th) – Morgan burst onto the scene during training camp of his rookie year but appears to be the perfect example of a great practice player who fails to produce on game day. With Michael Crabtree and Vernon Davis expected to get plenty of targets in 2010, Morgan lacks upside and likely opportunity.
11. Malcolm Kelly, Washington (2nd) – Kelly gets a fresh start with Mike Shanahan, but he's basically done nothing to suggest that he's going to develop in 2010, and he plays soft for his size.
12. Jordy Nelson, Green Bay (2nd) – While Nelson hasn't justified his lofty draft status, he is a quality player caught up in a numbers game in Green Bay. With Greg Jennings and Donald Driver holding down the starting spots, and James Jones having solidified his role as the third receiver, Nelson is left fighting for targets with the other Packers.
13. Steve Johnson, Buffalo (7th) – With Terrell Owens and Josh Reed out of the picture, Johnson is fighting with James Hardy to earn a starting role. Don't be surprised if he earns it. Unfortunately, the Bills passing offense is pathetic.
14. James Hardy Buffalo (2nd) – Hardy has been a complete non-factor for two years in Buffalo and is behind in his development due to missing all of last offseason, in addition to part of the regular season, with an injury. Fortunately for Hardy, the Bills have little depth at wide receiver; otherwise he might be in danger of being released by Buffalo's new management.
Tier Four – On the Roster, Fulfilling Marginal Role
15. Davone Bess, Miami (Undrafted) – He's been productive for two years, but with Brandon Marshall on board, Bess will likely be moved to the slot exclusively in 2010. He's shifty but not fast and has produced almost no big plays.
16. Harry Douglas, Atlanta (3rd) – Douglas made some dynamic plays as a rookie, but a torn ACL during training camp ended his 2009 season. He's strictly a slot receiver in a run-based offense, which means he has no fantasy value.
17. Andre Caldwell, Cincinnati (3rd) – Caldwell is another player best suited to the slot in a run-based offense. There's too much competition in Cincinnati to expect Caldwell to bust out in 2010.
18. Jaymar Johnson, Minnesota (6th) – A special teams player who is buried on the depth chart.
19. Brett Swain, Green Bay (7th) – Mostly a special teams player and clearly no better than fifth on the depth chart.
Hanging on to Roster Spots
Jerome Simpson, Cincinnati (2nd) – This Bengals second-round pick has been a complete bust. Might not earn a roster spot in 2010.
Limas Sweed, Pittsburgh (2nd) – Former second-round pick would have been fighting for his roster spot, but a knee injury landed him on injured reserve for 2010.
Dexter Jackson, Tampa Bay (2nd) – Sense a pattern here? Another former second-round pick who has been a total bust, now in Carolina.
Lavelle Hawkins, Tennessee (4th) – Titans have plenty of depth at wide receiver; fortunately for Hawkins none of it is spectacular.
Keenan Burton, St. Louis (4th) – Can't stay healthy and will likely have to beat out 2009 fifth-round pick Brooks Foster to earn a spot on the roster.
Kenneth Moore, Carolina (5th) – Six catches in two years and now facing a logjam at wide receiver in Carolina.
Adrian Arrington, New Orleans (7th) – Can't seem to get off the practice squad.
Matt Slater, New England (5th) – Will be fighting with Sam Aiken, Brandon Tate, and rookie Taylor Price to keep his roster spot in 2010.
Lance Long, Kansas City (undrafted) – Caught some balls in 2010, but the Chiefs brought in the more proven Jerheme Urban, who will likely steal Long's role.
Nate Hughes, Jacksonville (undrafted) – He runs fast in a straight line. There isn't much else to add.
Likely Out of the League