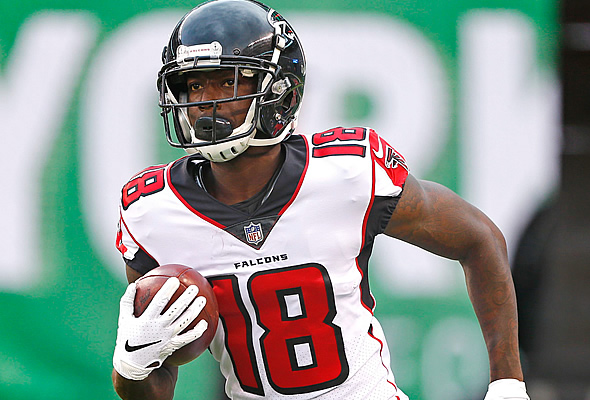 Wait your turn: It's rare that a rookie wide receiver becomes a viable fantasy option in Year 1.
If you select 2018 first-round rookie wide receivers D.J. Moore or Calvin Ridley, or any rookie wideout in your upcoming draft, prepare to be disappointed. The odds are not in your favor.
All you have to do is look at last yearís wideouts to know itís a losing proposition. How did first-rounders Corey Davis, Mike Williams and John Ross do? Iíll do the math for you. They averaged an ugly 1.6 FPts/G with Davis leading the way by posting a whopping 3.4 FPts/G over 11 games.
Check the chart below for the entire class of 2017. The average for the 2017 rookie wide receiver draft class was a whopping 2.2 FPts/G. Since the top 36 wideouts in 2017 (the total needed to start in a three-receiver, 12-team league) averaged 7.5 FPts/G, only two receivers qualified as fantasy worthy; JuJu Smith-Schuster of Pittsburgh and Cooper Kupp of the Rams.
Last season wasnít a fluke. In 2016, just two of 31 rookies averaged the 7.9 FPts/G necessary to make the top-36. The Drew Brees-to-Michael Thomas connection was the best combination over the past three seasons (11.2 FPts/G), while fifth-round selection Tyreek Hill showed just a hint of what was to come in his second season. Neither was a first-round selection. Again, the first-round didnít fare very well. The four top-round selections averaged just 3.9 FPts/G.
The 2015 season was the only one of the last three that produced a viable first-round fantasy starter in their first season. It also saw six wideouts selected in the first 29 picks. Two men, Amari Cooper and DeVante Parker cracked the top-36 in FPts/G. Unfortunately, two others didnít see a single target: Kevin White and Breshad Perriman due to injuries.
All told, thatís six of 98 rookie receivers became fantasy-worthy starters in their first season in the NFL (6.1%). First-round selections were 2-of-13 or 15.4%.
The news is a little better if we look at the past 10 years of first-rounders. Thanks to a 5-for-5 effort from the class of 2014 (Sammy Watkins, Mike Evans, Odell Beckham Jr., Brandin Cooks and Kelvin Benjamin), the odds of a first-round wideout being a viable fantasy option in their first season jumps to 34.3 % (12-of-35).
Still, looking at rookies Moore and Ridley, the odds seem to be against them in season one.
Moore will compete with Devin Funchess, Greg Olsen and Christian McCaffrey for the attention of quarterback Cam Newton. And the Panthers are not a pass-first offense. Newton has averaged just 488 passes per season with a high of 517 attempts in his rookie season. Throw in a career 58.5 completion percentage and it doesnít bode well for Moore in Year 1.
Meanwhile, Ridley will have to wait his turn in Atlanta. While quarterback Matt Ryan has averaged almost 560 passing attempts per season for the past 10 years, the bad news is that most of them will be headed toward Julio Jones. Ridley will likely work out of the slot with Jones and Mohamed Sanu on the outside.
I feel the best chance for success in the 2018 rookie wideout class will come from second-round selection Anthony Miller or third-round pick Michael Gallup.
Miller has the talent to make it in the NFL. He also has the opportunity in Chicago where he only has to beat out two other newcomers for targets Ė Allen Robinson and Taylor Gabriel. Miller has the skills and toughness if he can overcome some college ball security issues. Of course, it all depends on whether Mitchell Trubisky is the real deal.
Gallup arrives in Dallas at the perfect time. The team let Dez Bryant walk and Jason Witten retired. That means 219 targets are up for grabs. Gallup caught 176 passes for 2,685 yards and 21 TDs in two seasons with Colorado State and has the ability to beat press coverage. If he can flash that talent, he has a good chance to beat out journeymen Allen Hurns, Cole Beasley, Terrance Williams and Tavon Austin for Dak Prescottís attention and targets.
---
Steve Schwarz served as the fantasy sports editor of The Sports Network and is the 2014 FSWA Football Writer of the Year.