The summer has flown by and we are in the heart of draft season. It feels like it was just last week that I wrote my strategy article for picking in the top 5, suggesting an elite running back was the way to go in Round 1. Once Saquon Barkley, Christian McCaffrey, Alvin Kamara, David Johnson, and Ezekiel Elliott (assuming he signs) are off the board, it is time to pivot to wide receiver.
RBs Available Late in Round 1
The most valuable commodity in fantasy football is still the elite running back. Notwithstanding this fact, once those five names are gone, I prefer the wide receivers. Depending on your evaluation of the running backs, you can certainly take one in the latter stages of the first round. The names are typically Le'Veon Bell, Joe Mixon, James Conner, Nick Chubb, and Todd Gurley. Extending a little further we have Damien Williams and Dalvin Cook. All seven of these guys may very well be elite running backs but I am not certain which ones and that worries me. To quote myself from my previous article, "There is a cutoff after 1.05 because the safety level of the running back drops such that the advantage in having the elite RB no longer outweighs the safety of the WR."

Bell hasn't played football in almost two years. He is on a new team with a weaker offensive line and a turnover prone quarterback. The proficiency of the Steelers' passing game helped propel Bell to elite fantasy numbers. He's not going to have the same experience with the Jets, which caps his efficiency and his touchdown ceiling.

Mixon is an elite talent, but plays behind a terrible offensive line. The Bengals tried to improve by drafting Jonah Williams, but unfortunately he was lost for the season in June. Adding injury to injury, A.J. Green went down with torn ankle ligaments, further depleting the offense. Mixon's situation is concerning.

Conner is a mediocre talent that was never supposed to be the feature back. He fell into that role by happenstance and excelled in the Steelers' system. Conner hasn't been the pinnacle of health in his career and has Jaylen Samuels lurking behind him to steal passing down. Samuels has proven capable of being a three-down back if asked. Conner will be an elite RB1 if he gets the volume, but he has job security concerns.

Chubb is in a great offensive situation and is an excellent runner, but he wasn't used much in the passing game. The departure of Duke Johnson opens the door for Chubb to see increased targets, but Dontrell Hilliard appears to be ticketed for that role. Chubb's lack of receiving work caps his upside.

Gurley's situation is well documented by now. How much are the Rams going to use him? Will his knee hold up? Obviously these are significant concerns.

Williams is a 27 year old former UDFA that has fewer than 300 career touches. If he gets a 60% opportunity share in the Chiefs' backfield, he will be an RB1. His job security is minimal and we have no history of him holding up over a full season.

Cook has missed 17 of his first 32 professional games. He is running behind a bad offensive line and the team spent a third round pick on Alexander Mattison. I don't think Mattison is any good, but clearly the Vikings do. Cook has injury concerns and a hint of usage concerns.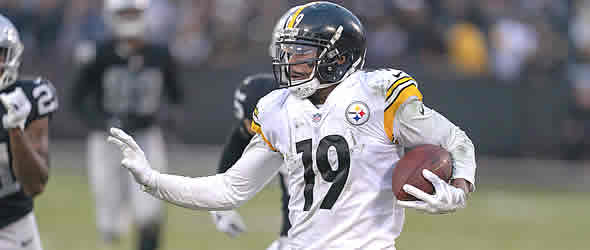 Target two of the top 7 WRs
It was necessary to address the running backs first as the concerns regarding each of the them are why I want a wide receiver at picks 6 through 12 in Round 1. There is a clear big seven at the position. You can separate them further however you please, but the top seven WRs off the board in just about every league will be DeAndre Hopkins, Davante Adams, Odell Beckham Jr., Julio Jones, Tyreek Hill, Michael Thomas, and JuJu Smith-Schuster. Every single one of them is talented and playing in prolific offense. Every single one of them has put together an elite WR1 season before. Every single one of them has zero job security concerns. Every single one of them has zero target competition concerns. You see where this is going.

Of course they aren't all completely bulletproof. Hopkins seems to be constantly playing through injuries. Adams has the highest floor, but his ceiling isn't as high as most of the others. Beckham is on a new team and hasn't played a full season since 2016. Julio has issues scoring touchdowns and is on the wrong side of 30. Hill's weekly floor is lower than you'd like and there will always be lingering off the field concerns. Thomas is entirely dependent on volume and has an even lower weekly floor than Hill without the same ceiling. JuJu posted a 56.6% slot share last season, which may decline now that he's the clear WR1 with Antonio Brown off to Oakland.

The difference between the WR concerns compared to the RB concerns is floor. Even if things go awry for the WRs, they will still be excellent options. If things go wrong for the RBs, they may be useless. I prefer to chase ceiling but in the first and second rounds, for me to take on the risk of a low floor, the ceiling needs to be worth it. In this case, all seven of these WRs have the same ceiling – No.1 scorer in all of fantasy. The RB ceilings aren't necessarily higher than WR ceilings, but the WRs are so much safer. I have a very difficult time envisioning a scenario where any of the WRs bust without an injury.

Ideally, your goal is to get two of the big seven WRs if your picking in the back half of Round 1. If you can't, then you absolutely should consider one of the "next seven" running backs mentioned above. Both Mike Evans and Antonio Brown are also on the table if you are overly concerned about the RBs, but Evans and AB are not as safe as the big seven WRs so taking an RB over them is justified.
Finding gold in Round 3
A crucial reason the WR-WR approach works is because of the third round. If you pick in the middle, you may have upper tier WR options on the board like T.Y Hilton, Adam Thielen, Stefon Diggs, and Keenan Allen. There is a drop off to the next group consisting of Brandin Cooks, Chris Godwin, Robert Woods, Julian Edelman, Tyler Lockett and Kenny Golladay. I like all of those guys so it works out just fine if you go RB early, but there is a big gap between the fourth/fifth round WRs and the top 12/13 at the position.

Meanwhile, in a deviation from recent seasons, the drop off at RB in Round 3 is not as steep as it typically is. You can grab Leonard Fournette, Kerryon Johnson, Aaron Jones, Marlon Mack, Devonta Freeman, and Josh Jacobs.
Round 4 and beyond
In the fourth round, you're looking at Derrick Henry, Sony Michel, Phillip Lindsay, and Mark Ingram. None of these RBs are without risk, but compare them to the quality of RBs going in the third and fourth round in years past and you will see how much better things are in 2019.

Even the fifth and sixth round RBs are of higher quality than the third and fourth round RBs from previous years. Guys like Tarik Cohen, Tevin Coleman, David Montgomery, James White, Kenyan Drake, and Chris Carson are far from terrible options as your RB2. If you can lock up two elite WRs, they can make up the deficit you will experience at RB due to the viability of the mid-round RBs.

If all else fails and you have loaded up on WR and even thrown in a QB or TE early, you can take solace in the fact that there are RBs available in rounds 7-10 with a reasonable chance of breaking out. Guys like Darrell Henderson, Jaylen Samuels, and Royce Freeman all have high ceilings.

You can build your team in a number of different ways and be successful. In most years, there has been a fear of missing out on running backs when going WR heavy in the early rounds. You should feel empowered to draft without that fear from the 6-12 spots in 2019. There are running backs available throughout the draft. Trust in the safety and upside of the elite WRs and know that when you do, you have a significant advantage at WR over your competitors.

Most importantly, every draft room is different and your team is your team. I can't predict how your draft will unfold. All I can do is give you confidence that you can execute whatever strategy ends up being optimal, especially WR-WR.

Good luck this season!