Every year, rest assured someone at some point during each of your drafts will utter some variation of the words "value pick." But what exactly is a value pick? What is value? Value is a relative term that changes based on public perception. When I consider value, I'm looking for a positive return on my investment. Just because a player has an a fourth round ADP and is still sitting there in the sixth round does not make him good value. At the same time, taking a player a round or two above his ADP is not necessarily bad value.
My goal in every pick I make is to take a player I believe will outperform his ADP. Last season, DeAndre Hopkins had a third round ADP but returned first round value. Hopkins gave owners one hell of a positive return on investment. On the flip side, DeMarco Murray had a second round ADP. He provided a significantly negative return on investment. That's the type of pick we all hope to avoid.
This year's value series concludes with running backs. Let's take a look at which RBs I expect to outperform their ADPs and which I expect to fail.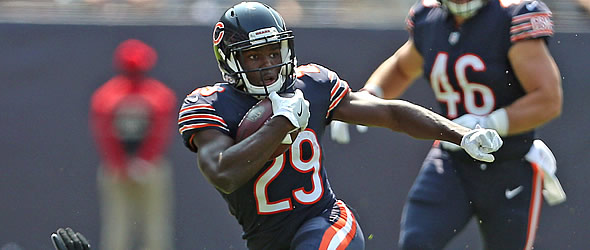 More suited for PPR leagues, Tarik Cohen is going to make his presence felt in the passing game.
Undervalued
Tarik Cohen, Bears
ADP: 6.09, RB30
The case for Cohen being undervalued: He is a super pass catcher that is dynamic in space and should see more consistent usage in the new look Bears offense under Matt Nagy.
The case against Cohen being undervalued: He's still just a satellite back, competing with Jordan Howard for carries and Allen Robinson, Trey Burton, Taylor Gabriel, and Anthony Miller for targets.
Verdict: Many fantasy owners are hesitant to buy into players in part time roles. That philosophy rules out a lot of players as most teams utilize at least two running backs in the modern NFL. Jordan Howard's rushing prowess should not preclude Cohen from being a weekly fantasy asset. Cohen is more receiver than running back and I expect to see him on the field at the same time as Howard a fair amount. Cohen has been lining up all over the formation in training camp and HC Matt Nagy has compared Cohen to Tyreek Hill.
While Cohen is clearly not going to post WR1 numbers from the RB position, the idea that Cohen is a splash play waiting to happen holds water. Cohen was 7th in the league in breakaway run rate last season and averaged an impressive 5.3 yards per touch, 11th in the league. Cohen looked like a PPR star in the making after posting back-to-back eight catch games to start his career in 2017. Unfortunately, John Fox's coaching ability is just barely above Jeff Fisher's, so after Cohen saw 21 targets over the first two weeks and produced 102 yards on 16 receptions, he saw just 50 targets the rest of the season. That type of dereliction of duty is what got Fox canned. Nagy will not make the same mistakes. By all accounts, the Bears will be a more aerial offense this year and I expect Cohen to finish second on the team in targets behind Allen Robinson. Cohen could push 80 receptions this season and essentially be Alvin Kamara lite. I'll take a lesser version of Kamara as my RB3 in the sixth round. Cohen can easily finish as a low end RB2, which would shatter his current value, but all he has to do is be a mid RB3 to provide a positive return on investment.
Marlon Mack, Colts
ADP: 7.06, RB33
The case for Mack being undervalued: He's the starting running back on an Andrew Luck led offense and good bet for at least a 50% opportunity share.
The case against Mack being undervalued: He doesn't profile as an every down back and could lose passing down work to rookie Nyheim Hines.
Verdict: The outlook on Mack will obviously be impacted by his hamstring injury. I am operating under the assumption that this is a mild strain and given that he will have over four full weeks to recover, he will be fine by the start of the regular season. Mack looked good in his preseason debut and he's really the only guy in Indianapolis. Robert Turbin is suspended to start the season and the other two RBs, Nyheim Hines and Jordan Wilkins, are both rookies. If Mack is healthy, he's the main guy. All he has to do to return RB2 value is handle early down work and goal line carries, which I expect to be the case. And truth be told, Mack can catch the football as well. He saw a 10.9% college target share and has upper percentile speed and burst. He wasn't used as much as he should've been last year with the Colts inexplicably feeding Frank Gore, but when he was on the field, Mack flashed talent. He finished 11th in the league in yards created per carry, 14th in juke rate, and second in breakaway run rate. Mack's efficiency will obviously dip with increased volume, but his underlying metrics indicate a good football player. I will buy that talent at his current cost, assuming he is good to go for Week 1.
Chris Thompson, Redskins
ADP: 7.06, RB34
The case for Thompson being undervalued: He's the primary back in an offense with a quarterback that loves to check it down to his running backs.
The case against Thompson being undervalued: He will never be an every down back and recently revealed his leg won't be 100% until around November.
Verdict: I completely understand if you are turned away by the injury risk that comes with Thompson. I am choosing to go in a different direction. Thompson is constantly monitored and evaluated by a professional team of doctors and they have cleared him to play. They would not have done so if they didn't think he could do everything he needs to do on a football field. Thompson has been practicing as normal and, by all accounts, looks like the same player that finished 10th in juke rate and the led the league with 7.8 yards per touch in 2017. Although Thompson's 2017 efficiency was never going to hold, particularly the part where he scored four touchdowns in his first three games, the target count is definitely something we can count on. The Redskins have one of the worst receiving groups in the NFL. When healthy, Jordan Reed is the primary option in the passing game, followed by Jamison Crowder. Thompson is next. Thompson was on pace for roughly 85 targets last season before his injury. I can easily see him pushing 100 this season with Alex Smith. Add in 6-8 carries a game as I expect Jay Gruden to utilize his rushing ability a little more with Derrius Guice out for the season, creating a clear path for Thompson to be a weekly RB2.
Corey Clement, Eagles
ADP: 10.02, RB44
The case for Clement being undervalued: A jack of all trades, master of none in what should be a potent Eagles offense with the inside track to passing down work and goal line carries.
The case against Clement being undervalued: Doug Pederson will use at least a three-man rotation limiting Clement's volume.
Verdict: Consider Clement a bit of a bonus undervalued RB report. There's a decent chance Marlon Mack's status as an undervalued RB is ruined by his hamstring injury so I wanted to make sure there are three good options here.
Clement is currently being drafted as an RB4, so the bar is very low for him to outperform his draft stock. I think UDFA Josh Adams is the most talented running back on the Eagles, but if he does make the team, it will likely be on the practice squad. That leaves Jay Ajayi and Darren Sproles and Clement's main competition for work. I won't get too much into Ajayi because (spoiler alert) I'll have plenty of time for that in the next section. Clement was used heavily as a receiver in two of the Eagles' three playoff games and simply wasn't needed in the noncompetitive blowout of the Vikings. I believe Clement can see 4-5 targets a game while also handling 5-7 carries. Early reports are that Clement is the Eagles goal line back which makes him a valuable commodity in all formats. In nine games with the Eagles last year, Ajayi scored exactly one rushing touchdown and saw exactly zero goal line carries. Clement is better than his athleticism indicates and provide usable RB3 value.
Overvalued
Alvin Kamara, Saints
ADP: 1.07, RB6
The case for Kamara being overvalued: He is coming off the single most efficient season in NFL history and is a sure bet to regress.
The case against Kamara being overvalued: He spent a quarter of the season as a bit player behind Adrian Peterson and is a lock to see an increase in volume.
Verdict: Let me be clear up front – Alvin Kamara is good at football and will be an RB1 this season. When you are at the very top of drafts, the threshold for being over or undervalued is far less. The difference between being the RB5 and RB10 is a lot greater than the difference between being the RB35 and RB40. My issue with Kamara is volume. When I am drafting a RB, particularly my first RB early in a draft, I want to bank on the single biggest indicator of repeatable performance – volume. Out of all nine first round running backs, I think it is fair to say that Kamara will touch the ball the fewest times. I'm looking for 300+ touches for my first round RB and Kamara isn't likely to see that kind of volume. His ADP is artificially inflated by the Mark Ingram suspension and I think it is unwise to expect Sean Payton to increase Kamara's usage with Ingram out. Boston Scott, Terrance West or Jonathan Williams will assume that work – not Kamara.
Last season, Kamara touched the ball 201 times. That number will go up, but not by anywhere near 100. He had 81 receptions on 100 targets and that seems about right for his 2018 reception totals; perhaps he gets to 90. He is sure bet to improve upon his 120 carries, which comes out to just 7.5 a game. Look for that to be more like 10-12. So if we give him 90 receptions and 11 carries a game, that's 266 touches, and I think that is on the high end of the range of outcomes. He will probably touch the ball around 250 times and he can produce RB1 numbers with that volume. However, in the middle of the first round, players like Saquon Barkley, Leonard Fournette, and Melvin Gordon could push for 350 touches. Kamara would have to be seriously efficient to make up the difference. He's certainly good enough to do it and Payton always uses him properly to exploit his abilities, but I want the guaranteed safety in the volume those other guys bring. Kamara strikes me as a low-end RB1 than mid-high RB1.
Jay Ajayi, Eagles
ADP: 4.03, RB19
The case for Ajayi being overvalued: He is a two-down grinder that doesn't catch passes and doesn't handle goal line carries.
The case against Ajayi being overvalued: He is still the primary back on what should be a top offense in 2018.
Verdict: This list will contain three overvalued players, but it's really not fair to put Jay Ajayi in the same class as the other two. There's overvalued and then there's whatever you want to call how ridiculously high Ajayi's ADP is. Not only will Ajayi finish outside the top 20, where he is currently being drafted, he will finish outside the top 30, just like he did last year with his PPR RB31 finish.
His supporters will argue that Ajayi saw more work as the season went on, LeGarrette Blount is gone, and Ajayi averaged more yards per carry with the Eagles than he did with the Dolphins. All of that is true, but the problem with a player like Ajayi is he is purely replacement level. He is not garbage by any means. He will get what his offensive line blocks. But so will dozens of other backs in the NFL. That is supported by the fact that Ajay's rushing success rate over average was virtually identical on the Dolphins as it was on the Eagles, even though his yards per carry was significantly higher. There just isn't any reason for Ajayi specifically to be on the field ahead of a whole host of other players.
How does Ajayi becomes a weekly RB2? There's only so much a player can do to produce fantasy points on yards alone. He may have multiple games of 80-100 yards but without goal line carries and with a ceiling of 25-30 receptions, we're looking at a player with a ceiling of around 1,200 total yards and maybe five touchdowns. That comes out to about 11.25 FPts/G, which would've put him around the RB22 last year. He is being drafted around his ceiling. When you consider his floor – that he is in essentially a 40-40-20 split with Corey Clement and Darren Sproles – there's a very plausible scenario where Ajayi puts up something like 800-1,000 yards with only two or three touchdowns. I mentioned previously how most teams are using more than one back these days. That doesn't mean you need to draft one of those timeshare backs in the fourth round and especially a very average one that may be in a three-way timeshare.
Kerryon Johnson, Lions
ADP: 5.11, RB27
The case for Johnson being overvalued: He is a rookie on a pass happy offense with at least two, and potentially three other backs vying for touches.
The case against Johnson being overvalued: The backs he is competing with aren't very good so Johnson could consolidate their touches if he shows well in the preseason.
Verdict: After watching Kerryon Johnson's NFL debut, I am backing off my stance that he doesn't even belong in the NFL. My decision to place him on this list has a lot more to do with situation than talent anyway. Here are the Lions rush attempts (removing QB rushes) as a team the past three seasons: 334, 313, 338. Those numbers rank 31st, 32nd, and 31st. Everyone likes to argue against Tyreek Hill by saying the team signed Sammy Watkins and gave him $30 million guaranteed and they'll argue for Stefon Diggs over Adam Thielen by saying they gave Diggs a massive extension. Well, similarly, the Lions went out and signed LeGarrette Blount. He is going to be their goal line back. They still have Theo Riddick, whose role as the passing down back is not going to change. This scenario seems familiar - we have a two-down back that doesn't catch passes and doesn't get goal line carries. How exactly is Kerryon Johnson going to score points? Ameer Abdullah, whose role Johnson is presumably taking over, was the PPR RB40 last season. If we assume Abdullah has no role whatsoever, Johnson can probably beat that, but by how much? Unless he renders Blount or Riddick obsolete, Johnson will struggle to be more than a low-end RB3.