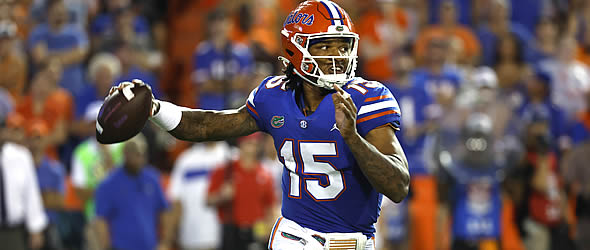 1.01 Carolina Panthers - Anthony Richardson, QB, Florida
The Panthers traded a boatload for the first overall pick. They also traded early in the process, suggesting they know who they're going to take. I do believe it'd be a bit odd to trade up here for Bryce Young or CJ Stroud since they're generally seen as somewhat similar to prospects. Richardson is the one of the top three that is different, and he boasts the highest ceiling of the group. For that reason, I'm penciling him in as the first overall pick for the time being.
1.02 Houston Texans - Bryce Young, QB, Alabama
Everyone has question marks about Young's size, but it isn't likely to matter for this pick. He was an elite option throughout his career at Alabama, and he has all of the skills to find success in the NFL. The Texans feature another new coaching staff, although they're locked in for a few years this time. They're going to want to get "their guy" at the most important position on the field, and Young is the top quarterback option in this class.
1.03 Arizona Cardinals - Will Anderson, Edge, Alabama
The Cardinals need plenty of help on the defensive side of the ball. Anderson is arguably the best prospect in this draft, and edge rushers are generally coveted in the NFL. He's likely the safest prospect in the entire draft, but he also comes with tremendous upside. He can immediately help the Cardinals' defense, making him the obvious option with plenty of questions surrounding Jalen Carter.
1.04 Indianapolis Colts - CJ Stroud, QB, Ohio State
The Colts have had a revolving door at quarterback for quite some time, but they'll have the chance to draft their future here. They may reach on Will Levis, but I believe talent wins out in this situation. Stroud found tremendous success at Ohio State, and he's flashed all of the makings of a solid NFL quarterback. We know quarterbacks are over-drafted, so he doesn't necessarily have to be the best prospect available to be taken at 1.04.
1.05 Seattle Seahawks - Tyree Wilson, Edge, Texas Tech
The Seahawks locked up Geno Smith in the offseason, and they have quite a bit of their offense figured out at this point. Instead, they can shift their focus to their defense, which they will need to fix if they want another shot at the playoffs. Wilson isn't as safe of a prospect as someone like Anderson, but he comes with nearly as much upside. He has game-changing ability off of the edge, and that's one of the most coveted skills in the NFL.
1.06 Detroit Lions - Christian Gonzalez, CB, Oregon
This is somewhat of an odd pick. The Lions could go in several different directions, but I genuinely believe they feel comfortable with Jared Goff as their quarterback at the moment. Instead, I believe they're going to draft a cornerback or edge rusher here. There are several corners that could be the first off the board with Myles Murphy being the only edge option to consider here. Gonzalez has the potential to turn into a shadow CB1 in the NFL, and that's an elite option to pair across from Jeff Okudah.
1.07 Las Vegas Raiders - Will Levis, QB, Kentucky
This is one of the most interesting picks in the NFL Draft. The Raiders signed Jimmy Garoppolo to a large contract, but there's a potential out after the 2023 season. There might be some bias in this pick since I'm not a huge believer in Garoppolo. I'm also not a huge believer in Levis, but he comes with tremendous arm strength, and we know quarterbacks are generally selected early. He's the fourth option before a tier break, and the Raiders could grab the future of their franchise with this pick.
1.08 Atlanta Falcons - Lukas Van Ness, Edge, Iowa
Van Ness didn't start a single game in college, but that isn't going to matter here. He boasts elite tools, and there are more questions about why Iowa didn't start him rather than his talent. Atlanta could use help in their secondary, but getting a high-end edge rusher is a way to help that unit. They featured one of the worst pass rushes in the NFL last season, and Van Ness would immediately help them turn that around.
1.09 Chicago Bears - Jalen Carter, DT, Georgia
This could be an ideal spot for the Bears. Carter would've been an option at them if they kept the first overall pick, so getting him here would be a major win. Some believe he's the most talented player in the NFL Draft, but he has a plethora of off-field concerns. It isn't likely that he falls all that far because of his elite talent, and the Bears are a team that could opt to take that shot on him. He can provide immediate help and could turn out to be the steal of the draft in five years.
1.10 Philadelphia Eagles - Nolan Smith, Edge, Georgia
The Eagles don't have many needs throughout their roster. We could see them going with RB Bijan Robinson, who will immediately take their offense to the next level, but I don't expect that to happen this early. The Eagles have several outstanding edge rushers that Smith can learn from early in his career. He's a freak athlete, and he has the potential to turn into one of the league's premier edge rushers in a few seasons.
1.11 Tennessee Titans - Paris Johnson Jr., OT, Ohio State
The Titans are in the process of blowing up their roster, although it doesn't look like they're ready to move on from Ryan Tannehill. Johnson is a player that is ready to start from day one, and the Titans are going to need that. He can be their long-term option at left tackle for whoever is under center. Overall, there are plenty of holes throughout this roster, but tackle may be the biggest need.
1.12 Houston Texans - Peter Skoronski, OT, Northwestern
The Texans hired DeMeco Ryans as a defensive-minded head coach. Oddly enough, they grabbed their quarterback of the future with their first pick. They can continue bolstering their offense with one of the best linemen in the draft. Skoronski may not have the arm length to play tackle in the NFL, but there have been crazier developments in history. Houston is a great option for Skoronski since they need help at tackle along with the interior offensive line. If he doesn't work at tackle, he can shift inside without issue.
1.13 New York Jets - Broderick Jones, OT, Georgia
The Jets could potentially include this draft pick in a trade for Aaron Rodgers. Until then, they're going to be making this pick in this mock draft. They desperately need help along the offensive line, specifically tackle. Jones is a massive option that could potentially play left or right tackle early in his career. His ceiling is a dominant left-handed tackle, but he's going to need plenty of work to get there. He's a high-upside option in this draft.
1.14 New England Patriots - Calijah Kancey, DT, Pittsburgh
I considered Darnell Wright here for New England, but I opted against that. They could potentially use an offensive tackle, but they do need help on the interior defensive line. Kancey doesn't have great size for the position, but he's extremely quick with elite explosion. It isn't appropriate to compare anyone to Aaron Donald, but he could be in that type of mold. He's undersized but can win in the passing game and disrupt the run game with his speed.
1.15 Green Bay Packers - Jaxon Smith-Njigba, WR, Ohio State
The Packers could still use help in their receiver room. They still need to make a decision on Aaron Rodgers, but they'll need help on the outside regardless of who their quarterback is. Smith-Njigba has dropped a bit because of injuries throughout his season, but Green Bay shouldn't overthink this one. The wide receiver outplayed Chris Olave and Garrett Wilson at Ohio State, and both of those players found success in the NFL as a rookie. Smith-Njigba comes with more than enough upside to warrant this pick.
1.16 Washington Commanders - Devon Witherspoon, CB, Illinois
If Witherspoon had a slightly more filled-out frame, he would likely be the first projected cornerback off the board. There's a very real possibility that he could make his way to the top of the draft board for his position as he boasts elite talent. He could potentially fill it out, though, and the Commanders need help in their secondary.
1.17 Pittsburgh Steelers - Joey Porter Jr., CB, Penn State
The Steelers are in need of a cornerback or offensive tackle. The cornerback position is still loaded at this point in the draft, while there aren't truly any offensive tackles that deserve this pick. I had Porter near the top 10 in my initial mock draft, and he has the talent to be selected significantly higher than this. It's a loaded class at the position, which is the only reason he's falling this far. He has the potential to be a shadow option in the NFL, and he'd get a warm welcome from Pittsburgh fans.
1.18 Detroit Lions - Myles Murphy, Edge, Clemson
The Lions drafted Aidan Hutchinson last year, and it's clear he's going to be a great player in the NFL. They also drafted a cornerback earlier in this draft to help fix their secondary. The other way to fix their secondary is to get more pressure on the opposing quarterback. Murphy was once seen as a top 10 pick, but he seems to be sliding a bit. He would benefit from playing with Hutchinson, and this could solidify Detroit's defense for the next 10 years.
1.19 Tampa Bay Buccaneers - Deonte Banks, CB, Maryland
This is somewhat of an odd spot for the Buccaneers. Brian Branch could potentially fit better in their defense, but Banks is shooting up draft boards after his outstanding combine. Ultimately, this is a bad roster, and it makes more sense to draft the better overall prospect. That's Banks, and he has the ability to become a high-end cornerback in the NFL. There are plenty of holes here for the Bucs, including quarterback, but Banks makes the most sense at the moment.
1.20 Seattle Seahawks - Darnell Washington, TE, Georgia
The Seahawks gave Geno Smith a big contract in the offseason, and it makes sense to give him more weapons. Washington isn't just a massive option in the passing game, but he will be able to help at a high level in Seattle's run game. With Washington's run-blocking prowess, he's going to be a great option in play action and a solid complement for DK Metcalf and company.
1.21 Los Angeles Chargers - Bijan Robinson, RB, Texas
Is this fantasy drafting? Maybe, but it also fully makes sense. Robinson is an outstanding running back prospect, and there's a very real chance he's selected drastically higher. The NFL doesn't care about running backs early in the draft, though, so he could also fall. Austin Ekeler asked for a trade, and the Chargers haven't found anyone to fill his shoes. If they do opt to trade him, they could immediately replace him with Robinson, who should immediately be one of the best backs in the NFL.
1.22 Baltimore Ravens - Quentin Johnston, WR, TCU
The Ravens franchise feels like it's on fire at the moment. It looks like Lamar Jackson isn't going anywhere, and the Ravens essentially talked down on their wide receivers. They did say that they weren't going to stop trying to find a WR1, and Johnston is the type of player that comes with that upside. He has everything you look for in a top receiver, and he can take some of the pressure off Mark Andrews and the other pass catchers.
1.23 Minnesota Vikings - Zay Flowers, WR, Boston College
Adam Thielen signed with the Panthers earlier in the offseason, and the Vikings are going to have to come out of this draft with a new wide receiver. Some believe Flowers is the best of the bunch, as he comes with elite route running. He'd see plenty of single coverage with Justin Jefferson on the other side, and he could immediately help the Minnesota offense in 2023.
1.24 Jacksonville Jaguars - Brian Branch, CB, Alabama
The Jaguars need help in their secondary, and Branch is a hybrid option that can play cornerback, specifically in the slot, or safety. He's solid in coverage, and he's outstanding in run support for his position. He's an NFL-ready player that can rush the passer as well. Branch is the type of player that will help Jacksonville potentially make a deeper playoff run.
1.25 New York Giants - O'Cyrus Torrence, iOL, Florida
It'll be difficult for the Giants to pass on a wide receiver here, but they could do that if Torrence falls a bit. He's an extremely solid interior offensive linemen, and he would immediately help from day one. They gave Daniel Jones a big contract in the offseason, and it seems as if they may have a potential plan with signing multiple wide receivers and trading for Darren Waller. Instead of a receiver, they can help keep Jones upright with this pick.
1.26 Dallas Cowboys - Michael Mayer, TE, Notre Dame
Mayer is seen as the best tight end prospect in a loaded class. He's a player that can do it all, and he's likely the most polished tight end in this draft. With Bijan Robinson off the board, the Cowboys could opt to help their offense in a different way. Mayer is a solid blocker, and he'll immediately contribute in the passing game.
1.27 Buffalo Bills - Jordan Addison, WR, USC
There's a very real chance that Addison is the best receiver in this draft. It's all about who you prefer as a team. The Bills gave Gabriel Davis a chance last season, and he struggled with injuries. It isn't out of the question that they could add Addison as their second option behind Stefon Diggs. I'm a bit worried that Addison isn't exactly the type of player that will take the top off of a defense, and he may need a bit more volume to find consistent success. Regardless, it's easy to be excited about someone with his talent in this Buffalo offense.
1.28 Cincinnati Bengals - Dalton Kincaid, TE, Utah
Kincaid is flying up the draft boards because of his receiving potential. He flashed as a route runner with tremendous hands during his time at Utah. He isn't the best blocker, but he can make a few blocks in the right position. The Bengals could use help at tight end, and he'd add another high-end receiving option for Joe Burrow.
1.29 New Orleans Saints - Jalin Hyatt, WR, Tennessee
The Saints still have a need at wide receiver, although there are rumors that they're trying to work out a deal with Michael Thomas. Regardless, they're relying heavily on Chris Olave, who's proven he can play in the NFL. Hyatt boasts elite speed, and he's a sure-handed player. If he added a bit of weight to his frame, he could be the first receiver taken off of the board. He'd make an outstanding pair with Olave for new quarterback Derek Carr.
1.30 Philadelphia Eagles - Cam Smith, CB, South Carolina
If the Eagles go with an edge rusher early in the draft, they could potentially take a cornerback at this spot. Smith has good coverage instincts, and he can learn from some of the top corners in the NFL in Philadelphia. This isn't a position of immediate need for the Eagles and their overall roster will allow them to go a few different ways, but cornerback is likely on their radar.
1.31 Kansas City Chiefs - Darnell Wright, OT, Tennessee
The Chiefs need help at offensive tackle. Wright is massive, and will likely stay on the right side where the Chiefs have a hole to fill. He's a relatively safe option at this point in the draft and could immediately help keep Patrick Mahomes on his feet.


Predict the top ten picks of the NFL Draft for a chance to win $100 and FFToday prizes. Enter our NFL Draft Contest now.