For novice fantasy football enthusiasts, this time of year is slow and mostly uneventful, but for hardcore dynasty owners the next several months are some of the most exciting, and potentially valuable parts of the dynasty football cycle.

One of my favorite things to do in the "offseason" is to acquire players at a value below their future potential. Whether their 2019 season was lackluster in performance or the player was struggling with injury, or their perceived value in the community is lower than what it should be, owners should be looking to gobble up shares of these players before any sort of potential hype may boost their value this summer.

The following are 5 players that I am targeting heavily the next few months that represent an opportunity to get a great return on investment.



Quarterback


There are very few people who would rank Sam Darnold inside their top 12 dynasty Quarterbacks, and up to this point in his career he has given fantasy owners very little reason to. Missing six games in two years and finishing outside the top 20 QBís both seasons has made Darnold more of an afterthought in the fantasy football community. With big name quarterbacks getting all the attention and hype, Darnold is likely very deep on someoneís bench, or possibly not owned at all in shallow 1 QB dynasty leagues. The Jets and Adam Gase are being laughed at more than praised leading most Jets players, including Darnold, to get a bad rap in the dynasty community.

Darnold remains one of the more naturally talented players at the position and the fact that he is still just 22 years old means there is lots of time for him to turn things around. Iíll say that again, Darnold is just 22 years old. He is younger than Joe Burrow but with two years of NFL experience under his belt. On the field, Darnold has shown glimpses of greatness, especially towards the end of his rookie season, and the middle of the 2019 season. He improved his completion percentage and his TD/INT ratio in year two despite having one of the more mediocre receiving corps in the entire league and one of the worst offensive lines. Darnold showed a lot of poise under pressure and had some WOW plays using his legs to avoid the defense and make impressive throws.

The circumstances Darnold has been in his first two seasons (fluke injuries, bad supporting cast, changing systems, Gase as coach) are about as bad as it gets for a young QB, yet Darnold has shown progress and potential in spite of these obstacles. To me the arrow has no choice but to point up, as it is likely the Jets improve their supporting cast this offseason and fire Gase in the next 12 months. As these circumstances unfold, the price tag on Darnold will creep up so donít wait around, be proactive and grab Darnold on the cheap while you still can.

Bold prediction: Darnold will be a top 12 fantasy QB in 2020 and will be top 7 sometime in the next three seasons.

Other Quarterbacks to Target:

Carson Wentz, PHI: Wentz had the absolute worst wide receiver unit in the NFL for much of the season. This will improve dramatically in 2020.

Ryan Tannehill, TEN: Most believe 2019 was a fluke but he was very efficient (70.3 comp %) and should have a full offseason as the starter with an impressive receiving corps and potentially more pass attempts per game in 2020.

Running Back

I know, we are going deep here right away, but thatís normally where the bargains are! Chase Edmonds is one of my favorite deep acquisitions this offseason for a couple reasons. First, he is way under the radar as 99.9% of the Arizona Cardinals fantasy talk revolves around Kyler Murray, Christian Kirk, David Johnson and Kenyan Drake. Under the radar usually means dirt cheap as well, and in my mind, major value.

Second, you want a part of this backfield for 2020, as the offensive scheme was allowing a lot of running room despite a well below average offensive line.

Third, Edmonds, when given an opportunity to be the man, responded with 126 yards and 3 touchdowns in Week 7 against the Giants. If not for a very untimely hamstring strain, Edmonds could have had a huge second half of the season, but unfortunately for him, Kenyan Drake came in and dominated the touches and production, never looking back.

For the upcoming season the backfield is a complete question mark, as David Johnson still has a huge contract and basically canít be cut, and Kenyan Drake is a free agent, but has expressed interest in staying in Arizona. While I think there is very little chance the Cardinals go into the season with Edmonds as their starter, I think he will get meaningful touches right away and is a very underrated and undervalued handcuff to whoever the starter will be.

As an Edmonds believer and optimist, I could see a scenario similar to 2019 Austin Ekeler, where Edmonds gets a ton of receptions, some carries, and perhaps a handful of games as the starter due to injury or hot hand. With the Cardinals likely to improve the line, Kyler becoming more comfortable in year two, and the entire offense taking another step forward, this backfield could be a goldmine, with Edmonds being by far the best value.

Bold prediction: Edmonds will finish as a top 24 RB in PPR leagues in 2020.

Other Running Backs to Target:

Duke Johnson, HOU: Efficiency is off the charts, he just needs more opportunity and still in the prime of his career. He should be dirt cheap as well.

Todd Gurley, LAR: The dynasty community freaks out about his health but he held up well in 2019 and offensive line should be a major focus this offseason. Gurley still has a nose for the end zone and could re-emerge as a top 10 back in 2020.

Royce Freeman, DEN: Freeman fits what new offensive coordinator Pat Shurmur has historically done. Freeman is just 24 years old and profiles as a three-down back.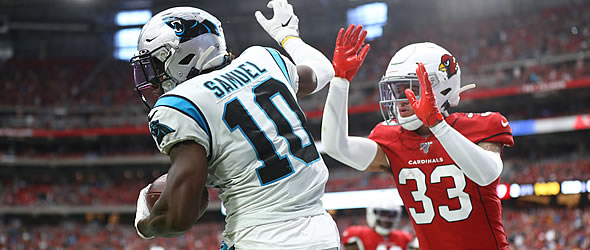 Wide Receiver
Samuel is my number one value target in all of dynasty this offseason, as his 2019 season was mostly a disappointment, outshined by a breakout year from D.J. Moore and a historically great year from Christian McCaffrey.

There were a number of things that worked against Samuel but most of them revolved around the Panthers quarterback position. In training camp we would get daily updates about how Samuel was the most impressive player, routinely catching passes from Cam Newton and making the defense look silly. Fast forward to Week 3 of the regular season and there is no more Cam Newton under center for the remainder of the year. In his place was noodle-armed Kyle Allen who was a game manager and check-down artist who routinely missed Samuel downfield, even when wide open.

Despite Samuelís lackluster cumulative stats, there was definitely reason to get excited if you looked deeper. Samuel finished 9th in the NFL in air yards, and 4th in aDOT among receivers targeted 75+ times, basically meaning he has huge big play potential with better QB accuracy. Add this to his rushing usage and production, which has gone up in each of his first three years, and Samuel has the makings of a dynamic playmaker on the cusp of a breakout.

With a new, and more creative coach coming to town in Matt Rhule, an upgrade at QB (Newton, a free agent, or a rookie), the last year of his rookie contract as motivation, and the defenses continuing to focus on Moore and McCaffrey, Samuel could be in the midst of a perfect storm for a breakout year despite not being ranked among the top 30 fantasy receivers. The time to get Samuel is now, before the Panthers decide on a QB, because anyone but Allen will be an upgrade.

Bold prediction: Samuel will finish 2020 as a top 18 fantasy WR in both standard and PPR leagues.
There is one thing that anyone who has played dynasty fantasy football for several years will confirm; the dynasty community is biased, in some cases extremely, when it comes to age of players and their value. Time after time I see young unproven players, sometimes even rookies, being valued over guys that were legit studs a year or two previously simply based on age. Thielen, who will be 30 by the time the season starts, had a down year in 2019 missing basically half the season with injury.

The injury, down year, and advanced age make a perfect storm of buying opportunity in my eyes, as Thielen never missed a game previously, has relatively fresh legs for a 30 year-old, and was a back to back 1,200-yard receiver previous to 2019. While Kirk Cousins gets a lot of flak in the fantasy community, the truth is, he is an above average starter who seems to favor Thielen as his number one target, even with Stefon Diggs on the opposite side.

Speaking of Diggs, there are plenty of trade rumors swirling this offseason and Diggs himself has not helped to calm these rumors, as he recently removed anything Vikings-related from his Instagram account. If Diggs moved on it would obviously leave a huge target void, of which Thielen would be the biggest beneficiary. Even if Diggs stays, Thielen should rebound as Cousins go-to guy on a team whose pass attempts (30th in NFL last year) is bound to climb in 2020.
Buy Thielen ASAP before Diggs possibly leaves, and even if he stays heís an absolute value as an older vet poised to return to form for at least one to two more seasons.

Bold prediction: Thielen returns to top 12 WR status in 2020.

Other Wide Receivers to Target:

Tyler Lockett, SEA: Most are on the DK Metcalf hype train as the Seattle receiver to own but Wilson to Lockett is one of the most efficient duoís in the NFL and Wilson is pushing to throw more in 2020.

Auden Tate, CIN: Deep but cheap. Tate is in line for a QB upgrade. He flashed in 2019 and I think itís doubtful the Bengals bring back A.J. Green.

NíKeal Harry, NE: One of the few 2019 rookie Receivers NOT to break out, Harry might be the most talented of the class, but never could get on the field enough to showcase his abilities.

Tight End

As an owner who fell in love with Smith as a rookie (I drafted him several times), things haven't exactly panned out. Smith has yet to top 35 receptions or 450 yards in a season and even when perennial starter Delanie Walker has been out with injury, Jonnu has been less than consistent.
What has been holding Smith back is his raw abilities. A freak athlete (93rd percentile SPARQ score), Smith went to Florida International and mostly got by (and drafted) on his athleticism, while needing a lot of work on the finer points of the tight end position - a position notorious for taking several years to master. With Walker entrenched as the starter, Smith had struggled to get snaps his first two seasons, but finally went over 700 in 2019, which was over 100 more than his previous career high. With the extra playing time, Smith looked more refined and still as explosive as ever, posting a hearty 9.8 yards per target, with 8 of his 35 receptions going over 20 yards. Just as exciting, the Titans found ways to get Smith involved as a rusher, giving him 4 carries for 78 yards, including a 40+ yard memorable run in the playoffs.

With Walker likely to leave the Titans this offseason, Smith looks like the clear-cut starter on a suddenly efficient ad even dynamic offense. With an already solid offensive line, the hope is Smith will be mostly focused on running routes, and with very competent receivers and a strong run game, the defensive pressure should not be focused on Jonnu most of the time.

Still just 24 years old, Smith looks like he could be on the verge of his true breakout year in 2020 but does not have the hype surrounding his name. As good an athlete as anyone at the position, Smith can provide the ďboomĒ weeks that many at the position cannot, while still being a relatively cheap acquisition compared to bigger names. The best time to get Smith is now, with Walkerís future in Tennessee up in the air and the attention focused more on breakout rookie A.J. Brown.

Bold prediction: Smith will finish 2020 as a TE1.

Other Tight Ends to Target:

Jared Cook, NO: The age (32) factor will make him cheap and with Brees committed to another season, Cook could finish as a top 10 TE with a fairly consistent week-to-week output along with some blow-up games.

Irv Smith, MIN: Just 21 years old, Smith flashed in 2019 and should take on a bigger role in 2020. A great athlete with great draft capital and college background, the starting position in Minnesota should be all his by 2021 if not sooner.

David Njoku, CLE: Still just 23 years old despite playing three seasons in the NFL, Njoku is a freak athlete who was raw coming in but should be finally ready to play to his potential.