There are many factors that go into choosing your players in fantasy drafts. One factor that I think might get overlooked at times, especially in the first couple rounds, is a player's consistency. When you're spending a high pick on a player, you want to be able to leave him in your lineup every week knowing that a solid to great performance will be coming your way.

Obviously your ultimate goal is to score points. That's why people love guys like Adrian Peterson. He has the highest FPts/G average over the last three years among running backs. Did you know he failed to achieve top-24 status at running back in 35.71 percent of his games, though? All of the big games are less appealing when you realize he's not showing up for you more than one-third of the time he takes the field.

That's the reason I am setting out on this consistency study. I want to highlight the players that have been setting themselves apart when it comes to playing at a high level week in and week out.

To do this, I spent some time with the Consistency Calculator provided right here on FFToday.com. For each position, I focused on the last three years to seek out who truly provides with excellent consistency. The NFL is a small sample-size league with only 16 games per season. It's hard to fully trust all of the information gained from that amount of games. By expanding the sample to 48, however, there's a clearer picture of who is truly consistent.

Coming up: A roster of one quarterback, two running backs, two wide receivers and one tight end that have truly shown they are the class of their position when it comes to consistent production in our game of fantasy football.

(Note: All mentions of ADP are according to current fantasyfootballcalculator.com information.)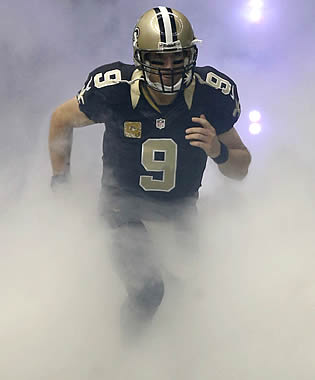 Consistency is one reason to take Brees over Peyton.
QB Drew Brees, NO – When it comes to consistency, few players bring it quite like Drew Brees. Over the past three seasons, Brees has put up a QB1 score 83.33 percent of the time he has taken the field – the highest rate of any quarterback in the league. If you're filling the quarterback position early in your draft, this is what you want out of the guy you're taking.
Consider this: Over the same three-year span, only 12 total quarterbacks managed QB1 production at least 50 percent of the time. Seven were able to do it at least 60 percent of the time. Only the big three - Brees, Peyton Manning and Aaron Rodgers - did it at least 75 percent of the time.
Just so we're clear, Brees wasn't skating by with these QB1 performances. Over the last three seasons he's averaged 28.07 FPts/G, slightly edging out Manning (27.46) and Rodgers (26.79) for highest in the NFL. On top of the high average, Brees put up an elite score 45.83 percent of the time he took the field. Only Rodgers (50 percent) and Manning (46.88 percent) had a higher percentage of elite performances over that span.
While it was close in terms of ratios, there is one area where Brees has risen well above Rodgers and Manning: He's always on the field. He has played 48 out of 48 possible games over the last three years, something only nine quarterbacks in the league has done, and he put up a QB1 score in 40 of them. That's the same number of games Rodgers suited up for in that time. Manning, of course, missed the entire season in 2011.
Draft Strategy: I am not one to promote the idea of drafting a quarterback too early; however, if Brees starts falling down the board, or you are someone who prefers the set-it-and-forget-it method of filling the quarterback position, definitely grab him. With Brees' combination of scoring ability (highest FPts/G), weekly consistency (highest percentage of QB1 performances) and ability to stay on the field (never misses games), you probably won't regret making him part of your fantasy squad.
RB LeSean McCoy, PHI – If you have a pick near the top of the first round, there is a very good chance you are planning to draft a running back. With a pick so high, you want a player that will provide you with week after week of consistent production and a guy that can provide week winning scores along the way. LeSean McCoy is that player.
When I think about consistency with running backs, I'm looking at how often they give a starter-level performance. I consider starter-level to be top 24. Over the past three seasons, McCoy has reached that level in an amazing 81.4 percent of the games he's played in. Arian Foster is the only other running back to play at least 16 games over the last three seasons and achieve top 24 status at least 70 percent of the time. If you play PPR, McCoy has been a top 24 player in 90.7 percent of his games. That's a wild number when you consider only two other backs have topped 70 percent in PPR.
I realize when you take a running back at the top of your draft you aren't just looking for any old starter. You want a high-scoring RB1. Over the past three seasons, McCoy leads the league with 28 RB1 performances. He's second in the league with 16.61 FPts/G (Adrian Peterson is No. 1). In PPR, McCoy has had 33 RB1 performances, five more than the next highest total.
When it comes to consistent, high-level play at the running back position, McCoy is king.
Draft Strategy: Jamaal Charles and Peterson both certainly deserve consideration, but after my time with the Consistency Calculator, I now believe McCoy should be the No. 1 pick in fantasy drafts. For the record, I was firmly in the Charles camp before this study. All three have similar upside, but McCoy brings a level of consistency that the other two haven't quite been able to match in recent years.
RB Arian Foster, HOU – I was originally planning to stop at one running back for this article, but I couldn't resist the temptation to include a section on Arian Foster. He is coming off a lackluster 2013, but that doesn't mean we should completely ignore his three-year numbers.
You already know from the McCoy section that Foster is the only running back that has come close to McCoy in starter-level production. The part I left out was that Foster barely surpasses McCoy when it comes to percentage of games with RB1 scores. Foster has done it in 70.27 percent of his games, while McCoy has "only" done it in 65.12 percent. I put "only" in quotes because it's still wildly impressive compared to the rest of the NFL.
Now, my favorite part: Foster's ability to put up elite scores at a relatively consistent pace. In the last three years, Foster has put up an elite fantasy score in an incredible 56.76 percent of the games he's played. No other running back has even reached 50 percent in that category. Amazing.
I labeled McCoy the king of running back consistency because he has shown a better ability to stay on the field than Foster, but that's really the only thing separating these two players.
Draft Strategy: Foster's ADP currently has him going off the board at the top of the second round. I fully understand not wanting to invest a first-round pick into Foster. The arguments are there: he has supposedly been worn down the last few years by his workhorse status and he was hurt for a lot of last season. If you are sitting there on the clock in round two and Foster is on the board, I'd be hard-pressed to pass on him. Sure, he might be falling off. But if it turns out he's not, you might just be getting a player that has consistently shown in recent years the ability to be one of the best, if not the best, running backs in fantasy football.
WR Calvin Johnson, DET – As I worked through the positions in the Consistency Calculator, picking the top guy at wide receiver turned out to be the easiest decision.
Over the last three seasons, Calvin Johnson has provided a top-24 WR score in 73.91 percent of his games played, most in the NFL. Only A.J. Green has done that in at least 70 percent of his games, and only 11 wide receivers have done it at least 50 percent of the time.
Johnson has provided a WR1 score in 67.39 percent of his games in the same time period, also most in the NFL. Just eight wide receivers have managed 50 percent or higher.
Have I convinced you yet that Johnson has provided unmatched levels of consistency for a wide receiver? If not, maybe this will do it: He has put up an elite score in 54.35 percent of his 46 games played over the last three years, or 25 total games. Only Green (with 29) has put up at least 25 WR1 performances in that time. Johnson has given us an elite score that many times.
If pure fantasy point scoring is more your style, here's some more fun information: Johnson has averaged 15.49 standard FPts/G in the last three seasons, more than three points ahead of the next highest scorer (Julio Jones with 12.21 FPts/G). Josh Gordon is the only other wide receiver to have at least one season that topped Johnson's three-year average.
Draft Strategy: Perhaps it's out of boredom with the same old rankings, but I've seen suggestions that Johnson might not be the best choice as first wide receiver off the board. Granted, there are a few guys who clearly have the ability to take the top spot this season, but the first round is just as much about not messing up as it is picking a top player. With Johnson, you're getting the most consistent and highest-scoring wide receiver of the last three years. I'd be happy with any of the elite receivers, but this summer I will always take Johnson first at the position.
WR A.J. Green, CIN – As I'm sure you noticed, A.J. Green's name popped up a few times in Calvin Johnson's breakdown. I was honestly surprised at how often I saw him up near Johnson. I knew Green was good, but didn't realize just how good.
Other players have come and gone in individual seasons. A.J. Green hasn't finished better than fourth in FPts/G in any of the last three seasons. In fact, fourth is right where he sits in FPts/G over that span. Green isn't the best scorer (though top four is nothing to sneeze at), but when it comes to consistency, he's only second to Johnson. And it's not really close.
Here are some numbers: Green has put up at least a top-24 score in 70.21 percent of his games over the last three years The next best player is under 65 percent. Green has put up a top-12 score in 61.7 percent of his game. The next best is under 55 percent. In both cases, he's closer to Johnson's No. 1 spot than the No. 3 player is to Green.
Green finds himself a little farther down the list of elite scorers, which makes him a little less exciting to talk about. He might not be a "wow" pick in fantasy drafts, but when it comes to methodically knocking out high-quality seasons, Green is Mr. Consistency.
Draft Strategy: There are certainly more fun names to take on draft day. Demaryius Thomas and Dez Bryant are currently being drafted ahead of Green. If Jones looks healthy in August, he could potentially get hyped up past all three of them. I wouldn't blame anyone for taking any of those guys ahead of Mr. Consistency. They're all great. But if your goal in the first couple rounds is simply to escape without messing it up and Johnson is off the board, making Green your pick might just be your best move.
TE: Jimmy Graham, NO – As it turns out, there's a reason Jimmy Graham is going nearly two rounds ahead of the next highest-drafted tight ends. The man is a machine.
Over the last three years, Graham has accumulated 37 TE1 performances. There are only 28 tight ends in the NFL that have managed to suit up in 37 games. No other tight ends have more than 26 top-12 scores.
Of those 37 TE1 games, 25 were at the elite level. Rob Gronkowski has the next highest with 17 total, and no other tight ends have more than 11.
The only tight end that really comes close to matching Graham when it comes to consistency is that man, Gronkowski. Graham barely nudges out Gronk in percentage of top-12 games, as Graham did it 78.72 percent of the time, while Gronk did in 76.47 percent of his games. No other tight end has done it more than 56 percent of the time.
As for elite games, Graham has reached that level 53.19 percent of the time and Gronkowski did it in 50 percent of his. No out-of-prison tight end has even done that at least 25 percent of the time. While the percentage differences between the two are razor thin, Gronkowski's inability to remain on the field (14 missed games from 2011-2013) gives Graham (one missed game) the clear advantage. You can't provide consistently for your fantasy owners when you're on the sideline.
Draft Strategy: Given his awesome consistency and high level of play, Graham gives his owners an advantage at tight end that no player at any other position can provide. He is almost certainly worth is current ADP of 1.08.