Every year, rest assured someone at some point during each your draft will utter some variation of the words "value pick." But what exactly is a value pick? What is value? Value is a relative term that changes based on public perception. When I consider value, I'm looking for a positive return on my investment. Just because a player has an a fourth round ADP and is still sitting there in the sixth round does not make him good value. At the same time, taking a player a round or two above his ADP is not necessarily bad value. Again, everything is relative. My goal in every pick I make is to take a player I believe will have a higher ADP the following season. Last season, Melvin Gordon had a fifth round ADP. This year, he has a first round ADP. Gordon gave owners one hell of a positive return on investment. On the flip side, Brandon Marshall had a second round ADP. This year, he has a sixth round ADP. That's the type of pick we all hope to avoid.
Let's take a look at which RBs I expect to outperform their ADPs and which I expect to fail.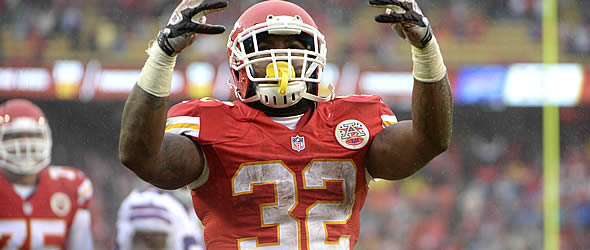 Undervalued: A 1000-yard, 8 touchdown season is certainly within Spencer Ware's range of outcomes.
Undervalued
Spencer Ware, Chiefs
ADP: 5.02, RB21
The case for Ware being undervalued: He was an elite RB1 over the first few weeks of 2016 and remains the No.1 running back in the Chiefs offense.
The case against Ware being undervalued: The Chiefs inexplicably didn't use him on passing downs and also traded up to draft Kareem Hunt.
Verdict: In preparation for this article, I went back and watched college film on Hunt. There is no chance, barring injury, that Hunt takes Ware's job. He may force a timeshare, but Ware was basically in a timeshare with Charcandrick West. Ware's snap count actually decreased every single week in 2016 but West's steadily decreased as well. Ultimately, Ware finished as the PPR RB15 on a per game basis with a 53.3 percent snap share while West handled 34.9 percent. A 60-40 split between Ware and Hunt seems likely and would benefit Ware.
According to Football Outsiders' defensive value over average (DVOA) stat, Ware was the second most effective pass catching RB in the league last year. He has great hands and a high football IQ to help make him an elite pass catcher. For some reason, Andy Reid didn't see this. Perhaps he will this year. But even if he doesn't, Ware is the same player who averaged 5.6 ypc in 2015. He's the same player that was so effective the past two seasons that the Chiefs felt comfortable letting future hall of famer Jamaal Charles walk.
Ware's struggles as the season went on can be explained by his Week 8 concussion and the loss of Parker Ehringer, the Chiefs top run blocking offensive lineman. According to 4for4's Joe Holka's rushing expectation metric (which measures an RB's success rate compared to what an average RB would do in the same situation), Ware far outperformed expectation. Ware's 12.9 red zone touchdown rate was in the bottom quarter of the league. That's not a knock on Ware but more of an indicator of bad luck. Ware is due for positive regression in the touchdown department and there is quite little standing in the way of a 1,000-yard, 8 TD season. He has legitimate RB1 upside.
Thomas Rawls, Seahawks
ADP: 11.01, RB48
The case for Rawls being undervalued: He would likely be the starter on a good offense if not for injuries.
The case against Rawls being undervalued: The Seahawks brought in Eddie Lacy and have a healthy C.J. Prosise.
Verdict: Rawls is making his second consecutive appearance on this report (shameless self promotion alert: he was the only guy I didn't completely nail on last year's list). He's here again because, for starters, he's proven that he's good at football. The Seahawks' offensive line has been bad for a few years now, yet Rawls led the league in yards per carry in 2015. That counts for something.
After breaking his leg, he struggled to recover heading into 2016, came back too soon, and reinjured himself. He did manage to squeeze in a 15-carry, 106-yard game Week 13 against Carolina and torched the Lions for 161 yards on 27 carries in the first round of the playoffs.
The biggest concern with Rawls, aside from his health, is his competition. However, it seems like Aaron Rodgers had a hand in making Eddie Lacy look better than he actually is, and in a contract year, Lacy couldn't bother to keep himself in shape. The man is getting paid $50,000 just to not be fat however Lacy looks slow every time I watch him. Prosise concerns me more than Lacy, but it's doubtful he can hold up in a feature role. He looked great last year against the Patriots and then what happened – he promptly got hurt. If and when Rawls firmly supplants Lacy, he will be a lock to shatter his current ADP, even if he is running behind the league's worst offensive line.
Shane Vereen, Giants
ADP: 14.06, RB70
The case for Vereen being undervalued: He's the most talented running back on the Giants' roster and the team hasn't been effective at running the ball since Tiki Barber.
The case against Vereen being undervalued: He has never been able to put together a string of successful performances, largely due to his health.
Verdict: Yep, they got me again with Shane Vereen. This is the fifth consecutive year I've been on board with the "Vereen Team." I can't help myself. Vereen had a breakout game back in 2013 with New England, but promptly broke a bone in his wrist, derailing that train. He had another breakout game last year and then tore his triceps next week. The guy just can't ever build on his own momentum. But this is the year!
Admittedly, Vereen is probably not going to be an RB2, but there's no reason he should be the RB70, or even the RB50 for that matter. When you're throwing a late round dart, you want to see plausible upside – a clear path to that player out-producing his draft position. It's hard to find a backup with more of a clear path than Vereen. Paul Perkins was one of the least efficient runners in 2016 and somehow managed to avoid scoring a single touchdown last season. The Giants also have a poor offensive line and haven't been able to run effectively in years, which fits Vereen's pass catching role. While I think Vereen is a better runner than Perkins anyway, this team is going to be a pass heavy offense. As long as he can stay healthy, he should be no worse than an RB4 with the upside for more. You can do far worse in the double-digit rounds of your draft.
Overvalued
Lamar Miller, Texans
ADP: 3.03, RB12
The case for Miller being overvalued: What exactly did Lamar Miller do in 2016 to warrant being an RB1 in 2017?
The case against Miller being overvalued: Perhaps Brock Osweiler is to be blamed for Miller's 2016 failures.
Verdict: Also making his second consecutive appearance here is the Texans "feature" back. I put "feature" in quotes because, as I cautioned last year, Miller is not built to handle a full workload. He saw the carry count increase and as expected, he saw the efficiency tumble. Miller was just 54th in fantasy points per snap and averaged a pathetic 0.7 yards after contact per touch.
But it wasn't his fault, right? Brock Osweiler was so bad that defenses knew what the Texans were running, right? An eight-man front is considered a stacked box. The league average for rushing attempts against six and seven man fronts was 60 and 72, respectively last season. Miller saw 97 and 96 attempts against six and seven man fronts. Despite playing on a poor offense, Miller was significantly ahead of league average in favorable run situations…and he failed.
This year, the Texans drafted D'Onta Foreman, who then showed up to camp doing his best Eddie Lacy impression and got into some off the field trouble. That should delay his ascent and while Foreman isn't a particularly impressive prospect, he's good enough to steal some work for Miller. That might actually be a good thing, though. It's possible that Miller can regain some of his lost efficiency with decreased usage, but can he overcome the bad offense and low touchdown upside? He's being drafted as the last of the RB1s but I have him ranked as the last of the RB2s. Miller is an easy pass in the early third round.
Marshawn Lynch, Raiders
ADP: 3.05, RB13
The case for Lynch being overvalued: He's 31 years old and hasn't played football effectively since 2014.
The case against Lynch being overvalued: He's had a full season to rest and now returns in a better offensive situation.
Verdict: I can't do it. Aside from the fact that Lynch looked done in 2015 before succumbing to injury and then retiring for all of 2016, there's just nothing to be gained here. Lynch's draft cost is at his ceiling – a near RB1. The history of 30 year-old running backs producing is working against him.
While the Raiders do have a top five offensive line, they also haven't shown any desire to give their best running back a true three-down workload. Latavius Murray was their top option last year and he averaged a hair under 14 carries per game. With this aggressive drafting of Lynch, we're assuming his floor is Murray's 2016 season. However, I think Murray represents Lynch's ceiling.
He still has the power to wear down opposing defenses – that is – if he's healthy but I believe Lynch will be used in a closer/goal line role. He will shuffle in and out with Jalen Richard and DeAndre Washington just like Murray did last season and won't play on passing downs making his RB13 ADP in PPR leagues a tough sell. He will probably have weeks where he takes 12 carries for 80 yards and two touchdowns but he's going to not only be touchdown reliant, but he's going to need them to be useful. The weeks where he doesn't score are going to be ugly. He also needs to stay healthy, something he was unable to do as he began breaking down in 2015.
There are just too many paths to failure and not enough to success for me to endorse Lynch as a high end RB2 with RB1 upside.
Mike Gillislee, Patriots
ADP: 5.04, RB22
The case for Gillislee being overvalued: The Patriots have four RBs on the roster and there's no telling who will produce when and how much.
The case against Gillislee being overvalued: LeGarrette Blount scored 18 touchdowns last year and Gillislee appears to be his replacement.
Verdict: Gillislee's fifth round ADP suggests the fantasy community thinks he's going to fill the LeGarrette Blount role. First things first: Gillislee appears to be a better all-around running back than Blount. The thing is, we don't really know how good Gillislee actually can be. He looked great last season spelling LeSean McCoy, but never received more than 15 carries in a game and was barely used as a receiver.
Chasing Blount's 18 touchdowns is also be a bad strategy. For starters, there is no "Blount" role. That role did not exist until last year. Benjarvis Green-Ellis had 11 touchdowns in 2011 and Stevan Ridley had 12 touchdowns in 2012 and those represent the only two other times in recent history that a Patriots running back scored double digit touchdowns – until Blount's 2016. The Patriots also ran the ball an unrepeatable and truly absurd amount of times in the red zone last season. In 2014, the Patriots leading red zone carrier, Jonas Gray, handled 25 carries out of the team's 80. In 2015, the Patriots leading red zone carrier, Blount, handled 31 carries out of the team's 61. In 2016, Blount handled a whopping 69 out of the team's 90. One of these things is not like the other.
In addition, the Patriots also signed Rex Burkhead and extended James White. While Dion Lewis is also on the roster, he strikes me as the odd man out. Regardless, possibilities are endless and we know Belichick is not above using a different running back each week. The notion that Burkhead, who actually projects as a better goal line back (and far superior pass catcher), is going almost 100 picks later doesn't make sense. I would still project Gillislee to lead this backfield in fantasy points, but in the fifth round at RB22, you're drafting him near his ceiling. Considering Gillislee's wide range of outcomes, I'm passing on Gillislee for my RB2.