7/30/10
Feature Backs
Rookies who should be the workhorse runner out of the gate for their team.
After parting ways with LaDainian Tomlinson in the off-season and not addressing the position in free agency (other than barely bringing back their own RFA, Darren Sproles), one of the least surprising moves of the draft was the Chargers adding an RB early. What was a bit of a surprise was the Chargers paying a hefty price (basically the early second-round pick they previously acquired from the Seahawks for Charlie Whitehurst and occasional starting ILB Tim Dobbins) to move up 16 spots to grab Mathews with the twelfth overall pick. The move was likely precipitated after C.J. Spiller was the unexpectedly the ninth selection by the Bills. At that point, the Seahawks (with the 14th overall pick) and Texans (20th) were both teams picking before the Chargers who were also perceived to be in the hunt for one of the few top RB prospects in this draft. GM A.J. Smith either panicked about their RB situation or is sold on Mathews' potential, because it was the first time in his eight years with the Chargers he has traded up in the first round.
A California native, Mathews grew up idolizing Tomlinson, wearing #21 in high school and college in his honor. Now he faces the challenging task of replacing one of the greatest runners in NFL history and a fan favorite who helped revive the franchise over the last decade. After thinking about the pressure of replacing a legend, I took a look back for some comparables – players drafted in the first round specifically to replace some of the all-time great runners – to see the results:
Walter Payton, CHI: Neal Anderson was in his second season when Payton retired in 1987 and had already begun to be phased in. As the feature back the next season, Anderson rushed for over 1,000 yards and scored 12 TDs.


Thurman Thomas, BUF: Antowain Smith rolled up 840 yards and 8 TDs as a rookie in 1997 with Thurman Thomas still around. Smith was a 1,000-yard rusher the next season, though Thomas would linger for two more injury-plagued seasons.


Marshall Faulk, IND: After conflict with the front office got Faulk traded out of Indy, Edgerrin James won the league rushing title and was the Offensive Rookie of the Year in 1999.


Marshall Faulk, STL: Steven Jackson rushed for 673 yards splitting carries with Faulk as a rookie in 2004 before he took over with his first of five consecutive (and counting) 1,000-yard seasons the next year.


Edgerrin James, IND: James left for the Cardinals as a free agent and Joseph Addai rushed for 1,000 yards as the Colts marched to a Super Bowl title in 2006.


Emmitt Smith, DAL: Troy Hambrick wasn't a first round pick, in fact he was an UDFA, but this is perhaps the most apropos recent example in terms of similar circumstances (i.e. an aging superstar parts ways with his only career franchise as his skills waned). After spending two years as his understudy, Hambrick was able to rush for 972 yards and 5 TDs in 2003 with Smith gone.
So there appears to be no intimidation factor in being the man to replace "The Man" at running back. In fact, Mathews steps in to a situation very similar, and almost as good, as Addai did with the Colts in 2006. Joining a strong contender with a veteran offensive line and a stud QB guiding a great offense should result in plug n' play production for Mathews. Barring injury, I consider breaking 1,000 yards rushing and scoring 8 TDs a conservative floor for him in 2010. He has the talent for a much higher ceiling, depending on how quickly he can take in the playbook and pass protect.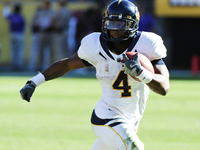 Durability is a concern for Best.
Conventional wisdom has California HC Jeff Tedford labeled as a QB guru for the number of QBs he has groomed (both as QB coach and OC at Fresno State and Oregon, and as HC at Cal) that have been tremendously productive in college and made it to the NFL, including five first-round picks. However, he is also running an assembly line of similarly productive runners since he's been at Cal. Joe Igber, Adimchinobi Echemandu, J.J. Arrington, Marshawn Lynch, Justin Forsett, and Best have given Cal seven consecutive 1000-yard rushing seasons, each year of Tedford's tenure there. However, similar to the struggles many of the QBs Tedford had a hand in developing have found in the NFL, that RB group has been a mixed bag. Best is only the second first-round pick among them (Lynch the other). Among the reasons to like Best's chances of being the best among that group is his speed, not just straight-line, but in his agility in and out of cuts. He posted the top 40-time (4.35) and 3-cone drill time among RBs at the Combine. Unlike Lynch, who came in to the league with character concerns, Best brings great intangibles, particularly his outstanding work ethic. A nice profile on Best in the San Francisco Chronicle a year ago demonstrates this well. I found the part about his dedicated running up hills near his Richmond, CA home reminiscent of Walter Payton's famous runs up a landfill site near his suburban Chicago home.

The main concern with Best is durability. A bit undersized, he did have a history of injury problems in college, part of why he didn't return kicks last year after excelling in the role his freshman and sophomore years. As a freshman, Best missed three games with a hip injury that was originally feared to be similar to the one that ended Bo Jackson's career, but ended up not as serious. As a sophomore, he battled foot injuries early in the season and then suffered a dislocated elbow, but toughed it out and only missed one game. Then last year, Best's collegiate career was ended early when hurdled an Oregon State defender as he went in for a score and was up-ended by him in mid-air, crashing to the ground on his right shoulder and head. He suffered a concussion and back injuries and missed the final four games of the season. His opportunity in Detroit will come early because of durability problems with their incumbent feature back, Kevin Smith. Smith has battled shoulder problems and is recovering from a torn left ACL he suffered very late last season. Smith has been limited in OTAs and probably won't be ready for contact immediately in camp. Best has taken advantage of the opportunity so far and impressed the coaches as a runner and receiver.

I don't expect this to be a true RBBC and don't think Best is limited to a third-down role. I expect him to win the starting job outright and Smith to be sprinkled in for a series here and there during the season once he is healthy. However, I'd be leery of drafting him as a RB2 and dislike having to handcuff him with Smith, who will probably still be drafted as a starter in many leagues and giving me two RBs on an inconsistent and mediocre offense. Best is a great fit as a RB3 for spot starts and the potential to be more if Detroit's offense takes a bigger step than expected this year.
Best Potential, Limited Situation
These rookies have the skills to be fantasy stars, but are limited by their circumstances…at least for 2010.

C.J. Spiller, BUF
It's hard to think of a worse situation for redraft leagues than the one the ninth overall pick ended up in with the Bills. In addition to a crowded backfield, there is an unappealing, unstable QB situation and offensive line lacking an anchor at LT. Fred Jackson would seem the favorite to be the lead back, with Spiller being the home-run hitter as a change of pace back, and Marshawn Lynch the odd-man out, but this is a new regime. However, Lynch did nothing to help himself start with a clean slate when he skipped a number of spring workouts and would prefer to be traded. If Lynch is traded before the start of the season, it makes room for a few more touches, but if he isn't, they may still want to showcase him for an in-season trade and keep him in the rotation. At least initially, Spiller should be used very similar to how Reggie Bush is in New Orleans – a true change of pace back. He'll have a handful of draws and other runs scripted for him in certain situations, as well as split out wide and be the primary returner. It wouldn't be a surprise if he leads the team in receptions.

If Lynch doesn't move and the backfield remains a three-headed monster, don't expect more than 150 carries for Spiller, but he is substantially more valuable in a PPR league and even more so in leagues that count returns and/or big plays (e.g. long TDs). There is big play ability, and then there is Spiller. He had a remarkable 21 scoring plays of 50 or more yards in college. That ability will pay dividends in the patchwork offense, where he'll turn broken plays in to their biggest plays of the game. He doesn't need great blocking to make things happen. That ability could give him surprising value, and he's worth taking the gamble as a high-upside RB3 in 12-team leagues. Long term, I don't think he's the next Chris Johnson, but I think he'll be more productive than Bush. Spiller falls somewhere in between that spectrum, perhaps the next Warrick Dunn, his favorite RB growing up in Florida.
Hardesty, Tore his ACL as a true freshman in and then went on to battle more leg injuries over his collegiate career, including a torn ankle sprains (2007) and a stress fracture (2008). Limited by injuries and overlooked for other talent in Tennessee's backfield, Hardesty rushed for less than 400 yards rushing each of his first three seasons. His outlook didn't appear much brighter for his final season in 2009 with a new regime and new HC Lane Kiffin landing consensus top RB prospect Bryce Brown. However, Hardesty held him off and ran for over 1,000 yards, the first time a Vol RB achieved that milestone since Gerald Riggs Jr. and Cedric Houston both did it in 2004. Hardesty then packed on ten pounds of muscle in the offseason and turned in one of the most impressive performances by a RB at the Combine that propelled him to being selected in the second round by Cleveland. He continued to impress in spring OTAs, but will be fighting for carries in a crowded backfield through the preseason. Hardesty has the best talent of the group, but Jerome Harrison had some huge games at the end of last season when given the opportunity to be the feature back. The two should battle for the starting role, but regardless of who the nominal starter is, both should see plenty of carries.

James Davis, who was pushing for a significant role before his season-ending injury in Week 2 last year, and former undrafted free agent Chris Jennings, who was briefly a favorite of HC Eric Mangini late last season, are still in the picture and multi-talented fullback Peyton Hillis, acquired from Denver, should also see touches. Bottom line is this looks like a fantasy mess for 2010. Hardesty should eventually separate himself from the pack, especially once he learns to pass block, but his fantasy value doesn't look promising this year. Much more value in a dynasty league, with Harrison on a one-year contract, it should be as soon as next year.
Back-ups
These rookies don't have the same talent level and/or significantly worse situation as those previously discussed, but are solid back-ups with a chance to surprise if injuries give them an opportunity.

Jonathan Dwyer, PIT
After rushing for almost 1,400 yards in back-to-back seasons, some pointed to Dwyer playing the B-back in HC Paul Johnson's run-heavy spread triple-option attack, a hybrid halfback/fullback roll, helped pad his stats. However, coming in as one of the top prep running backs in the country and overall recruits in Georgia, Dwyer backed up All-ACC RB Tashard Choice as a true freshman in 2007, and was every bit as effective in former HC Chan Gailey's more traditional pro-style offense that year. Dwyer headed in to the winter as one of the top RB prospects and looked set to be an early pick. However, he showed up to the Combine out of shape and performed extremely poor. He has battled weight problems before, with HC Paul Johnson requiring him to lose weight when he arrived at GaTech in 2008. His disappointing Combine continued when he tested positive for amphetamines. However, it was reported teams were aware of his medical history and the medication is for an attention deficit disorder, so it fell under being a "therapeutic use exemption." Regardless of the bad press being immaterial, his poor performance left his draft stock tumbling coming out of the Combine. He helped himself at GaTech's Pro Day, highlighted by a low 4.5 40 time, but the damage was done and Dwyer shockingly fell to the sixth round.
The Steelers got a steal. I disregard the Combine as bad week, because the Dwyer I saw on film has tremendous potential. He generates his power from a solid core, he has tremendous thighs (MJD quads) up through a thick midsection he just needs to keep in check. He runs with a natural forward lean, while utilizing outstanding balance and his size and strength to break tacklers. While not naturally elusive, he has quick feet through the hole and great vision, like former Steeler great Jerome Bettis. His vision really impressed me, as Dwyer moves like a NBA point guard, deftly addressing the immediate threat while absorbing the whole field and seemingly plotting a few moves ahead at the same time. Once in the open field, regardless of what the stopwatch says without pads, Dwyer has flashed breakaway speed. He had an amazing six scoring plays over 50 yards (four of 66 yards or more) in 2008. While not used much in the passing game, he has flashed some excellent tendencies as a receiver and great hands. His 30-yard reception in the first quarter of their win over FSU in 2008 was as outstanding a catch as you could hope. Out of a single-set, he ran a wheel route up the left sideline and showed great timing in slowing up for the underthrown ball and grabbing over the defender with a perfectly-timed leap. He also has some potential as a kick returner. He is stuck behind Rashard Mendenhall, who should dominate the touches, but he should be worked in some short-yardage packages this year and I love him in dynasty leagues.
After missing out on Ryan Mathews in the first round when San Diego traded up to acquire him, Houston didn't seem to have an urgency around the next tier of backs in the second. They traded down 11 spots with the Vikings and acquired another third-round pick, allowing Minnesota to take Toby Gerhart. They still ultimately liked Tate enough to trade back up four spots to get ahead of RB-hungry teams Cleveland, who would subsequently take Montario Hardesty with the next pick, and Seattle.
Tate was the poster boy for solid, but unspectacular, through his collegiate career. He put up some good numbers his last season at Auburn when he finally had a chance to be featured. He definitely passes the eyeball test and is a nice size/speed package, he put up some very good workout numbers at the Combine that boosted his stock, but he just isn't a very instinctual runner. Great straight-line speed, but doesn't have great agility or vision. He is physically talented enough to be a starting running back in the league, but I don't expect him to become a great player. He's slated behind former undrafted free agent Arian Foster, who seems to be somewhat of a pet project for HC Gary Kubiak, and Steve Slaton, who went from boy wonder as a rookie to a fumbling boy blunder as a sophomore. Who knows what other street free agents will eventually be in the mix this year, as Kubiak has shown little patience with his runners when they aren't consistent. Tate missed an opportunity in OTAs when a hamstring injury, a recurring problem for him back to his college days, cost him the chance to make an impression. I think there is an opportunity for Tate to seize the starting job, but I think it is more likely Slaton returns to form and see the majority of work.
Trading up in the second round to acquire a running back may have seemed a curious move for a team with Adrian Peterson, but after losing Chester Taylor in free agency, the Vikings wasted no time adding a quality back-up. The Heisman runner-up has a great nose for the end zone, scoring 43 TDs his final two collegiate seasons and could steal some goal-line touches from Peterson, especially if Peterson continues to cough the ball up at inopportune times. At over 6' and 235 lbs., Gerhart is clearly not the change of pace back Taylor was and won't replace Taylor's role in the offense. Gerhart brings the same pounding running style that Peterson does and more of a true back-up than a compliment. He should be used to spell Peterson on a series or two a game and be brought in for garbage time late in imminent victories when Peterson has already rolled up his numbers. Unlike Taylor, who had some of his own plays in the offense and could be counted on to generate production despite Peterson's presence, Gerhart looks limited to being a high-upside handcuff. Whoever wins the RB3 battle between Albert Young and Ryan Moats is a better fit as a change of pace back. Even for dynasty leagues, I still see Gerhart limited to being Peterson's handcuff in the near future. Peterson is in line for a big extension soon and he is young enough that it will block Gerhart in his prime. Other than a Peterson injury or surprising contract fiasco, the bet case scenario for Gerhart would be a Michael Turner-like ascension to elite back-up status that gives him sufficient trade value in a couple years.
Wildcards
Intriguing players whose role is uncertain and value could surprise.

Keiland Williams, WAS
Classic example of unfulfilled potential, Williams packs plenty of talent in a great size/speed package, but never put it together consistently in college. It started right out of high school. Williams was one of the top RB recruits in the nation in 2005 and he committed to LSU, but failed to qualify academically and spent a year at Hargrave prep before finally getting to Baton Rouge. After fellow frosh Charles Scott (a sixth-round pick by the Eagles), who initially appeared to be separating himself from a crowded backfield, went down with a concussion in mid-season, Williams started to emerge. He overcame ankle problems and started to have the biggest impact in the running game, culminating with his first 100-yard game in their Sugar Bowl victory. He looked like the favorite to lead their RBBC in 2007, but it would be reliable converted FB Jacob Hester who took over and LSU would march to a national title, while Hester went on to be a third-round pick of the Chargers. Williams was also impeded by injuries again, battling a bruised shoulder early in the season and knee problems later in the year, but it was the only season he played in every game. The next two seasons Williams would continue battling injuries and play second-fiddle to Scott, getting his biggest opportunities when the equally injury-prone Scott was out. The most consistent thing about Williams' collegiate career was the low variance in production from season-to-season: he had 70-83 carries each year and 368-478 rushing yards each year. In Williams' defense, he often wasn't given much of chance to prove himself frequently in games, going weeks where he'd see only two or three touches a game. HC Les Miles showed more confidence in the workman consistency of Hester and Scott then gambling on the higher upside with the more athletically-gifted Williams.
Williams' vision is and/or ability to think quickly is a bit questionable. Sometimes he runs up the back of his linemen instead of a quick cut to the open hole. Otherwise, he often looking to bounce outside or dance behind the line looking for somewhere to hit the home run. Another area that Williams needs to work on is in the passing game. While he has shown good hands, he wasn't used much as a receiver and needs to work on picking up the blitz. Both are problems for a player looking to earn a role as a RB3. Despite the negatives, Williams is on the list because he has incredible upside and ideal measurables. He has the speed and explosion to hit the home run, with the size to be a workhorse, while adding value as a kick returner.
If his college experience doesn't help him be a better football player, it may have made him a better man. Despite consistently being passed over by "lesser" talents, Williams never went public with his frustration. He didn't talk about transferring, he wasn't a team cancer, he just did the job he was asked to. Perhaps that is due to a lack of fire and desire, but it also shows some maturity and gives me some reason to believe he just had a bad situation and could be much better a pro. He definitely has the right team to get that opportunity with. Clinton Portis and Larry Johnson are locks to be the top two backs, but the careers of both are winding down. Williams will battle Willie Parker, whose career is also wrapping up, and Ryan Torain, whose career never got off the ground due to injuries, for the third RB spot. Williams brings value as a returner that no other RB on the roster offers, an important facet for a RB3. He and Torain are the only two who still have upside. Torain was a pet project of HC Mike Shanahan back in his Denver days, but his career has failed to take off as he's been plagued by knee problems. I don't think Parker will make the cut, but it will be hard for Williams to beat out Torain, if he stays healthy, because of his background with Shanahan. If he does, he won't have any value this year if Portis and Johnson stay healthy, but is a great sleeper in dynasty leagues.
The Louisiana native was considered the best prep RB in the recruiting class of 2007 and spurned LSU to go to USC on signing day. Claims of recruiting violations immediately followed, which ultimately contributed both to McKnight declaring early and the recent sanctions against USC related to a number of NCAA infractions. A dynamic player in multiple phases of the game, the comparisons to Reggie Bush were inevitable. Despite a ridiculously loaded backfield at USC, McKnight did not redshirt. He was worked in the rotation at RB as a true freshman, but battled fumble problems and a nagging leg injury throughout the season, limiting an already scarce number of touches available. Most of his value was as their leading punt returner. However, he showed a glimpse of what he could become in their final game of the season in the Rose Bowl. He ran for a season-high 125 yards on just 10 carries, including a 65-yard TD run on a broken lateral, and caught 6 passes for 45 yards, as well as returning 3 punts for 36 yards in a rout of Illinois. He dealt with injury problems again in 2008, starting with a hyperextended elbow and fracturing a finger heading in to the season when it was slammed in a door during camp. He would miss time during the season related to those and problems with turf toe, the latter resulting in him having to leave their Rose Bowl victory over Penn State early with 4 dislocated toes. Despite this, McKnight again showed promise his sophomore year as the home-run hitter, averaging 7.4 yards per carry, in a three-headed RBBC with Stafon Johnson and C.J. Gable. In 2009, an unfortunate injury to Johnson finally gave McKnight the opportunity to be the featured runner as a junior. Healthy for the whole season, he responded with a 1,000-yard rushing season for the first time in his career and 8 TDs. However, the team lost 4 games, the most since HC Pete Carroll's first at USC in 2001, and their season with an Emerald Bowl appearance. An investigation related to a Land Rover a booster allegedly let McKnight use resulted in the school declaring him ineligible for their bowl game. Shortly after, McKnight declared early for the NFL draft. Even if you recognize the expectations were too high, the bottom line on McKnight's collegiate career is that it was a disappointment. A fine performance at the Combine reinforced the physical talent is there to do more, but he still lasted until the fourth round in April's draft. He was brought in to replace another fourth-round pick who exceeded expectations as an all-purpose back, Leon Washington, who has moved on to Seattle. With LaDainian Tomlinson also joining the Jets to compliment starter Shonn Greene, the touches will be scarce for McKnight this year. RB coach Anthony Lynn has already painted the picture of Tomlinson replacing Washington's touches in the nickel package and being the tandem with Greene. McKnight, an excellent receiver, will likely often split out to the slot when he's in and be a part of some trick plays. Long term, he doesn't ever project to be a feature back and seems destined for a similar role wherever he goes.
Starks is the career rushing and scoring leader at Buffalo despite sitting out his senior season due a torn labrum last August. While he got back on the radar with a decent Combine performance, he still fell to the sixth round of the draft. The former star prep QB is tall for a RB, so he takes a lot of punishment, contributing to his injury problems, but he's a versatile athlete who could be used in a variety of ways. Green Bay has struggled to find a consistent back-up to Ryan Grant since he took over as the feature back in 2007. The opportunity is there for him to quickly ascend the depth chart in camp.
What you see is what you get with Scott. He is a big, powerful, no-nonsense runner without many moves or elite athleticism who just goes out and gets the job done and protects the ball. He's got a nose for the end zone and surprisingly soft hands for a big man, although he didn't get many passes his way. Also a solid blocker in both phases of offense, he has worked at fullback when needed in the deep backfield at LSU. His lack of speed and athleticism saw him fall to the sixth round, and I never see him developing in to a feature back, but his dynasty situation is mildly appealing. A power back is the compliment needed to starter LeSean McCoy, and will have the opportunity vulture TDs, but the Eagles brought in Mike Bell to fulfill that role this year. They also have versatile FB Leonard Weaver, so Scott is already on the bubble because there isn't room to move him to that position and he doesn't have the typical skill set you'd want from a RB3. However, if he somehow makes the roster, or stays on the practice squad and returns next year, he could have a future in Philly. HC Andy Reid doesn't let draft position or paycheck dictate who plays, so don't be surprised to see Scott find a way in to the rotation eventually.
Dixon was a very productive big back for an average Mississippi State team, but I never got the love for him. I thought he was lucky to get drafted and don't see him leaping over Glen Coffee to RB2.
One of the top JUCO recruits in 2008, he came from East Mississippi Community College and burst on the scene in Eugene in 2007. Blount teamed with Jeremiah Johnson to replace the void left by Jonathan Stewart's early departure to the NFL. Johnson and Blount split carries almost evenly through the season, both surpassing 1K yards with an average over 7 ypc each. Blount set a team record with 17 rushing touchdowns. With mobile QB Jeremiah Masoli pitching in another 700 yards on the ground, OC Chip Kelly's spread offense produced the second best running game in FBS. With Johnson's graduation, the stage was set for Blount to be the featured back in 2009. However, he was challenged in adjusting to the demands of university life off the field at a big-time program. In February 2009, he was suspended indefinitely for "failure to fulfill team obligations", reportedly for absences from strength and conditioning sessions, as well as team meetings. While academic eligibility reportedly wasn't part of the issues related to his suspension, there were also been reports of concerns with his class attendance and grades. While that was going on, Bellotti moved over to become AD and turned over the coaching reins to Kelly. Kelly reinstated Blount prior to spring practice, but he showed up overweight (reportedly pushing 260) and limited by an ankle sprain. By the start of summer practice, he was in better shape, weighing 243 lbs., right around his ideal playing weight. A minor fight after the whistle got Blount run off the field by Kelly during an early August practice, but he was back the next day. Even at that time, you just couldn't help but get the feeling that unfortunately wouldn't be the last time we heard about a behavior or discipline problem with Blount. However, I don't think anyone expected what happened after their season opening loss to Boise State – Blount's infamous sucker punch to Boise State DE Byron Hout after being taunted and the ensuing chaos. Blount was initially suspended for the season, but Kelly eventually had him reinstated for the last few games, where he worked behind redshirt freshman LaMichael James, who broke out in Blount's absence.
Earning the nickname "Blount Force Trauma" for his bruising running style, Blount is an old school bulldozer. He doesn't have elite speed, but like Earl Campbell, after he runs over you, has some burst in the open field. Blount had four runs over 40 yards in 2008. He won't be able to get by with brute force at the next level. He was notably contained at USC in 2008, where his size and strength were marginalized by the level of competition, as the Ducks were demolished by the Trojans. Still, he's an intriguing high-risk project. After originally being reported to have signed with San Francisco as an undrafted free agent, he signed with Tennessee and a potentially better situation. Behind Chris Johnson, who will leave few touches for any other RB on the roster, is undersized Javon Ringer. With LenDale White's departure, there is a slot for a big back like Blount. He's only worth rostering in deep dynasty leagues, but definitely worth keeping track of.
I am a big fan of Johnson and really expected him to breakout at USC last year until a weight lifting accident derailed his career last September. A versatile player in all facets of the game, including blocking, I think he beats out Alvin Pearman and fellow undrafted free agent Blount for the third RB spot on the Titans. I'll be rooting for him, but no reason to have him on all but the deepest dynasty roster and even then, little hope for him to contribute much while behind Chris Johnson.
The undersized Southern Illinois Saluki was the leading FCS rusher last year, but was snubbed by the Combine and had to make his way up to Northwestern's Pro Day to get on the NFL radar, and blew them away when he did. He tested off the charts, with numbers that would have been the best for a RB at the Combine in multiple categories. The Jaguars grabbed him the sixth round and he has a decent shot to make the roster with the thin backfield in Jacksonville.
After a season-ending hip injury during the season in 2006, he was granted a redshirt. He then exploded on the scene in 2008 as the Mountain West Conference (MWC) Freshman of the Year, setting a MWC freshman record with 1,227 yards rushing. The accolades continued to build in 2008, as he put up back-to-back 1K rushing seasons and was named to the All-MWC Second Team. In 2009, he broke 1K rushing and double-digit TDs for the third consecutive season and was recognized as an All-MWC First Team selection. The highlight of the season was a blowout victory at UNLV, where he rushed for a season-high 149 yards and scored 3 TDs, including a career-long 52-yard run. He considered declaring early, but said he returned to school to get his degree. Likely influencing the decision was the NFL Draft Advisory Board (NFLDAB) giving him a late-round grade and indicating pass blocking, speed and controlling his weight were things to work on.
With the departure of star QB Max Hall, the 237-pound back looked set to be the focal point of the Cougar offense this year. However, his future began unraveling while spring practice was underway this year. Unga and his girlfriend, women's basketball player Keilani Moeaki, shocked the school when both voluntarily withdrew from BYU for an undisclosed violation of the school's honor code in mid-April. The honor code is based on the Mormon principles the school is founded on and, among other things, forbids BYU students from using alcohol or recreational drugs, and having premarital sex. Unga, who comes from a deeply religious family, has previously revealed that he was involved in a litany of criminal activities as a teenager in Provo, but had sorted himself out by the time he arrived at BYU. Not surprisingly, Unga had a quick change of heart after withdrawing from school. He said he wanted to return and began negotiating the task of applying for readmission. With the support of HC Bronco Mendenhall, Unga needed an endorsement from his church leader, then it was the decision of the dean of students. In late May, a university spokeswoman said he won't be allowed back in to school until January 2011 at the earliest. As Unga had already burned his redshirt, his career as a football player at BYU was over and he chose to go in the NFL supplemental draft where the Bears chose him with a seventh-round pick.
The Bears were a bit of a surprise, having already added free agent Chester Taylor to split carries with Matt Forte, the team already had a battle for the third RB spot brewing between Kahlil Bell, who flashed some potential last year, and speedy special teams ace Garrett Wolfe. However, none of those players are big backs and, specific to Mike Martz, none are big backs who can catch the ball. Unga is the big power running back missing on the roster, with the soft hands every skill player needs in their new offense. What they don't need is a traditional fullback, so Unga could fill that slot and still one of Wolfe or Bell remain on the roster, as well. Even if he does make the roster, he has extremely little to no value on a team where few touches will be available in the backfield after Taylor and Forte.
The man who once held Montario Hardesty's career at bay in Tennessee before he was jettisoned from Rocky Top for failing multiple drug tests seems as good a fit as any for the halfway house in Cincinnati that is the Bengals. He finished his career unspectacularly at FCS Hampton last season and unsurprisingly went undrafted. Still, he's a pretty amazing size/speed combo, reportedly running a sub-4.3 40 East Coast Bowl (FCS all-star game) in the winter. Barring injury, there is no room for him with the Bengals, but he's just a name to file away.