The you-should-never-start-players-on-Thursday-night theory took another hit this week (see below). Elsewhere, there were pleasant surprises, a few disappointments, and the usual array of action that needs to be properly digested. Here's the Buzz for Week 11…



Ben and Brown Make Magic

It was almost like 2014 all over again. In Week 8 of the 2014 season, Ben Roethlisberger threw for 522 yards and 6 touchdowns. Two of those went to Antonio Brown as he gobbled up 138 yards on 10 catches. In many formats, the Steeler duo combined for nearly 100 points that day and led to a few league scoring records if you started both. Flash back to this past week. It wasnít 522 yards this time and the TDs were a mere 4 instead of 6 for Ben, but Brown garnered more yards and one extra TD on another 10-catch night. The evening solidified why a lot of people choose to stack a star WR with his QB in lineups. Sure, it can backfire on you, but Ben & Brown playing at home in decent weather conditions is often a recipe for fireworks unmatched by any other pitch and catch combination. Itís also a reminder that the best week to start a true stud in the fantasy world (Brown) is the week after a quiet game. Rob Gronkowski owners should take note for next week.

Nine Points EachÖ

What do Mike Nugent and Harrison Butker have in common? The answer is that they were the only guys who actually scored points on Sunday for the Chiefs and Cowboys as both teams failed to reach the end zone in losses to the Giants and Eagles. After looking like super-offenses at times, both Kansas City and Dallas look out-of-synch with Alex Smith no longer taking deep shots down the field and Dak Prescott looking uncomfortable in the pocket without his usual blocking scheme. Prescottís Sunday was especially horrible as he committed four turnovers and only threw for 145 yards. In some leagues, that could mean negative points on the day, which is a recipe for an almost certain loss in fantasy football. Prescottís demise is bringing down Dez Bryant (less than 8 yards per catch) and Jason Witten (1 catch, 7 yards), and while the Cowboys generally play well on Thanksgiving Day, they all make for risky starts this year. As for Kansas City, Kareem Hunt continues to be the biggest disappointment after such a rabid start. Heís still running hard, but hasnít scored a TD since Week 3. Conventional wisdom suggests heíll break out again soon as his upcoming schedule is a RBís dream. Whatever the case, itís hard to believe that two kickers did all the damage on Sunday while the ďstarsĒ struggled. Head scratcher.

More Head-Scratching in Buffalo

Speaking of all things strange and head-scratching, can anybody make sense of Buffalo right now? If you started the LA Charger defense on Sunday, congratulations. Nathan Peterman clearly wasnít ready to be thrust into action and yet, the team not only started him, but kept having him throw the ball even with LeSean McCoy busting off big runs against the leagueís worst rushing defense. Let me say that again: The Chargers rank LAST in rushing defense. Thatís last as in 32nd. McCoy touched the ball 13 times while the team racked up 39 pass attempts. The obvious fact here is that Taylor never should have been benched. The less obvious is why McCoy didnít get fed over and over and over in this game. Being an NFL coach is hard. Probably harder than anything Iíve ever done. But, what Buffalo did last week both on and off the field to address the offense was bizarre to say that least. Thankfully for the Bills, Kelvin Benjamin avoided ligament damage to his knee. He and every other player in Buffalo not named McCoy, however, shouldnít be in lineups until this ship gets back on course.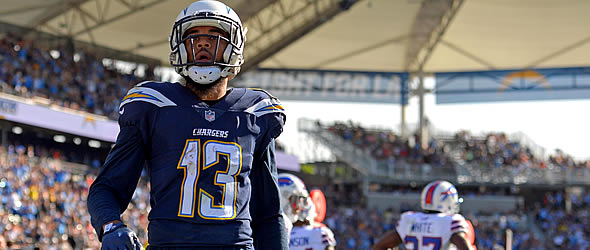 Keenan Allen hadn't scored since Week 1 until his explosion in Week 11 against the struggling Bills.
Keenan On Cruise Control
First, letís acknowledge something truly good. Keenan Allen has remained healthy this season for the first time in three years. Second, letís acknowledge that Allen went absolutely berserk this past Sunday against Buffalo. Allenís line (12-159-2) is the stuff fantasy wins are made of and with Los Angeles (typed San Diego first) in the playoff hunt, look for more good days from Allen down the stretch including a nice matchup with Dallasís secondary this Thursday. Blow-up games (100+ yards, multiple TDs) for wide receivers have been few and far between this season - if you get one from a guy in your lineup, you rejoice. If Allen was that guy in your lineup this past weekend, you are likely still rejoicing as I type this.
Slowing Down Goff, Gurley, and the Z-Train
The (very) surprising Rams have been a frequent topic of discussion here at the Buzz this season as we have marveled at their meteoric rise to offensive respectability. But, on Sunday, they were held to two fewer points than the Chiefs and Cowboys. An early first quarter TD saved Todd Gurleyís fantasy day, but Jared Goff failed to throw a TD pass for the first time since Week 5 and had his lowest yardage totals since Week 6. Even more shocking was the single point scored by Greg Zuerlein, who has been on a Gary Anderson-like tear since the season began from the kicker position. The Rams will bounce back, but the larger lesson here is to be wary of starting players vs. the Vikings defense. Itís a stingy unit and while the Lions (like the Cowboys) are typically Thanksgiving Day-friendly for fantasy purposes, the Vikings could make Matthew Stafford and company look pretty pedestrian on Thursday. You heard it here first and if Iím wrong, I will deny this conversation ever took place.
Perineís Promise and Thompsonís Loss
Seems every week this season, we are saddened by the loss of a player that either had so much potential (Dalvin Cook, Deshaun Watson) or was outperforming expectations. Chris Thompson of Washington fits into the latter category and his broken leg on Sunday ended what had been a breakout season for the PPR favorite. Thompson had cracked his way into most weekly lineups, so his loss will be felt on rosters everywhere. Next man up is Samaje Perine with Rob Kelley already on IR. Perine responded on Sunday with 117 yards rushing and a TD. If thereís any way to grab him off the waiver wire this week, break the bank. There is no one else to run the ball in Washington right now and Kirk Cousins is having a great season (fantasy and otherwise) which forces teams to respect the pass. So, stock up on Perine and sadly, itís stock down on Cousins as Thompson aided what he has accomplished this year to date.
Timeshare Stymied in H-Town
Another Sunday injury occurred on a TD run by Houstonís DíOnta Foreman, his second of the day. The run resulted in a season-ending Achilles injury for the rookie RB and changed the fortunes of Lamar Miller instantly. Foremanís performance would have likely given him an equal share of the touches moving forward, but now Miller will resume his role as a high volume RB on a team that needs his presence due to having such a subpar starting QB. Miller owners are fortunate on this day while itís a shame that Foreman wonít get another chance this season to further spread his wings. Hereís hoping for a speedy recovery.
He Can Still Do It When He Has ToÖ
I know it seems we talk about the Saints every week here at the Buzz, but after eight straight wins, everybody else is talking about them, too. The news on Sunday was not that Mark Ingram and Alvin Kamara are the most dynamic 1-2 punch from same NFL team at RB in several years (271 yards, 2 TDs vs. Washington). If youíre a frequent reader here, weíve been singing that tune for weeks now. What was newsworthy was the furious comeback led by Drew Brees that led to a very Brees-like stat line (385 yards, 2 TDs). The Saints are good enough at running the ball and playing defense that Brees is no longer going to do what he did on Sunday week in and week out. ButÖit is nice to know that he still can. Consider him a lower-end QB1 moving forward.
The Tuesday Tree-In-The-Forest Award
We havenít awarded one of these thus far this season, but this is the award that we here at the Buzz give to a player who had a huge weekÖbut was literally in zero lineups. Itís very rare to find a player that meets that criteria since bye weeks do cut into the usual rotation of players, but I think itís safe to say that absolutely no one had Ricky Seals-Jones of the Cardinals in their TE slot on Sunday. If you say you did, youíre either lying or you are one of Rickyís immediate family members. In any case, congrats to Ricky on a 3 catch, 54-yard, TWO TD kind of day. And, donít be in a hurry to pick him up this week. Houstonís pass defense is historically bad and Ricky draws Jacksonville next week. Yikes.
And the Best Running Back in Seattle IsÖ
I know you know where we're going with this. Russell Wilson ran for 86 yards and a touchdown on Monday night. The rest of the team had 15 carries for 50 yards. Using standard decimal scoring, Wilson thus has 14.6 fantasy points before you even consider what he does passing the ball. Wilson is going to win some people some fantasy titles in a few weeks. He's having to do it all and fantasy owners just keep reaping the rewards. 86 yards and a TD on the ground was better in Week 11 than Le'Veon Bell and Todd Gurley. Like we said, Seattle has finally found its running back. He's the guy under center.
Happy Thanksgiving everybody! Hope you get to be with the ones you love most enjoying food, fellowship...and a little football! Til' next week!