If Immanuel Kant had played fantasy football, he would have defined the categorical imperative as the impulse that all FF owners have to lump players into amorphous groups. The one universal law of FFers is that we consider it imperative to categorize players.

There's a big difference between "ranking" players and "categorizing" them. Ranking is hard; it requires statistical analysis, historical grounding, mind-numbing projections, and astute judgment. Categorizing, by contrast, is quite easy. You don't even have to be fully awake to dismiss a particular player for being "injury prone," "on the wrong side of 30," or because he is a running back on a team that practices "RBBC" (running back by committee). You can just as easily end up fixating on a player because of the category you've dumped him into. I like some quarterbacks because they are part of a "high-octane offense," some backup running backs because they are "handcuffs," and some receivers because they have "soft hands."

Some categories are politically incorrect, but that doesn't stop people from talking about them in coded ways. When someone says, "I can't stand quarterbacks like Kurt Warner and Tim Tebow," it means, "I don't want players on my team who are too Jesus-y." I'll give you one socially unacceptable guess as to what folks mean when they say, "I steer clear of running backs like Peyton Hillis." (Hint: It ordinarily doesn't mean that the speaker dislikes RBs who play for Cleveland.)

During this off-season, I've expended an unusual amount of mental energy thinking about the category of possession receivers. This is doubtless because so many fans and reporters keep talking about the move of Wes Welker to Denver (and of Danny Amendola's bid to fill Welker's role in New England). In an interview from late May (http://espn.go.com/blog/boston/new-england-patriots/post/_/id/4743714/brady-talks-welker-amendola-gronk), Tom Brady commented on the similarity between Welker and Amendola:



"[They play] similar positions, they're about the same height, they've both got very good ability . . . I think it's unfair to compare anyone to Wes and what he was able to accomplish in his time here. Danny is really, he's just been fun to work with. I think he's come in with an open mind and an understanding of the way that we as Patriots, the way we need to play."



Even though Brady knows that comparisons between Welker and Amendola are inevitable, the purpose of his comment is to point out how unfair it would be to compare anyone to Welker. It would also be unfair to compare Tim Tebow to Tom Brady, but that won't stop people from making precisely such comparisons if Tebow (newly signed with the Pats) wins the backup QB role in New England and fills in for Brady from time to time.

The point is that even though I agree with Brady about it being unfair to compare Welker and Amendola, I can't help myself. After all, how many white guys under six feet tall get the chance to emerge as elite receivers in the NFL? Welker has already proven his greatness; maybe Amendola just needs to upgrade from Sam Bradford (and the inconsistent Rams) to Tom Brady (and the established Pats) in order to strut his stuff.

For Brady, the similarities between Welker and Amendola that matter include A) the position they play, and B) their diminutive height (by NFL standards). Brady didn't bother mentioning that they both played college ball at Texas Tech. He also neglected to point out that they have both sustained major injuries in the course of their NFL careers. Amendola missed almost all of the 2011 season with a dislocated elbow and sustained a life-threatening collarbone injury last year. Welker missed the 2009 playoffs with a torn ACL/MCL sustained in the final regular season game.

With all of that information, you're in a position to do some really nifty categorical thinking about the Welker-Amendola situation. If you pay just the right attention to the relevant categories, you can work the fuzzy logic of comparisons to conclude that the WR shakeup in New England makes no difference to anyone.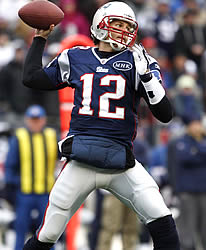 Welker or Amendola? It doesn't matter to Brady's fantasy value.

Categorical focus on Tom Brady:



Brady falls into the general category of "elite QB on a proven offense." More specifically, he is that special type of elite QB--you know, the kind that manages a stable of tight ends as well as a stable of wide-outs. Will Welker's departure hurt him?

Remember when Brady started to suck after Deion Branch left for Seattle? Oh, you don't remember? Neither do I.

But how about when Brady started to suck after Randy Moss went back to Minnesota? Oh, you don't remember that either. Hmmm, neither do I.

My guess is that Brady is going to suck exactly as much without Welker as he sucked without Branch and Moss (i.e. not at all).



Bottom line:

If Amendola is as productive for New England as Welker was, Brady will be fantastic in 2013; if Amendola is a dud in New England, Brady will just spread the ball around to the other receivers and wide-outs on the roster. You can draft Brady exactly where you would have if Welker hadn't left.



Categorical focus on Peyton Manning:



Manning also falls into the general category of "elite QB on a proven offense." More specifically, he is another special type of elite QB--you know, the kind that manages to make Broncos fans feel like they can win it all in the post-Elway era. In his time with the Colts, Manning passed for 4500 yards or more in three seasons (2004, 2009, and 2010). Maybe with Welker's help he can do that again!

Or wait one second: It looks like he ALREADY passed for 4659 yards as a Bronco in 2012--just 41 yards shy of his career high 4700-yard total in the 2010 season.

Yeah, but what about TDs? Remember Manning's phenomenal 49-TD season with the Colts in 2003? Maybe the addition of Welker can help Manning find the end zone more often.

The only problem with that line of thinking is that except for the stellar performance of 2003, Manning has passed for 30ish TDs per season for his entire career. With the exception of 2003, he never threw for more than 33 TDs in a regular season as a Colt. In his first year as a Bronco, however, he threw 37 TDs (the second highest regular season tally of his career).

The problem with being as great as Manning is that there's so little room for improvement. Is he really going to throw for more than 4659 yards now that he has Welker as a target? Well, he only did that once in his entire career (in 2010), and that had a lot more to do with the complexion of the Colts' offense than the specific personnel to whom Manning was throwing. If there was a direct relationship between the talent of a QB's receivers and his passing yardage for a season, then Manning's highest passing total should have come when he had both Marvin Harrison and Reggie Wayne as targets. It didn't.



Bottom line:

Welker will be an asset to Manning in 2013, but there aren't many assets that Manning could acquire that would lead a reasonable person to expect an improvement on his stellar performance in 2012. You can draft Manning exactly where you would have if you didn't know that the Broncos had picked up Welker.



Categorical focus on Wes Welker:



Welker falls into the general category of "undersized possession receiver." More specifically, he is that special type of possession receiver--you know, the kind that makes you think of the 49ers even though he doesn't play for the 49ers. It's not that he reminds anyone of specific SF receivers (such as Jerry Rice); it's that he reminds everyone of how the 49er organization transitioned from one of the greatest QBs of all time (Joe Montana) to another of the greatest QBs of all time (Steve Young).

Will Welker be as productive with Manning as he was with Brady? Maybe so and maybe not. He caught 118 passes from Brady in 2012, but Brandon Stokley (the slot receiver in Denver) only caught 57 balls from Manning. Of course, if you're the Broncos, you don't go after a guy like Welker unless you intend to use him more effectively than Stokley.

It's not easy to get a QB's attention when his other targets are Demaryius Thomas and Eric Decker, but then again, it's not easy to get a QB's attention when his other targets are Randy Moss and Rob Gronkowski. The more things change, the more they stay the same.



Bottom line:

It's hard to see why Welker's productivity should either suffer or improve based on the move to Denver. You can draft him exactly where you would have if you didn't know that he had left New England.



Categorical focus on Danny Amendola:



Amendola falls into the general category of "possession receivers groomed for the NFL at Texas Tech." More specifically, he is that special type of possession receiver groomed for the NFL at Texas Tech--you know, the kind not named Wes Welker.

When active, Amendola has been a bright spot for the floundering Rams. In 2010, he was only designated a starter for six games, but he was active throughout the season and managed to snag 85 catches for 689 yards. He missed 15 of 16 games in 2011 with a dislocated elbow, but he looked strong in 2012 with 63 catches for 666 yards. If you're wondering what happened to his reception tally, he missed 5 games with a broken clavicle. But notice that even though he had only 70% as many catches as in 2010, his yardage total for the year stayed nearly the same. His yards per reception has steadily increased in the NFL (from 7.6 in 2009 to 10.6 in 2012), and that number will probably be even better in New England.

The question that many fans are asking is whether this emerging star from the Rams will simply get lost in the shuffle in New England. My answer to them is that all receivers and tight ends get lost in the shuffle in New England. It's the nature of Brady's style of play. Even so, the contributors all manage to finish the season with respectable numbers as long as they stay healthy enough to contribute.



Bottom line:

Possession receivers make catches in traffic to move the chains. They take brutal hits. They end up on the bottom of dog piles. Amendola has missed 20 of his last 32 games because of injury, so you can draft him exactly as you would have if you didn't know he had changed teams. It won't matter whether you projected his value as a Ram or a Patriot when he ends up on your IR list.



Categorical Focus on Sam Bradford:



Bradford falls into the general category of "QBs you don't draft except as a backup." More specifically, he is that special type of QB that you don't draft except as a backup--you know, the kind that you pick up for one week against the right defensive opponent because your QB1 is on a bye.

But how will Bradford be without Amendola to throw to? I could try to answer that question, but . . .



Bottom line:

You're not going to use this guy for more than spot duty whether he has Amendola around or not. If you used him for spot duty in 2012, then Amendola was missing for a third of his games anyway--so relying on Bradford for one game out of three in 2013 will feel pretty much like old times.



Question for Readers:



I've focused on the Welker-Amendola story primarily because it lets me play around with silly categories that no one takes seriously (with the notable exception of "possession receivers groomed for the NFL at Texas Tech not named Wes Welker," which comes up in almost any discussion of fantasy football).

I've tried not to tip my hand on the other categories mentioned above (such as "valuable as a handcuff" or "on the wrong side of 30"--or additionally "has huge upside" or "part of a rebuilding team" or "learning a new offensive scheme from an up-and-coming coordinator").

As we make personnel decisions in fantasy football, we all start with the same numbers: the stats that players generated in previous years. From those numbers, we derive our projections for the coming year. But my projections won't match yours because no one really knows how much weight to give to the various factors that we're considering.

Which categories help you most when it comes to FF strategy? How does knowing that a certain player is considered "injury prone" affect your ability to evaluate that player? (Every time I allowed my doubts about Fred Taylor's health to keep me from drafting him, I was wrong. And every time I set aside my concerns about his health to trade for him, I was also wrong!) When you think about a player like Willis McGahee, do you suspect that he has a hidden reserve of energy because his missed seasons have kept him from taking the beating that he should have taken by now? But is that hidden energy reserve actually more important that the injuries that hypothetically made it possible?

Curtis Martin was on the wrong side of 30 in 2004 when he rushed for 1697 yards. Eddie George was on the right side of 30 in 2001 when he failed to rush for 1000 yards (after rushing for 1500+ the previous season). Sure, categories such as "elusive" vs. "bruising" help to explain the difference, but some bruising backs last one or two seasons longer than other bruisers, so we need to resort to yet another category to account for the difference.

What's one category that you don't ever want to read about when you are researching a player? Perhaps more importantly, which categories do you consider more telling than stats? (In the years following the Terrell Davis era in Denver, it didn't matter how gaudy an RB's stats were. Many FFers flatly refused to get involved with any "Shanahan-coached RB" because the personnel moves were too volatile.)

Do you think all players need a full season to recover from a torn ACL? Or does it vary (in your opinion) by position or by the type of physical therapy?

I want to know what factors you consider that go beyond the stat sheet. Please email me your thoughts. If I receive any fun or thoughtful answers, I'll try to share them in my column for July.

---
Mike Davis has been writing about fantasy football since 1999. As a landlocked Oklahoman who longs for the sound of ocean waves, he also writes about ocean colonization under the pen name Studio Dongo. The latest installment in his science fiction series can be found here.