While a large percentage of rankings do not fluctuate much between standard scoring leagues and point per reception (PPR) leagues, there are a number of players whose value improves significantly when receptions are added to the scoring equation. I believe the following players stand to gain the most value when going from a standard scoring league to a PPR league. This is not to say that these players are the most valuable players in PPR leagues, but they are the ones whose value increases the most when receptions are counted as a point.

RB Darren Sproles, NO
Standard ADP: 3.11
PPR ADP: 2.12

It is tough to talk about PPR-league players without highlighting Darren Sproles, who has made a nice career of catching balls out of the backfield. In standard scoring leagues, managers may shy away from Sproles since he does not get a lot of touchdowns and his carries have been very sporadic throughout his career. In PPR leagues, however, Sproles is an absolute stud, catching 161 balls in just 29 games with the Saints over the past two seasons. With the return of Sean Payton, the Saints, whose offense sputtered at times last season, should once again be high-scoring and explosive, and Sproles should be a big part of that. Look for Sproles to come pretty close to the numbers he put up two seasons ago under Payton, where he caught 86 balls for 710 yards. Even at his late-second-round ADP, Sproles presents nice value as a centerpiece in what should be a high-powered passing offense.

RB Giovani Bernard, CIN
Standard ADP: 6.02
PPR ADP: 5.08

It's tough to judge what kind of role rookie running backs will carve out for themselves since college production is not always an indicator of how they will be used or whether they will rise to the occasion in the NFL. In the case of Bengals running back Giovani Bernard, however, the stars may be aligning perfectly to make him an excellent PPR player, especially as a value at his current late-fifth-round ADP. While veteran BenJarvus Green-Ellis is expected to be the Week 1 starter and get the early-down carries, the Law Firm is nowhere near as naturally talented as Bernard, especially in the open field and the passing game (BJGE has just 48 career receptions in 68 games). Even if Green-Ellis somehow manages to hang on to the official starter job all year, there should be plenty of work for Bernard, who should be the Bengals' third-down and change-of-pace back right from the get-go. In addition, Bernard has lined up as a wideout in some formations this offseason and thus may be on the field nearly as much as a fulltime back would be anyway. In two seasons in college, Bernard hauled in 92 passes for 852 yards. And while the Bengals run a bit more conservative offense, the opportunities should easily be there for a 45-catch season and a few hundred yards on the ground, with some long touchdowns thanks to his explosive ability. With A.J. Green taking the top off the defense, look for a lot of dump-off passes aimed at Bernard this season.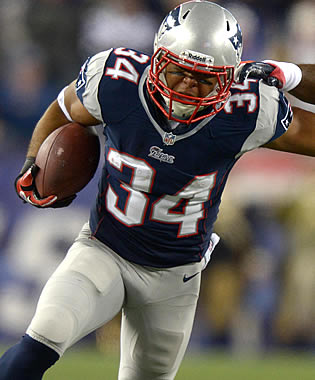 Shane Vereen is the favorite to fill the PPR void of Aaron Hernandez and Danny Woodhead.

RB Shane Vereen, NE
Standard ADP: 6.07
PPR ADP: 5.09

Shane Vereen didn't see a ton of action last year but looked pretty good when his number was called. This season his number is bound to be called a lot more with the loss of Wes Welker, Aaron Hernandez, and especially Danny Woodhead. Vereen has been lining up all over the field in training camp, including out of the slot, on the outside, in the backfield, and in motion. It is clear the Pats want to get Vereen involved, and it is likely a lot of that action will be through the air. Stevan Ridley will almost surely be the early-down and goal-line back, but look for Vereen to be in on third downs and passing downs, while occasionally getting the call to run the rock. Even if Vereen doesn't get a ton of touchdowns this year, look for at least 50 receptions and 500 receiving yards, making him an excellent flex play or bye-week fill-in with upside in PPR leagues.

RB Danny Woodhead, SD
Standard ADP: 10.02
PPR ADP: 8.12

Sometimes moving to a weaker offense can actually be a good thing, as is most likely the case for Danny Woodhead this year. In New England, Woodhead was often the third or fourth option out of the backfield for much of his three-year tenure. In San Diego, however, Woodhead has a real shot at being second on the depth chart and the primary third-down back in an offense that will probably throw a lot of dink-and-dunk passes. The Chargers have been looking for someone to fill the Darren Sproles role ever since Sproles left for New Orleans in 2011, and Woodhead may be just what they need. In Sproles' last season with the Chargers, he caught 59 balls for 520 yards to go along with 267 yards on the ground. I believe these numbers—and perhaps a bit more —are easily achievable for Woodhead this year, especially if Ryan Matthews struggles early and Woodhead is relied on more for early-down work. While Woodhead's touchdown numbers probably won't blow you away, in a PPR league he is certainly a good value at his current ADP, even with his going a round and a half earlier than in standard scoring leagues.

RB Ronnie Hillman, DEN
Standard ADP: 9.07
PPR ADP: 8.07

The Denver backfield committee is one of the more interesting situations to monitor for fantasy purposes, and Ronnie Hillman should be a big part of what is produced there. Although Hillman only caught 10 balls last year (on 12 targets), much of this was due to a lack of experience in pass protection and the fact that he was a rookie (Coach Fox normally relies on veterans). This year Hillman projects, at the very least, as the change-of-pace back in an explosive offense led by Peyton Manning. Hillman has reportedly improved his pass protection skills and is even currently listed as the Broncos' number one running back, although rookie Montee Ball is expected to get a lot of early-down work. Although the situation is a bit sticky with a lot of talent, both in the backfield and in the receiving corps, Hillman provides nice upside and good value as a mid- to late-eighth-round pick in PPR leagues. Regardless of how the backfield depth chart plays out, he should get a minimum of 35 catches, with some explosive after-the-catch ability to break a few long touchdown runs.

WR Calvin Johnson, DET
Standard ADP: 1.09
PPR ADP: 1.07

Everybody knows that Megatron is already a fantasy stud, and I realize the difference in ADP is very slight here, but I personally have done several mock PPR drafts and one real PPR draft this year where Johnson has actually been selected first or second overall. Last season Johnson was targeted a league-high 205 times and caught a league-high 122 balls. The Lions are still going to pass a ton, and while Johnson may lose a few catches to the newly acquired Reggie Bush and the possible emergence of Ryan Broyles, he is still a safe bet for 100-plus catches. On top of the plentiful points you will get from all the catches, Johnson's five receiving touchdowns last year was very low for so many catches, meaning it was probably a fluke. Look for Calvin to double his touchdown total from last year while only slightly dropping off in other statistics. Johnson is easily worthy of a top 5 pick in PPR leagues as one of the safest bets out there.

TE Tony Gonzalez, ATL
Standard ADP: 6.05
PPR ADP: 5.09

Most non-quarterbacks that are 37 years old (there aren't too many of them!) are usually looked at as fantasy non-factors. But in the case of Tony Gonzalez, he is not only a productive player but a PPR-league stud at the TE position. What is even more strange about Gonzalez's situation is that he may be the third best option in the Falcons' passing game, yet he could easily wind up a top 3 fantasy TE in PPR leagues. While Gonzalez is not the deep threat he may have once been, and double-digit touchdowns are probably far in the rearview mirror, he is a catching machine, registering 70 or more catches in 10 straight years, including an impressive 93 last year. What's just as impressive and reassuring for fantasy managers is that Gonzalez has amazingly missed only two games in his 16-year career. While 93 catches is not likely to happen this season, Gonzalez is probably the safest bet outside of Jimmy Graham at TE, and 75-plus catches is practically a lock. In PPR leagues Gonzalez is about as safe as they come, and he might actually be a bargain as the fifth TE currently being taken.

TE Jason Witten, DAL
Standard ADP: 5.11
PPR ADP: 4.12

Among the top 20 leaders in receptions last season, Jason Witten had the lowest touchdown total (3) and the lowest yards-per-reception average (9.4). On the other hand, he led all TEs in receptions and had more targets than all but seven other players in the NFL. This discrepancy in statistics is probably why Witten's PPR ADP is projecting nearly a full round earlier than it is in a standard scoring format. While last year's 110 receptions (highest of his career) will most likely not be repeated, Witten is the essence of consistency at the TE position, averaging over 90 catches the past six years and missing only one game in his 10-year career. There are certainly flashier names at the TE position, along with guys that are faster and catch more TDs, but in a PPR league you would be hard-pressed to find a more reliable guy to produce the kind of numbers Witten will give you. At nearly a fifth-round ADP (in PPR leagues), Witten is actually a bargain right now. He's being taken after several WRs who had at least 25 less receptions than he did last year.


Suggestions, comments? E-mail me.