Everyone knows to start Peyton Manning every week, regardless of the match-up. But not all decisions are as easy at that one. So to help you decide who you should start and who you should bench I have identified the players at the QB, RB and WR positions that should excel this week and should be started, as well as the players who will struggle this week and should be benched. Don't forget the Thursday night game—get those lineups in on time. And no need to worry about your star player being off; the bye weeks are over and everybody plays!

Let's start with the QB position. You shouldn't have to be told, but just in case... always, always start the following players: Peyton Manning, Tom Brady, Drew Brees, Aaron Rodgers, and Philip Rivers. Now on to the question marks...


Quarterbacks
Start 'Em:
Quarterbacks Who Will Outperform Relative To Their Draft Position And Recent Hype

Kerry Collins vs. HOU
Collins and the Titans have been horrible the last month and a half and are out of the playoff chase, but they still have some playmakers (including WR Kenny Britt, who returned last week from an injury), and that makes them a dangerous team—even though they are facing another disappointing team that is out of the playoff chase. Collins has split time with Vince Young due to both injury and performance issues, which is why his stats are pretty bad. But Young is done for the year, and probably for his career in Tennessee, so it's Collins and his 150 yards and 1 TD per game average or it's time to see what Rusty Smith can do. Houston has lost more close games—more heartbreakingly close games—this year than any other team. That includes last week's overtime loss to the Ravens, which might have sealed Gary Kubiak's fate. Their pass defense is still the worst in the league, giving up 280 yards per game. They've allowed the most TDs (29), the highest QB rating (103.1), the most 40-plus yard pass plays (14), the highest number of big plays (59), and they give up an average of 8.1 yards on every completion (second-worst in the league) to go along with a 66.5 percent pass completion percentage (third-worst in the league). The Titans offense has a good chance of putting up some points this week, and I expect Collins to follow up last week's 244-yard, 3-TD performance with a similar or better game this week.

Matt Ryan @ SEA
Matt Ryan takes on the league's 30th-ranked pass defense this week in Seattle. The Falcons can clinch a playoff spot with a win, and even though it's on the road, Ryan should have a huge day throwing to White, Jenkins, and Gonzalez. That should pad his yards per game (242) and TD (22) stats. Seattle is giving up 266 yards and 2 TDs per game—and that includes games against division foes Arizona, St. Louis, and San Francisco and against QBs the likes of Derek Anderson, Alex Smith, and Troy Smith and rookies Max Hall, John Skelton, and Sam Bradford. Even as a desperate team trying to win their division and qualify for the playoffs, the Seahawks could easily be picked apart and beat up all day long when facing a stud of Matt Ryan's caliber. Seattle's weakness against the deep ball (they give up the most big plays in the league with 64) will likely be exploited several times.

Jason Campbell vs. DEN
Wow, if you told me in the preseason that I would be recommending Jason Campbell as a starting QB at any point this year, I would have laughed at you. Campbell has had some ups and downs this year and was benched for a moment in favor of Bruce Gradkowski, but over his last two games he's been solid, throwing for 441 yards and 4 TDs with no INTs. And on the year (10 games, 9 starts) he's averaging 176 yards per game and has a total of 10 TDs. Oakland still holds some very slim playoff hopes that could officially end this week with a loss, so it'll be interesting to see if Campbell can handle that pressure and subsequently take advantage of a bad pass defense. Denver's 19th-ranked pass defense allows 227 yards and 2 TDs per game. They also allow the fourth-highest QB rating in the league (96.0). They are one of just four teams allowing over 7.5 yards per completion, have the fewest INTs in the league (6), and have the fewest sacks (18), so Campbell can expect very little pressure and should not be turning the ball over at all. If stats tell the story, Campbell might be one of the best QB plays of the weekend—but you should still play him only if you have to.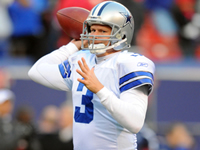 Kitna has 3 three-hundred yard games since becoming a starter.

Jon Kitna vs. WAS
Kitna's resurgence this year is due to two things: first, Tony Romo's injury; second, the firing of Wade Phillips as head coach. Still, he is taking advantage of his opportunity and cementing a backup job in the NFL for the next couple of years. Since taking over for Romo eight weeks ago, Kitna has 1,945 yards and 13 TDs—that's an average of 243 yards and almost 2 TDs per game. This week's rematch against the Redskins, who kicked off the Cowboys' disappointing season with a Week 1 win, features two teams out of playoff contention, playing for pride (if that still exists in Washington), and also evaluating talent for next year. Kitna should be able to hit Mr. Kim Kardashian (Miles Austin), Roy Williams, and—of course—Jason Witten all day long against the Redskins' 29th-ranked pass defense. Washington gives up only about 1.5 TDs per game, which isn't bad, but they also give up 261 yards per game, which is bad.


Bench 'Em:
Quarterbacks Who Will Under Perform Relative To Their Draft Position And Recent Hype

Joe Flacco vs. NO
Flacco had a big game against the Texans last week—but then again who hasn't? On the year he's 12th in the league, with 248 yards per game, and his 21 TDs rank ninth in the league. But this week he takes on the quietly surging Saints (though the Falcons seem to be getting all the coverage) and their fifth-ranked pass defense. New Orleans is one of just five teams giving up less than 200 yards passing per game (199). Their 8 TDs allowed is the lowest in the league, and their 36 big plays allowed is the eighth-fewest in the league. They are only middle-of-the-pack with respect to sacks and have the fourth-fewest INTs with just 7, but their low yardage and ridiculously low TD totals make this a matchup I'd avoid if possible, especially since their run defense is so much more attractive for Baltimore to take on.

Alex Smith @ SD
Alex Smith's return last week against the Seahawks was like a flashback to his college days at Utah when he was actually good. He threw three TDs, giving him 12 on the year (over 8 games), and his 255 yards was his third-highest passing total of the season. Still, this is the guy who led the 49ers to a 1-6 start and was benched for former Ravens castoff Troy Smith. Plus, last week's performance was against the 30th-ranked pass defense. This week he takes on the Chargers and their No. 1 pass defense, which is giving up just 173 yards and 1 TD per game. They are also allowing a measly 72.9 QB rating (second-lowest in the league) and are third in sacks and 15th in INTs to go along with a top 10 pass completion percentage of just 58.2 percent. It looks like it might be a short second honeymoon for Alex and I'd advise an annulment right away.

Brett Favre vs. CHI
OK, look, Brett Favre's career is over, done, kaput. But this is a guy who will not go away quietly, so I still believe there's a chance for him to play this week. His selfish mentality is "I want to play the Chicago Bears, my biggest rival for the better part of 20 years, just one more time." Sure the Vikings are out of it, but they've been out of it for weeks and he has still played. Leslie Frazier would do right to shut him down for the rest of the year to let Tarvaris get some experience (if he can get healthy enough to play) and evaluate his decision-making ability. The recent signing of Patrick Ramsey means nothing. If Favre doesn't play then just substitute his name with Tarvaris Jackson's, Joe Webb's, or Patrick Ramsey's and read on. Chicago comes into this game with the 18th-ranked pass defense after a brutal beating by the Patriots. Before that, they were allowing only 215 yards per game, a 71.1 QB rating, and just 16 points per game (second-best in the league). They had allowed only 9 TDs all year before Brady put up 2 on them in the mini-blizzard. The Patriots game is one you have to just throw away and forget about, which is what I'm doing here. Expect the Bears to rebound against either the limping Favre or the gun-shy Jackson, and avoid any and all Vikings QBs this week.

Mark Sanchez @ PIT
Has there been a worse QB in the league over the past three weeks? During that time Sanchez has averaged 182 yards, 0 TDs, and 2 INTs a game—in addition to losing two out of three games. And this week his task certainly doesn't get any easier against a Steelers team whose pass defense ranking of 23rd in the league doesn't do them justice. Pittsburgh does allow 233 yards per game, but they've only allowed 14 TDs all year. Plus they lead the league in sacks, are fourth in INTs, have given up the fourth-fewest big plays, and have the 10th-lowest QB rating allowed. So they do give up yards, but it's tough to score on them. And the way things have been going for Sanchez and the Jets lately, I wouldn't want to face them.

Running Backs