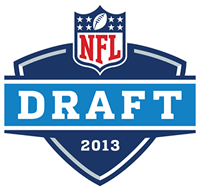 4.01 – Eagles: QB Matt Barkley
Hard to argue the value of the pick, although Barkley seems an odd fit in Chip Kelly's high-speed, read-option offense. With that said, Kelly doesn't get enough credit for adapting to his talent. Barkley makes sense, however, as a quick decision-maker in an offense that requires it and is as pro-ready as any QB in this draft. Redraft value is minimal, but he needs to be on the radar of dynasty league owners as the likely backup for injury-prone Michael Vick.
4.04 – Jaguars: WR Ace Sanders
Jacksonville is truly doing everything it can to help its QBs. Sanders should have a long career in the slot, but make an instant impact in the return game. Sanders doesn't have great speed upside, but he is dependable. He'll go undrafted in redraft leagues and likely warrants only a third-round selection in dynasty rookie drafts.
4.05 – Patriots: WR Josh Boyce
After grabbing their big WR last night, the Pats hope Boyce is the burner they hope will give them the vertical threat they have lacked since Randy Moss' departure. Injuries and an unknown training camp status pushed his stock down a bit, but any receiver in the NE offense with Tom Brady under center is on the fantasy radar. He'll likely go undrafted in redraft leagues, but Boyce has a shot at more dynasty value than we typically expect from a fourth-rounder.
4.09 – Dolphins: TE Dion Sims
Sims rivals Travis Kelce in terms of being the draft's most complete TE, but lacks Kelce's upside. Initially, he should be a solid complement to Dustin Keller. He'll start out as a player who helps the running game more than the passing game, but he has soft-enough hands to be a reliable option in the passing game. Very little redraft appeal here. Keller is on a one-year deal, so there is some dynasty value here down the road.
4.15 – Raiders: QB Tyler Wilson
Entered 2013 as a potential top 10 pick, but the Bobby Petrino fiasco led to a big fallout, which included Wilson getting treated like a punching bag. No one will likely question his toughness anymore. Ideally, Wilson will have a year to lick his wounds while Oakland adds more talent before he takes the field as the starter in 2014. No redraft value here, but Wilson could end up being this draft's best QB if he returns to the QB he was in 2011.
4.28 – Packers: RB Johnathan Franklin
Eddie Lacy's stock just took a huge hit. Franklin is perhaps the best all-purpose RB in this draft and fits the Packers' current offense better than Lacy. With Franklin now on board, the GB backfield likely goes right back to a committee attack. I like Franklin to emerge as the best PPR back from this offense while Lacy get the honors in standard leagues. I believe that will hold up in redraft as well as in dynasty. Both players are still first-round rookie picks in dynasty and probably high-end RB3s in redraft due to the likelihood they will have inconsistent workloads.
4.31 – 49ers:WR Quinton Patton
Patton was insanely productive in the Bulldogs' uptempo spread attack, but he's not simply a product of the system. He has a good shot at giving AJ Jenkins a run for his playing time in 2013 and could be the next in line when Anquan Boldin can no longer hold up.
4.34 – 49ers: RB Marcus Lattimore
Lattimore is a luxury pick in the same way "Tank" Carradine and Patton were. The difference here is that despite his devastating knee injuries, Lattimore was the No. 1 talent at his position before he got hurt. SF will likely (hopefully) give him a "redshirt" year and groom him as Frank Gore's successor in 2014. No redraft value here barring a miraculous recovery this summer, but his long-term dynasty stock is very high given his supporting cast and talent.
5.07 – Cardinals: RB Stepfan Taylor
New HC Bruce Arians likely had his hand in Indy selecting Vick Ballard last season and Taylor is the same kind of pick. Mendenhall will almost certainly get his 300 touches, but Taylor is a reliable sustainer who could become the RB2 in Arizona if Ryan Williams continues to struggle with injuries. The Cards don't figure to be a huge source of fantasy points for RBs in 2013 and Taylor won't likely see enough time to be relevant in redraft. However, Mendy's one-year contract gives Taylor an opportunity for 2014 production, meaning he could warrant a late-first/early-second pick in dynasty rookie drafts.
5.11 – Saints: WR Kenny Stills
Stills has a bit of Lance Moore in him in the sense that he is a better receiver than what he initially appears. Fantasy receivers (beyond Marques Colston and Jimmy Graham) for the Saints can be a frustrating lot and don't expect Stills to be any different. Stills will likely have a productive game or two in 2013 that will cause fantasy buzz – because of the offense he'll be in – but his redraft and dynasty value figures to be a rollercoaster given the number of options in New Orleans.
5.18 – Cowboys: RB Joseph Randle
Randle is about everything you'd expect from a fifth-round RB. He's a solid, steady producer who doesn't have a second gear to consistently produce the big play. More importantly, however, is that Randle has shown something that Felix Jones (and DeMarco Murray) have yet to show – durability. There's a good shot Randle comes across redraft value this year given Murray's injury history, but he's not a threat in any way to Murray. Good insurance for Murray in redraft and dynasty leagues, but he doesn't figure to hold any sustained value.
5.27 – Rams: RB Zac Stacy
This isn't a high-upside pick by any stretch of the imagination, but neither Daryl Richardson or Isaiah Pead have the kind of size teams like from their short-yardage backs nowadays. It would come as little surprise if Stacy finds himself scoring 4-5 short-yardage scores while Richardson/Pead do their work in between the 20s. Stacy has more value than you'd expect from a player drafted at this spot (No. 160 overall).
5.31 – Dolphins: RB Mike Gillislee
Time to watch some Gillislee game tape. While not a big back (5-11, 208), Gillislee lands in a favorable situation for his fantasy value. Daniel Thomas has failed to improve as a pro runner and Lamar Miller – while talented – is certainly far from proven. Gillislee has an outside shot at stealing about a third of the reps from Miller if comes along a bit more, but he's more of a fantasy property to keep an eye on for 2014.
5.33 – Dolphins: K Caleb Sturgis
Kickers drafted in the fifth round or higher usually stick on the roster while their veteran counterparts typically do not. In Miami's vastly improved offense, that will mean something. Sturgis stands a very good shot at being a top 12-15 kicker in redraft leagues this season, assuming he doesn't fall on his face in training camp.