The Weekly Gut Check - Vol. 44
The 2005 All-Gut Check Preseason Fantasy Roster
8/30/05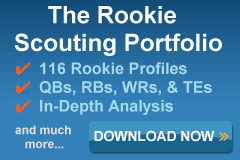 The "Gut Feeling" is often synonymous with a sense of desperation resulting from a lack of preparation. The Gut Check is a huge proponent of studying the numbers, but there's a point where one can place too much emphasis on the wrong information. This can result in the undervaluing or overlooking a player's potential. Therefore, The Weekly Gut Check is devoted to examining the frame of reference behind certain number-driven guidelines that fantasy football owners use to make decisions.

Although The Weekly Gut Check doesn't claim to be psychic, he does believe that he can dispel certain numbers biases and help you make the best choices for your team. We'll keep a running tally of The Weekly Gut Check's insights. This way you can gauge his views as something to seriously consider, or at least seriously consider running the opposite way as fast as you can!


---
The All-Gut Check Preseason Fantasy Roster is a fantasy team comprised of mid-to-late round players or potential waiver wire picks. This is not a squad of front-runners, but a unit of overlooked, under-appreciated, and likely overachievers that could benefit your fantasy team in 2005.

The Gut Check's inaugural team performed much like an expansion franchise—a big-time player, tons of injuries, some promising moments, and some unmitigated busts

2004 All-Gut Check Offense
Pos
Starter
Backup
QB
Byron Leftwich
Rich Gannon
RB
Thomas Jones
Lee Suggs
RB
Brian Westbrook
Quincy Wilson
WR
Brandon Lloyd
Freddie Mitchell
WR
Larry Fitzgerald
Kelley Washington
WR
Tyrone Calico
Kevin Johnson
TE
Doug Jolley
Kris Wilson

Injuries really decimated The Gut Check's collection of players. Leftwich, Gannon, Suggs, Fitzgerald, Calico, and Kris Wilson all missed significant time due to a variety of ailments. So, as with any NFL coach willing to cope with the growing pains of his star talent, Yours Truly has no problem sticking with some of last year's All-Gut Check preseason performers. Maybe it was just a case of prematurely predicting a breakout season. Maybe it had to do with The Gut Check not having a defense.

With these thoughts in mind, here is The Gut Check's 2005 Preseason Team.

2005 All-Gut Check Offense
Offense
1st Team
2nd Team
QB
Byron Leftwich
Steve McNair
RB
Stephen Davis
Jarrett Payton
RB
Mike Anderson
Frank Gore
WR
Kevin Curtis
Matt Jones
WR
Travis Taylor
Bobby Engram
WR
Antonio Bryant
Samie Parker
TE
Ben Watson
Kris Wilson
Defense
1st Team
2nd Team
DE
Kyle Vanden Bosch
Justin Tuck
DT
Darnell Dockett
Gerard Warren
LB
Karlos Dansby
James Harrison
LB
Donta Thomas
Michael Boley
LB
Odell Thurman
Derrick Johnson
LB
Rosevelt Colvin
DeMarcus Ware
CB
Antrel Rolle
Ricardo Colclough
S
Sean Jones
Mike Rumph
Anyone not mentioned in the breakdown below has been discussed in previous columns.
Quarterbacks
There's a lot McNair and Leftwich have in common beyond the obvious that both are big, strong-armed, and as tough as they come in the pocket. The two AFC South quarterbacks played in offenses that limited their creativity and skills to assess a defense at the line of scrimmage. Offensive coordinators Bill Musgrave and Mike Heimerdinger ran schemes that restricted their quarterback at the line of scrimmage when the opposing defense was in formation to stop the play. Neither Leftwich nor McNair were given a large enough range (if any) of audible choices in order to make the adjustment. As a result, both quarterbacks had to stand in the pocket and absorb more punishment than necessary.
Enter new coordinators Carl Smith (Jacksonville) and Norm Chow (Tennessee). Smith employs a vertical passing attack fundamentally designed around a strong ground game. The aim is to employ play action passing to keep defenses off balance. Chow runs a quick-strike, short route passing game that involves every skill position. Both coordinators have given Leftwich and McNair the freedom to change plays at the line of scrimmage.
For Leftwich, this scheme should propel the offense to big plays in 2005. Jacksonville had 28 passing plays of greater than 25 yards in 2004, tied for 16th overall. Leftwich had 27 of those throws despite the fact he only finished 13 games and played in an offense that did not capitalize on Fred Taylor's skills to employ a play action attack. It is no coincidence that the play action game was a major reason why Peyton Manning (41), Duante Culpepper (40), and Jake Plummer (38) led the NFL in big passing plays last year.
A healthy Taylor, a slimmed down Reggie Williams, and rookie phenom Matt Jones should contribute to an improved aerial attack. As mentioned earlier this month, Leftwich had a seven-game stretch that demonstrated to the coaching staff their quarterback is ready assume the responsibility of the offenses production. Last year, The Gut Check devoted a column to Leftwich, and mentioned his accuracy at Marshall despite one incredible game where his receivers dropped several passes. Leftwich finished the 2004 season with a 60.5% completion percentage despite the Jaguars receivers dropping the most passes of any team in the NFL:

Butter-Fingers: 2004
Team
Passes Dropped
Jac
42
Sea
38
KC
38
Mia
38
Det
36
Car
36
That's right, the Seahawks may be better known for this dubious stat but the Jaguars earned the title. Jimmy Smith and Fred Taylor dropped 10 passes apiece, and Troy Edwards wasn't far behind with 7 dropped balls. Considering Chad Johnson led the NFL with 14 drops and both he and Smith were among the leaders in targets, the number isn't as disturbing. Yet, it's understandable why the Jaguars chose to pick a great receiving back like Alvin Pearman, and a player with reputedly freakish hands in Matt Jones. Consider the fact that supporting receivers Reggie Williams and Ernest Wilford were both rookies, and this problem should steadily improve—especially when the play action attack should afford receivers more separation and Leftwich more time.
Norm Chow's offensive design will aid McNair's production because it will keep the former NFL MVP on his feet. The Titan's previous offensive system used three, four, and five wide receiver sets without giving McNair the ability to audible out of the designed play. In addition the Titans had only three defensive starters complete the entire season healthy. The offense was playing from behind on a frequent enough basis that they led the AFC with 589 passing attempts. As a result, Tennessee's quarterbacks suffered more sacks than all but eight teams last year.
Expect the Titans to give a rejuvenated McNair a great deal more freedom at the line of scrimmage. Although the passing attack will be predicated on shorter drops and matching routes, the up-tempo design will allow McNair to spot mismatch opportunities. The result should be long pass plays or receivers generating big gains from yards after the catch. A healthy defense should keep the Titans more competitive in the first half of games, which will prevent opposing teams from blitzing McNair and company more often in 2005.
The Gut Check expects both Leftwich and McNair to outperform preseason fantasy expectations and make excellent backups for your roster.
Running Backs
As with Yours Truly's signal callers, the backs also have a lot in common. Both are downhill runners capable of punishing a team in the second halves of games yet possess enough speed to break the occasional big play. Both have young, talented, and explosive runners from big-time college programs nipping at their heels. And neither was expected to be the 2005 starter, but both are on track to defy expectations once again.
Mike Anderson has proven all preseason that he's the better back, and punctuated his summer performance with a 93-yard TD run versus the Colts Saturday night—the kind of run fans expected to see from Bell rather than the some-time fullback. Until most recently, Anderson was a bargain bin RB in most drafts.
On the other hand, Stephen Davis hasn't played in a single preseason game and The Gut Check has been hyping Deshaun Foster as a mid-round value all summer. But as of this writing, Joe Menzer of the Winston-Salem Journal reports that Foster expects Stephen Davis to remain the starter in 2005. Although Davis is a risk because it won't be until Thursday when coaches and fans get to see if the veteran's knee holds up, Davis is going late in most drafts. The Gut Check isn't counting on Davis to be the force he was two years ago. This means Foster should see more time, but a starting RB available after round five is always worthwhile and what Davis appears to be.
Frank Gore and Jarrett Payton represent talents downgraded or written off due to injury and opportunities missed to develop further. Gore appears to have nailed down the #2 spot on the 49ers depth chart and Mike Nolan has stated he expects the rookie to spell starter Kevan Barlow during the season. Since the rate of injuries creates a historically high turnover rate for starting running backs, Gore is in line for a decent opportunity and makes a good late pick in drafts.
Payton has nailed down the #3 spot on the Titans depth chart, by-passing rookie draft pick Damien Nash, and demonstrating improved physical skills The Gut Check expected from the 2nd year free agent. Tennessean.com scribe, Bill Wyatt makes reference to Payton looking like a different player from last year—something Jeff Fisher acknowledges in the article. In addition, Fisher's critique of Payton thus far sounds like a coach that expects continued development. "He has a lot more quickness. Last year when he came in he was heavier and was stiff and was an inside runner," Fisher said. "Because of his flexibility he has now, he's been able to bounce outside and cut back. At times he cuts back to soon, so we have to encourage him to press the hole and do those kinds of things.''

Payton isn't a player to draft at this point, but could become an interesting waiver wire option. Travis Henry has been nicked up and Chris Brown's history was the reason the Titans acquired Henry in the first place. The Gut Check believes Payton will get better with more playing time, something that has become a greater possibility than most initially thought at this time last year.

Receivers
Mike Martz recently said Kevin Curtis has developed to the point where he can contribute on a similar level as his starters. Curtis had nearly 350 yards receiving in the last three games of the Rams 2004 season, and surprised many a cornerback with his blazing speed. The St. Louis Post-Dispatch reported Martz anticipates making Curtis an active part of the receiving rotation, which includes giving Bruce more frequent breathers each week. The Gut Check believes that Curtis in the role as a #3 WR and sometime #2 WR for St. Louis has the potential to have a season that approaches Az-Zahir Hakim's performance in 1999—36 receptions, 677 yards, and 8 scores. If Curtis gets an extended opportunity to start, he has 1,000 yard potential.

Travis Taylor hasn't lived up to expectations as a first round pick, but he's finally in an offense with a great quarterback and weapons in the receiving corps to complement him. If one placed Minnesota's offense with Baltimore's defense, no one would be talking about the Patriots. Taylor was expected to do as a receiver what Jamal Lewis did as a runner, put the receiving game on his back. Terrell Owens and Randy Moss may have this level of talent, but few receivers do—regardless of round. Reports are Taylor's summer has been impressive, and the Vikings are expecting him to make a significant contribution. Don't sleep on this guy late in drafts.

The Gut Check has mentioned Antonio Bryant and Matt Jones enough lately. Both are climbing up many draft boards. Make sure you don't overlook Reggie Williams because Matt Jones put his amazing physical skills and hands on display last week. Bobby Engram has not yielded the Seahawks #2 spot at receiver, and should see a lot of balls from Matt Hasselbeck. As a slot receiver, Engram amassed 8 touchdowns as a rookie for the Bears several years ago. The Gut Check knows Engram has a talent for finding the open spots in a zone and though he is expecting the Seattle receiver to be more valuable for his yardage than his scores, 7-9 scores isn't out of the question. Look for Samie Parker to present similar value as Engram in total points, but to have less consistency. This is due to Parker being more of a deep threat, having less size to compete for red zone balls, and still developing as a second-year player in the NFL.

Tight Ends
The 800-lb Gorilla of fantasy football may be Patriots TE Ben Watson. No one talks about him, but The Gut Check can tell you that most long-time fantasy owners are keeping a keen eye on this guy. Watson has athleticism that rivals the best tight ends in football. Now that he's healthy to start the season, Watson is eager to make an impact. Watson had 6 receptions for 49 yards against the Packers last weekend and he'll be the receiving tight end in two-TE sets this season. Starter Daniel Graham was on fire to begin 2004, but tailed off quickly. He's a great blocker, but his hands have been inconsistent as a pro. Look for Watson to become a Brady favorite this year. In May, The Gut Check drafted him in the last round of the Fantasy Football Handbook 2005 Draft as a high-risk, high-reward backup to Alge Crumpler. As September approaches, the risk appears a bit lower, while the reward remains high. Watson won't be this year's Antonio Gates—but he could be this year's Jason Witten—still excellent for the owner that is willing to risk it.

Defensive Line/End
Giants rookie, Justin Tuck is a converted linebacker out of Notre Dame with excellent quickness and playmaking instincts. His recovery from a knee injury sustained during his junior year deflated his draft stock in the eyes of scouts. Tuck certainly won't overtake Michael Strahan or Osi Umenyiora, but let's not forget that Strahan is a 13-year veteran. He has shown promise in camp and the Giants definitely see a future for him Tuck should see time on the field in 2005 as he's the only "true" end behind Strahan and Umenyiora. He's had some impressive moments this summer: an interception dropping back into coverage and against the Jets, consecutive sacks to seal the game. Tuck could be a precocious talent if thrust into a regular season situation where production is demanded of him immediately.

Darnell Dockett was a 3rd round pick with 1st round talent. Most in the media are predicting Dockett as a rising star and future pro bowler as soon as this year. Yet, Dockett isn't receiving the same level of hype among fantasy owners. The Gut Check believes Dockett flashed a similar potential for sacking the quarterback from the defensive tackle position as Falcons fantasy stud, Roderick Coleman. The Cardinals have an up and coming defense that thrives on aggressive play so look for Dockett rack up nice totals on a frequent basis for a position that isn't generally a high scoring one.

By most accounts, Gerard Warren should have been an all-pro long ago. The Broncos have been known for their ability to get the most out of defensive linemen with high profiles but might have worn out their welcome elsewhere—just ask the Chiefs in the early to mid-nineties. Warren has been a model citizen in Denver and The Broncos look ready to take their 3rd-ranked defense and translate that into production for fantasy owners. Not only has Warren been cooperative, but among the hardest working players in camp. Look for Warren to fulfill the potential Cleveland envisioned from him as a first round pick.

Linebacker
The Gut Check has been watching Karlos Dansby and Donta Thomas since they were at Auburn. Dansby flashed his pass rushing skills as a rookie and has demonstrated good range in the preseason. Look for Arizona to use Dansby off the edge as a pass rusher on a regular basis—this will result in some big weeks for fantasy owners. This is a linebacker that should compile at least 5-7 tackles per game with a high potential for points from sacks and turnovers from week to week.

Donta Thomas took longer to pick things up as a rookie, but came into training camp more prepared for the rigors of the NFL. Mike Tice declared the competition for the WLB spot was over before it barely got started because of Thomas' play in training camp. The Vikings are the popular fantasy defense on the rise due to the influx of young talent in the draft and veteran free agents still at the top of their game. Thomas will be the beneficiary and should be a surprise near the leader board in tackles.

Odell Thurman gets a full season as a MLB in a run-oriented division. Expect Thurman to have some excellent games as rookie, and contend for the rookie of the year award with the Chiefs Derrick Johnson. The Texas alum has such special skills that he should still make a fantasy impact. Expect Johnson on the highlight reel throughout the year. The same can be envisioned of DeMarcus Ware. The Cowboys rookie had a stat line against the Seahawks last week that included a sack, interception, and forced fumble. He's very agile for his size, and Bill Parcells has a great track record with defensive prospects. James Harrison has been one of the more aggressive players in Steelers camp and should be a good value as an outside linebacker in one of the best fantasy defenses available.

Michael Boley is an exciting prospect that dropped in the draft due to concerns about his size. Many expected this explosive tackler to be a 'tweener that might not have the skills to convert to safety if teams deemed him too small. Boley has been around the ball and pressuring the quarterback on a consistent basis throughout the preseason. This has earned the rookie out of Southern Mississippi a roster spot behind fantasy stud Keith Brooking. If Brooking goes down, grab Boley right away—he may blow more assignments than Brooking as he learns how to be a quality pro, but his speed and instincts will help him make a lot of plays.

Defensive Backs
For owners that need corners on their roster, Antrel Rolle is yet another Cardinal that should experience a nice season for fantasy owners. Rolle is a sound tackler with good size and is aggressive to the ball. His speed is a bit of a question mark, so look for the high-powered offenses of the NFC West to conduct an NFL baptism by fire on the rookie. This should result in a lot of opportunities to make plays.

The #2 CB spot in Pittsburgh has been a good place to look for high scoring fantasy corners, and this year should be no exception. The competition for the position is between Ike Taylor and second-year man Ricardo Colclough. The Tusculum University alum is an excellent playmaker when he has the ball in his hands, but he's a bit of a gambler. The Gut Check believes if Colclough earns the job, he's a reasonable bet to have a productive fantasy season.

Mike Rumph is a surprise pick, due to the fact he was toasted more often than Wonder Bread during his first two seasons as 2nd round draft pick out of Miami. Rumph has been converted to free safety and the Gut Check sees similarities between Rumph and Browns Brian Russell while with the Vikings—a weak passing defense that affords the FS numerous opportunities to make plays.