The Weekly Gut Check - Vol. 43
Bold Predictions
8/23/05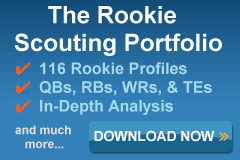 The "Gut Feeling" is often synonymous with a sense of desperation resulting from a lack of preparation. The Gut Check is a huge proponent of studying the numbers, but there's a point where one can place too much emphasis on the wrong information. This can result in the undervaluing or overlooking a player's potential. Therefore, The Weekly Gut Check is devoted to examining the frame of reference behind certain number-driven guidelines that fantasy football owners use to make decisions.

Although The Weekly Gut Check doesn't claim to be psychic, he does believe that he can dispel certain numbers biases and help you make the best choices for your team. We'll keep a running tally of The Weekly Gut Check's insights. This way you can gauge his views as something to seriously consider, or at least seriously consider running the opposite way as fast as you can!


---
Most of The Gut Check's columns have a statistical bent. This week's column takes the opposite approach. These are bold predictions based on feelings The Gut Check has about these players. These aren't recommendations one should use to severely alter one's draft. They're more in the spirit of The Bold Predictions threads common found this time of year on the FF Today Forums. If you have a similar feeling, maybe this will serve as validation. If you don't, use it as validation to steer clear. We'll see by season's end whether these were good examples of intuition or indigestion…

Kelley Washington Will Have A Breakout Fantasy Season

Washington, the Bengals 4th round pick out of Tennessee, was considered a first-day talent that slipped to the second day of the draft because of questions surrounding a neck injury. At 6-3, 218 lbs., Washington possesses the kind of physical qualities that had scouts drooling over Mike Williams, Larry Fitzgerald, and Reggie Williams. His first two seasons were spent adjusting to the pro game and working as a reserve. To put it bluntly, Washington underachieved while his counterpart, T.J. Houshmandzadeh, earned himself the starting spot opposite Chad Johnson.

Underachieving had to be the issue with Washington. Although the receiver increased his reception and yardage totals during his second year, the Bengals drafted two receivers in 2005 and there were whispers that Washington's roster spot was in danger this spring. Washington, like many receivers in today's game, appeared to get caught up in his own hype early in his pro career. Washington dubbed himself "The Future," but his effort and progress were lacking. The Gut Check speculates much of this had to do with Washington's meteoric rise to football stardom as a walk-on at one of the top football programs in the country.

Washington probably thought he could still get by solely on his athleticism. It's a very common attitude among rookies. Washington played with this kind of swagger at Tennessee. ESPN profiled Washington a few years ago and they described a practice where Washington told the opposing cornerbacks the route he was going to run prior to the snap. The fact Washington could still win the battle after essentially calling his shot is an example of his athletic arrogance. This may work in an SEC practice, but not in the NFL.

Thus far, Washington has been among the most impressive players in Cincinnati's training camp, and has nailed down the #3 spot. Yet, The Gut Check believes this is just the beginning for Washington—a player Carson Palmer has shown a preference for targeting in the red zone in their limited opportunities together.

Now that Washington has experienced two seasons of humility, look for him to blossom into the talent many projected him to be in the NFL. Cincinnati does not have an established receiving threat at tight end and they are known for employing three receiver sets on a frequent basis. Look for Washington and Houshmandzadeh to receiver fairly equal playing time from the outset, but don't be surprised if it is Washington that has a big year opposite Chad Johnson.

Kurt Warner Will Be ATop-5 Fantasy Quarterback

Successful players are often a product of their talent complementing a system. Kurt Warner is an excellent example of this point. As the Rams starter from 1999-2001, Warner won two MVPs and a Super Bowl Championship. He also had Orlando Pace, Marshall Faulk, Isaac Bruce, and Torry Holt in an offense completely designed to his strengths:
Short drops

Timing Offense

A base offense of multiple receiver sets (4-5)

Receivers with great after the catch skills
Warner's hand injury, loss of confidence, and the emergence of Marc Bulger contributed to a swift fall from grace in St. Louis. The development of Bulger should not be underestimated here. This is a quarterback many scouts had ranked among the top three in a draft class that included Chad Pennington, Tom Brady, and Billy Volek. The only knock on Bulger was his physical tools and the fear he'd be injury prone. Bulger is 6-2 and a shade over 200 lbs. Compared to the 6-4 230-240 lbs., prospects that personnel men look for in a guy they can confidently draft as a future starter, Bulger looks too risky.
The Sporting News 2000 Pro Football Draft Guide evaluated Marc Bulger and these excerpts are the basis of The Gut Check's point.
NFL comparison: Troy Aikman

Arm strength: Shows solid arm and can make all the throws. Has arm to throw the deep ball but tends to float ball downfield. Can throw all the underneath and outside routes.

Accuracy/delivery: Has extremely quick release, but delivery needs work. Is one of the more accurate passers in the underneath zone. Times routes well and does outstanding job of hitting receivers in stride but needs to learn to adjust speeds of passes. Has tendency to put too much touch on throws that need more authority.

Field Vision: Has good feel for where receivers are on field. Will find second read and does good job recognizing coverage. Has tendency to make throws that he can't thread through coverage. Tries to force too many balls.

Running ability: has average speed for a quarterback, but is not a real flexible athlete. Has good mechanics throwing on the run, but is more effective as a dropback passer. Injuries have slowed him. Not as quick as he used to be; won't be much of a threat to take off with the ball at the next level.

Pocket awareness: Shows excellent poise inside pocket. Will stand in and wait until last possible second to get rid of ball, but does not always feel the rush. Has taken a lot of big hits and turned the ball over because he plays the waiting game.

Final analysis: Underrated in draft because physical skills don't jump out. One of those quarterbacks who has great feel for entire game, but injuries have scouts and coaches concerned. Has some skills to develop but does not have a lot of room to improve physically. It will take the right situation, but Bulger could be an excellent caretaking quarterback—i.e., a competent quarterback who puts other players in position to win—at the next level.
The War Room compiled this evaluation and in their section What Scouts Are Looking For the first and last three sentences explain a lot as to why scouts are looking for these qualities:
Most people think size is a huge factor in grading an NFL quarterback, but it may be becoming less so, . . . Although hard to find, a big, physical quarterback with a strong arm is still the ultimate prize, and if he as some mobility and athletic ability, it's a bonus. This position requires a tough person, mentally and physically. Many quarterbacks are misevaluated out of college because scouts tend to grade production over ability.
It's not the scouts that don't see the talent level in a player. Scouts are in a management system like anyone else. These are entry level and mid-level employees in a system. If they know their manager is never going to go for player without the desired physical dimensions, why bring it up and look foolish? Some scouts surely take this risk and those that do—and are right—earn respect. But we're talking about the best scouts, not all scouts.
Anyone that has seen Marc Bulger in or out of a uniform can tell you he doesn't look like the average NFL quarterback. He looks like someone's kid brother that snuck into the Rams locker room, suited up, and ran out onto the field to have a go at the NFL's Punt, Pass, and Kick competition. If the average person in front of a television notices this right away, just imagine the field day GMs, coaches, and personnel men had when evaluating him.
He could have one of the quickest releases in football (which he has), read defensive coverages better than most (which he does), and be a tough competitor (he is) but no general manager is going to stand before the public or his owner and say the guy that looks like he'll get broken in two is a future NFL starter. It's the same reason why they don't draft 5-9, 200 lbs RBs in the first round anymore (Brian Westbrook), and when they did (Emmitt Smith), they're evaluation skills are called into question. Player evaluation is an imperfect process. Just ask Tom Brady (late round pick) and Billy Volek (free agent).
Once Bulger got the opportunity, the coaching staff saw they had a real find. They also saw a team that still had a window of opportunity to compete for a championship. They didn't want to lose the momentum they gained with Bulger on the field and in the locker room. That was the risk they would have to take if they gave Warner the chance to regain his confidence. If he never did, the Rams would have had a lost season. The Gut Check also has a feeling that Mike Martz made a similar decision as Bill Belicheck in 2001. The Patriots coach had to decide whether or not to keep Tom Brady in the lineup after Drew Bledsoe was healthy enough to return to the lineup for the playoffs.
So Warner got the boot and wound up in New York as the tackling dummy, err interim starter, for the Giants until Eli Manning was physically and mentally ready to absorb the punishment. The Giants offensive system is completely different from the Rams:
5-7 step drops

A base offense of 2-3 receiver sets

Their primary receiver would be the Rams #3 WR, at best.

Emphasis on the power ground game
Nonetheless, Warner led the Giants to the brink of the playoffs behind an unproven offensive line and Amani Toomer slowed with leg injuries. The fact he could manage the game this effectively had to be a surprise for a team expected to experience a lot of growing pains in 2004. Warner knew this stint in New York was his audition for other teams in the league. He still demonstrated his accuracy (62.5% completion rate), an ability to throw the long ball (6 completions over 40 yards in just 10 games—he had 11 in 16 games during his second MVP season with a much better supporting cast), and only 4 interceptions in 277 attempts.
Dennis Green is the king of quarterback reclamation projects. He did it in Minnesota with Jeff George and Randall Cunningham. Neither in their prime was as good decision maker or as accurate as Warner. The Gut Check believes Arizona's offensive system is more suitable for Warner's strengths and wouldn't be surprised if the two-time MVP is named 2005's Comeback Player of the Year after leading the Cardinals to a winning record, and possible wild card appearance. Although The Gut Check has Warner ranked as his 12th-rated fantasy QB on his Crank Sheet—higher than most—he has a feeling that Warner is poised for something even better.

Heath Miller will lead the Steelers in TD receptions
Reports out of Pittsburgh's training camp indicate Miller is having a perfect preseason after shaking off a rough start in mini-camp. The rookie out of Virginia is not the kind of downfield threat one would see in Alge Crumpler, Jeremy Shockey, or Antonio Gates, but he's a physical player in the red zone that knows how to position himself and fight for the reception. The Steelers lost a major red zone threat in Plaxico Burress. Don't expect Antwaan Randle El, Cedrick Wilson, or Fred Gibson (at least not this year) to take up the slack. With a power running game and a big, athletic quarterback that can run, an effective receiving tight end is just what the Steelers need to run play action inside the 10-yard line.
Don't think offensive coordinator Ken Whisenhunt wasn't a huge factor in lobbying for an impact player at the tight end position. The Steelers assistant coach was a former tight end at Georgia Tech, and H-back for seven NFL seasons with the Atlanta Falcons, Washington Redskins, and New York Jets. This is a coach that appreciates what the position can bring to an offense. The Steelers have great blocking tight ends, but the lack of a great receiver at the position holds them back. In comparison the Chiefs, Packers, Colts, and Broncos—all excellent offenses that base the foundation of their attack on the running game—rely on having a receiving tight end to open up the middle of the field.
The Gut Check believes Miller will soon become Roethlisberger's security blanket. He's a player that is capable of making a quarterback look good in tough situations. One of Miller's great strengths is the ability to catch the ball away from his body. The types of throws necessary for success in the red zone often require this type of skill. The Gut Check believes Miller is capable of having 8-10 scores as a rookie with some big games after week nine versus defenses the likes of Green Bay, Cleveland, Indianapolis, and Cincinnati.
TE Alex Smith will be the most impressive rookie not hyped this summer
While most of the football world is focused the other Alex Smith, the first overall pick, of the 49ers, astute fantasy owners may want to take a flier on the Buccaneers third round pick out of Stanford. The 6-4 tight end is a great athlete that has impressed Tampa with his speed, athleticism, and hands. Remember a few years ago when Marcus Pollard was the #2 TE to Ken Dilger at Indianapolis, but was clearly the go to guy? Look for Smith to get a chance to be in a similar position in Tampa.
Tatum Bell backs up Mike Anderson
The Gut Check has seen little of Tatum Bell, but the little he's seen gives him a bad feeling about his fantasy prospects. Bell is undeniably a physical talent with great speed and explosiveness. He's also been nicked up early and often as a rookie in 2004. But one observation about Bell and another about the Broncos is what has The Gut Check thinking the second year RB won't be a prime time player.
In those limited opportunities he was not overly impressed with Bell's vision as a runner. Bell explodes into the line, but doesn't show patience to find an opening. If something is there, Bell gains big chunks of yardage; if not, well…
It doesn't appear the Broncos are that impressed, either. Mike Anderson is currently the starter and Bell is spelling Anderson in that role during practice once every three days. Then there are the additions of free agent Ron Dayne and 3rd round pick Maurice Clarett. Although neither are threatening to make any noise this year, both seem like guys that will make the roster and get another shot in 2006—especially Clarett, whom Denver appears to be easing into the rigors of the NFL. The Gut Check believes Bell will be a nice change of pace for the Broncos, but fantasy owners looking for a break out season will be disappointed in 2005.
Kyle Vanden Bosch is a sleeper at DE
Leagues with individual defensive players may be the last bastions for what fantasy football owners call "sleepers." One player that qualifies this year is Titans defensive end Kyle Vanden Bosch. The fifth year defensive end out of Nebraska was just coming into his own as an NFL player in 2002. Like Falcons star Patrick Kerney, Vanden Bosch is a high effort player with a great motor and closes well when he has the quarterback within reach. Unlike Kerney, the newly signed Titan lost his rookie and 2003 season to injuries.
So far Vanden Bosch looks like a great fit for the Titans aggressive defensive scheme. Friday night in Atlanta, he recorded two sacks—one on Michael Vick. Both plays were a nice display of quickness and upper body strength. In a division with pocket passers the likes of David Carr, Bryon Leftwich, and Peyton Manning a healthy and confident Vanden Bosch could be a guy no has heard of until now.
Sean Jones leads the Browns in tackles and becomes a fantasy stud as a safety
If Sean Taylor weren't in the same class, Sean Jones would have been the top defensive back prospect in 2004's draft. The Cleveland Brown tore his anterior cruciate ligament in his rookie training camp, but had already shown signs of the skills that made him a second round steal. Jones is a safety with excellent range and instincts, but he's a force against the run. He's not the guy that's going to lay a Ronnie Lott-like knock out shot, but he effectively finds his way through traffic to stuff the run and he's a sound tackler.
The Browns are switching to a 3-4 defensive scheme and they still lack the top talent along the line and linebacker positions. This means teams will exploit the Browns inside on running plays. Look for Jones to be in on a lot of tackles this season as opposing offensively lineman effectively handles the first wave of the defense on a regular basis.
Patrick Pass has a pro bowl year as a fullback
Okay, how many leagues actually use a fullback as a required position in their starting lineup? Not many, but in case you do (Game Day Ritual anyone?), check out fullback Patrick Pass of the New England Patriots. It's only preseason, but Pass has been among the rushing leaders in the summer games.
Every time Pass breaks off a big run, the commentators act surprised and state how this guy is a fullback. The next thing they do is state Pass' weight as they are about to describe how a guy that big shouldn't be so fast, but they never finish the thought. Why is that? Just repeat this statement: "Wow folks—that's quite a run. What you don't realize is that's a fullback. The guy running with that speed is 5-10, 217…(can you also hear the word "Doh!" silently ringing through their heads?)
Yep, 217 pounds is a healthy weight for a halfback with some speed, not a bruising fullback. What these network TV guys are missing is that Patrick Pass is really a running back that had to do the same thing Rueben Droughns did to make a team—play special teams and switch positions.
Pass was a heralded recruit out of Atlanta that arrived at the University of Georgia as a running back. He played his entire college career as a running back but never quite performed to the expectations many had for him. One thing he did show was versatility and this is what helped him land a job with the Patriots. Pass got a lot more looks as a receiver out of the backfield last season—28 receptions. Look for him to continue to see increased use as he's gained the confidence of Bill Belicheck. He might even have a couple of decent fantasy games as a halfback, but don't draft him unless fullbacks are a required position.
Names to watch Alvin Pearman and Nehemiah Broughton
The Gut Check hasn't seen Alvin Pearman play for the Jaguars yet, but he did get to watch him suit up at Virginia. Earnest Byner comes to mind when watching Pearman. This is a football player with the "it" factor—high football IQ. It was clear Virginia wanted to put the ball in Pearman's hands on critical situations. Time after time, Pearman would make a special play. He's not blindingly fast or of great size, but he knows how to play the game and that knowledge gives him the necessary speed to be effective.
Sounds strange? Remember, NFL players always talk about the speed of the game being significantly higher than the college game. Sure some of this has to do with the higher overall speed of the average NFL athlete, but not that much. It has to do with the intelligence and preparation of the NFL players. These guys study so much film and work so hard on technique that their decision making process is what's significantly quicker. As a result, reaction time diminishes and that's why the overall playing speed seems much quicker.
Pearman is one of those players that make the types of plays that indicate his natural understanding of the game is at a higher level. As he continues to adjust to the NFL, The Gut Check thinks Pearman could become that Earnest Byner type player—a guy not expected to start, but one day winds up doing so and becoming an indispensable part of the team. Not sure how this will happen, but the feeling it will just seems to be there.
Nehemiah Broughton was technically drafted as a fullback, but Joe Gibbs had a bruiser that he liked at running back a long time ago in John Riggins. Broughton is 6-0, 250 lbs and has decent hands as a receiver. This is a runner built to pound the football, but he also runs with patience and has enough speed to get into the secondary. Clinton Portis is the man in Washington, but Gibbs offense likes to use short yardage backs. The Washington Post reports that competition is neck and neck between Broughton and Rock Cartwright for the short-yardage and goal line role. Broughton has been an impressive runner during the preseason and his size could tip the scales in his favor.
Favorite Rookie: Ryan Moats
The Gut Check has been talking about Moats since last fall, but for those of you that missed it—Moats is a terrific runner that will push Brian Westbrook for time next year (if not get a chance to earn the job outright if the contract situation forces Westbrook out of town). Westbrook is a Gut Check favorite, but Moats may actually be the better runner. When a veteran describes a rookie as being "as tough as gristle," that says enough. Moats is a tough runner with great moves. Nevertheless, he does a good job of getting downhill quickly and he's not afraid to initiate contact. He's getting a lot of hype as a rookie sleeper, and deservedly so. If you still have it on TIVO, just watch the second quarter of the Steelers-Eagles preseason game and you'll see what The Gut Check is telling you.
Draft Matt Jones this year

The rookie impact series on WRs states the point: ". . . he may not be an instant impact player, but he'll be a dominant force at receiver once he learns the position. Re-draft owners should pay attention to Jones' camp, because if he proves early on that he's a player possessing as rare a level of athleticism as his collegiate career demonstrated, he could make an impact before he really gets a solid grasp mental aspect of playing receiver."
Well, the past two games have shown Matt Jones making big plays: One on a deep pass pattern, and the other on a touchdown pass inside the twenty-yard line. The problem with Jones is our perception of him. First, he's huge but he runs with that same effortless style as Randy Moss. The Gut Check isn't saying Jones is as fast as Randy Moss, but when he moves he doesn't look like he has 4.3 or 4.4-speed even though he's gliding past some of the best athletes in football.
His size has a lot to do with it, too. One visually wants to deny what they are seeing when a guy that big possesses this level of athleticism. He's like one of those Great White Sharks hunting for seals off the coast of South Africa. The Gut Check has been watching them on The Discovery Channel and he has to say when a fifteen-foot, 2.5-ton fish leaps clean out of the water at 20-25 miles per hour, and catches its target in his mouth while 8-10 feet in the air before disappearing forever in the blink of an eye, you don't want to believe it.
Matt Jones is the Great White Shark of Fantasy Football in 2005. It might be slow going at first, but once Jacksonville decides to send that brown, oblong thing that looks kind of like a seal in Jones direction-he's going to be devastating. We'll see him on the stat sheet in a big, fast, and spectacular way soon after. The Gut Check has a feeling fantasy owners will be scrambling like sea gulls to pick this guy off the waiver wire by mid-season. The Gut Check isn't predicting consistent starter numbers, but he'll be a surprisingly effective fill-in for many teams.