The Weekly Gut Check - Vol. 33
Below The Radar Long Shot: 2005
6/13/05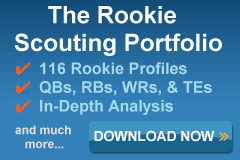 The "Gut Feeling" is often synonymous with a sense of desperation resulting from a lack of preparation. The Gut Check is a huge proponent of studying the numbers, but there's a point where one can place too much emphasis on the wrong information. This can result in the undervaluing or overlooking a player's potential. Therefore, The Weekly Gut Check is devoted to examining the frame of reference behind certain number-driven guidelines that fantasy football owners use to make decisions.

Although The Weekly Gut Check doesn't claim to be psychic, he does believe that he can dispel certain numbers biases and help you make the best choices for your team. We'll keep a running tally of The Weekly Gut Check's insights. This way you can gauge his views as something to seriously consider, or at least seriously consider running the opposite way as fast as you can!


---
Spotting potential steals flying below the general fantasy radar is a favorite Gut Check pastime. Yours Truly had some luck with Mewelde Moore and Reuben Droughns in 2004. In the Gut Check's book, Moore qualifies as a sleeper. Most avid fantasy buffs knew about Mewelde Moore. Fourth round picks generally have the talent of first day picks but there's a perceived deficiency in their game, character, or physical skills. Note the emphasis on "perceived." Many draftniks projected Moore as a first round pick at the end of 2002. The Gut check has mentioned before he believes there's a penchant for over analysis when a player is projected higher in his junior year than his senior year. This was part of the reason Yours Truly mentioned Moore as a player capable of surprising—ala Domanick Davis—in his 2004 bold predictions.

Reuben Droughns was the quintessential player flying below the radar in 2004, because the initial gloss of him once being a viable prospect faded from most fantasy owners' memories way before last season. Many didn't even realize Reuben Droughns history until the fullback seemingly came out of nowhere to make an impact for the Broncos. While the Gut Check wasn't making any Reuben Droughns predictions prior the season opener, he knew enough about Droughns to capitalize when the opportunity presented itself.

Everyone loves the appeal of rooting for a long shot. Last year, The Gut Check's long shot was RB Quincy Wilson. Although Wilson eventually wound up on the Bengals' practice squad rather than lining up few yards behind Michael Vick, Yours Truly feels it's worth keeping tabs on players that still have the opportunity to develop and eventually surprise. The Gut Check will devote a column to several of these players Below The Radar as the 2005 season draws near, but there's one player Yours Truly discussed in his 2004 column that is worth devoting greater focus.

Jarrett Payton, the former un-drafted Miami Hurricane is making an impressive showing as an Amsterdam Admiral, and notwithstanding a potential Titans' deal to acquire Travis Henry, earning a chance to compete for the #2 RB spot in Tennessee.

At this point, The Gut Check isn't recommending any fantasy owner to select Payton over more established backups. But if one wants to increase their chances of getting the jump on the next player to come out of fantasy obscurity to make his mark similar to the way Priest Holmes, Jamal Anderson, Kurt Warner, Drew Bennett, and Reuben Droughns were season-making waiver wire acquisitions, it helps to learn about as many players as possible. Payton may never make this list of successful below the radar alumni, but The Gut Check feels he's an intriguing player that will eventually develop into a running back worthy of fantasy consideration.

So what's to know about Jarrett Payton that makes him a player worthy of focus? The Gut Check has a lot to say, but before Yours Truly gets started, one has to be willing to disregard some conventional fantasy wisdom in order to gain a fairer assessment of Jarrett Payton. Considering conventional football wisdom disregarded Holmes, Anderson, Warner, Bennett, and Droughns it should not be too difficult to at least temporarily suspended judgment until hearing The Gut Check's case on an admitted long shot.

First, one has to change the preconceived notion that being the son of arguably the greatest running back in the NFL, and one of most revered athletes in American history, is a benefit to Jarrett Payton's NFL career. The media keeps writing about Payton because he's the potential feel-good story: Son follows legendary dad into sport to create his own name. It's too easy to write off the tailback as a player receiving more attention than he deserves. And why not, Payton only started for his college team for a portion of his senior year, didn't gain 1000 yards, didn't get drafted, and isn't even the feature back for his team in NFL Europe!

All of these points are true, but how one views these facts to form an opinion on Payton is a matter of perspective. The obvious perspective is that Payton doesn't have the skills to be a future fantasy contributor. On the other hand, The Gut Check is willing to suspend judgment at this point, and view Jarrett Payton as a developing talent at the running back position—a late bloomer. This is key to the next point.

Most NFL players experience their greatest physical development during their college careers. The refinement of their overall game takes place during their pro career. Those prospects already illustrating refinement in their overall game on their college squads are most often high, first round picks. Skills such as blocking, receiving, and reading defenses are points where scouts expect players to need refinement to their game. Athleticism on the other hand, is considered a fundamental. Scouts can only evaluate a player's athleticism on what they see. Most pro football players are in the top percentile of athletic skill in comparison to their college peers. The only case where the NFL may draft a player that doesn't show a high level of athleticism is if there is a rust factor.

Maurice Clarett going to the Broncos at the bottom of round three is a great example. A prized recruit of a big-time college program, Clarett arrived in shape and made an instant contribution as a freshman. By his sophomore year, Clarett was out of college football, and eventually out of football shape. The film of Clarett in shape and demonstrating his skills against quality competition was enough to override his pre-draft physical condition.

In the case of Jarrett Payton, he never had the opportunity to demonstrate his athleticism. Like Clarett, Payton was a prized recruit that arrived at a big-time program in shape. Unlike the former Buckeye, Payton was inactive for most of his college career almost from the beginning. By the time Payton got the call, he was out of football shape, and had to shake off the rust while contributing on the field. From this perspective, it could begin to make sense why a player with talent and no character or football-related injury issues would go un-drafted.

To make a stronger case, one has to further emphasize why Payton is more of a late bloomer than a player lacking special talent. A successful, prep soccer star, Payton began football as a high school senior. Nevertheless, his skills made him a highly sought-after recruit after just one year of high school football. Payton was known as a powerful back with speed, durability, and the potential to carry a heavy workload.

An elite college football program such as the University of Miami doesn't recruit backs that they don't believe have big-time talent when their depth chart has backs named Portis, McGahee, Gore, and Davenport. Even James Jackson is worthy as a backup on an NFL squad. Nevertheless, there is a significant leap in athleticism from high school to a big-time college program. Payton came to the University of Miami with developing instincts and athleticism, but several events impeded his progress.

The first was his father's untimely death. Jarrett Payton was fortunate to have a close relationship with his father. As a sad reflection of our society there are many athletes without any ties to their fathers. Jarrett Payton has stated frequently to the media that his dad was also his best friend, mentor, and coach. Transitioning from high school to college is a pivotal time in one's life. There's no prescribed period for mourning the death of a loved one—especially one so influential in one's life. For Jarrett Payton, a teenager entering manhood; a talent with one-year of organized football arriving at a college program at the highest level; and a son entering the public eye—a society that recognized his father as a legend—the impact of losing his father has to make every thing he was about to do seem insignificant—at least for a time.

In spring of his freshman year, Payton required 22-stiches in his foot after cutting it on a piece of coral while snorkeling. To make matters worse, the wound became infected and required surgery. Needless to say, it's understandable if football wasn't on the forefront of Jarrett Payton's mind as a freshman—Yours Truly would find it hard to believe if the Hurricane football program expected anything more from him, either.

Payton's sophomore year where he was expected to shake off the rust started with a sprained ankle. With the aforementioned depth chart of future first day, NFL picks ahead of him and unable to practice, Payton wisely red-shirted his sophomore year. But, Payton's story becomes even more improbable. The summer of 2001, Payton is riding in a car with Clinton Portis and another teammate when the driver gets into an accident. Payton and Portis are hurled into the street, but miraculously escape serious injury. But Payton's junior season begins with him experiencing severe back pain and internal bleeding as a result of the accident—now his junior year of football is down the drain.

By Jarrett Payton's fourth year, Willis McGahee is the starter with a highly promising Frank Gore on his heels. An untested Payton is the third man at best, on the depth chart. Still, there were some outside of the UM program that understood it wasn't a lack of talent keeping Payton on the bench. One NFL scout in 2002 told Pro Football Weekly's Alan Nawrocki that "Miami RB Jarrett Payton could probably start anywhere else in the country with the exception of a few schools like Penn State (Larry Johnson) and Ohio State (Clarett), but Miami is so stacked that he might not ever have a chance."

The only time Payton contributed in a key moment of a big game in 2002 was the classic National Championship game versus Maurice Clarett and Ohio State. In that game, Payton came in cold and made two key receptions after Willis McGahee tore his ACL. But many fans only remembered Payton failing to score from the 1-yard line in double-overtime only to watch OSU secure the title. Good physical condition and football shape are vastly different. Jarrett Payton lost out on opportunities to stay in football shape.

His first real chance came in 2003 after Frank Gore went down with his second ACL tear. Payton started slow, but made noticeable improvement with each game. As Payton shook off the rust, The Gut Check saw Payton possessed qualities that excellent backs possess: the skill to run behind his pads, patience to set up blocks, and good hands as a receiver. The problem was Payton was still physically growing into the game. Four years of sitting on the bench without serious practice reps due to rehabilitation from injuries leaves most players rusty.

Still, may outside of the UM program were surprised to see Payton make strides. In most sports it's a common misperception that a player out of the public eye is a player that somehow lost his talent. It's easy for people to look Miami's recent history of backs and make this assessment, but they would be wrong.

''I have been telling you for the past four years, he is a great talent,'' said UM running backs coach Don Soldinger. ``He just hasn't had the opportunity. He always had some major problem -- his dad dying, the car accident, his ankle and then his back. Payton's attitude has never been bad. But he has never been able to show his wares. You can't hammer it into a person. Somewhere the kid has to find it within him and say, `I want this.' He has to take ownership of his destiny.''

The Gut Check believes this was a case of a kid regaining his confidence in his ability. Skills still in the developmental stages but paired with excellent football instincts. Payton was once timed running a sub-4.5 40 prior to his arrival at Miami. The Gut Check understands this timing is suspect, but it does explain why Payton didn't seem like a fast runner when he first took over for Gore, but steadily got faster with the help of a speed coach. None of Payton's injuries were football-related nor will they impact him in the future. It had to be rust. Otherwise there wouldn't be a good reason why Payton could outrun the second wave of a highly athletic FSU defense for 20+ yard gains en route to a 131-yard, MVP performance. As a football player, Jarrett Payton is still 6-7 years away from his athletic prime. Therefore, it's not unlikely for an athlete to regain his form and continue to improve after a layoff like Payton's.

A couple of nice games still are not sufficient evidence to draft a player. Yet once Payton was invited to the Titans camp, the next sign that validates The Gut Check's late bloomer/rust argument was once again something that from a standpoint of conventional wisdom should be negative on the surface. It was the running back's lack of flexibility—the Titans evaluated Payton as one of the stiffest players the Titans' staff has ever seen—especially for a tailback.

This may be a counterintuitive argument but considering all the time Payton spent on the bench or training room, the Gut Check believes his issue has a promising underside. Flexibility is actually an athletic skill that can improve tremendously at any age. While Payton won't likely be doing human pretzel tricks, he's reportedly worked hard on increasing his flexibility with positive results.

There are a number of established benefits to having a highly flexible body:
Increased muscle stamina—muscle fatigue is the greatest source of athletic injury.

Increased range of motion—this aids lateral movement.

Muscle relaxation—along with stamina, this can increase the ability to make explosive movements.
As Payton improves his physical approach as an athlete, the results should follow. So far, the early returns as a football player are good. While splitting time with Kansas City's Jonathan Smith, Payton is still among the rushing leaders in NFL Europe at the time this column was written.
It's no secret that NFL Europe has not become a developmental league with a high success rate. In fact, Ed Bouchette of the Pittsburgh Post-Gazette reported in May, "Most teams refused to send any of their decent players to Europe because they want them working at home during mini-camps, voluntary spring practices and meetings." Yet, the running back position is known was one of the easiest to make a successful transition from college to pro. Jarrett Payton is not a rookie, but as a member of the practice squad and coming from NFL Europe, the point about the adjustment still applies.
Not many running backs have made a successful transition from NFL Europe. Lawrence Phillips was the most talented, but his head and heart weren't in the game. The Gut Check mentions Phillips because he, Ahmaad Galloway, and Jarrett Payton weren't the physical norm as tailbacks in NFL Europe. Paul Kuharsky, staff writer of The Tennesseean, spoke with Amsterdam Admiral head coach Bart Andrus (who served as an assistant for the Titans from 1997-1999) about Payton:
''Jarrett is a big back in this league,'' Andrus said. ''He's able to start, stop, accelerate, reverse his field, all those things.'' Payton said he feels like his versatility and vision have improved. According to Andrus, so has the running back's understanding of pass protection. Payton has done well picking up blitzing linebackers or defensive backs as well as helping out offensive linemen by chipping a defensive end. Andrus has been with Amsterdam for five years and knows prospects who excel in Europe don't necessarily come back and win jobs on NFL rosters. But as he spoke about Payton's chances, he used terminology that suggests he knows just what buzzwords concern the Titans in the backfield. Last year's backup, veteran Antowain Smith is gone, and the primary characteristic the Titans need in his replacement is reliability. ''Jarrett's going to have some durability, he will make it through a season playing in the NFL,'' Andrus said. ''His size and his ability to move will definitely work in his favor. A lot of running backs in this league are smaller, nifty, scat backs whereas this kid can be a workhorse for somebody.''
This is another positive endorsement and based on the Titan's current depth chart at running back, Payton doesn't have Portis, McGahee, Gore, or Davenport ahead of him. In fact, the only established runner is starter Chris Brown—a back with great talent but hasn't shown durability as a collegian or pro. In the span of one week—while this column was written—Brown re-aggravated a toe injury and fractured his hand.
Although the hand injury should heal before training camp, The Gut Check is highly concerned about the chronic toe injury. Turf toe is among the most underrated injuries in terms of claiming the career of a prominent player. Jack Lambert retired because of it. Eric Dickerson coped with the injury because he luckily found a shoe insert that helped him remain effective for several years. Yet Dickerson always claimed he was never the same after the injury. Eddie George was at his peak when he suffered his toe injury, but once it occurred, he hasn't been the same.
The big toe is central for balance, cutting, and acceleration. Players with severe knee injuries often lost their career more for the nerve damage that took away feeling from their toes than their knee—William Andrews and Robert Edwards are prime examples. Just watch highlights of Eddie George run prior to 2001 and compare him to 2001 or later—the toe injury is all the difference.
Interestingly enough, Lambert, Dickerson, George, and Brown are all tall, lankly players. Three of the four were tall for the running back position and ran upright. The Gut Check isn't ready to call Brown's career over just yet, but he's very wary of the third-year runner's chances to be an effective, every down starter at least this year and won't be drafting him in any league.
This is a big reason why Jarrett Payton has a decent chance of earning the back up spot and in a situation where he may contribute more than most would expect. Most of the competition in camp is slated to be late-round selections or career depth chart players such as Ray Jackson. Nash and Reyes have demonstrated talent, but neither are power backs. This offense is still geared towards a back like Chris Brown, Travis Henry, or even an Eddie George-style of runner. Jarrett Payton fits this physical profile and running style more than the others backs on the depth chart.
Payton should be fresh enough to contribute. The NFL Europe season is relatively short, and Payton is in a platoon system. The two Amsterdam Admiral backs tend to alternate series. Payton has looked excellent running the ball up the middle, but the outside running game has been suspect. Much of this has to do with the poor quality of line play, because on the interior runs Jarrett Payton has shown the speed to break away from the second wave of defenders and score from distances longer than longer than 20 yards. Unless offensive coordinator Norm Chow radically changes the Tennessee rushing attack, the Titans don't attack the perimeter very often in their running game, either.
With Brown's injury and the #2 spot undecided, Payton should see extended action in training camp. While this may facilitate more discussion for the Titans to make a deal for Travis Henry, if Brown can't play it still increase the likelihood of Jarrett Payton contributing in 2005. Travis Henry also possesses a tough running style, but unlike Corey Dillon—another tough runner—Henry's toughness is based on taking hits and not dishing them out. Henry has missed time with rib and leg injuries as a result.
At worst, The Gut Check on Payton is for him to make the roster and show promise in limited playing time—making him an underrated waiver wire or late, long shot pick in large dynasty leagues. At best, Payton seemingly comes out of anonymity to become a viable fantasy starter with upside in the tradition of other Below The Radar alums in NFL history. It's a long shot, but so were the others…