The Weekly Gut Check - Vol. 42
Players On And Off The Fantasy Radar
8/16/05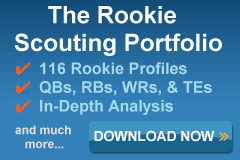 The "Gut Feeling" is often synonymous with a sense of desperation resulting from a lack of preparation. The Gut Check is a huge proponent of studying the numbers, but there's a point where one can place too much emphasis on the wrong information. This can result in the undervaluing or overlooking a player's potential. Therefore, The Weekly Gut Check is devoted to examining the frame of reference behind certain number-driven guidelines that fantasy football owners use to make decisions.

Although The Weekly Gut Check doesn't claim to be psychic, he does believe that he can dispel certain numbers biases and help you make the best choices for your team. We'll keep a running tally of The Weekly Gut Check's insights. This way you can gauge his views as something to seriously consider, or at least seriously consider running the opposite way as fast as you can!


---
First, a quick note: The Gut Check would like to thank all of you that sent feedback on the unveiling of his 2005 Crank Scores. Yours Truly's projected Crank Scores were of particular interest to many readers—especially the ranking of Tiki Barber as the #3 RB on the cheat sheet. One reader in particular made an excellent point about Barber and it has The Gut Check adjusting his rankings as a result:
Hey Matt,

I'm a big Gut Check fan, and I especially loved the Crank Articles you recently published and I'm intrigued by all the possibilities of what could be done with them. After looking over the scores, I think I may have figured out why Tiki Barber is ranked so high. I think Tiki would be ranked much lower if you projected his stats for Week 11 - Week 17 (the games when Manning started) and used those to figure out his Crank Score. His score would be a lot lower than it was when he had Warner at QB. I did notice that Tiki played some hard defenses during those weeks (Baltimore, Pittsburgh, Washington, Philly), but I still think his stats will be much lower with Eli at QB than they were when Warner was at QB. It's sort of the same relationship between Dante's numbers and having Moss around.

Just some thoughts from an inspired fan,

Skier
It's hard to deny a good point and if one just uses weeks 11-17 of Barber's season as a reflection of how he performed with Eli Manning at the helm, his Crank Score drops to 48.94 all the way down to 16th on Yours Truly's cheat sheet. It's a very significant drop, and based on his ADP, a more likely place to target him. The Gut Check is optimistic that Barber will be a top ten back because the numbers are a reflection of Manning paying his dues against some of the tougher defenses in the NFL, and he remains the centerpeice of the Giants offense.
Speaking of Barber, the focus on another Giants RB starts off this week's column, devoted to more subjective observations of players on and off the fantasy radar.
On the Radar
Brandon Jacobs has been the talk of the FF Today Board after his impressive performance versus Cleveland. The Gut Check thinks Jacobs looks more like what the Giants imagined when they drafted Ron Dayne—a big back with nice acceleration, vision, and the willingness to run over people when the opportunity arises. Jacobs' reception off the Tim Hasselbeck swing pass was a good example of a back that understands how to catch the football and get up field. Yours Truly has definitely bought into the hype. He traded Mike MacGregor his 2006 3rd round pick for three fifth round picks (two this year and one next) and picked Jacobs at the top of the fifth round in a 40-man dynasty league back in May. Yet, The Gut Check views Jacobs' 2005 prospects as a potential injury fill-in and possible goal line threat for those in TD-only leagues.
Anyone beginning to think Brandon Lloyd is a preseason wonder? While The Gut Check believes Lloyd will be the most consistent offensive threat in the 49ers arsenal in 2005, and a potential breakout player, the 49er is beginning to build a reputation as football's version of Mr. August. He gets a lot of owners excited in the summer, which makes it increasingly less likely to get great value when drafting him.
Don't look now, but Larry Fitzgerald is about to show what he'll be able to with two healthy ankles and a quarterback that can not only read defenses, but also throw the ball with accuracy. He's moving up The Gut Check's draft board because as athletic as Boldin is as a receiver, one cannot underestimate the concept of great rapport between a QB and WR. Boldin has not had as much work with Warner due to his contract issues and a broken nose. Yours Truly would flip-flop Fitzgerald and Boldin when it comes to their draft standing.
The Gut Check has a feeling Cadillac Williams didn't see time in the first preseason game because Gruden doesn't need to see anything more from him. This lack of playing time in game one is a positive sign that Gruden envisions Williams carrying the load for Tampa. Based on the average ranking of defenses versus the run on their schedule, the Bucs have the most favorable schedule when it comes to running the ball. Yours Truly has drafted Williams in four leagues thus far and hopefully more before the season begins. He's easily available as a #3 fantasy RB in terms of rounds or price in standard or auction drafts, respectively.
Speaking of favorable defensive schedules, Steve McNair has the third-easiest schedule of pass defenses this year. As most already know, the Titan has dropped 25 pounds in the off-season—the first where he's been 100% healthy in several years. What has The Gut Check most excited about his favorite player in football is Norm Chow giving McNair the freedom to audible to any play at the line of scrimmage. Chow's predecessor, Mike Heimerdinger, restricted McNair to plays that he called on the sideline, which frequently resulted in the Tennessee QB having to make the best of some very difficult situations. Despite this restriction, McNair has been one of the best 3rd down QBs in football. Look for the Titan's leader to not only receive less punishment but also create more game-changing plays. The Gut Check got McNair in two drafts this week. The first was for $6 in an auction league among competing sites and the second was in the 10th round of a local league as a backup to Kerry Collins.
Off The Radar
McNair is an example of a player that scares most owners due to his previous issues with injury and the prospect of it happening again. Another Titan that has plummeted down draft boards is TE Ben Troupe. The second year player from Florida is in the same class of athletes that are bringing the position back to the offensive forefront: Gonzalez, Gates, Heap, Shockey, and McMichael. Troupe is well ahead of schedule in his recovery from a pre-training camp foot injury. Look for the Titans to line Troupe up outside in what is basically a standard, one back-three receiver set or two TE sets on the line. He's going to have some big games this year, and at a late round price.
Two-tight end sets should be a common site in Kansas City, where a trusted source has told The Gut Check that Kris Wilson could put up quality fantasy totals for a tight end despite the fact that Tony Gonzalez remains one of the premier players at the position. Wilson picked up where he left off in 2004 training camp prior to his season ending injury. So much so, the Chiefs will compensate for their lack of a great receiving corps with a heavy dose of Gonzalez and Wilson creating mismatches in a variety of spots all over the field. Wilson is generally un-drafted in most fantasy leagues. Yours Truly picked up Wilson last week in round 20 as his second TE. At worst, The Gut Check can find a suitable #2 TE on the waiver wire if Wilson doesn't pan out—but he's not anticipating it will be necessary.
The Gut Check has two available waiver wire picks at the quarterback position for dynasty league owners—Panthers rookie QB Stefan LeFors and second-year Broncos QB Bradlee Van Pelt. Lefors is a Louisville product that draws physical comparisons to Drew Brees but with more athleticism. "The guy was a playmaker at a high level," said coach John Fox of LeFors. "There is something sparky about the guy. That is what we saw and that is why we drafted him." LeFors threw two touchdown passes in the 4th quarter against Washington and lit up a scrimmage the week before. Jake Delhomme is expected to have plenty of seasons in front of him, but like Matt Schaub toiling behind Mike Vick, talent (in most cases) will eventually get its opportunity to shine.

Van Pelt, the son of all-pro Giants LB Brad Van Pelt, was known as a tough-nosed, ultra-competitive scrambler out of Colorado State with a bit of a Jim McMahon-like personality. Van Pelt arrived last year as a late pick that competed with LSU QB Matt Mauck for a roster spot. Mauck, lacked the great arm but had the right mindset while Van Pelt had the physical tools but lacked the proper approach. But Van Pelt got serious about developing and has made an excellent run at becoming the #2 QB behind Jake Plummer. "He brings a lot of fire, a lot of passion to the game," Plummer said of Van Pelt. "In some ways, he reminds me of myself when I was younger." In fact, Van Pelt had a 40-yeard run on a QB draw against the Texans last weekend.

A third young scrambling QB with quickly developing skills in the passing game is Seahawks QB Seneca Wallace. He's sewn up the job backing up Matt Hasselbeck and was especially impressive against the Saints last weekend.

RB Chris Perry of the Bengals is rarely showing up on draft boards, but after last weekend, he should be making an appearance soon. There is discussion that Marvin Lewis plans to incorporate Perry into the offense now that he's healthy. He's definitely on dynasty radars, but he's at times un-drafted in other formats. This is a back that has it all—good size, speed, and hands. Marvin Lewis has a nice track record with his draft picks, so it's best not to overlook Perry.

Another player languishing below the radar that FF Today Forum member TikiBarbersBarber has been touting for months now is Cleveland WR Antonio Bryant. The former Pittsburgh Panther was regarded as easily the most talented WR in his draft class, but lacked discipline and maturity. Bryant had 814 yards and 4 scores last year for the Browns, in most respects he fits the bill as a breakout candidate for The Gut Check's profile of receivers. Last week, Trent Dilfer described Bryant as the most talented receiver he's worked with thus far in his NFL career—that includes Darrell Jackson and Koren Robinson. Bryant can be had for a song in most leagues because of the Braylon Edwards factor. Don't pick the rookie when you can have the starting primary receiver several rounds later!

Lost in the Cadillac Williams hype in Tampa is RB Derek Watson the former South Carolina star. Watson was acquired as a free agent from the Patriots after getting kicked off the Gamecocks. He was later waived after succumbing to injury early in camp. Watson is a powerful runner with excellent balance, vision, and decent receiving skills. Watson actually got invited to camp as a street free agent and has already impressed Jon Gruden with his skills. He has an excellent chance of not only making the roster, but also eventually pushing Michael Pittman for future playing time as the backup. Look for Watson to at least make the practice squad and eventually develop into a solid #2 RB, ala Chester Taylor behind Jamal Lewis in Baltimore.

WR Patrick Crayton of the Dallas Cowboys caught Bill Parcells' eye late last season. Don't be surprised if this overachiever pushes underachiever Quincy Morgan for the #3 spot this season.

WR Kelley Washington has had a strong camp and has similar athleticism as Jags receiver Reggie Williams. Don't be surprised if Washington cuts into T.J. Houshmandzadeh's numbers before the halfway mark of the season, and takes the job outright down the stretch.

Stuff From The Editing Room Floor

Yours Truly receives his fair share of emails with questions about which players to pick, keep, or start. These correspondences often include inquiries into The Gut Check's leagues. Thus far, Yours Truly is in seven leagues with only one yet to hold its draft.

Who is The Gut Check drafting? Here's some drafts worth examining.

Ironman 3 Dynasty League: 14-team league, 40-man rosters with IDP, practice squad, and IR. Rookie Draft was held in late April. The Gut Check and another new owner drafted their squads from one team two years ago. This is their third draft. Both Yours Truly and that owner were selecting 2nd and 3rd overall after dismal seasons in 2004.
Ironman 3 Dynasty League
Rd
Player
Pos
Comments
1.02
Cadillac Williams
RB
Traded Onterrio Smith and 1.03 for 1.02 and a 3rd round pick. The other team picked Cedric Benson. So far, Yours Truly is happy for valuing Williams this highly.
1.13
Ryan Moats
RB
The Gut Check acquired this pick via trade: Chris Chambers, London Fletcher, 2006 2nd and 3rd picks for Michael Pittman, 1.13, and 2.13. Originally, The Gut Check was trading up to acquire Frank Gore, but was too late. Yours Truly got Brian Westbrook and Steve McNair in a trade two years ago (for Tom Brady). With Westbrook in a situation where he could be elsewhere in 2006, The Gut Check has been a fan of Moats at LaTech and the combination of having the backup and future starter was appealing. At best, Moats-Westbrook turns into a McAllister-Williams situation...without one of them taking a hiatus from football. Plus he gets Cadillac's backup.
2.03
Matt Jones
WR
Yours Truly already had Byron Leftwich and similar drafts at the time had Jones going anywhere from late round 1 to late round 2. Jones is the type of athlete worth taking the chance.
2.07
Derrick Johnson
LB
Gut Check trades his 2006 1st round pick for 2.07, 4.13, and TE George Wrighster. This may seem pretty lop-sided, but Yours Truly couldn't believe Johnson was still on the board. There was a lot of talk that Johnson was overrated due to his perceived difficulty with taking on blockers, but Gunther Cunningham mentioned that stud LB Keith Bulluck was perceived the same way. Dick Vermeil is already talking Defensive Rookie of the Year for DJ.
2.13
Adrian McPherson
QB
Does Adrian McPherson, Michael Pittman, and Ryan Moats = Chris Chambers, London Fletcher and a 2nd and 3rd 2006 picks? If McPherson and Moats become starters, quite possibly. Yours Truly figures Fletcher's peak is about to end and he already has young talent in Johnson, Julian Peterson, Ian Gold, Karlos Dansby, and Donta Thomas. It's a reach looking at it now, but still has a chance to reap dividends in a few years.
4.03
Channing Crowder
LB
The Gut Check thinks Crowder was the top MLB in the draft although his age and injury history deflated his value. Zach Thomas and Junior Seau wont be around forever. Saban faced Crowder a few times while coaching LSU and knows he got a playmaker and future leader.
4.13
Roydell Williams
WR
Not sure what to think about this pick at this stage of the preseason. The articles about Williams working out with pro bowl safety Corey Chavous boosted his value to The Gut Check. Early reports from camp were few, but promising. His long touchdown grab was a good sign, but at this point he's at best a 4th or 5th option behind Bennett, Troupe, Calico, and Kinney.
5.01
Brandon Jacobs
RB
Traded a 3rd for 5.01, 5.11, and a 2006 5th round pick. As his trading partner Mike MacGregor said, Yours Truly is mortgaging the future. Jacobs is beginning to look like his future starting lineup's version of a Hummer to complement his Cadillac. Definitely wasn't available here once mini-camp ended.
5.03
Justin Tuck
DE
An LB in college, but likely Strahan's replacement in a few years. Very quick and aggressive. Injuries dropped his senior year stock. He's a guy Yours Truly is stashing for the future.
5.11
Justin Miller
CB
Miller is a great KR and ballhawk. Already impressing NYJ coaches with muliple INTs in training camp.
6.03
Stefan LeFors
QB
Watched LeFors at the East-West Shrine Game an was very impressed with his skills. Also saw him at Louisville a number of times and thought he has a chance to develop into an NFL starter in the right system.
8.03
Bill Swancutt
DE
Already cut him due to roster cut down requirements, but will watch for as a possible waiver selection down the road.



FF Pro Forecast Auction:

12-team league with WCOFF scoring. The draft took place in mid-May so the magazine article could be written in time for publication.


FF Pro Forecast Auction
Pos
Name
$
Comments
QB
Peyton Manning
42
It was worth the price to see if Manning could come close to repeating his staggering totals--especially with Culpepper losing Randy Moss, which could raise Manning's value as the only elite QB this year.
RB
Ahman Green
32
Yours Truly isn't sold on the gloom and doom for Green. At the same time, the guard play didn't look too good in the opening preseason game. Green does get a lot of receptions for an RB and this is a good deal for a pass catching RB in the WCOFF scoring system.
RB
Brian Westbrook
37
Westbrook will be option #1 in the Eagles offense this year. His receving makes him a promising threat and at worst, a great Flex option in Yours Truly's starting lineup.
WR
Drew Bennett
15
A #1 WR at the price of a #2 WR. The Gut Check believes Bennett's torrid stretch run was a product of his hard work and not Billy Volek. McNair is still the better QB an Bennett will benefit. So will Yours Truly.
WR
Isaac Bruce
8
A steal. Bruce is a quality #2 FF WR, capable of #1 FF WR numbers. Age shouldn't matter this year.
WR
Jimmy Smith
12
See comments on Isaac Bruce. Jacs have best schedule of passing defenses in 2005.
TE
Boo Williams
1
Not a great pick, but could still win the starting job. Has worked hard to regain his form, though.
K
Jason Elam
1
Excellent distance kicker in a division where scoring won't be lacking.
DEF
Washington
3
An underrated defense because the offense was so bad. If Gibbs improves the "O," expect the "D" to reap the rewards.
B-QB
Billy Volek
1
Didn't have much to chose from, because The Gut Check is betting on Manning.
B-QB
Gus Frerotte
1
See above. Plus Yours Truly believes Frerotte gives the Dolphins the best chance for big plays.
B-RB
Carnell Williams
27
Yours Truly's favorite rookie and has explained why many times.
B-RB
Ryan Moats
1
The Gut Check loves Moats' talent and if Westbrook goes down, he'll get a shot at being the unlikely centerpeice.
B-RB
Frank Gore
4
Gore could turn into the starter and at worst, a decent bye week flex-option.
B-WR
Amani Toomer
2
Great value for a starting WR.
B-WR
Eric Parker
1
Banking on Parker to lock down the #2 WR in San Diego.
B-WR
Peter Warrick
1
This late it was worth a shot.
B-WR
Reggie Williams
1
Looking like a potential steal of the draft if he performs in the regular season like he has in camp.
B-WR
Larry Fitzgerald
9
The Gut Check's favorite pick of his draft. He's at least a #3 WR in Yours Truly's lineup and believes he'll actually be a top-10 receiver.
B-TE
Heath Miller
1
Just read an article about Miller having a perfect camp and the team is excited about seeing what he can do in games.



FF Handbook Expert Mock 2005

: This will actually be a 12-team league that is played-out for the season. The results appear in the magazine Fantasy Football Handbook, which Yours Truly was told is handed out as a complimentary gift for those that purchase Madden 2006 at Target. Each team had to draft the same amount at each position and the starting lineup is 1 QB, 2 RB, 2 WR, 1 TE, 1 DEF, and 1 K. Total points wins the league.


FF Handbook
Player
Rd
Comments
Dillon, Corey NEP RB
1.10
Based on this Crank Score, an excellent value The Gut Check was happy to have fall to him.
Green, Ahman GBP RB
2.03
See previous draft comments about Green.
Horn, Joe NOS WR
3.10
One of the better Crank Scores for WRs for the last three years.
Williams, Carnell TBB RB
4.03
Could be a starter for The Gut Check by mid-season and great depth.
Bulger, Marc STL QB
5.10
Has an offensive around him that makes him capable of even better numbers than he's already posted early in his career.
Fitzgerald, Larry ARI WR
6.03
See previous draft comments about Fitzgerald.
Smith, Jimmy JAC WR
7.10
Excellent depth.
Crumpler, Alge ATL TE
8.03
This garnered quite a few "nice picks," at this stage of the draft.
Steelers, Pittsburgh PIT Def
9.10
It was just preseason, but look what they did Monday night. Lebeau is back for his second year, so expect even more blitz packages in the Steelers bag of tricks.
Leftwich, Byron JAC QB
10.03
A nice breakout gamble this late. We all know Yours Truly believes this will be the case.
Rogers, Charles DET WR
11.10
If he remains healthy, he could be the steal of the draft at this spot.
Davenport, Najeh GBP RB
12.03
Depth for Green.
Chargers, San Diego SDC Def
13.10
Not happy with this pick. AFC West defenses might not be wise choices this year.
Carney, John NOS PK
14.03
Generally posts good fantasy numbers. A more conservative offensive game plan might benefit his numbers.
Watson, Ben NEP TE
15.10
A flier on a deep sleeper at this time in May.
Tynes, Lawrence KCC PK
16.03
Prolific division may increase opportunities.



Fantasy Auctioneer Invitational Experts League:

Standard scoring league that fields 1 QB, 2 RBs, 3 WRs, 1 TE, 1 K, and 1 DEF. Yours Truly missed the playoffs last year by just a matter of points. This year, The Gut Check experimented with a more high risk-reward approach.


Fantasy Auctioneer Invitational
Pos
Name
$
Comments
QB
Steve McNair
$6
Crank Scores have him as a potential top-10 QB. Yours Truly likes the chances of this turning out this way, so he counted on taking McNair as a cheap starter.
RB
Priest Holmes
$58
If he stays healthy, he's a bargain compared to Alexander $65 and LT $74
RB
Larry Johnson
$18
The Gut Check knew he'd have to pay dearly for Johnson after he drafted Holmes, but at a total price of $76 for the best RB depth chart in FF, it was worth it to Yours Truly.
WR
Terry Glenn
$1
Really needed a #3 WR and at this late a stage of the draft, bargaing power and pickings were slim. Yours Truly was targeting Antonio Bryant but didn't have the cash to seal the deal. The Gut Check hopes Glenn and Bledsoe have a rapport.
WR
Jimmy Smith
$14
Obviously, Yours Truly believes Jimmy Smith is a bargain #1 WR at the price of a #2 WR, since he's drafted him at least five times this year.
WR
Torry Holt
$31
The Gut Check wanted at least one stud WR. Holt qualifies.
TE
Ben Troupe
$1
Yours Truly believes Troupe will be McNair's #2 target this year and benefit from many mismatches hatched by Norm Chow.
K
Jeff Wilkins
$1
Prolific offense = opportunities.
DEF
Philadelphia Eagles
$3
Kearse in his second year could wreak havoc for Philly.
B-QB
Kurt Warner
$3
It's been said around the message boards that the Arizona media is generally hard on their team, but has had nothing but good things to say about Warner thus far. If he plays like he did in his first preseason outing, The Gut Check is set at QB.
B-RB
Edgerrin James
$57
Talk about a great #2 RB. It cost The Gut Check a ton of depth, but Yours Truly decided to swing for the fences in this draft rather than play it safe.
B-RB
Artose Pinner
$1
Looks good and with a lack of finances, The Gut Check needs to target possible injury fill-ins.
B-RB
Marion Barber
$1
A-Train has been rumored to be on his way out of Dallas. Barber is having a good camp.
B-WR
Darius Watts
$1
Rice just passed him on the depth chart as the #3 WR in Denver. Not a good sign.
B-WR
Mark Clayton
$1
The Gut Check's worst pick. Baltimore's passing game is going nowhere with Boller.
B-WR
Kevin Curtis
$1
Talented depth behind Holt. Could also be a decent bye-week player if the Greatest Show on Turf resurfaces in 2005. Martz has hinted as such due to Curtis' progression in camp.
B-WR
Michael Jenkins
$1
Not a fan of Jenkins, but for $1 he's a good deal. If Vick develops as a passer, he could be a steal--but The Gut Check isn't expecting it.
B-TE
Bubba Franks
$1
When he gets into camp, he'll a reliable option for $1 if Troupe doesn't pan out.



Local League:

12-team league with standard scoring. 1 QB, 2 RB, 4 WR, 1 TE, 1 K, and 1 DEF. Generally some very skilled players, but two new players made some fantastically huge reaches and teams with later picks in the early rounds benefited—including Yours Truly.


Local League
Player
Rd
Comments
Edgerrin James
1.08
One team reached for Manning, another for Julius Jones, and a third team brought FFIndex to the draft and selected Tatum Bell (he's on the cover) at 1.05! After that, Holmes and McGahee went at 1.06 and 1.07. Still in shock that James is mine.
Curtis Martin
2.05
Last year's rushing champ is great value, although expected he'd fall here.
Antonio Gates
3.08
Might be reaching a bit, but the run on top notch receivers meant Yours Truly didn't like the value that was left for this round.
Drew Bennett
4.05
Confident that Bennett can be a #1 WR.
Cadillac Williams
5.08
Could make C-Mart trade bait for a WR if necessary, or just great depth/starter.
Jimmy Smith
6.05
Solid starter with good match ups.
Isaac Bruce
7.08
Ditto
Larry Johnson
8.05
Best back up in football and trade bait for the Holmes owner.
Kerry Collins
9.08
Another shocker, even for a league that takes QBs rather late.
Reggie Williams
10.05
If Smith takes a backseat to Williams, The Gut Check is ready.
Steve McNair
11.08
About where he's going in snake drafts.
Ronald Curry
12.05
Could be a very productive #3 WR in Oakland and a good FF #4 WR for Yours Truly.
Eagles
13.08
Brandon Jacobs
14.05
Drafted prior to the Cleveland game. Potential value as trade bait or goal line back.
Antonio Bryant
15.08
Could have just drafted a productive starter for my roster this late…
Ryan Longwell
16.05
Great distance-bad weather kicker in productive offense.
Samie Parker
17.08
A starting WR this late is a nice deal.
Marion Barber
18.05
Jeff Garcia
19.08
Great option just in case he gets the opportunity.
Kris Wilson
20.05
A guy under the radar that Yours Truly wanted to wait and see on…

As you can see, The Gut Check has his eye on the same players from draft to draft. Much of this has to do with his understanding of where he can get what he feels are bargains at the WR position so he can focus on a strong running game.

For those of you drafting in the next couple of weeks, good luck!