The Weekly Gut Check - Vol. 32
RB Frank Gore, SF
6/6/05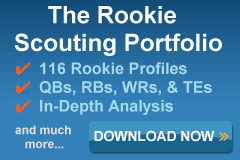 The "Gut Feeling" is often synonymous with a sense of desperation resulting from a lack of preparation. The Gut Check is a huge proponent of studying the numbers, but there's a point where one can place too much emphasis on the wrong information. This can result in the undervaluing or overlooking a player's potential. Therefore, The Weekly Gut Check is devoted to examining the frame of reference behind certain number-driven guidelines that fantasy football owners use to make decisions.

Although The Weekly Gut Check doesn't claim to be psychic, he does believe that he can dispel certain numbers biases and help you make the best choices for your team. We'll keep a running tally of The Weekly Gut Check's insights. This way you can gauge his views as something to seriously consider, or at least seriously consider running the opposite way as fast as you can!


---
Statistical history has proven that rookie running backs are the most likely to experience top ten fantasy seasons than any other position. Here's a list of the top 20 rookie RB fantasy performances and their respective fantasy ranking for that season from 1970-2004.

Top 20 Fantasy Rookie RBs
Last
First
FF Pts
Rookie Year
Ranking
Dickerson
Eric
341.2
1983
1st
James
Edgerrin
315.9
1999
1st
Portis
Clinton
289.2
2002
4th
Sims
Billy
288.4
1980
1st
Taylor
Fred
266.4
1998
4th
Martin
Curtis
264.8
1995
2nd
Warner
Curt
261.4
1983
4th
Sanders
Barry
259.2
1989
4th
Rogers
George
258
1981
4th
Anderson
Mike
256.9
2000
4th
Faulk
Marshall
252.4
1994
4th
Anderson
Ottis
251.3
1979
4th
Walker
Herschel
241.4
1986
4th
Cribbs
Joe
232
1980
3rd
Campbell
Earl
227.8
1978
2nd
Tomlinson
LaDainian
220.3
2001
7th
Edwards
Robert
216.6
1998
8th
Woods
Ickey
216.5
1988
6th
Woods
Don
211.1
1974
3rd
Bettis
Jerome
209.3
1993
2nd
An astounding 85% of these performances were top-five caliber for the year in question. Sixteen of the twenty performances occurred in separate years, which indicate this has been predictable occurrence over at least the past 25-30 years. But the trend has taken a downturn recently. Only three of the last six seasons had a rookie break into the top five fantasy RBs. As much as The Gut Check appreciates a good set of statistics, he also thinks it's worth mentioning that 2003's and 2004's rookie RB classes were not top heavy in talent. Even the backs at the head of these classes were backing up more established stars.
The Gut Check believes the trend will revert back to its historical roots in 2005 because the rookie class of RBs is a strong group. Fantasy owners will likely select at least four rookie backs within the first five rounds of league drafts held prior to training camp, and in many cases relying upon them as #2 or #3 starters if they remain healthy. Here are The Gut Check's top five rookies for a re-draft league, prior to camp opening:
Cadillac Williams

Ronnie Brown

Cedric Benson

J.J. Arrington
History has shown the top-five performances from a rookie came from those drafted within the first two rounds (Tomlinson, Portis, Rogers, Dickerson, James, etc.). This doesn't mean The Gut Check recommends anyone to draft a rookie runner in the first round just based on this information. This is coming from a guy that took a chance on Edgerrin James with his first pick in a 10-team re-draft in 1999.
This is a fact The Gut Check mentions both proudly and sheepishly, especially considering the numbers he's about to lay out. From 1993-1998, five rookie backs finished the season as #1-quality fantasy RBs in any traditional league format with at least eight teams. Courtesy of DraftHistory.com, three of the five were drafted in the first round. Ricky Williams and Edgerrin James were the two first-round RBs entering the 1999 season, which meant there was maybe a 60% chance one of these guys would have a great season. This of course makes the percent chance much smaller. The Gut Check likes to rationalize that he had the 10th pick in a 10-team serpentine draft and his bold selection of James was followed up with a very conservative pick of Eddie George. The picks ultimately led him to a dominating performance in his league, but he sheepishly admits he by-passed the just-acquired Ram, Marshall Faulk in lieu of James and it was a huge gamble (The draft was days after Trent Green was lost for the year, and Vermeil was in tears. Who would have known Kurt Warner would play so well?)!
There are two points here. First, there's a big difference in taking calculated risks, and bold risks. Statistically, The Gut Check isn't sure he would have selected James with his 10th pick if he broke down the numbers on RBs in the manner he just did for this article. At the same time, it's good to provide some wiggle room for more subjective analysis when using statistical research. You just have to be honest with yourself and understand how willing you are to gamble on a player.
This leads to the second point: the Gut Check is obsessed with sleepers. What makes these players underrated? What are the risk factors? What is the frame of reference behind these risk factors? For those that can stomach a higher risk factor when investing in a player, Frank Gore, San Francisco's third round pick in 2005, is the Gut Check's choice as a worthwhile gamble.
The Gut Check on Frank Gore: This is a player scouts view as a high risk-high reward investment, but Yours Truly believes Gore isn't nearly as much of a gamble as he may appear. The Gut Check would pick Gore over Ciatrick Fason, Vernand Morency, Marion Barber III, Eric Shelton, and Maurice Clarett. In re-drafts, Gore is a back Yours Truly would certainly consider in the mid-to late rounds (depending on his preseason returns). To find out why, let's address the three questions Yours Truly mentioned from the beginning.
Why is Frank Gore Underrated?
Potential—possibly the most dreaded word for the fantasy faint of heart. Most of us know the story about Gore. He came to Miami as one of the most-heralded RBs in its program. As a freshman, Gore beat out Willis McGahee for the starting gig and was purportedly one of the reasons Clinton Portis left early. Before succumbing to injury, Gore averaged a ridiculous number of yards per carry.
Upon his entry to Miami, Larry Coker said Gore had the same level of talent he saw in only one other back he coached: Barry Sanders. All stuff of legend, but when one looks at the fact none of this translated to the football field. Two torn ACL's considerably dulled the gleam off the prospects of this complete package of vision, power, and speed.
What are the risk factors?
Aren't two ACL tears enough? How about a learning disability; as poor of a Wonderlic Score as one could imagine; and what many considered a lackluster senior year. Plus, Gore is a third round draft pick with an established starter in Kevan Barlow head of him on the depth chart that has averaged over four yards per carry in his career.
What's the frame of reference behind these risks?
In other words, can the Gut Check make arguments that lessen, or maybe even dispel, these risks?
New 49ers coach Mike Nolan drafted Gore at the top of round three. There's a great difference between the top of round three (Gore) and the bottom of round three (Clarett). The top of round three is a place where one should still find second round talent. Historically more second round picks have become pro bowl-caliber players than first round picks. On the other hand, Denver chose Clarett at the bottom of round three because they didn't have a fourth round pick, and feared Clarett would wind up as a Cowboy or Jaguar in round four.
In this years' draft the spectrum between the first and last pick in round three is truly that wide in terms of perception. Clarett was considered a reasonable "reach" in the middle of round four, not the bottom of round three. As a Cowboy or Jaguar, Clarett would be backing up either an up and coming back (Jones) or an established star (Taylor). The Gut Check thinks Denver reached for Clarett because Tatum Bell may be more physically talented, but needs more refinement as a runner within the Broncos' system. Round four picks are often a mix of highly capable overachievers (Domanick Davis), or underachievers with character questions (Onterrio Smith). The Gut Check thinks Clarett has a good chance to be successful based on his talent. But in the Gut Check's estimation, Clarett is a greater gamble with lower return than Frank Gore. Clarett's physical talent as a runner compared to Gore when both are in peak condition isn't close. Clarett's ability to handle adversity is at best, questionable.
Coincidentally, Broncos head coach Mike Shanahan originally said upon the 49ers selection of Kevan Barlow, the 49ers current starter, in the mid-to-late third round, that he was the steal of the draft. Barlow has shown flashes, but his flaws have outweighed his strengths. Not so much on the field, but in the locker room and off the field. The source of these issues often factor into effort. These flaws haven't been lost on Mike Nolan, a coach that mentioned during the draft that he was intent on building a team with character. So Gore is in a nice position for a rookie, backing up a runner than has been somewhat disappointing for a rebuilding franchise. In a post-draft interview with ESPN, Nolan stated Gore would at least split time with Kevan Barlow this year, if not more.
Gore detractors point out the Miami back and only gained 948 yards in his senior year. He looked both heavy and slow, his junior year. The Gut Check agrees, but consider the frame of reference. Gore rehabilitated his torn ACL in 8 months and still played. He averaged 4.8 yards per carry and carried the load for a Miami team that lost a lot of talent to the NFL in the last three years. Yours Truly can't underestimate how significant it is to come back after 8 months and be an integral part of the team. Most backs need at least a year and a half to two years to be productive. Willis McGahee was awarded the luxury of a year an a half before he hit a playing field after his ACL tear—which weren't purportedly as bad as the ones Gore suffered. This demonstrates Gore's mental and physical toughness, probably a significant factor influencing Nolan's decision to invest in the rookie.
Gore nearly gained 1,000 yards on a knee that prevented him from utilizing his true running style. Think about the difference between Willis McGahee at the end of 2003 and the end of 2004. Now McGahee is touted as a top-five pick in many circles. Gore is a guy that performed at probably 70%-80%. To average 4.8 yards per carry and nearly five or more against competition the likes of FSU, Clemson, and over seven per carry against Virginia (Ahmad Brooks and Darryl Blackstock) later in the season illustrates the physical skills may still be recovering, but his vision and patience are still there. True he had some sub-4ypc games against top competition like Florida and Virginia Tech but this wasn't the consistent theme of his season. This makes the Gut Check more inclined to write these performances off to the fact that Miami couldn't throw the ball effectively in either contest.
In the last two to three years, Marshall Faulk and Emmitt Smith are perfect examples of players past their physical peak that could still gain good yardage in situational play. A lot of this has to do with their vision and patience as runners—taking short steps into the hole and knowing when to accelerate or make their most aggressive move. Now think of Frank Gore playing at 70%-80% is physical capability and still gaining yardage. It's true there's a big leap between the FSU's and the San Francisco 49er's—as much as many would enjoy joking that there isn't—but Gore isn't the only back that suffered through an injury-plagued college career to be a viable NFL back.
One NFL back in particular that had a great start to his college career then tore his ACL and toughed it out through a solid, but unspectacular season was Jamal Lewis. Not coincidentally, as a former member of the Ravens coaching staff, Mike Nolan saw Lewis' knee improve from his senior season to his rookie year. Nolan also saw how well Lewis came back after his second ACL tear, and nearly broke Eric Dickerson's single season rushing record. This may not be some statistically proven theorem, but The Gut Check believes one cannot underestimate Nolan's experience with this situation. The Gut Check believes its reasonable to say Nolan sees Gore as a first round talent that would likely be available in round three and jumped all over him.
What about the Wonderlic Score and the learning disability? Gore is scheduled to graduate. That's a testament to his work ethic. Running back is as instinctive a position as there is in the NFL. The Gut Check isn't saying you can be dumb to play the position. There are many different ways to measure intelligence. The Wonderlic is a written test requiring quick calculation. Classroom and academic study are methods of practicing the type of skills in the Wonderlic. If it were so important, there would be more demand placed on players getting the top scores. This leads to another conclusion, the Wonderlic is as much about showing effort. Could a low Wonderlic Score indicate it could take a player longer to learn his assignments? Possibly, but were hear more about the player that fails due to lack of effort than the player that tries hard and can't cut it.

Let's look at a list of players that had a low Wonderlic score:
Bad Test Takers?
Position
Player
Score
QB
JP Losman
14
QB
Steve McNair
15
QB
Randall Cunningham
15
QB
Dan Marino
14
QB
Jeff George
10

For a quarterback, this is a fairly low set of scores. One might theorize that George's showed lack of effort, which reflects his tendency not to learn/utilize the offensive system and make his coaches look bad. This might have added credence to many draftniks that felt Losman was a potential coach killer due to his attitude. If the off-season reports are indication, Losman has been nothing short of a Gym Rat in Buffalo. What about Dan Marino? One might guess he didn't think it was important. Another reason why the soon to be Hall of Famer dropped so much further than expected—teams suspected drug use, and the test might have added bad reputation. Steve McNair hasn't been unreliable. Steve Young mentioned on ESPN's Sunday NFL Countdown in 2003 that McNair was way ahead of any quarterback currently playing in terms of seeing the field and decision-making. Considering that Young scored nearly a 40 on his Wonderlic and McNair scored less than half that amount—The Gut Check sees this test as a very minor part of the picture in most cases.

When piecing this together, Gore ranks comparably well on the basic system the Gut Check used to establish Brian Westbrook as a viable fantasy threat last year:


Prototype Resume
RB
Height
Weight*
Speed
Competition
Durability
Performance
Priest Holmes
5'9"
205
Yes
No
No
No
Tiki Barber
5'10"
205
Yes
Yes
Yes
Yes
Charlie Garner
5'9"
187
Yes
Yes
Yes
Yes
Emmitt Smith
5'9"
200
Yes
Yes
Yes
Yes
Michael Bennett
5'9"
207
Yes
Yes
No
No
Dominic Rhodes
5'9"
203
Yes
No
Yes
Yes
Barry Sanders
5'8"
200
Yes
Yes
Yes
Yes
Thurman Thomas
5'10"
198
Yes
Yes
Yes
Yes
Brian Westbrook
5'8"
205
Yes
No
No
Yes
Frank Gore
5'9" *
215 *
Yes
Yes
No
Yes
These headings for each table are basic prototypes we've all heard the pundits describe when lauding the "can't miss" futures of the Curtis Enis, Blair Thomas, and Sammie Smith. On the same token these were the very same prerequisites used to question, downplay and (in Priest Holmes' case) completely ignore some of the very players on this table:

Competition: Did the back start at a top tier college program?
Durability: Did the back have an injury history?
Performance: Did the back put up numbers indicative of a prototypical NFL RB?

*Note: Some weights are the listed weight upon entry to the NFL. Others such as Emmitt Smith's, Barry Sanders', and Charlie Garners' are playing weights listed well into their careers after several seasons of weight training and conditioning. Gore has shed about 15-20 pounds prior to the draft and mini camp reports have suggested he looked quick and agile.

Gore's recovery is the greatest aspect of the gamble. Will Gore regain his trademark speed, cutting ability, and quickness? The Gut Check believes the odds are in his favor based on his youth, talent, and recent history with Jamal Lewis and Brian Westbrook coming back from multiple ACL injuries in their college and NFL careers.

Gore is a risk, but the kind that will offer great reward if it pans out because even with what many draftniks would call a lackluster junior year. Vision is arguably the most important aspect of running the ball in the NFL. This was the primary trait Gore had to compensate for his knees and conditioning not being up to standard due to his extensive rehabilitation.

The Gut Check recommends selecting Gore at the middle to end of round one for rookie drafts, and as a mid-to-late round selection in re-draft leagues. If something happens to Kevan Barlow, or Gore earns a greater role, he's a worthwhile #3 RB this year as San Francisco's offense still has a ways to go. He's a solid receiver out of the backfield—another component of his game that somewhat surprised NFL scouts and coaches in pre-draft workouts and bumped up his stock. This means if the 49ers have to abandon the run early, he would get his opportunities to handle the ball consistently.

Miami coach Larry Coker has coached his fair share of running backs:

Barry Sanders

Thurman Thomas

Clinton Portis

Willis McGahee

Edgerrin James

Four were pro bowl players; three are still considered top tier runners; two were all-time greats for their team; and one is already a Hall of Fame inductee. The Gut Check believes Larry Coker knows something if he compared him favorably to the Hall of Famer. Gore's former UM teammates feel the same way. Considering everything else mentioned that's a good gamble.