QB Byron Leftwich, JAX
7/6/04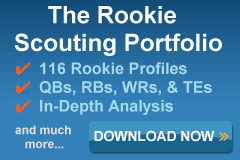 The "Gut Feeling" is often synonymous with a sense of desperation resulting from a lack of preparation. The Gut Check is a huge proponent of studying the numbers, but there's a point where one can place too much emphasis on the wrong information. This can result in the undervaluing or overlooking a player's potential. Therefore, The Weekly Gut Check is devoted to examining the frame of reference behind certain number-driven guidelines that fantasy football owners use to make decisions.

Although The Weekly Gut Check doesn't claim to be psychic, he does believe that he can dispel certain numbers biases and help you make the best choices for your team. We'll keep a running tally of The Weekly Gut Check's insights. This way you can gauge his views as something to seriously consider, or at least seriously consider running the opposite way as fast as you can!


---
It's time to look at THE player. We're not talking about THE player in the sense that LT, Priest Holmes, or Randy Moss has been from year to year. We're talking about THE player that you should make an aggressive play to acquire during the meat of your draft. True, one shouldn't reach for too many players--that's the value of playing it safe. But there will be moments in every draft just as in any game--football, poker, or life for that matter--where one has to temporarily abandon the game plan and gamble. This year, Byron Leftwich is that gamble and The Gut Check is betting 2004 will be the final time that you will read anything about Leftwich that doesn't have at least one of these qualifiers preceding his position and name:
Pro-bowl
All pro
Elite
Superstar
Strong statement? Not at this point. Many of you have seen the growing hype surrounding Leftwich. If it isn't CBS Sportsline's Pete Prisco lauding Leftwich's work ethic, then it's ESPN's Ron Jaworski conducting a film clinic on draft day to illustrate why he feels the Jaguars' quarterback was ahead of Peyton Manning at the same point in his rookie year, and will be a top five passer in 2004. So an FFToday.com column on Leftwich, profiling him as the fantasy flavor of the preseason doesn't appear to be groundbreaking stuff.
But what if The Gut Check tells you we'll eventually have to add "super bowl champion," and "most valuable player," to this list? Well, I guess that means yours truly not only jumped on the bandwagon, he car-jacked it and is leading the cops on a high-speed chase that's likely to end badly. The truth is the Gut Check took everything he had and hitched his wagon to Byron Leftwich without so much as a test drive. In August 2003, he traded away a freshly injured, Michael Vick in a dynasty league for Leftwich and a bunch of players that amounted to pocket change.
The season had yet to begin and this league wondered if The Gut Check was out to lunch! There's no denial here that more could have been extracted from the current Vick owner, but ultimately the league was convinced not to overturn the deal. Considering the Gut Check brokered Steve McNair and Brian Westbrook from the same owner for Tom Brady and a mid-round pick early on, he rationalizes the grand total of McNair, Leftwich, Westbrook, and what turned out to be Cedric Cobbs for Vick ain't too shabby. Even so, the Gut Check doesn't care what you think. He doesn't care what his colleagues here or at other sites will tell you about value. By late August, Leftwich's fantasy stock will either be inching its way up their rankings, or they'll be hyping him next year as an elite quarterback long after it's already a safe play.
Screw the safe play. You don't win championships without taking risks--if you are drafting prior to the preseason games, GET THIS PLAYER NOW! If you have to reach for him a bit in your draft in August, do it. Remember, this is THE player that should be your calculated gamble on greatness when creating a draft strategy. Sometimes there's more than one of these players every year, but it's a good bet to focus on the quarterback position. This is because quarterbacks tend to make big, performance leaps from their first to second years as starters. Pay attention to the fact that The Gut Check is saying as starters. This means you should pay attention to 3rd or 4th year players that have earned their second consecutive year to start for the same team.
Making a calculated gamble such as this, allows an owner to wait a bit longer on drafting a quarterback and acquire more depth at RB and WR--where an owner increases his chances of gaining valuable depth or unexpected breakout players. Generally an owner can take this type of gamble and still follow up with a veteran capable of delivering solid, fantasy performances on a consistent basis. The Gut Check took a look at quarterbacks over a twenty-year period that went from fantasy depth to fantasy force in either their second year, or their second year as a consistent starter. The results show the payoff is excellent for the owner that takes the risk:

Ranked In Top Ten?
Player
1st Year
Yds
TDs
2nd Year
Yds
TDs
Dan Marino
1983
No
No
1984
1st
1st
Tony Eason
1983
No
No
1984
10th
7th
Boomer Esiason
1984
No
No
1986
10th
2nd
Ken O'Brien
1984
No
No
1985
3rd
6th
Jim Kelly
1985
No**
No**
1986
6th
5th
Randall Cunningham
1986
No
No
1987
9th
4th
Jim Everett
1987
No
no
1988
2nd
1st
Don Majkowski
1988
No
No
1989
1st
3rd
Brett Favre
1992
9th
8th
1993
6th
5th
Drew Bledsoe
1994
No
No
1995
1st
1st
Jeff Blake
1994
No
No
1995
8th
5th
Mark Brunnell
1995
No
No
1996
1st
8th
Jake Plummer
1997
No
No
1998
4th
No
Peyton Manning
1998
3rd
5th
1999
3rd
3rd
Donovan McNabb
1999
No
No
2000
No*
7th
Jeff Garcia
1999
No
No
2000
2nd
3rd
Daunte Culpepper
1999
No
No
2000
4th
1st
Aaron Brooks
2000
No
No
2001
4th
5th
Tom Brady
2001
No
No
2002
6th
1st
Totals
Yds
TDs
Both
% Top 5
58%
74%
42%
*McNabb's rushing totals made him a top 5 ff qb, although not a top 5 passer, statistically.
**Kelly was in the USFL in 1985.

As one can see, the caliber of players on this list ranges from Hall of Famer to one-year wonders. Yet just from playing the percentages, the owner that picks a second year (or second year starter) at quarterback that is likely projected at best as a second-tier fantasy passer has a good shot of getting a player that will not only crack the top ten in yards and tds, but has a better than even chance to be in the top five for yardage and nearly a 75% chance of making the top five in scoring. This means Kyle Boller, Josh McCown, and Carson Palmer may be good risks this year as well--but 14 out of the 19 qbs listed in the table played in at least 10 games and had over 200 attempts in their rookie year. That's why the better gamble is a player with reps in actual games. Statistically speaking, Leftwich is the best choice of the three with Boller, McCown, and Palmer behind him in that order.
But behind the statistics, The Gut Check really believes Leftwich has that special something in common with Montana, Elway, and Favre. He's a leader that understands what teamwork means. And just like these greats, Leftwich's game isn't based on his athleticism nearly as much as what lies between his ears. He's a warrior on the field; a field general in the huddle; and a gym rat on Monday-Saturday. The Gut Check wants to tell you why this is case.

Yours truly first saw the field general on display at the end of his junior season. Down by 30 points to East Carolina at halftime in the 2001 GMAC Bowl, Leftwich took command of the game: 41 for 70 for 576 yards, 4 tds in the air, and 1 on the ground rallied Marshall to a 64-61 win in double-overtime. But the numbers didn't do his play justice. Leftwich's completion percentage (58.5%) belied the level of accuracy put on display. In the second half alone, his receivers dropped no less than 8 passes. We're not talking about overthrows or squeezing the ball into career-ending tight spots. These drops were not only catch-able, but so right on the money they were bouncing off player's hands! In fact, The Gut Checked short-changed Leftwich:
You've got to do what you've got to do to get your point across. These guys know what they have to do and they understand that when they drop a pass that they made a mistake and we joke about it. They'd say, "Aw man if we'd have caught all twelve of those dropped passes, you'd have thrown for too many yards and they'd be wondering what we're doing here!" We understand that dropped passes are going to happen and that occasionally they're going to drop a bomb or a big play, but I miss passes too. The drops in the Bowl wasn't an every game thing and we just had to fight through it.
In the Gut Check's mind, you have to bump that 58.5% to at least 70% (49 out of 70) and if you give him full-credit for the 12 drops then we're talking about 74%--which really does reflect his performance in that game. Considering Leftwich threw for 67% in the 2001 season, this isn't too far-fetched. Nor can you downplay Leftwich's command of the huddle--keeping 10 players confident and loose when down by 30 is sometimes much harder than putting a ball right on the money.

While the East Carolina game served notice to The Gut Check that Leftwich was a competitor, it was the following year he saw the warrior. Leftwich suffers an injury to his shin in the first quarter of Marshall's game against Akron. While he only misses one play and returns to the field to lead the Thundering Herd on a nine-play drive for a touchdown, he's taken in for X-rays and misses the rest of the half. Bit Leftwich makes his way back to the field mid-way through the third quarter and puts on one of the gutsiest performances seen in college football that year.

The first drive upon returning, he leads Marshall to a touchdown. But as the game wears on, Leftwich is barely able to stand up. His teammates have to carry him to the huddle after each successful play. That doesn't stop Leftwhich from completing 19 of 30 passes (63%) for 259 yards in that span. Although Marshall lost the game, it hit home. Leftwich is special. There was no reason he should have even been in the game. As a certain first round pick, Leftwich had little to prove to scouts. If anything, Leftwich put his NFL career in potential jeopardy when he decided to stay in the game--and subsequently returned for the final four games of the season with what we learned after the fact was a stress facture. If anything, his courage created more questions for scouts to ponder whether his leg was fully healed as draft day approached.

But The Gut Check didn't have to ponder anything. Leftwich cared more about winning than anything and it's that type of warrior mentality that keeps elite quarterbacks in the game when most pro signal callers would call it a day. It's why McNair, McNabb, and Favre not only stay in the game, but also elevate their play when others would be in too much pain to even elevate their rear ends off the bench. It's why Leftwich inspires leadership.

"Forget the Heisman," Marshall center Jeff Edwards said. "Forget New York. Forget all that stuff. He just proved to me what kind of player he is. He's not in it for himself. If he were in it for himself, if he were in it for the Heisman he wouldn't have been out there at the end of the game."

Yeah, yeah, yeah, it's only college football. But as Leftwich endured his rookie year with his share of untimely mistakes, there were too many flashes of greatness to ignore. The Gut Check doesn't care that Leftwich's first preseason action was in the 4th quarter against the Dolphins second team. Fresh off a 19- day hold out with only two days or practice, Leftwich led the Jaguars on a 10-play, 70-yard drive, capping it with an impressive TD pass to Donald Hayes. No, this doesn't make Leftwich a great player. But shows that he is incredibly poised. Even when other rookies fared well against second team defenses in the preseason, they at least had a few weeks of physically practicing the playbook and getting familiar with their teammates. Leftwich learned his playbook at home and then assimilated what he learned in a game. It was enough for Jack Del Rio to comment that his knowledge of the playbook for his first game was "scary."

Just think about the ramifications of Leftwich's ability to transfer his intelligence into physical action. This is a player that called 95% of his own plays at Marshall. Once he learns the Jaguars playbook and NFL defensive tendencies the way he knew the Thundering Herd playbook, game-winning touchdown drives will become more commonplace. Even when he loses, Leftwich has already proven the willingness to shoulder the blame. This tells you he knows he's the leader and is willing to take the responsibility. The Gut Check heard about references to Ryan Leaf and rumors Leftwich was a bit aloof in the locker room. But offensive leaders like Fred Taylor and Jimmy Smith saw past all the growing pains and effusively praised the rookie's potential to develop into a leader. They see that Leftwich will push himself to excel harder than anyone around him--that's the sign of greatness.

These traits may make Leftwich a great NFL quarterback, but so was Troy Aikman--and he was a poor fantasy option. What has The Gut Check screaming for you to grab Leftwich is his gunslinger attitude. He looks for the big plays first and isn't afraid to take calculated risks with a game-changing throw. Just like The Gut Check has been saying all this time, you have to pick your spots to go for broke. It's no different in any game, and this is why Leftwich is going to be a statistical force. His rookie year alone, he had completions for 45, 49, 60, 67, and 84 yards. In a 17-10 victory against Tampa Bay where Leftwich threw for 2 tds and 224 yards, Jon Gruden clearly showed in his brief, halftime interview on ESPN that he was impressed with the rookie and surprised by his aggressiveness.

You don't see this successful level of aggressive play from rookie quarterbacks very often. The tendency to try to force balls in where they don't belong or throw the ball up for grabs rather than take the sack or throw it away is often the more common approach for a young QB. Although Leftwich had his fair share of miscues, his failed attempts were more often attempts to go for the kill rather than save one self from a bad play. Now what would you rather have, a player that screws up trying to win or a player that makes mistakes because he's trying to avoid losing? Personally, I like guys that play to win rather than play not to lose. The will to win shows up even in Leftwich's bad decisions--it's the ultimate intangible that predicts success.

Leftwich's rookie stats illustrate this point. The Jacksonville QB's best QB ratings occurred in 4th quarter games. These weren't garbage time blowouts, either--more like tightly contested ballgames:

In His Rookie Year...
Quarter
Att
Comp
Pct
Yds
YPA
Lg
TD
Int
1st
1rst %
20+
Sac
Rate
1ST QUARTER
76
45
59
501
6.59
67
2
3
28
62.2
3
3
71.2
2ND QUARTER
114
63
55
727
6.38
49
3
6
34
54
13
7
61.5
3RD QUARTER
88
47
53
608
6.91
84
2
2
25
53.2
7
3
73.5
4TH QUARTER
140
84
60
983
7.02
60
7
5
48
57.1
10
6
83.1
FOURTH QUARTER WITHIN 7
132
78
59
922
6.98
60
7
5
45
57.7
10
5
82.3
Leftwich threw for more touchdowns, had a better TD:INT ratio, completed more long yardage plays, and had a significantly better QB rating in the 4th quarter than any other part of the game. Even with his rookie-like numbers, there's a clear picture here and it depicts an aggressive player that thrives under pressure.
The Jaguars have all the tools and the right environment to make a move. Jack Del Rio played a major role in building the Panthers' defense and started with type of personnel in Jacksonville to use a similar blueprint. The addition of ReggieWilliams and what looks like early signs of Jimmy Smith returning to his formerly explosive form have been the most talked about reasons for Jackonsville's predicted offensive renaissance. But it is the development of two other players that should help Leftwich make the jump to the elite, Troy Edwards and George Wrighster.
Edwards, a former first round pick, is showing signs that he understands what it means to be a successful professional and will likely be the slot receiver this year. As Bobby Engram and Az-Zahir Hakim have shown at various points in their careers, an effective slot receiver leads to big years for NFL quarterbacks. Edwards is still a relatively young player and has the size, quickness, and ability with the ball in the open field to be a game-breaking target in 2004. Wrighster is currently behind Kyle Brady, but has the hands and quickness to be a reliable safety value and intermediate threat in the seam--something he displayed flashes of as a rookie. Even if it takes another year for Wrighster, Brady has the experience to be an excellent red zone option.
Add Fred Taylor to the list of receivers that can spread the field and make things happen with the ball, and it's not hard to guess that Bill Musgrave's version of the west coast offense will employ aggressive, vertical-passing strategies that he learned under Mike Shannahan's tutelage. Musgrave has gone on record to say that Taylor should get more 25-carry games in order for them to be successful. This is great news for Taylor owners but it doesn't mean Leftwich will be out in the cold, fantasy-wise. Taylor's carries will enhance the play action game and this will give Leftwich more one-on -one opportunities with Jimmy Smith and Reggie Williams downfield.
The aim is to increase their points per game from 17 to 27, and when a team has a number like this to shoot for, there's usually enough data to support that the figure is attainable. Tennessee averaged 27 points per game last year and went 12-4 in the AFC South where the defenses are improving, but each of the teams in the division has holes to fill. If anything the division is packed with QB talent and could wind up as the most explosive and contested in the NFL over the next five years.
There is additional statistical credence that Leftwich is likely to have a breakout season. The Gut Check looked at 50 quarterbacks between 1992 and 2002 that started games during their rookie seasons. After narrowing it down to qbs that started at least 60% of their rookie season, he discovered there was a correlation between passers that played at least 10 games their first year and had significant statistical improvement their following year when they started all 16 games in year two:

1st Year
QB
G
Comp
Att
Pct
Yds
Y/A
TD
INT
Harrington
14
215
429
50.1
2294
5.3
12
16
McNabb
12
106
216
49.1
948
4.4
8
7
Manning
16
326
575
56.7
3939
6.5
26
28
Plummer
10
157
296
53
2203
7.4
15
15
Banks
14
192
368
52.2
2544
6.9
15
15
Bledsoe
13
214
429
49.9
2494
5.8
15
15
Avg
13
201.7
385.5
51.83
2403.7
6.05
15.17
16
B. Leftwich 2003
13
239
418
57.2
2819
6.74
14
16
2nd Year
QB
G
Comp
Att
Pct
Yds
Y/A
TD
INT
Harrington
16
309
554
55.8
2880
5.2
17
22
McNabb
16
330
569
58
3365
5.9
21
13
Manning
16
331
533
62.1
4135
7.8
26
15
Plummer
16
324
547
59.2
3737
6.8
17
20
Banks
16
252
487
51.7
3254
6.7
14
13
Bledsoe
16
400
691
57.9
4555
6.6
25
27
Avg
16
324.3
563.5
57.45
3654.3
6.5
20
18.33
% Difference 1st to 2nd year
122%
161%
146%
111%
152%
107%
132%
115%

As with the previous table, the caliber of quarterbacks ranges from superstars to eventual busts, but there's no denying that even the worst performers of this grouping had better second years if at the very least due to exposure to the game. If we were to take the average statistical improvement between year one and year two for these quarterbacks and apply it to Leftwich--a qb that started 13 games--then we see that his performance leap would vault him into the top 10 in terms of fantasy qb production:…


2nd Year Projections
G
Comp
Att
Pct
Yds
Y/A
TD
INT
FF Pts
B. Leftwich 2004 w/ formula
16
384
611
63.4
4286
7.24
18
18
311
GC's Projections before research
16
325
525
61.9
3700
7.05
25
17
311

Interestingly enough, The Gut Check actually made his projections for the Staff Consensus Rankings nearly two weeks prior to conducting this research. It's worth noting that although the yardage and td's are significantly different between the two projections, the research supported the Gut Check's projected leap in terms of overall fantasy points. So do some mock drafts with some of your co-owners and find out what they think of Leftwich, then make your move and play to win rather than not to lose.