As in every season, Week 1 was full of surprises with some crazy highs and many frustrating lows. As a fantasy owner you should show patience. However, as a fantasy owners you should also note how coaches used players and adjust your projections accordingly.



Truths

"Men occasionally stumble over the truth, but most of them pick themselves up and hurry off as if nothing ever happened." – Sir Winston Churchill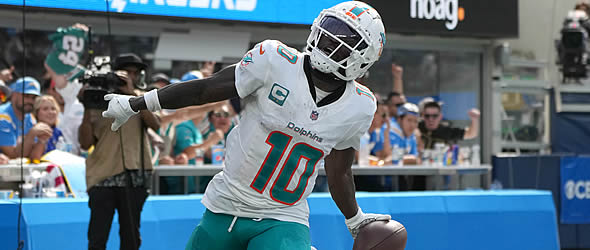 1) "If I stay healthy, keep attention to detail, I'll get 2,000 yards," said Tyreek Hill in July.
True. His 215 yards and two touchdowns on Opening Day set notice to opposing defensive coordinators that his goal is reachable. He was also not dependent on the health of Tua Tagovailoa last season. He averaged 103.8 ypg with Tua under center and still a respectable 92.8 ypg with anyone else in 2022. Jaylen Waddle, on the other hand, needs Tua to stay healthy. He averaged 89.7 ypg with Tua and just 56 yards per game without him.
2) To be a fantasy superstar you need two things- opportunities and production.
Fact. Tee Higgins saw plenty of targets in Week 1, but didnít produce (zero receptions). CeeDee Lamb saw just four targets and caught them all for a 19.3 ypc, but didnít get enough work because Dallas mercilessly blew out the New York Giants 40-0. Hill, and Brandon Aiyuk led all receivers in fantasy points (44.5 and 32.9, respectively), because they saw high volume AND produced.
3) Joe Burrow and Jalen Hurts will be betterÖ much better.
True. Burrow didnít get much work because of a preseason leg injury and Hurts didnít play a single down before Sunday and it showed for both top-five quarterbacks. As Aaron Rodgers once said, R-E-L-A-X.
4) Buy low quarterback candidates:
Besides the two mentioned above in No.3, Josh Allen (19.1), Lamar Jackson (12.3 fantasy points) and Dak Prescott (7.8). If any of their team owners are panicking, by all means take advantage of the situation.
5) Sell high candidates:
Tyler Allgeier, Roschon Johnson and Kyren Williams. Like most rookies, Bijan Robinson is being eased into the league and Allgeier just had the best day heíll ever have. Meanwhile, Khalil Herbert is still the No.1 back in Chicago and while Williams did produce 17.4 fantasy points he did it on just 15 touches while Cam Akers saw 22 touches.



Lies



"Any fool can tell the truth, but it requires a man of some sense to know how to lie well." – Samuel Butler
1) Tua Tagovailoa will throw for 7,922 yards and 51 touchdowns and Tyreek Hill will not produce 3,655 yards this season.
Obviously not. This is my annual warning to not overvalue the first weekís results. Donít panic if you started Tee Higgins and donít go crazy and turn down a trade of Tony Pollard for your Tyler Allgeier because Allgeier was better in Week 1. Reality check 101.
2) The Dallas defense is THAT good.
OK, the Cowboys are a very good defense, but the Opening Sunday night performance by the New York Giants was embarrassing. The Cowboys defense wonít score 30 fantasy points again. (Or, facing Zach Wilson instead of Aaron Rodgers and then Joshua Dobbs and Arizona in Week 3 they might do it three times in a row to start the season.) Just kidding. I still rank the 49ers defense at the top ahead of Dallas and the Jets.
3) Justin Tucker is the best fantasy kicker in the NFL.
False. Tucker is the best kicker in the NFL and heíd be the guy Iíd want with a Super Bowl or my life on the line, but he hasnít led the league in fantasy. Heís close every year and thatís why he gets picked first. Itís about opportunities since most good kickers hit between 75-80% of their attempts. Find a kicker on a team which moves the ball, but doesnít get into the end zone. It also will help if he kicks indoors or in a warm weather site when the weather turns ugly. Iím looking at you Cameron Dicker (62% rostered) and you Blake Grupe (2%).
4) Aaron Rodgers will be back.
I donít think so. Heís already 40 years old and a complete tear of the Achilles (confirmed Tuesday morning) is hard enough for a young man to recover from much less a 19-year veteran. Also, I donít think Wilson had enough time around him to replace him, unlike Jordan Love who looked on Sunday like he was paying attention for those two years he was behind Rodgers. If you are searching for a Rodgers replacement, do what the Green Bay Packers didÖ get you some Love. Love was efficient in Week 1 producing 25.5 fantasy points on just 27 passes. Heíll throw more when wideout Christian Watson (hamstring) returns to the lineup to go with Romeo Doubs and tight end Luke Musgrave.
5) Mac Jones, who finished second in Week 1 fantasy points at the position (29.3 points), is ready to carry a fantasy team.
No. This is one of those mirages which happens in Week 1. The Eagles stopped the Patriots run game, they were down 16 points early and Bill OíBrien called 54 pass plays. That isnít likely to happen again. In 2022, Jones never threw more than 40 times and over the last two seasons every time Jones has thrown 37 or more times, New England has lost the game. If I know the numbers, you know Bill Belichick knows them too.