As it seemingly does every season, injuries have already played a big role in fantasy wins and losses. Not only to those who rostered the injured players (Dak Prescott, Trey Lance, Elijah Mitchell, D'Andre Swift, David Montgomery, Keenan Allen and Michael Pittman Jr.), but those who had drafted or quickly claimed their backups. It's why late-round drafting can win leagues. And why being on top of injuries during the waiver periods is also a key to winning.

Important note: For those who like to sleep late on the weekend, there is an early morning NFL game from London this week (Minnesota - New Orleans @ 9:30 am EDT).

Truths

"If you would be a real seeker after truth, it is necessary that at least once in your life you doubt, as far as possible, all things." – Rene Descartes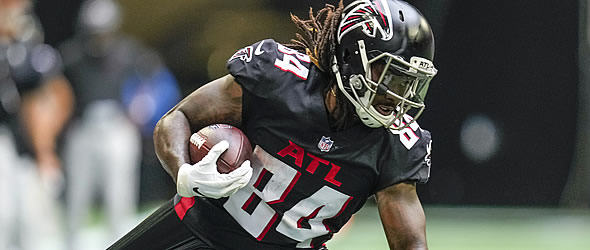 1) Cordarrelle Patterson is once again making those who doubted him pay.
Patterson did a lot of good things last season as a "receiver playing in the backfield", but there were still doubters everywhere this summer. After eight seasons of nothing and one big year, could he do it again? Could he do it even when Falcons' management drafted a young running back (Tyler Allgeier)? Would the team need him more as a receiver without Calvin Ridley (suspended) and Russell Gage (in Tampa Bay)? Yes, yes, yes. Patterson is ninth in rushing attempts, but third in rushing yards and he's ranked seventh at the position averaging 16.3 FPts/G.
2) Jalen Hurts' 1,076 yards from scrimmage would rank 11th in the NFL as a team.
This is a fact. It puts Hurts (32.1 FPts/G) ahead of the likes of the Justin Herbert and the Chargers, Tua Tagovailoa and the Dolphins and Aaron Rodgers and the Packers in yards. It's amazing what a quarterback can do with a great OL and very good receivers. It's no longer just Hurts' legs. He now trusts his receivers. He no longer waits until they are open, his throws are on time. A.J. Brown is a great 50-50 ball, big-body receiver, which they didn't have last season. DeVonta Smith is perfect as the No.2 guy with a great catch radius and tight end Dallas Goedert is always open as a safety valve. I'm buying. (p.s. – Josh Allen has more yards [1,127 yards], but his talent has never been questioned)
3) Two quarterbacks in the top-20 (averaging 17.5 FPts/G or more) have thrown more INTs than TDs.
True. Those two are Mac Jones and Matthew Stafford. I have never been a Jones believer and I'm now having doubts about last year's Super Bowl champion quarterback. Stafford is ranked 18th among quarterbacks after finishing fifth last season. Stafford was horrible against the Bills in the season opener and last weekend produced just 12.7 fantasy points in Arizona. More concerning is the fact he threw just 25 passes last weekend and 36 the previous week. Is his elbow still an issue? Is McVay intentionally limiting his passing through conservative play-calling? Stafford's failures haven't hurt Cooper Kupp (27.3 FPts/G), but no other wideout has more than 13 targets. Tight end Tyler Higbee is second on the team in targets (24). Other questions here; Is Allen Robinson washed up? Do they miss Odell Beckham Jr., Robert Woods and Van Jefferson that much?
4) Despite protestations from the coach, the Kenny Pickett "era" will be starting soon.
I have to believe this is true. I've seen nothing in the first three games which tells me Mitchell Trubisky learned enough backing up Josh Allen last season to make him an NFL-worthy starter. His team has scored just 54 points in three games (18 PPG) and the defense scored six of those. My educated guess is that head coach Mike Tomlin waits until after the bye when the schedule becomes easier to help aid his rookie quarterback's confidence. Before the bye, the Steelers face; the Jets, Buffalo, Tampa Bay, Miami and Philadelphia. That's four tough defenses (sorry Jets, I didn't include you here). The Steelers have enough receiving talent that Pickett might be an interesting stash.
5) All those, including me, who thought James Robinson's Achilles injury would preclude him from being good again, were very wrong.
Fact. The history of backs returning from this particular injury is historically bad, but Robinson is proving to be the exception. He's currently ranked third in the league, averaging 18.8 FPts/G and making the higher-drafted Travis Etienne into a third-down receiving back (9.1 FPts/G). Robinson has scored in all three games and his touches per game have increased from 12 opening day, to 25 and 20 the last two games.

Lies

"Getting out of bed in the morning is an act of false confidence." – Jules Feiffer
1) Jets tight end Tyler Conklin, currently ranking third at the position and averaging 12.6 FPts/G, is a top tight end.
In my mind - no. The remainder of the top-five, Mark Andrews, Travis Kelce, Zach Ertz and Darren Waller have been elite fantasy tight ends before this season, but Conklin is the unexpected name. It's hard to imaging he can keep up this pace given that heading into this season he'd produced just six double-digits fantasy-point games out of 24. There's also the unknown of the upcoming switch from veteran quarterback Joe Flacco to Zach Wilson. Wilson and Conklin have never played a game together. If anyone is interested in trading for him, it's the perfect time to "sell high."
2) Preseason experts predicting the breakout of Broncos tight end Albert Okwuegbunam were mistaken.
I was never a huge proponent… mainly because I couldn't spell his name and still can't (I have to look it up each time). The Denver offense is struggling, Russell Wilson is struggling and there are better receivers in line for Wilson's limited targets than "Albert O." After six targets in the season opener, he's seen just four total in the last two games and caught one ball for 12 yards. The hope that Albert O would be Wilson's "safety valve" is done as that job has primarily gone to running backs Javonte Williams and Melvin Gordon. Nothing personal with Okwuegbunam, I was a big fan of T.J. Houshmandzadeh (and no, I still don't need to look up the spelling) when he was with the Bengals.
3) I've heard a few complaints concerning Vikings' wide receiver Justin Jefferson after a second consecutive weak outing (10.8 fantasy points in Week 2 and 4.4 points last week).
If anyone in your league has made these sounds, quickly make him an offer for the elite Minnesota receiver. I have no doubt he will bounce back and any chance to "buy low" on top-notch talent is a must whether he has scored just 15.2 fantasy points in the last two games or not. Twice in his rookie season he produced back-to-back single-digit games (Weeks 1/2 and 8/9) and still went on to post 1,400 yards, seven touchdowns and 270.2 fantasy points. Jefferson only had one such game last season and 331 fantasy points.
4) Jets rookie wideout Garrett Wilson is a "must get" even if you have to slightly overpay.
Wilson currently ranks 14th among all wide receivers, but the answer is no, don't overpay just yet. Here's the issue – he's done all his work as Flacco's favorite target. But Flacco isn't the Jets future. That's Zach Wilson and we won't know the "pecking order" for the three primary Jets wideouts (Wilson, Elijah Moore and Corey Davis) until quarterback Wilson is back in the lineup. So, while the rookie leads the team in targets (32) that might change soon. Moore led the Jets in targets last season (77) and touchdown catches (5) with Zach Wilson under center for most of the season.
5) Colts running back Jonathan Taylor is off to a bad start.
Not really. He's actually ranked fourth in rushing yards (286) behind Nick Chubb, Saquon Barkley and Patterson. What he isn't doing is getting into the end zone and that's a product of the, so far, inept Indianapolis offense. In 2021, Taylor led the league by a large margin in both yardage (1,811) and rushing touchdowns (18). He's scored just once this season. Taylor has just four rushing attempts from inside the 10-yard line in three games. Last season he had 41 attempts from this range and scored 13 times. To date, this is a Matt Ryan and Frank Reich issue. They need to get this offense running at a higher level for Taylor to get the same opportunities as last season.
Bonus quote - "Think fast, run fast." – Chad Powers