It was just 2018 when I wrote a piece called "One man's opinion from here in Wentzylvania." How quickly things have changed since then. They were coming off a Super Bowl win over the New England Patriots. They had done everything right. Every coaching decision Doug Pederson made worked out as if magic.

I watched a parade in my home town!

Just three years later …

The head coach is gone. The star quarterback has been banished to Indiana. The offensive line hasn't been the same since - suffering injury after injury. Wide receivers Alshon Jeffery and Nelson Agholor are gone. Tight end Zach Ertz is likely being pushed out the door.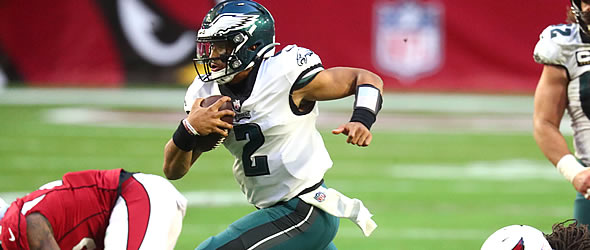 So what are we to make of this 2021 Eagles offense and Jalen Hurts in particular? How should we evaluate Hurts' fantasy value?
The new coach, Nick Sirianni, and offensive coordinator, Shane Steichen are unknowns. It's Sirianni's first head coaching job and the second full season as an OC for Steichen. Hurts, the "anointed" starting quarterback has all of four starts on his resume (with a 1-3 record). The starting wide receivers are untested (2021 first-round pick and Heisman Trophy winner Devonta Smith) and "failed-in-his-first-year test" (2020 first-round pick) Jalen Reagor. The tight end position should still be solid whether the starter is Ertz or Dallas Goedert. Miles Sanders will lead the running back room, but he couldn't catch a cold much less a swing pass last season (53.9 catch %, 28-of-52) when the league average is about 76%.
A lot will depend on the offensive line. Eagles quarterbacks were sacked a league-worst 65 times in 2020. Some of that was Carson Wentz holding the ball too long. But the OL was devastated by injury again last season. The right side of Brandon Brooks and Lane Johnson, who have combined for six Pro Bowls, was mostly MIA. Brooks was out for the season before it started and Johnson hobbled through seven games and just 404 snaps. They are back and healthy … for now. Add in Jason Kelce at center and that's a solid start to protecting a young quarterback and the same trio from the 2017 Super Bowl season. Andre Dillard, Isaac Seumalo and Jordan Mailata will man the left side. The OL should be improved and PFF ranks them 17th a slight improvement from 2020 when they were 19th. But they also added: "if their veterans stay healthy and avoid declines, this has the potential to be one of the best offensive lines in the league once again."
That would be a great sign for Hurts, who was sacked 10 times in 15 quarters as a starter.
But what of the guys who have to catch the ball to make Hurts a viable fantasy starter? Can Smith dominate at the next level as he did in the SEC? Can Reagor make a jump from disappointing? Will Travis Fulgham or Greg Ward become a quality No.3 guy?

This is where it gets tricky. The short answers are probably, doubtful and maybe. Smith produced gigantic numbers in the SEC (117-1856-23) and while he may start slowly, he's the team's best chance to produce a 1,000-yard season. Reagor, the surprise pick in 2020 when most fans and experts expected the team to choose Justin Jefferson (who turned in a Pro Bowl performance), produced third-round rookie numbers last season (31-396-1 on 54 targets). The jury is still out whether he can take a step forward. Fulgham and Ward have shown flashes must neither has proven that they can do it for 17 games.
The final support group for Hurts is the backfield. If the line is healthy, there should be holes to run through and yardage to be made. Pederson much too frequently abandoned the running game the past few seasons. If Sanders and newly-signed Kerryon Johnson or Boston Scott can gain consistent yards, then Hurts won't be in second-and long quite so often. Johnson caught 73% of his passes from Matthew Stafford, and rookie Kenneth Gainwell caught 51 balls last season at Memphis, so Hurts may be able to earn easy fantasy points by throwing short passes and letting his backs do the work.
Finally, there is Hurts himself. Can he improve on a horrible 52% completion rate which ranked last among any quarterback who made at least one start in 2020? Will his ability to run the football overcome his shortcomings as a passer?
We have always known Hurts can run the ball. He rushed for 3274 yards and 43 touchdowns in college. That's not in question here. He WILL rack up fantasy points on the ground. Not Lamar Jackson 1,000-yard points or Cam Newton 12 TD runs points, but he should end up with around 700 yards and half-a-dozen scores.
How he throws will determine whether he is starter-worthy (Top-12), backup-worthy (12-24) or "other." He could be any of the three.
Hurts was never a 53% passer in college. He averaged 62.9% at Alabama and 69.7% in his senior year at Oklahoma in a Lincoln Riley offense. In the same offense that Baker Mayfield and Kyler Murray also completed around 70%. Some of his 2020 troubles can be blamed on poor line play (a.k.a. running for his life) and some on the mediocre wide receiver room. So has the line improved enough and is the receiver room ready to step up to the plate?
If everything goes perfectly, Hurts can be a top-12 quarterback. That's his ceiling – No.12. But that means the line stays healthy, Smith is for real and Reagor plays up to his original draft position. If the line continues its injury story or either wide receiver doesn't produce, then at best Hurts is a backup fantasy option, to be used when the starter has a bad matchup or is on a bye week. If both the OL and the receivers aren't any better than 2020, then it's not going to be good for Hurts and his fantasy owners.
For a reference as to where I expect Hurts' production will ultimately end up, I would suggest you look at Cam Newton's 2017 season. Cam threw for 3302 yards with 22 touchdowns and 16 interceptions. He also rushed for 754 yards and six scores. That was worth 22.8 FPts/G. Also, Josh Allen's second season, before Stefon Diggs arrived and made him a passing star. He threw for 3,089 yards with 20 TDs and nine interceptions and rushed for 510 yards and nine scores worth 21.2 FPts/G. The four comparable years below averaged 20.75 FPts/G. In 2020, that production level would earn him a tie for 21st-best quarterback with a ceiling of 12th (Newton in 2017) and a floor of 30th (Garrard in 2009).
That's a wide range of possibilities, but one that befits a situation with so many question marks.
Jalen Hurts Comparables
Player
Year
Comp
Att
Comp %
Yds
TDs
INTs
Ru
Ru Yds
TDs
FPts/G
Cam Newton
2017
291
492
59.1
3302
22
16
139
754
6
22.8
Josh Allen
2019
271
461
58.8
3089
20
9
109
510
9
21.2
Tyrod Taylor
2016
270
437
61.8
3023
17
6
95
580
6
20.9
David Garrard
2009
314
516
60.8
3597
15
10
77
323
3
18.1