I love Eagles quarterback Carson Wentz. He helped lead my hometown team to the No. 1 seed in the NFC last season and set them up for a successful playoff run which ended in their first-ever Super Bowl win.

Wentz ranked third among quarterbacks last season, averaging 25.1 FPts/G, and is the very definition of a franchise quarterback. He plays at an elite level, he raises the level of those around him … and he won't be Philadelphia's starting quarterback when the Eagles open the 2018-19 NFL season on Thursday night September 6.

"I'm very confident. My goal is to be ready Week 1," Wentz said back in May. "I like where we're at right now," Wentz said last Thursday. "We have a good plan." As the Wizard of Oz more than once loudly proclaimed, "Pay no attention to the man behind the curtain."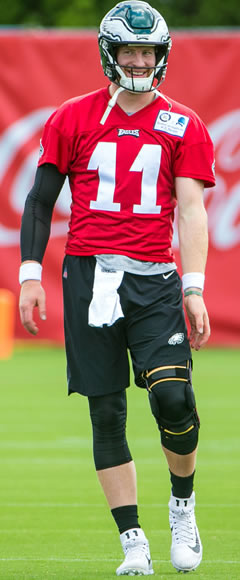 Super Bowl MVP Nick Foles will start the Eagles' defense of their title.
Here's what I "know" from watching and listening every day.
Wentz is eight months removed from ACL and LCL surgery. Expected recovery time is 9-12 months, says noted expert Dr. James Andrews and Dr. James P. Bradley, who performed the surgery.
Wentz has played in 7-on-7 practices, and been very limited action in 11-on-11 contact drills this preseason. He isn't likely to play in any live action in the near future since he still has yet to be cleared for contact by the doctors. However, he was healthy enough to dance at his wedding in mid-July. OK, not the limbo, he and his new bride danced to Michael Jackson's "Thriller."
Wentz isn't likely to play in any of the four exhibition games. He obviously isn't going to play Thursday (neither is Foles due to muscle spasms in his neck) and without medical clearance to practice as of August 8, it's unlikely we will see him in Week 2 or Week 3 of the preseason. The final week, when all of the first team OL is watching from the sidelines would certainly not be the time to test Wentz's knee. So he will miss the entire preseason.
Eagles coach Doug Pederson said he saw "a little hesitation" in Wentz on Sunday. He's still wearing a knee brace.
Of course playing a lot in the preseason isn't a prerequisite for starting in Week 1 of the regular season. As a rookie in 2016, Wentz threw just 24 passes in one contest (cracked ribs kept him out of the final three preseason games) before being named Week 1 starter. (Expected starter Sam Bradford was traded to Minnesota on September 3, 2016, just eight days before the start of the season.)
So what does all this mean for fantasy owners getting ready to draft their teams over the next few weeks?
Well, in my mind, you can't expect Wentz to play more than 13 games. If Foles plays in Week 1 as I expect, he's also likely to play in Week 2 as the Eagles should certainly be able to beat a Tampa Bay team without starting QB Jameis Winston (suspended). In Week 3 they play the Colts and unless Marlon Mack has become Eric Dickerson over the summer, the Eagles should be able to stop Andrew Luck and win that one too, while continuing to sit their franchise quarterback.
I expect Wentz to start against the Tennessee Titans in Nashville on September 30. That will be 291 days or nine months and 17 days or about 25,142,400 seconds since his surgery.
What can you expect from Wentz over those 13 remaining games? Can he play at last season's MVP-worthy level (265-of-440 for 3,296 yards, 33 TDs, 7 INTs)? Well, he's likely to be rusty at the start. He's likely to avoid contact a little earlier than usual. He might throw a few more balls away than last season, instead of running around like Russell Wilson waiting for a receiver to break open. He might take the shorter passing option to a back or tight end Zach Ertz.
So let's put his production at 255-of-450 for 3,150 yards, 27 TDs, 10 INTs. About 22.3 FPts/G. That would have ranked him eighth last season. Not bad, but you will still need a quarterback to play in Weeks 1-3 and Week 9 when the Eagles are one of six teams on bye.
Here are the options to handcuff with Wentz, assuming that each owner in your 12-team league has already chosen their starting QB before you look for a backup:
Finding a QB to Pair with Wentz
Quarterback
ADP
Wk 1
Wk 2
Wk 3
Wk 9
Matt Ryan
109.4
at PHI
CAR
NO
at WAS
Joe Flacco
167.0+
BUF
at CIN
DEN
PIT
AJ McCarron/Allen
167.0+
at BAL
LAC
at MIN
CHI
Mitch Trubisky
164.4
at GB
SEA
at ARI
at BUF
Tyrod Taylor/Mayfield
167.0+
PIT
at NO
NYJ
KC
Dak Prescott
154.9
at CAR
NYG
at SEA
TEN
Case Keenum
163.1
SEA
OAK
at BAL
HOU
Pat Mahomes
126.8
at LAC
at PIT
SF
at CLE
Jared Goff
124.9
at OAK
ARI
LAC
at NO
Philip Rivers
111.7
KC
at BUF
at LAR
at SEA
Ryan Tannehill
167.0+
TEN
at NYJ
OAK
NYJ
Josh McCown/Darnold
167.0+
at DET
MIA
at CLE
at MIA
Derek Carr
141.2
LAR
at DEN
at MIA
at SF
Ben Roethlisberger
119.3
at CLE
KC
at TB
at BAL
Fitzpatrick/Winston
167.0+
at NO
PHI
PIT
at CAR
Marcus Mariota
132.0
at MIA
HOU
at JAX
at DAL
Alex Smith
136.8
at ARI
IND
GB
ATL

Based on these options, I'd be most likely to handcuff Alex Smith or Dak Prescott.

If you still believe in Tannehill (I don't), his schedule is the easiest. However, based on his past performance, injury history and the loss of Jarvis Landry, I can't go there.

No, I didn't include Roethlisberger as an option as three of the four games are on the road and we know how he struggles without "home cookin'. Last season he averaged 316.6 passing ypg at home and 254.4 on the road. Sixteen touchdown passes at home, a dozen on the road.

Smith (23.2 FPts/G last season in KC) has an easy schedule, facing Arizona (24th in QB FPts/G allowed last season), Indianapolis (22nd), Green Bay (29th) and Atlanta (18th). Three of the games are at home and Washington's receiving corps should be better than it was last season.

Because I think the Seattle pass defense will be a shell of last season when they ranked sixth-best (no Michael Bennett, Kam Chancellor, Richard Sherman or Earl Thomas), Prescott's schedule becomes viable. Carolina was ranked 13th, the Giants 32nd, Seattle and then Tennessee (21st) in Week 9. Prescott averaged 20.4 FPts/G last season despite the drop in wins.

---
Steve Schwarz served as the fantasy sports editor of The Sports Network and is the 2014 FSWA Football Writer of the Year.