"There are three kinds of lies; lies, damned lies, and statistics," said British Prime Minister Benjamin Disreali. What does a 19th century politician know about fantasy football? Nothing, but his statement still holds true. Statistics can be your friend … but not always.

Going into your 2019 fantasy draft with pages of statistics from last season could be a recipe for disaster.

Why?

Because there are a lot of players, who suffered through injuries or bad line play or bad play-calling, and posted poor numbers. If you forget about situations and go strictly by the numbers, you will miss out on a solid group of bargains.

Below is a list of 10 players who should produce significantly better than last season, yet might not be on your mind or that of the other fantasy owners.
Quarterbacks
1. Jameis Winston, Tampa Bay - This one is pretty simple. Winston split starting time with Ryan Fitzpatrick and both produced solid numbers when given the chance. In the eight complete games Winston played (games No.6, 7 and 12-17), he produced 26.1 FPts/G. That would rank him fourth among all quarterbacks. He'll need to cut down on turnovers to be elite, but he certainly has the pass-catching weapons (even with the loss of DeSean Jackson) in Mike Evans, Chris Godwin and O.J. Howard. Frequently being behind by 21 points, or more, helps fantasy owners, but being one-dimensional does lead to the turnover issue. Head coach Bruce Arians has been successful with Andrew Luck and Carson Palmer using an aggressive style which should work here too.
2. Carson Wentz, Philadelphia - Wentz hasn't been fully healthy since blowing out his knee in Week 14 of 2017 against the Los Angeles Rams. That will be two years this December. He's looking completely healthy in OTAs with no restrictions or braces due to the knee or back issues. Howie Roseman has loaded the offense for his franchise quarterback with DeSean Jackson, Jordan Howard, rookie running back Miles Sanders and strengthened the offensive line with a first-rounder Andre Dillard. The last time a healthy Wentz was on the field, with less talent on the offense than this, he produced 3,296 yards and 33 touchdowns in 13 games (seven interceptions). He should not be the ninth quarterback off the board as is currently the case.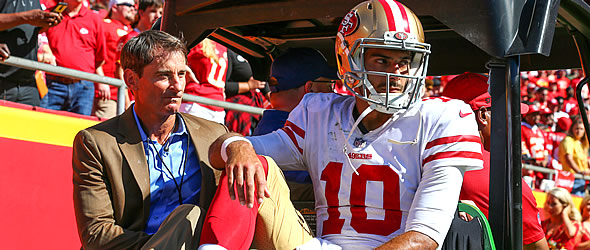 3. Jimmy Garoppolo, San Francisco - If you print out the top-39 quarterbacks from last season, Garoppolo won't be on the list as he scored less points than Jeff Driskel and Josh Johnson. Garoppolo was injured early in the 2018 season and should be ready to go for Opening Day. He's still got a "top-three" tight end (George Kittle) and a young group of wideouts (Marquise Goodwin, Dante Pettis along with rookie Deebo Samuel, but what could make the difference is three running backs who all have good hands coming out of the backfield (Tevin Coleman, Jerick McKinnon and Matt Breida). Screens and swing passes will be Jimmy's friend. He's also got a favorable schedule, playing the entire NFC South where four of the worst pass defenses reside (2018 QB fantasy points allowed; Atlanta 32nd, New Orleans 30th, Tampa Bay 28th and Carolina 23rd) and the Bengals (31st).
Running Back
4. Marlon Mack, Indianapolis - Mack finished 20th among running backs last season, but a closer look reveals he crushed it late in the season and into the playoffs. Here's another fun fact; The Colts won every game in which Mack scored a touchdown. While Indy added journeyman Spencer Ware in the offseason, it's Mack who should see a majority of the rushing attempts with Nyheim Hines as the primary backup and receiver. Luck threw the ball 639 times last season, a personal record, and a number not conducive with keeping a quarterback healthy for 16 games. Mack's workload figures to increase by at least 20-percent which should get him near the top-10 at his position.
5. Aaron Jones, Green Bay - GM Brian Gutekunst challenged Jones to improve his conditioning after last season and apparently it worked as Jones has come to camp in great shape (5.3-percent body fat). If he stays healthy, the Packers backfield will no longer be an RBBC because Jones is easily the most talented back on the roster. This is a man with a career 5.5 ypc and 13 touchdowns in 24 games. He was just 35th in rushing attempts (133), averaging 11.1 per game. Expect the plodding Jamaal Williams to see a reduced workload and Jones to reap the benefits. If he sees an increase to 14 attempts per game over 16 games that would be 224 carries x 5.5 ypc or 1,232 yards. That's a huge number, but possible.
6. Leonard Fournette, Jacksonville - It wasn't ALL Fournette's fault that he disappointed fantasy owners. With no passing game to speak of, Fournette saw loaded boxes. In fact, according to Sports Info Solutions, 79.7-percent of the time the Jaguars' primary back saw at least seven defenders in the box and 36.8-percent of the time there were eight or more staring him down. The addition of Nick Foles (and OC John DeFilippo) should help loosen up the defense. "He's going to be a major reason where our offense goes," said DeFilippo a few weeks ago. Yes, he's an injury risk having played 21 of 32 games over the first two season, but the upside is worth the risk.
Wide Receiver
7. Cooper Kupp, L.A. Rams – Kupp was on his was to a 1,100-yard, 12-touchdown season before going down to injury and missing most of the second-half of the season and all of the playoffs. He isn't Jared Goff's speedy deep threat, but he is so important that without him Goff's production drastically dropped. With Kupp on the field Goff completed 71-percent of his passes and owned a 115 QB-rating. Without him, Goff produced a 60-percent completion rate and 89 rating. Kupp's injury was late in the season, so he might not be ready for Week 1, but he should certainly be back for most of the season and the fantasy playoffs and should come at a reasonable price because of the risk that he won't be ready right out of the box.
8. Will Fuller, Houston – The "other" wideout for the Texans, opposite DeAndre Hopkins, Fuller has been very productive when on the field with Deshaun Watson, it's just he hasn't been out there often enough. Fuller played in parts of seven games last season (just 375 snaps) yet posted 32 catches for 503 yards and four touchdowns. And he's only been on the field for 17 of the last 32 games since 2017. But when he's out there, he's beating single coverage while the rest of the defense worries about Hopkins. That trend will continue if he can just avoid the injury bug.
Tight End
9. O.J. Howard, Tampa Bay – Rob Gronkowski is gone and if you don't get Travis Kelce or George Kittle or Zach Ertz, what's a fantasy owner to do? Not to worry. Howard is ready to step up to the big time. He was already starting to show us what he could do last season until injury struck (foot and ankle issues sent him to the IR after Week 11). His quarterback, Winston, called Howard "incredible" while predicting he'd make his first Pro Bowl in 2019. It's always good when your quarterback has that kind of confidence. Evans and Godwin should occupy the outside leaving the middle of the field for Howard to operate. Howard should join the elite TE status this season after finishing 10th last year.
10. Evan Engram, New York Giants – Who will pick up the slack with Odell Beckham Jr. traded to Cleveland? One of the guys will surely be Engram. Engram's catches and yardage increased over 20-percent from his rookie season despite playing in just 11 games. Now there are 124 more targets available to be distributed between Engram, Sterling Shepard and newcomer Golden Tate.

2018 QB Stats
Player
G
Comp
Att
Yds
TDs
INTs
FPts/G
FPts
Pos Rk
Jameis Winston
11
244
378
2992
19
14
23.6
259.9
21
Carson Wentz
11
279
401
3074
21
7
22.5
247
23
Jimmy Garoppolo
3
53
89
718
5
3
19.7
59.2
40
2018 RB Stats
Player
G
Ru Att
Ru Yds
TDs
Rec
Rec Yds
FPts/G
FPts
Pos Rk
Marlon Mack
12
195
908
10
17
103
13.4
161.1
20
Aaron Jones
12
133
729
9
26
206
12.3
147.5
23
Leonard Fournette
8
133
439
6
22
185
12.3
98.4
38
2018 WR Stats
Player
G
Targets
Rec
Yds
TDs
FPts/G
FPts
Pos Rk
Cooper Kupp
8
56
40
566
6
11.9
95.1
46
Wil Fuller
7
45
32
503
4
10.6
74.3
64
2018 WR Stats
Player
G
Targets
Rec
Yds
TDs
FPts/G
FPts
Pos Rk
O.J. Howard
10
48
34
565
5
8.7
86.5
10
Evan Engram
11
64
45
577
3
7.2
79.3
13