Post-Week 1 fantasy columns typically attempt to do the near impossible: draw solid long-term conclusions from a one-game sample. That is not what we are going to do here today.

To be the best fantasy analyst I can be (and help make my teams as competitive as possible, of course), I have arranged my schedule this year with the expectation that I will watch all 272 regular-season games (the 40-minute condensed versions on NFL+). Box scores power this hobby of ours, but they are extremely limited in telling the story we need to know as fantasy managers. Advanced analytics help fill in the gaps, but nothing replaces the lessons that can be learned and information that can be gathered by actually watching all of the games.

Below are seven of the observations that stuck out to me the most as I watched every Week 1 contest. Enjoy.
Anthony Richardson will not last the season if he continues to take punishment at the rate he did in Week 1.
Richardson was more poised as a passer in his NFL debut than anyone could have expected for a quarterback who only made 13 starts in college. While the Week 1 game plan called for him to throw short, he generally made quick and smart decisions with the ball. (None of his 37 throws traveled 20 yards downfield and 67.6 percent of his pass attempts either were thrown behind the line of scrimmage or traveled less than 10 yards.)
With that said - and this can usually be said about any quarterback who relies heavily on their legs - Richardson cannot continue taking the abuse on his rushing attempts that he absorbed in Week 1. Even if he is the most impressive athlete to play the position in the history of the league and built like a tank (6-4, 245), he has to do a better job of protecting himself when he runs. (Trevor Lawrence told him as much after the game.) He missed the final few plays against the Jaguars with minor knee and ankle injuries, which is something that will likely happen again soon if neither he nor HC Shane Steichen cannot figure out a way to have him avoid contact in the middle of the field more often.


Brandon Aiyuk is poised to join the fantasy WR1 ranks.
Let us begin by looking at what Aiyuk has done in games Brock Purdy has started and finished:
2022 Week 14: 2-57-1 (three targets)
2022 Week 15: 2-19-0 (four targets)
2022 Week 16: 5-81-0 (seven targets)
2022 Week 17: 9-101-1 (12 targets); one carry for 16 yards
2022 Week 18: 4-59-0 (five targets)
2022 Wild Card: 3-73-0 (five targets)
2022 Divisional Round: 2-26-0 (four targets)
2023 Week 1: 8-126-2 (eight targets)
Since Christian McCaffrey joined the 49ers a few days before the start of Week 7 last season, San Francisco has made a habit of blowing out its opponents (the team's average margin of victory in regular season games since CMC had his first full week of practice with the team in Week 8 is 16.7 points). The reason this is noteworthy is that the 49ers do not tend to have many high-volume passing games because they are always leading in the fourth quarter. For some perspective on that, Purdy has attempted more than 30 throws twice in the eight games he has started and finished.
Every receiver needs some volume (refer to his game-by-game breakdown above), but Aiyuk fortunately does not always require a lot of opportunities to do a lot of damage. Week 1 was a showcase for just about everything he does well: his route-running and quickness froze Patrick Peterson on his first touchdown. His ball skills, body control and athleticism were on display for his second touchdown (again, against Peterson). Aiyuk is also known as one of the best blocking receivers in the game, which he showed off on McCaffrey's 65-yard touchdown run early in the third quarter.
Aiyuk has done virtually everything in his power to ensure he remains on the field in every situation, which is a great thing when he has to share limited opportunities with the likes of McCaffrey, Deebo Samuel and George Kittle. Not every game will be as easy for him as Week 1, but Aiyuk probably will not see anyone better than Peterson in coverage over the next three games (@LAR, NYG, ARI). One gets the sense that Aiyuk is about to make a serious contract-year push and will leave little doubt about who the best receiver in San Francisco is once the season is over.
Calvin Ridley is the real deal (again) and his presence may end up having a larger impact on Christian Kirk than we thought.
By the end of Jacksonville's second drive of the game, Ridley had already proved all he needed to: he was as good (and quick) as ever. Ridley was targeted on five of Trevor Lawrence's first eight pass attempts and walked into halftime with seven catches for 92 yards and a score. While Indianapolis took steps to make him less of a factor in the second half (usually dropping a linebacker in coverage on Ridley's side of the field to discourage throws underneath), the damage had already been done. I noted in a late preseason interview that I thought Lawrence would take Ridley to the next level and that Ridley would take Lawrence to the next level. That appeared to be very much the case in Week 1. Ridley appears well on his way to finishing as a top-10 fantasy receiver this season - if not top-five.
It was widely assumed that Zay Jones would take the hit statistically due to Ridley's arrival, but Week 1 saw Kirk run 11 fewer routes (33-23) and play 20 fewer snaps (62-42) than Jones. On the plus side, Kirk operated almost exclusively out of the slot (21 out of his 23 routes). On the negative side, only 12 of Lawrence's 32 pass attempts were thrown in between the numbers (one of which went to Kirk). It remains to be seen if Jacksonville was simply trying to avoid the Colts' lone experienced cornerback (slot CB Kenny Moore), but the snap and route information from Week 1 suggests Kirk has no chance to repeat his WR12 finish from a season ago.
Geno Smith deserves very little blame for Seattle's Week 1 struggles.
What was supposed to be a stingy Seattle pass defense this year folded up like a lawn chair in the second half against the Rams, allowing Matthew Stafford to throw for 200 yards after the break - most of which went to Tutu Atwell (100 yards) and rookie Puka Nacua (48). Perhaps the pass rush deserves more scrutiny? Behind what figures to be one of the worst offensive lines in the league again this year, Stafford did not take a sack and was only pressured on nine of his 38 drop-backs (23.7 percent). Over his first two seasons with the Rams, Stafford was pressured on 27.9 percent of his drop-backs, including 31.7 percent last year.
Smith will likely receive some - if not most - of the blame for the Seahawks coming up short. Does he deserve the blame for running only 15 offensive plays in the second half? Perhaps a bit, but what exactly did he do wrong? He did not turn the ball over and only took two sacks on consecutive plays at the end of the game. He was also a questionable non-call away from a bigger day. Not only that, but the entire offense went into the tank about the same time LT Charles Cross (toe) and RT Abraham Lucas (knee) left the game due to injuries.
Could Smith stand to be more aggressive at times and trust DK Metcalf and Tyler Lockett more often even when the safeties take away the deep ball as they did in Week 1? Sure. Are forced downfield shots the best way to generate offense? Usually not. Week 1 was exactly the kind of game for which Jaxon Smith-Njigba was drafted, which was to make the defenses pay underneath if they play too soft. Smith's lack of production in Week 1 is disappointing, but things should take a turn for the better with games against the Lions, Panthers and Giants over the next three weeks. The challenge now will be rebounding without their starting offensive tackles - Cross and Lucas - who are unlikely to play in Week 2.
No one should be surprised by David Montgomery's Week 1 usage (and they should love him moving forward), but they should also expect Jahmyr Gibbs to become more of a factor as soon as this week.
SI.com's Albert Breer did some interesting research for the comparison many - including the Lions - are using for Gibbs, Alvin Kamara. (It is not a great comp in my opinion, but my opinion does not matter as much as Detroit's.) HC Dan Campbell was in New Orleans as the assistant head coach and tight ends coach during Kamara's first NFL season in 2017 as the former third-round pick authored a NFL Rookie of the Year campaign. Breer notes that Kamara averaged 7.5 rush attempts that season and broke it down by week: 7, 1, 2, 5, 10, 9, 7, 10, 12, 8, 5, 8, 1, 12, 12, 9. Unsurprisingly, Gibbs handled seven carries in the opener.
Meanwhile, Montgomery's draft stock this summer was ridiculously low for what I can only imagine was people telling themselves that he was the same player as Jamaal Williams and that touchdown regression would naturally correct itself. While the last part of that statement might be true to an extent, fantasy managers did not seem to account for the possibility that Detroit might be a better team than last year and play with more positive game scripts. Breer suggests that Montgomery will probably play the same kind of role Mark Ingram (Kamara's teammate from 2017-18 and again in 2022) had on that 2017 team while Gibbs grows into his Kamara-like role naturally. For those wondering, Ingram handled 288 touches (58 catches) in 2017. Montgomery's carry totals that season are as follows: 6, 8, 14, 14, 25, 22, 18, 16, 21, 11, 11, 14, 12, 12, 13, 13.
Kamara finished as the RB3 that season and Ingram as the RB6. The 2017 Saints backfield as a whole - including a bit of help from Adrian Peterson, Trey Edmunds, John Kuhn and Zach Line - amassed 538 touches for 3,265 yards and 27 total touchdowns. The Lions are coming off a season in which their running backs handled 509 touches for 2,568 yards and 27 touchdowns and that was with a pair of running backs they moved on from this offseason.
There are not many paths that exist - other than maybe Gibbs taking over goal line duties - in which Montgomery does not see a lot of work or is not in a position to score a lot of fantasy points. Detroit does not want to ask Jared Goff to carry the offense. Montgomery is trusted in pass protection, which should eventually open the door for more work in the passing game than he saw in Week 1. Even if Jameson Williams' return opens up the passing game, it should mean more goal-line work for Monty. Most have already forgotten that Campbell's 3-13-1 team in 2021 also had a backfield account for 505 touches. Long story short: there is room for both backs to eat and eat well. The point to be made here is that we have seen this scenario play out four times in the last six years (2017, 2018, 2021, 2022) with Campbell serving as a major part of the offensive game plan, including both of his seasons as Detroit's head coach. Each of those times, running backs were utilized A LOT.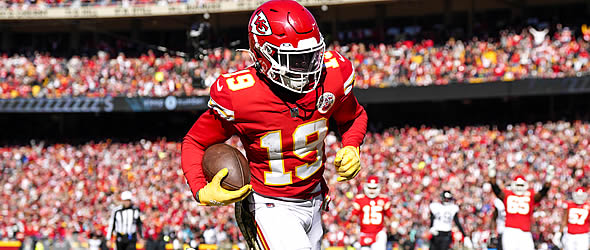 The Chiefs do not seem to be sweating Kadarius Toney and neither should you.
Bring on the haters. Of course Kansas City is going to support the receiver publicly that it traded for last season and anointed as its top option early in the offseason. The problem here is public perception; Toney has repeatedly drawn the ire of fantasy managers for getting hurt and missing time, which understandably tends to rub managers the wrong way. Then, in a huge spot and in a situation where the Chiefs needed him to step up with Travis Kelce sidelined in Week 1, he dropped three of his five targets - including one that was intercepted and returned for a touchdown.
Toney is not without his faults; no one is questioning that. The first step is taking accountability, which he did Wednesday (Sept. 13). The problem with the Toney hate is that he probably did not do himself any favors by playing in Week 1 after missing all of training camp and logging his first full practice on the day before the first game. Blame him for wanting to play or blame the coaches for letting him play when he probably was not ready, but do not question the talent. Toney does something good at such a ridiculously high rate that makes it almost impossible to part ways with him in fantasy: he draws targets like an alpha receiver. Despite being riddled with injuries throughout his two-plus year NFL career, Toney has been targeted on 27.7 percent of the routes he has run. To put that number into some perspective, Las Vegas quarterbacks threw in Davante Adams' direction on 27.1 percent of his routes last year.
Outside the role Toney played in the Super Bowl victory last season, the start of his NFL career is not what anyone envisioned. The debate about which Kansas City receiver is going to emerge from the pack may be meaningless again this year, but perhaps we should take some stock of how the opportunities were distributed in Week 1. Toney stunk up the joint and still finished in a tie with Noah Gray and Rashee Rice for the team lead in targets. That kind of involvement has to be considered at least a small victory and a sign that the Chiefs still view Toney as their top receiver, especially considering how little he and Patrick Mahomes have worked together over the last few months. The ex-Giant will almost certainly find his way onto waivers in many leagues this week. I encourage all of you to pick him up if it happens and keep your expectations at a WR4 level until October. If it still has not happened for him by then (and he remains healthy over that time), then maybe we can close the door on him for 2023.
Zay Flowers has ended Baltimore's wide receiver controversy after one week.
It seems as though the Ravens realized how much they missed what Marquise Brown used to provide this offseason. There is a decent chance Brown would still be in Baltimore right now had the team moved on from then-OC Greg Roman a couple of years ago. One week is only one week (and we need to see a game with Mark Andrews healthy before going too crazy), but the message the Ravens sent to the NFL was still clear: Flowers is going to be a problem for a while.
Let us be clear about something: Andrews will remain the focal point of the passing game for the foreseeable future. What Week 1 told us, however, is that the coaching staff wants to get the ball into Flowers' hands as much as possible. Per Fantasy Points Data, the rookie was the first read for Lamar Jackson on 60 percent of his targets (six of 10). If that does not catch your eye for some reason, Flowers' target share - with Odell Beckham and Rashod Bateman both healthy - was a jaw-dropping 45 percent. While it should be noted that five of Flowers' nine catches came on screen plays, it should not diminish the fact Baltimore schemed up touches for him in his first NFL game. New OC Todd Monken also dialed up a couple of rush attempts for him for good measure.
With J.K. Dobbins (Achilles) out for the year, expect even more emphasis to be placed on the passing game moving forward. Maybe the Ravens find the answer they are looking for by mixing and matching Gus Edwards, Justice Hill and Melvin Gordon, but I tend to believe the right answer to the backfield question will be trying to find the best replacement for what they hoped Dobbins was going to provide. I think that player will be UDFA Keaton Mitchell (shoulder), who is currently on IR. He is the only player of the group who could legitimately match Dobbins' explosiveness. While the 184-pounder certainly lacks the size of his teammates, he might be the best fit for what Monken wants this offense to be moving forward.
How does this tie in with Flowers? Well, a big role for Mitchell should lead to more passing, more plays and more explosiveness in general. It should also lock Flowers into being a de facto part of the running game - be it on a carry or two per game or on quick perimeter screen passes. Even if my vision for this offense does not come to fruition, the Ravens have little choice but to keep feeding Flowers in the open field.
---
Doug Orth has written for FF Today since 2006 and been featured in USA Today's Fantasy Football Preview magazine since 2010. He hosted USA Today's hour-long, pre-kickoff fantasy football internet chat every Sunday in 2012-13 and appears as a guest analyst on a number of national sports radio shows, including Sirius XM's "Fantasy Drive". Doug is also a member of the Fantasy Sports Writers Association.