We have reached the final leg of our journey in the NFL.com Playoff Challenge. The rest of this column will be devoted to DFS advice and a strategic breakdown of Super Bowl LVI.

NFL.com Playoff Challenge Roster
QB: Matthew Stafford
RB: Cam Akers (x2)
RB: Joe Mixon
WR: Cooper Kupp (x4)
WR: Tyler Boyd
TE: Kendall Blanton
K: Evan McPherson
D/ST: Rams
DraftKings
With DraftKings' Showdown all that remains in DFS this week, I want to use the rest of my time to provide my readers with the kind of analysis one should expect in advance of the biggest game of the year. Enjoy. (Each position is sorted by my DraftKings' projected point total.
Key for quarterbacks, running backs, receivers and tight ends:
P Yds - Passing Yards
P TD - Passing Touchdowns
INT - Interceptions
Ru Yds - Rushing Yards
Ru TD - Rushing Touchdowns
Rec Yds - Receiving Yards
Rec TD - Receiving Touchdowns
Rec - Receptions
Quarterbacks
Player
Tm
DK$
P Yds
P TDs
INT
RuAtt
RuYds
Ru TDs
DK
Joe Burrow
CIN
$15,900
333
2
1
3
12
0
21.5
Matthew Stafford
LAR
$16,200
279
2
1
2
6
0
18.8

Bengals: Among quarterbacks who dropped back more than 200 times this season (regular season and playoffs), Burrow ranks first with an 89.6 passer rating when pressured. The 2020 first overall pick has seen that number take a slight hit during the postseason, ranking seventh among quarterbacks with a 77.6 passer rating. (Then again, that can happen when a quarterback sees an average of 15 pressures per game.) When he has had a clean pocket this postseason, Burrow's passer rating is a solid 101.3.

Although it did not show up against Kansas City (one sack) in the same way it did against Tennessee (nine), the offensive line remains an issue for Cincinnati. The Rams have utilized some kind of zone coverage on just under 85 percent of their defensive snaps this season, which typically forces quarterbacks to hold onto the ball a little longer than man coverage does. That figures to be a problem when the Bengals will have little choice but to double-team Aaron Donald and pray their offensive tackles can hold up in one-on-one battles against Leonard Floyd and Von Miller. Data from Football Outsiders reveals that Burrow ranks 12th in the league in expected points added (check out this link for a detailed explanation) against zone coverage and 18th against two-high looks. In other words, making Burrow hold onto the ball a little longer and discouraging him from taking deep shots (which two-high safety looks often do) is critical to containing the Bengals' offense.

Interestingly, the coverage the Rams use the most (Cover 3) is one that Burrow fares well against, in large part because it is a single-high defense that encourages one-on-ones on the outside despite technically being a zone defense. If Los Angeles is stubborn about Cover 3, Burrow could have a field day. More than likely, Rams HC Sean McVay and DC Raheem Morris have already poured over the numbers and understand this will be a game where the Ram's next two most used defenses (Cover 6 and 4) will probably serve the team much better. (Cover 4 is a four-deep zone with three underneath defenders, while Cover 6 is Cover 2 on one side and Cover 4 on the other.) Considering the Rams will have Jalen Ramsey on one side and rely heavily on 5-9 Darious Williams on the other, expect Morris to lean more heavily on Cover 6 and take his chances on Tyler Boyd repeatedly winning his primary individual matchup with Donte Deayon.

Rams: Among quarterbacks who dropped back more than 200 times this season (regular season and playoffs), Stafford ranks fifth with an 80.1 passer rating when pressured. The former Lion has been much better in those situations during the playoffs, however, ranking fourth among postseason quarterbacks with a 109.0 passer rating. He has been exceptional in a clean pocket during the playoffs, posting a 116.5 passer rating (tied for second with Patrick Mahomes). Like Mahomes, however, Stafford has struggled from time to time against three-man rushes. Cincinnati made the bold call to rush three 18 times against the Chiefs in the AFC Championship and was rewarded as Mahomes finished 7-of-14 for 72 yards and was sacked four times on those plays. This was not a new approach for the Bengals, who led the league with three-man rushes on about 20 percent of their third-down defensive plays. Given the Bengals' success in the second half against Kansas City - when they played 14 of their 18 snaps using three-man rushes - expect Cincinnati to dare the Rams to stick to the run and grind out drives.

Per Football Outsiders, Stafford has been the best in the league this season (expected points added) when facing man coverage, a single-high safety look or against the blitz. In other words, Rams' opponents have consistently been burned when trying to change things up defensively, loading up to stop the run or hoping to speed Stafford up. Fortunately for the Bengals, Cincinnati plays zone coverage about two-thirds of the time and has not been afraid to change up its looks, playing at least 100 snaps in Cover 1, 2, 3, 4 and 6. Again per Football Outsiders, Stafford has been the best in the league against Cover 1 (man coverage, single-high safety) and ranks fifth versus Cover 3 (three-deep zone, four underneath defenders). This information should not come as much of a surprise to anyone who has watched Los Angeles play a lot this season, if only because Cooper Kupp is so good after the catch and Odell Beckham Jr. is a ridiculous luxury as a complementary receiver.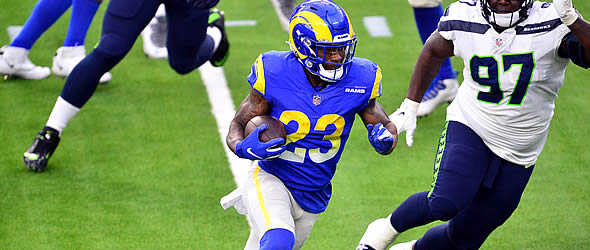 Bengals: Cincinnati started its late-season surge at roughly the same time HC Zac Taylor opted for early-down passes over early-down runs. He ditched that approach in the AFC Championship and it contributed to the Bengals falling behind 21-3. Cincinnati does not have an advantage - certainly not a significant one - anywhere along its offensive line when stacked up against the Rams' defensive line. Taylor may want the Bengals to be a run-oriented offense, but that is not what is going to put his team in the best position to win this weekend. The Chiefs were a middle-of-the-pack rush defense this season and Cincinnati managed to break only one run longer than 11 yards on 27 attempts in the AFC Championship. It was a similar story in the Bengals' earlier playoff wins against the Titans and Raiders. Meanwhile, the Rams' rush defense ranked sixth during the regular season and has yet to yield more than 61 yards on the ground to any team during the postseason. It would be a mistake for the Bengals to believe they can do what the likes of Tampa Bay and San Francisco could not do.

Of course, running backs also have the luxury of doing their damage in the passing game when there is little hope of getting anything done on the ground. Elijah Mitchell and Deebo Samuel combined for seven catches, 112 yards and a touchdown on 10 targets against the Rams in the NFC Championship, while Leonard Fournette caught all nine of his targets for 56 yards in the previous round. Mixon will get his opportunities as a receiver in this one, but it is fair to wonder if he will get as many as he should after the Bengals seemed to lean on Perine more often than Mixon versus Kansas City. Perine has intermittently been Cincinnati's preferred option in the passing game, although it has rarely happened in consecutive contests. It seems improbable that Taylor would not do everything in his power to get Mixon 20 touches if he can, but there is a sliver of a chance Perine could stop that from happening.

Rams: With 97 rushing attempts through three playoff games (including an astonishing 15 by Matthew Stafford), Los Angeles has certainly attempted to establish the run. That commitment to the run has only netted 2.9 YPC, which does not bode well against the team that finished fifth - just ahead of the Rams - in rush defense during the regular season. One saving grace for LA in this game is that the Bengals surrendered 4.3 yards per carry during the regular season and were quite forgiving in that regard against the Chiefs, allowing 139 yards on the ground on 5.8 YPC. Considering the Rams' weapons in the passing game and the likelihood the Bengals will rarely stack the box, McVay could call 30 or more runs. (LA ran 29 times against the 49ers.) We should probably expect to see another equal split between Akers and Michel in this one after McVay admitted to leaning too heavily on Akers in Divisional Round, but there is easily a path toward fantasy relevancy for both backs should the Rams feature the run again.

Potentially complicating matters is the potential return of Darrell Henderson, who is "looking optimistic" for Super Sunday per McVay. Henderson has been sidelined since injuring his knee in Week 16. It is anyone's guess if the Rams will mess with their backfield at this point of the season or look at Henderson as a way to boost their lackluster efficiency on the ground. There is another possibility, however. Akers played fewer snaps than Michel did in the NFC Championship after injuring his shoulder, so it is remotely possible Los Angeles will cycle through all three of its running backs and go with the "hot hand" in this one. Working in Akers' favor - he is the team's best threat out of the backfield in the passing game - is that Cincinnati's opponents completed throws to their running backs 108 times during the regular season (fifth-most in the league). Working against Akers is that no team saw its running backs combine for fewer receptions than LA (53).


Bengals: Jalen Ramsey's usage has been almost too even across the board to be a coincidence (335 snaps on the left perimeter, 350 snaps on the right perimeter and 339 snaps in the slot). His usage inside has decreased dramatically since Week 14, however. Considering how often the Rams utilize zone coverage, there is almost no chance he will shadow anyone for any length of time in this game - if at all. In short, fantasy enthusiasts should not be overly concerned about him locking down Chase or Higgins. The problem is that he will line up against one of them on 80-90 percent of Cincinnati's snaps. Common sense would also dictate that Los Angeles would make slowing down Chase a higher priority than Higgins, so it makes sense that the rookie will need to do most of his work after the catch in the short and intermediate areas of the field. That should especially be the case if the Rams use as much Cover 4 and Cover 6 as their recent history would indicate.

Higgins figures to be the great equalizer anytime Chase lines up opposite Ramsey, although it should be noted that Ramsey is not exactly a lockdown corner and can get beat deep on occasion (DK Metcalf and Mike Evans each had big games against him this season). It is more that attacking the 5-9 Darious Williams is a preferable option, even if it comes with the safety help that Cover 4 and Cover 6 provide when executed correctly. This is a big part of the reason why Cincinnati desperately needs to be able to run the ball with some degree of effectiveness this weekend; forcing the Rams to move a safety in the box would open up one-on-one opportunities for at least one of the two dynamic outside receivers. The inability to do that means the Bengals may have no choice but to lean heavily on Boyd and the running backs to move the chains.

Cincinnati loves to run empty sets as much as any team in the league and Burrow is about as good out of that formation as any quarterback in the league, but there is a reason teams do not rely too heavily on that approach in the NFL: there is no safety net for the quarterback if the line breaks down. The Rams will pressure Burrow a lot even if things go mostly Cincinnati's way on Sunday. If the Bengals had a fourth receiver they trusted more this year, maybe then we could unearth a surprise fantasy star. As it stands, Boyd's primary matchup against the 5-9, 159-pound Dont'e Deayon could very well dictate how successful Cincy will be on offense. Boyd has not been targeted more than six times in any game since Week 13, but the odds are very favorable that streak will end this weekend.

Rams: Any discussion about the Los Angeles receiving corps almost has to begin with Kupp. Let the fact he has accumulated 170 catches for 2,333 yards and 20 touchdowns in 20 games this season wash over you for a minute. Kupp works primarily out of the slot but has proven he can win his individual matchup regardless of whom he lines up against or where he lines up. Per PFF, Cincinnati slot CB Mike Hilton has been the team's second-best corner in coverage this season. That is the good news. The bad news is Hilton ranks 24th among 44 qualifying slot cornerbacks in coverage snaps per reception. Chidobe Awuzie has been the Bengals' top perimeter corner this season by a fair margin, but he has been beaten for a score in each of the team's last two contests. Meanwhile, Eli Apple has started on the opposite side of Awuzie all season long and given up a TD catch in three of his last four. If Kupp somehow disappoints in this game, it likely will not come as a result of running into a Kupp-stopper.

Beckham may not have the same connection with Stafford as Kupp does, but there is no question he has more than adequately filled the void left behind by Robert Woods' midseason knee injury. While he obviously is not seeing the same kind of volume as Kupp, OBJ has taken advantage of just about every opportunity he has been given during the postseason (19 catches on 22 targets for 236 yards and a touchdown). Beckham's 10.8 yards per target in the playoffs is nothing to write home about, but there is a distinct possibility he lines up across from Apple more than any other Rams' receiver. If that happens, the yards per target should skyrocket - as would his potential impact on this game.

Jefferson has somewhat surprisingly logged as many snaps as Beckham on pass plays and ran one more route than OBJ this postseason. The problem for the youngster is that he is running more deep routes than his teammates, making him a far more volatile option. As is the case with most players stuck in the field-stretcher role, they can go long stretches without making much of an impact and then deliver a 100-yard game and a score on three catches. McVay may sacrifice Jefferson to Awuzie as often as possible in order to isolate Kupp on Hilton and OBJ on Apple. However, Jefferson is also good enough to break off a big play against any of the Bengals' corners if the Rams get their running game going and feel confident enough to take a deep shot or two off play-action. That is why I believe Jefferson could have one of his best games of the year on Sunday.


Bengals: Of the starting tight ends in this game with sprained MCLs, Uzomah appears the more likely of the two to play. It remains to be seen how effective he can be less than two weeks after suffering that often takes a month to heal. Sample did next to nothing in relief against KC and has always been more of a blocking tight end than dynamic receiving threat. Taylor expects Uzomah to practice in some capacity on Thursday, and the team is reportedly optimistic he will be a go for the Super Bowl. It is a bit of a shame for the 29-year-old, who started to come on in December and made a significant contribution in each of his team's first two playoff wins. Uzomah is not expected to be close to 100 percent by the weekend, which is just another reason why Boyd could go off. For what it is worth, the Rams gave up 90 catches to tight ends in 2021 but somehow only managed to yield four TD catches to the position.

Rams: Unlike Uzomah, Tyler Higbee does not appear likely to play through his MCL sprain. While Cincinnati has faced an inordinate number of the league's top tight ends over the last two-plus months, the fact remains the Bengals have struggled to defend the position most of the year. Assuming Higbee is unable to play, Stafford has already shown he is willing to trust Blanton. An undrafted free agent in 2019 known more for his blocking at the University of Missouri, Blanton surpassed his career regular-season numbers in the win over San Francisco on Jan. 30, hauling in all five of his targets for 57 yards. It should come as no surprise if Blanton surpasses those totals this weekend and ends up being the one player who has a profound effect on the Super Bowl that is flying mostly under the radar right now.

Key for defense/special teams units:
PA - Points allowed
TO - Total turnovers
TD - Defensive/return touchdowns
PA Bonus - Points allowed bonus for DraftKings
Defense / Special Teams
Team
DK $
PA
Sacks
TO
TD
DK Bonus
DK
Rams
$5,100
$27
5
2
0
0
9.0 
Bengals
$4,800
$23
2
1
0
0
4.0
Summary
Since the Bengals seem unlikely to control the game with Mixon on the ground, Burrow and his receivers will probably need to play one of their best games of the year to win the franchise's first Super Bowl. The most likely path to a Cincinnati victory is Boyd exposing Deayon in the slot and winning the turnover battle. Resisting the temptation of forcing the big play and relying on the short (and, perhaps more importantly, quick) passing game will be critical. The Rams have been prone to miscues lately (multiple giveaways in four of their last seven outings and at least one in six of them). There is always the possibility Stafford reverts to being a turnover machine. Whether or not the Bengals have the kind of pass rush necessary to make that happen is another question.
As for the Rams, Los Angeles needs to do what it has done well most of the season. Stuff the run and make Burrow hold the ball long enough against zone coverage to let Donald, Floyd, Miller and the rest of the crew beat their blocks. The Rams do not need to sack Burrow nine times as the Titans did, but five or six sacks and 10-plus pressures should be enough to stall the majority of Cincinnati's drives. Whereas Tennessee's offense failed to sustain drives while its defense was overpowering Cincy's offensive line in the Divisional Round, the Rams are explosive enough offensively to take advantage of the success they should have defensively against Cincinnati.
The Bengals should make it close in the end, but their red zone woes figure to catch up to them … finally.
Super Bowl Prediction: Rams 27, Bengals 23


---
Doug Orth has written for FF Today since 2006 and been featured in USA TODAY's Fantasy Football Preview magazine since 2010. He is also a high-stakes player who often appears as a guest analyst on a number of national sports radio shows, such as Sirius XM's "Fantasy Drive." Doug is also a member of the Fantasy Sports Writers Association.