Over the course of a typical NFL season, it's not always easy to come up with a topic to write about that will help fantasy owners. Then there are weeks like the most recent one. Every season seems to deliver at least one or two weekends that are just brutal from an injury perspective, and Week 2 was one of them.

Virtually no fantasy owner in competitive and/or high-stakes leagues can seamlessly overcome the loss of an every-week starter - much less their first-round pick - for a significant amount of time and still hope to be one of the top teams in their league. However, part of the beauty of fantasy football is that good fortune (for your fantasy team anyway) is never too far away if you keep your team alive during the downtimes. Conversely, these times also can be bull markets for the fantasy owners fortunate enough to avoid having any of their fantasy stocks affected by this past weekend's market crash.

Taking advantage of another team's misfortune is not a bad thing in this hobby. It is actually encouraged. However, don't confuse that with trying to take advantage of another fantasy owner. Even if you don't believe in karma, fantasy owners tend to remember league-mates who attempted to or actually helped them bounce back from the loss of one of their foundation pieces.

Fantasy football often makes for strange bedfellows, putting owners in a position to rely on a player or two they were not familiar with or might have sworn off a few days or weeks earlier. This is not my attempt to do a waiver-wire column, but rather give readers some ideas about how to remain afloat until the pendulum swings the other way and fortune shines favorably on your fantasy team.

While I won't cover every injury from last weekend, I do want to touch upon some of the more significant ones and how I am handling them (or would handle them). Thus, the remainder of this column will be devoted to getting somewhat comfortable with your new bedfellows, even if they aren't on your team quite yet.
Season-ending injuries
Saquon Barkley (torn ACL)
In-house options: Devonta Freeman, Dion Lewis, Wayne Gallman
Most owners tend to seek immediate help and hope for the best in the future when adversity strikes, so Freeman will likely be the apple of most fantasy owners' eyes on the waiver wire this week. That may not be the wisest move. Freeman cannot be expected to pick up a new playbook in 1 1/2 weeks, which means his first significant contribution to the Giants may not come until Week 5 at the earliest.
There's also the small matter of Freeman likely only serving as a two-down back since New York appears to be comfortable with Lewis on passing downs for the foreseeable future. If that ends up being the case, Freeman will be running behind the same line that has (sarcasm alert) cleared the path for Giants running backs to amass 55 yards on 30 carries so far. (That's not a typo.) There was always hope Barkley would be able to overcome the shortcomings of his offensive line once the schedule lightened up because he is such a special talent, but it would be unrealistic to expect Freeman to do so since he was arguably one of the worst running backs in the league last year behind a more talented line in Atlanta.
Last but not least, no team is attempting a higher percentage of passes through two games than the Giants (68 percent). Again, some of that can be attributed to the fact New York has faced Pittsburgh and Chicago. But let's look ahead to the team's immediate schedule: San Francisco, LA Rams, Dallas, Washington, Philadelphia and Tampa Bay. How often will New York be able to establish a rushing attack in those games? How helpful will Freeman be to fantasy owners even if he takes 90 percent of the rushing work and splits passing-game duties with Lewis right down the middle? There's virtually no fantasy upside to Freeman, and that doesn't even take into consideration his lack of durability in recent years.
How am I coping? I have (or had by the time this article hits the site) Barkley on three teams entering the season, including one high-stakes team. Replacing Barkley will be next to impossible, but I do have a plan of attack in mind. I prioritized high-upside running back depth on my high-stakes teams this year, so I came away with J.K. Dobbins, Joshua Kelley, Benny Snell and Jerick McKinnon after drafting Barkley and Kenyan Drake on the one high-stakes team affected by this injury. As if it wasn't obvious, I have pieces of two of the running back environments in the NFL with Baltimore (Dobbins) and San Francisco (McKinnon). I have the clear handcuff to a back in an offense that believes in featuring one back (Pittsburgh). And Kelley's performance to this point speaks for itself. In other words, I may only be a week or two away from starting someone from that bunch with confidence.
Fantasy owners with less depth can generally take two approaches simultaneously in situations like this: 1) buy low and 2) continue to build on the strengths of your roster so you can eventually deal from it. The second point is fairly self-explanatory, as there will come a time some owner in your league will look at your two top-10 quarterbacks and three top-20 receivers and feel compelled to part with his running back depth.
Regarding the first point, I will likely be targeting Joe Mixon, James Conner and Derrick Henry to fill the Barkley-sized void in my lineup. Maybe Kenyan Drake is available at a slightly discounted price. Savvy fantasy owners probably aren't going to part with their early picks off to slower-than-expected starts, but this is where it pays to take the pulse of the industry. "Henry isn't scoring touchdowns!" or "Mixon is losing work in the passing game to Giovani Bernard!" Both are true. Both may change next week too. Particularly in Mixon's case, the Bengals aren't going to continue peppering Bernard with targets if he can't break a tackle and/or reward his coaches with something more than 4.8 yards per reception. Both backs - Henry and Mixon - are immensely talented and getting a lot of volume. Conner's inclusion should be obvious: most of the fantasy world is down on him because they donít trust him. I have his handcuff, and we're another minor Conner injury away from hearing the familiar refrain of "he can't stay healthy."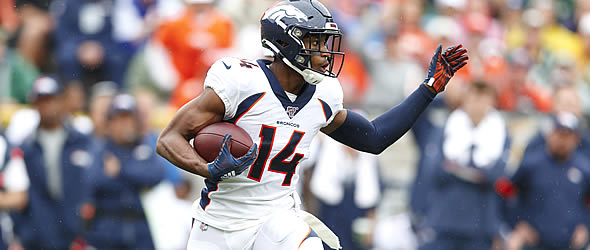 Courtland Sutton (torn ACL)
In-house options: Jerry Jeudy, KJ Hamler, Tim Patrick
Some players might feel cursed if they sprain their shoulder and suffer a torn ACL over the course of their rookie contract. Sutton managed to do both in less than two weeks. It's almost inconceivable how one player could be that unlucky. His misfortune is just the latest of several big hits Denver has absorbed over the last month (Von Miller, A.J. Bouye, Philip Lindsay, Drew Lock, etc.) and removes much of the luster from an offense that looked like it had the potential to do big things this summer.
Making matters worse for the Broncos in the immediate future is Jeff Driskel taking over for Lock, who could miss anywhere from two to six weeks with his own shoulder injury. Jeudy isn't going to be available in any competitive league, but it's debatable how useful he'll be to fantasy owners over the next month even if he was sitting on the waiver wire. The first-round rookie has already shown his supreme route-running chops, but asking him to be the clear WR1 in this offense with a backup quarterback known more for his rushing prowess against the Buccaneers and Patriots in two of the next three weeks doesn't sound like a recipe for fantasy success. It's possible that if Miami and Kansas City are healthy in the secondary next month, Jeudy may not be useful in fantasy - with or without Lock - in four of the team's five games before the team's Week 8 bye. (He should catch a break in Week 4 versus the Jets.)
Hamler's seven targets in Week 2 give us hope he will be asked to take on a prominent role in this offense. He's a good bet to break loose for a score sometime over the next five games given his game-breaking speed, but attempting to predict when that will happen is more likely to drive fantasy owners mad than pay off big. Patrick is the most natural replacement for Sutton and a quality receiver, but it would be foolish to believe Driskel can make more than two pass-catchers (Jeudy and Noah Fant, most likely) consistently playable in fantasy when he hasn't shown the ability to do so at any of his other stops.
How am I coping? Trying to replace Sutton is much less nuanced than replacing someone like Barkley. I only owned one share of Sutton (in a mid-stakes league) and knew I needed to have some depth when I was drafting because he had just suffered his shoulder injury a few days earlier. He fell to the seventh round in that draft, so I had already built a nice foundation for my team before taking him. Unfortunately, that same team also lost Jalen Reagor, so my depth is being tested. While I have very good running back depth and will consider a trade dealing from my stockpile there, I will first attempt to rebuild my depth by buying into Keelan Cole's emergence. In my particular case, Cole makes a ton of sense since Laviska Shenault is my new WR3. I will give strong consideration to adding Van Jefferson later in the week as well because I'm not going to try to attempt going multiple weeks with four healthy receivers in a league where I am required to start three. Jefferson's snaps dropped from Week 1 to Week 2, but he's already making it difficult for HC Sean McVay to keep him off the field.
Multi-week injuries
For the sake of time and space, I'll address how I'm coping with the multi-week injuries in one section now.
Christian McCaffrey (high-ankle sprain, expected to miss 4-6 weeks)
In-house options: Mike Davis, Trenton Cannon, Curtis Samuel, Reggie Bonnafon
McCaffrey was placed on IR earlier in the week, so the earliest he'll be able to return is in Week 6. Cannon is a 185-pound scatback who has yet to log an offensive snap this season. Bonnafon remains on the practice squad as of the middle of this week, but it seems almost certain he will be elevated to the active roster at some point because Carolina has virtually no one else capable of handling more than 10 carries if Davis gets hurt.
Davis is the clear choice to serve as the featured back in McCaffrey's absence, while Samuel will likely get a few token carries over that stretch. While Davis is probably the best add for the majority of fantasy owners this week (assuming the likes of Joshua Kelley and Jerick McKinnon aren't available), it's important to note McCaffrey was averaging a full yard less per carry through two games this year than he did last season. In other words, it would be unrealistic to view Davis as anything more than a volume-based RB2 at the moment given the fact McCaffrey was struggling to get it going as a runner. Looking ahead to the Panthers' upcoming matchups, Week 5 (and 7, if CMC is still out at that point) against Atlanta appears to be the only matchup(s) Davis has a chance of somewhat filling McCaffrey's shoes.
Raheem Mostert (MCL sprain, week-to-week) and Tevin Coleman (knee, out indefinitely)
In-house options: Jerick McKinnon, Jeff Wilson, JaMycal Hasty
This appears to be an injury that won't sideline Mostert very long, but it's the absence of Coleman that may be the most helpful for fantasy owners - at least immediately. McKinnon has done nothing but impress with his limited work (six carries for 101 yards and two total touchdowns!) and should be in line for a bigger piece of the backfield pie with Mostert also sidelined - likely for the next game or two. McKinnon's injury history is substantial enough that HC Kyle Shanahan will likely keep him in the 10-12 touch range for however long Coleman is out, but we've already seen that is more than enough for him to reward his fantasy owners.
The player most likely to benefit from Coleman's absence is Wilson or Hasty. Wilson flirted with fantasy relevancy last year when he scored a pair of touchdowns in back-to-back weeks as a goal-line hammer while Coleman was hurt, long before Mostert established himself as the leader of the pack. Wilson had another nice two-week run as the lead back late in 2018 as well. He has a history of holding down the fort when he's been given a chance and, just as importantly, he is someone Shanahan trusts. However, he is also a core special teamer, which is a big part of the reason why he was kept on the active roster over Hasty. As easy as it is for fantasy owners to assume the backup that got the snaps last week should get them the following week in situations like the one San Francisco is dealing with right now, it doesn't always work that way.
Anyone who is been playing fantasy football long enough knows there is almost always another running back - usually someone few people have heard of - capable of breaking out in a big way if given the chance in Shanahan's offense. Hasty performed well enough during training camp that some thought was given to keeping five backs on the roster for fear the undrafted rookie free agent wouldn't make it through to the practice squad. It's mildly surprising some team didn't pluck him off the practice squad after Week 1, and now a likely mid-week promotion may be the only thing keeping him from being next week's hot waiver-wire pickup, especially if the 49ers want to avoid creating any more chaos than they are currently experiencing by taking Wilson away from his special teams duties. San Francisco didn't have another back in the pipeline it liked as much as Hasty when Wilson stepped up in relief the previous two years. It does now, and it may not take much at this point to keep him on the roster if he fares well given how relatively little Coleman has produced - outside of one playoff game - and the frequency with which he has been injured since becoming a 49er. In fact, I'll predict Hasty leads the backfield in carries versus the Giants if he is promoted late this week.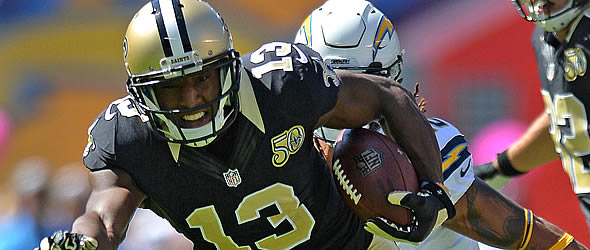 Michael Thomas (high-ankle sprain, week-to-week)
In-house options: Tre'Quan Smith, Emmanuel Sanders
Smith performed about as well as anyone could have hoped for in Thomas' absence in Week 2. Sanders was a virtual no-show and it's hard to understand why. HC Sean Payton addressed the topic Wednesday and told reporters Sanders' "touches are going to come." Take that for what it's worth. Next Gen Stats has charted Sanders with creating 3.5 yards of separation on his targets through two weeks, so giving Drew Brees enough margin for error doesn't appear to be the issue. Perhaps the lack of an offseason didn't give Sanders enough time to work his way into Brees' circle of trust. Additionally, when we consider Thomas hadn't missed a game since 2016 prior to last week, maybe the coaching staff didn't put a great deal of thought on creating plays specifically designed to get Sanders the ball during this most unique of offseasons.
The Saints owe it to themselves and think ahead a bit in regards to Thomas. There is a distinct chance they will win two of their next three games at the very least - with or without Thomas - with home games against the Packers and Chargers sandwiching a road date in Detroit before their Week 6 bye. Keeping Thomas off the field until that point would give him five full weeks to heal and a full week of practice when he is near or at 100 percent leading up to Week 7.
The problem facing Thomas' fantasy owners right now is the roster limbo his situation is creating in leagues with IR spots in relatively small benches. Until Thomas is put on the three-week IR (if that happens, which seems unlikely now), owners can't use his spot to add a temporary replacement and keep the replacement on the roster week after week. And even when he returns (let's assume Week 4 in a best-case scenario), his fantasy owners need to be prepared for at least two to three weeks of modest production as he completes his recovery (not unlike the disappointing numbers Barkley posted during his rushed recovery from a similar injury in 2019), and that assumes he doesn't make it worse by playing before he's ready.
A.J. Brown (bone bruise in his knee, week-to-week)
In-house options: Corey Davis, Adam Humphries
Much like with Thomas, fantasy owners have had a bit of time to adjust to Brown's absence. There's also a pretty good chance Brown isn't the WR1 on most fantasy teams. Unfortunately, we don't seem to have a lot of clarity in terms of his timetable. Thankfully, Davis and Humphries have stepped up in his absence and performed well for the fantasy owners who were able to replace Brown with the next receiver on the Titans' depth chart.
It's uncertain if receivers coach Rob Moore gave us some insight earlier this week about Brown's potential return when he was asked about it earlier this week:
ďWhen he does get back, whether itís this week or next week, he has to prepared and ready to go from a mental standpoint. He canít lose that edge that he got in training camp.Ē
Taken at face value, it would seem as though Moore expects Brown to return no later than Week 4, which is just about the time the schedule difficulty picks up for a couple of weeks (at home against the Steelers and Bills in consecutive weeks). Thus, it would appear streamers of Davis and Humphries may only have one more decent matchup to take advantage of prior to Week 6 (this week at Minnesota). Still, based on the available information to this point, Brown's injury appears to be the least significant in terms of his ability to return soon and play at something approaching 100 percent.
How am I coping with the multi-week absences? Mike Davis the obvious add for fantasy owners scrambling to replace McCaffrey, but there's only one of him and all it takes is one owner with a vendetta against you and more FAAB money to ruin that plan. While most of us remember Barkley only missing three games with his high ankle sprain last season, it took nearly 10 weeks before we saw the kind of efficiency we had become accustomed to from him. McCaffrey's injury didn't look too bad - he reportedly played a few snaps after it happened - but I think fantasy owners are kidding themselves if they think he'll be himself when he is eligible to come off IR in Week 6. It could be argued Alvin Kamara never quite got past his high-ankle sprain last year. While it is far too early to be pronouncing McCaffrey's season over (at least in terms of what we expected from him), we need to be prepared for the possibility he may not the dominant player we remember again until November.
One other option I'm considering that is widely available: Damien Harris. While we are well aware that Cam Newton is carrying the ground game so far in New England, OC Josh McDaniels cannot expect him to hold up all season averaging 13 carries (208-carry pace over a 16-game season). My working theory is that the Patriots are treading water with the rushing attack until Harris is ready. Yes, Newton will cap his upside by stealing more than his fair share of goal-line carries and James White will remain the primary passing-down back, but this is an offense that could push for a run-pass ratio of 55:45 (you are reading that correctly) without a midseason upgrade at receiver. If the Patriots can find a back who can consistently do more with 15 touches than Sony Michel has done with his 10 or so per game over the last 1 1/2 years, I would not bet against this current version of the Patriots giving that back that kind of opportunity.
I stated before the start of the season that I was confident starting 50 receivers regularly. Two weeks obviously has altered the landscape somewhat, but there are several wideouts available in just about any league that can make a case to be started. A great plug-and-play in deep leagues this week is Braxton Berrios, who is serving as the primary slot option with Jamison Crowder expected to miss another game. Zach Pascal is a longer-term option who is expected to be the primary slot for however long Parris Campbell is sidelined, although the team has already said it intends to use a committee there. Isaiah Ford is getting some quality run in the slot as well for Miami and already has 14 targets. Darnell Mooney has played more snaps than Anthony Miller in Chicago and caught each of his six targets.
In smaller leagues, players like Keelan Cole and Chase Claypool might be available and should be of interest to different types of owners, depending on if they are looking for more of a high-floor play to round out their lineup (Cole) or more of a high-upside option (Claypool) who is probably due for a dud soon but could also easily emerge as the 2020 version of Martavis Bryant - a comparison I made multiple times this summer.
---
Doug Orth has written for FF Today since 2006 and been featured in USA Today's Fantasy Football Preview magazine since 2010. He hosted USA Today's hour-long, pre-kickoff fantasy football internet chat every Sunday in 2012-13 and appears as a guest analyst on a number of national sports radio shows, including Sirius XM's "Fantasy Drive". Doug is also a member of the Fantasy Sports Writers Association.