I joke with my friends and family that the stress from baseball and fantasy football is going to take at least five years off of my life.

As a lifelong San Francisco Giants fan who has watched nearly every pitch of the teamís dynastic run over the past six years, including every pitch of their ten-straight sudden death victories, I am certain my obsession with the orange and black has done more damage to my health than my poor diet and lack of exercise.

The Giantsí latest nail-biting win over the Cubs in game 3 of the NLDS was not exactly what my ticker needed, considering I spent the previous night on full tilt waiting for Odell Beckham Jr. to give me a touchdown to put me over the top in my DFS head-to-head matchup.

After repeatedly kicking myself over believing that the Giants passing game would finally wake up on the road against an injury depleted Packers secondary, and spending most of the first half screaming nearly every imaginable curse word at the television, OBJ came through for me in the clutch late in the fourth quarter with a touchdown grab from Eli Manning.

Although it was a questionable call, just like the phantom foot on the bag by Anthony Rizzo on a double play in the sixth, Iíll take the win and move on to a fresh week of DFS and another high-stress elimination game for the Giants.

I digress. You are looking for DFS analysis and not baseball talk.

The following lineup review is a winning head-to-head matchup on DraftKings.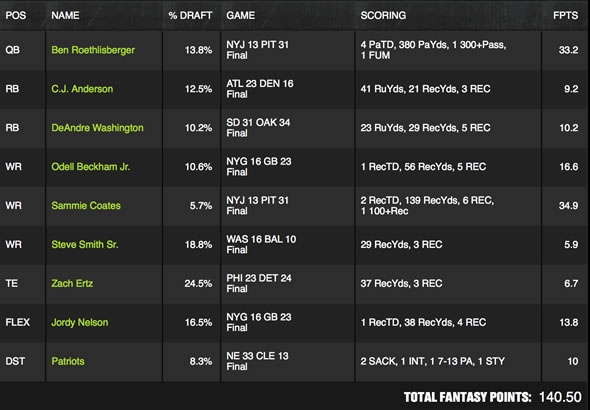 Quarterback: Ben Roethlisberger
Fantasy Points: 33.2
Grade: A
In continuing with my series on going with Cash Stacks in head-to-head games, I identified Big Ben at home against an injury-riddled and talent absent New York Jet secondary. Benís splits at home are not a new thing, as he threw 76 percent of his touchdown passes at home last season, with a 102.4 passer rating compared to just 86.0 on the road.
His only sub-20 point game this season came on the road against a surprisingly good Philadelphia defense, leading me to believe that he had a high floor this week against a Jets defense that was the fourth-worst in terms of points allowed to opposing quarterbacks.
In head-to-head matchups where youríre only looking to beat one person, it is nearly impossible to win if you have a dud game for your quarterback. Although Ben was fairly pricey at $7,200, I felt that it was a wise investment considering the matchup and where the game was played.
My assumption was correct, and my stack of Ben and Sammie Coates led me to victory.
Running Backs: C.J. Anderson, DeAndre Washington
Fantasy Points: 19.4
Grade: F
Another week of DFS in the books, and another week where I failed at picking running backs on my tickets.
The strategy this week was to go with a runner who I identified as ďsafeĒ in Anderson, and another back who was cheap with high upside.
I wanted both backs to have advantageous matchups against defenses that have struggled against ball carriers through the first four weeks. Only New Orleans has allowed more points to opposing running backs than the Chargers, and the Falcons ranked 10th in points against after allowing four touchdowns to opposing tailbacks in four games.
In a classic case of a plan backfiring, my safe pick in Anderson managed only 62 total yards on 14 touches, as Devonte Booker ate into Andersonís workload at a surprising rate. My assumption was the Broncos would rely heavily on the run game to shorten the time of possession for the Falcons and take pressure off of Paxton Lynch.
We all know what happens when you assume, and of course Lynch was beyond terrible and the Falcons shut down the run.
Washington was equally disappointing after managing only 2.6 yards per carry on nine attempts. Not a great showing for a highly touted rookie looking to take the starting role from Latavius Murray.
Moving on to where I actually made some solid picks.
Wide Receivers: Odell Beckham Jr., Sammie Coates, Steve Smith
Fantasy Points: 57.4
Grade: B
Iíll save some time and energy from repeating myself on Beckham Jr.ís pedestrian 16 points against the Packers, aided by a late TD that won the week for me. Iím happy that OBJ scored, but Iíd be lying if I said that he met my expectations for the week.
On a more gratifying note, my pick of Coates paid dividends to the tune of 34.9 fantasy points on two TDs and 139 receiving yards. The interesting play here is that I actually identified Coates as a solid cash game player and not just a home run threat, as the former Auburn Tiger delivered no less than 50 yards in any game this season.
I felt like he was due for a touchdown as the Jets aimed their focus on Antonio Brown, and luckily for me, my feeling was correct.
The five points Steve Smith posted was a bit heartbreaking considering he missed most of the game after starting off red hot against the Redskins. He was on pace for a 20-point game before leaving with an ankle injury, with three catches for 29 yards in the first quarter.
Injuries are an unfortunate part of fantasy sports that cannot be predicted. We can do are best to avoid them with pregame reports from beat writers and analysts on twitter. But if an otherwise healthy player suffers an injury in the middle of the game and misses the rest of the day, you have no other recourse but to move on and hope your other players can pick up your team. Luckily for me, the Big Ben and Sammie stack did just that.

Tight End: Zach Ertz @ Detroit
Fantasy Points: 6.7
Grade: D
With the tight end position unpredictable and the majority of tight ends requiring a TD to be useful, I tend to look for high volume tight ends like Ertz.
In his first game of the season, Ertz and rookie QB Carson Wentz hooked up for 58 yards on six receptions against the Browns. My logic here was that at only $3,500, Ertz was a lock for similar production against a Lions defense that allowed the second-most points to opposing tight ends.
Everyone and their second cousin had put up points this season against the Lions, with Jack Doyle, Dwayne Allen, Delanie Walker, and Zach Miller all reaching the end zone over the first four weeks.
To make this play even more frustrating, the game script looked favorable when the Lions jumped out to and early 14-point lead, forcing the Eagles to rely heavily on the passing game to get back in the contest.
I will look to cash in on Ertz in future contests, but I think I will wait a week or two to allow him and his rookie quarterback to get back on track before I insert Ertz in my lineup again.
Flex Play: Jordy Nelson
Fantasy Points: 13.8
Grade: B-
An acrobatic touchdown catch from Aaron Rodgers made an otherwise disappointing play of Jordy Nelson bearable this week. It was a great catch that somewhat overshadowed how out of sync the two players were against the Giants, with Rodgers missing Nelson on more than a couple throws and Nelson uncharacteristically dropping back shoulder passes.
Posting nearly 14 points from your flex play is usually an excellent score, but when you invest nearly $8000 on a WR in a solid matchup you expect a bit more. My hope here was at least 80 yards and a score.
Defense/Special Teams: New England
Fantasy Points: 10
Grade: B
Predicting a defensive score is one of the more difficult tasks in fantasy football, as a solid matchup for a tough defense against sloppy and ineffective offense will not always lead to a score.
The best course of action in my opinion is to look for defenses with a high probability for sacks and interceptions, and hope that one of those turnovers will lead to defensive points. The Pats against a rookie quarterback and a suspect offensive line seemed like a logical play this week and a decent shot of getting to my ten point goal for DST.
With two sacks, an interception, and a safety of rookie QB Cody Kessler, my logic paid off on this one. Considering there was only one defense that notched a defensive score this week (Buffalo at L.A.), going for the high floor play of the Pats was a wise move.