You thought you were through the most difficult part of the bye week schedule, but Week 10 could still trip you up because two of the top-five scoring teams, Philadelphia (31.4 ppg) and Kansas City (28.1) will be sitting comfortably on the sidelines watching the games this weekend just like you and me. Add in Oakland and Baltimore and player suspensions and Sunday could still be troublesome. OK, no one knows what is going on with Ezekiel Elliott but we do know Mike Evans will miss.
Early weather reports show just one game with rain or snow (New Orleans at Buffalo) and no venues with troublesome windy conditions.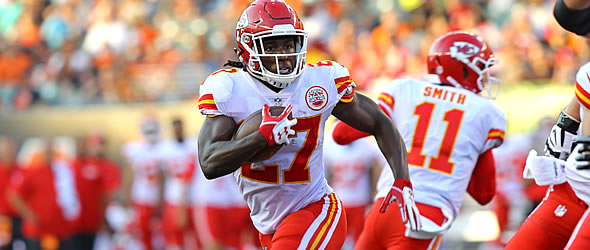 Kareem Hunt finished as the RB28 and RB29 in Weeks 8 and 9. A sign of things to come?

Truths

"Ridicule is the best test of truth." - Philip Dormer Stanhope

1) It was Week 5 when I said Kareem Hunt couldn't keep going at his early season pace and Week 6 when I tried to get you to "sell high".
Since Week 6, Hunt owns the 23rd-best average production among running backs (9.4 FPts/G). He hasnít scored since Week 3 and Andy Reid has severely cut his usage. His average 22.6 touches-per-game in the first five weekends is now 18.5 (down almost 20%), including just nine rushing attempts last Sunday in Dallas. Since you can no longer get an elite player in trade, the good news is that he owns a favorable schedule after his Week 10 bye. Heíll face four-of-six teams ranked 20th or-lower in RB fantasy points allowed and no one in the top-10. Someone please wake up ďBig RedĒ and remind him how good the offense was when Hunt saw the ball more often.
2) Over the past five weeks, Alvin Kamara has become a RB1.
True. In the Saints last four games, heís averaged 15.5 FPts/G, good enough to be ranked ninth overall. And while backfield mate Mark Ingram has averaged more (17 FPts/G), Kamaraís totals are on the rise and Ingramís are trending in the wrong direction (see the chart below).
| | | |
| --- | --- | --- |
| †Week | Ingram FPts | Kamara FPts |
| 6 | 27 | 8.7 |
| 7 | 17 | 10.7 |
| 8 | 15.9 | 13.6 |
| 9 | 7.9 | 27.2 |
3) If all you can do as a running back is run, you arenít going to see the field as much as you would like.
True, just ask Aaron Jones owners. The Packersí young running back racked up 131 yards against New Orleans in Week 7 and many owners thought they had a fantasy stud for the remainder of the season. However, after whiffing on a block early Monday night was out-snapped by Ty Montgomery 24-20. A running backís job is also to protect his quarterback.
4) Despite scoring from four yards out Monday night, Ameer Abdullahís hopes of being a workhorse back will go unfulfilled.
Sure, he scored once from the 4-yard-line and saw RB1-type rushing attempts (21), but he also fumbled twice. After the second fumble he didnít see the field again as the Lions went with Theo Riddick and Dwayne Washington to close out the Packers. If the head coach canít trust your ball security you arenít going to see the tough goal-line carries that make a running back elite.
5) Eli Manning is a viable option in Week 10.
OK, stop laughing. Yes, I know he is ranked 18th among QBs and hasnít cracked 20 points in a month, but heís got a favorable matchup against a 49ers defense ranked 25th in QB fantasy points allowed. San Francisco has allowed multiple touchdown passes in four consecutive games. Meanwhile, the Giants receiving corps has gotten a little healthier with the return of Sterling Shepard. Given the Giants miserable defensive showing so far this season, the only way they might win another game is to out-score their opponent. The 49ers have been very generous in that area, yielding 239 points in nine games this season (26.6 ppg).
Lies

ďA storyteller makes up things to help other people; a liar makes up things to help himself.Ē - Daniel Wallaceg

1) Young quarterbacks can never be trusted to carry your fantasy team.
Actually, the average age of the top-four fantasy quarterbacks through nine weeks in 24.5 years old (Deshaun Watson, Russell Wilson, Carson Wentz and Dak Prescott). Those numbers are in direct contrast to the past three seasons when the average age of the top-four was; 31.75 in 2016, 31.25 in 2015 and 32 years-old in 2014. The average age of quarterbacks ranked 11-20 is 30.5 and 21-30 is 28.9. Perhaps we can trust the ďyoung guns.Ē
2) None of these former fantasy-viable wide receivers will help you down the stretch; Sammy Watkins, Allen Hurns, Randall Cobb, Tyrell Williams or Jamison Crowder.
False. There is one name on the list I think could be valuable. If healthy (he missed Week 9 due to a hamstring injury), I think Crowder could give you the production that many, including me, expected before the season began. After watching Terrelle Pryor and Josh Doctson mostly fail, the Redskins used Crowder in Week 8 as their WR1 and he posted 135 yards from scrimmage catching mostly short balls. Given the condition of the Washington offensive line, they should continue this trend. Tyrell Williams isnít viable as long as Keenan Allen is healthy, Cobb catches passes from Brett Hundley, Hurns doesnít see enough targets, and Watkins has only produced one really good game all season despite Jared Goffís improved quarterback play.
3) Tennessee wideout Eric Decker could still be a viable option.
Sorry, no. He was likely brought to Tennessee to help in the red zone considering his history of scoring (55 TDs from 2011-15), but scored for the first time this season last Sunday. Heís seen five targets or-less in six-of-eight games and injured rookie Corey Davis (fifth overall selection in 2017) is finally healthy and should see more snaps as the season progresses. Decker hasnít been much of a hit in Tennessee unless you count his television series with wife Jessie.
4) Matt Forte has risen from the ashes and is back.
After being nearly invisible for the first half of the season, Forte racked up 96 yards and two scores against Buffalo Thursday night. His refusal to just fade away as old soldiers are supposed to, make both he and Bilal Powell inconsistent options. Add in rookie Elijah McGuire and the situation becomes even more untenable for fantasy owners. Barring injury, none of the three is anything more than a bye-week fill-in.
5) The New York Giants donít have any pass-catchers left after injuries to Odell Beckham and Brandon Marshall.
In case you havenít been paying attention, tight end Evan Engram has posted at least 12 fantasy points in three straight games. Heís ranked second among tight ends over that span behind only Travis Kelce and ahead of Zach Ertz, Jimmy Graham and Rob Gronkowski. Engram is on pace for a 68-824-8 season which would be the teamís best tight end production since Jeremy Shockey posted 65-891-7 in 2005.

---
Steve Schwarz served as the fantasy sports editor of The Sports Network and is the 2014 FSWA Football Writer of the Year.