Welcome to the 2017 NFL fantasy football season. It's been a long time since we last talked. So let's get started.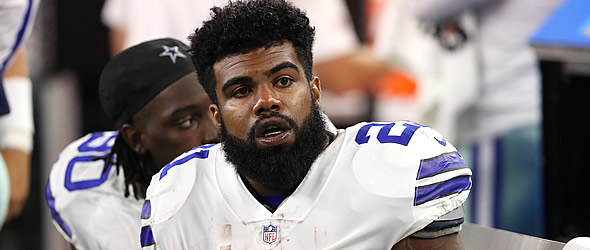 Go ahead and fire up Ezekiel Elliott because a six-game suspension means you can play in Week 1.

Truths

"Facts do not cease to exist because they are ignored."

Aldous Huxley, Complete Essays 2, 1926-29

1) This one returns for a second season. Waivers after the first weekend are the most important of the season.
If you are in a league with a waiver claim budget, this is the week to use as much $ as needed to get "your target." After the first games are played, muddled running back situations usually become clearer, favorite receivers become more obvious and Week 1 injuries allow replacements the most opportunities over the remainder of the season. In the following weeks, the best waiver claims are mostly injury related. Don't ignore/forget this important step.

2) Suspended doesn't always mean he can't play. Sometimes it means if he works the system he can compete.

True, ask Tom Brady. Sure, Brady was suspended for the first four games of the 2016 season, but it was from a May 2015 suspension and he played the entire 2015 season while the courts took their usual snail pace to adjudicate. Already, Ezekiel Elliott will play in Week 1 and the courts haven't even begun their work. Those who gambled on "Zeke" may lose him from Week 2-8, or he might play the entire season. We still don't know and the start of the season is just hours away. My money is on "he misses six games starting in Week 2."

3), Le'Veon Bell's training camp/exhibition season holdout must make you nervous.

Bell as a top-two fantasy pick should have been an easy one to make. He says his holdout wasn't about money, he just wanted to make sure he was healthy for the season and not beat up from camp. I believe him too. Unfortunately, I also believe that this puts him at high-risk to be the guy he was last season when he averaged a combined 157 ypg from scrimmage. Last season, when he missed the first three games due to a suspension, he posted his five worst rushing games over the first six weeks. He also averaged 16.7 rushing attempts over that six-game span versus 26.9 attempts over the next six games (Week 11-16). After the adrenaline rush of Week 1, expect a drop in production as he works out his own private training camp. Slow starts always make me nervous.

4) LeGarrette Blount's workhorse performance of a year ago has taken a toll and fantasy owners should expect a significant drop in production

Blount's 342 touches in 2016 was at least 70-percent higher than anything he had ever experienced in the NFL or in college at Oregon. In preseason, he's looked slow and uncomfortable in the Eagles' offense (think DeMarco Murray). I trust Bill Belichick's talent evaluation and his decision not to re-sign Blount as a clear indicator. Avoid Blount if possible as it appears Wendell Smallwood will eat into his opportunities.

5) The Seattle Seahawks backfield is a fantasy nightmare.

True. Thomas Rawls is listed as the starter, but he's questionable for Week 1 with an ankle injury, Eddie Lacy figures to get the work if Thomas isn't available, but he's looked bad in preseason. C.J. Prosise should get the receiving work. Meanwhile, rookie Christopher Carson has probably looked the best of all the backs. I'd avoid the entire mess, unless Rawls is healthy and even then behind a mediocre offensive line he's no better than an RB2. The Seahawks will be a pass-first team again in 2017.
Lies

"Lies are neither bad nor good. Like a fire they can either keep you warm or burn you to death, depending on how they're used."

Max Brooks, World War Z: An Oral History of the Zombie War

1) Preseason statistics have meaning.

False! Below are the three leading quarterbacks (passing yards only), running backs (rushing yards only) and receivers (receiving yards only) and none of them should be on your fantasy roster.

QB - Matt Simms, Matt McGloin, Blaine Gabbert
RB – Corey Grant, Cameron Artis-Payne, Terrell Watson
WR – Austin Carr, Tommylee Lewis, D.J. Foster

2) Early in the season, weather is never a factor.

Certainly for fantasy owners of anyone on Miami and Tampa Bay this statement is false. The NFL has postponed the game between the Dolphins and Bucs due to Hurricane Irma – a category 5 storm and moved it to Week 11 when both teams have a bye, forcing each team to play 16 consecutive weekends.

3) Dirk Koetter: Jay Cutler is "Joe Namath to us. He's the greatest quarterback, whoever your greatest quarterback is, because he's the one we're playing this week."

Obviously a tongue-in-cheek exaggeration here. He's actually 34-year-old quarterback who has come out of retirement after a brutal 2016 to help his old coach. Still, he has the arm to allow Devante Parker and Jarvis Landry to be viable fantasy options … if Adam Gase can keep his head on straight.

4) In late June, in one of my analysis pieces I stated that Willie Snead would reach the 1,000-yard mark this season.

This is not going to happen. First, he's got to deal with a three-game suspension handed down on Sept. 1. Second, even before the suspension, Ted Ginn Jr. was seeing more opportunities than Snead. Also, with Snead sidelined, expect pass-catching tight end Coby Fleener to see more work. Out of sight, out of mind. By the time Snead gets back on the field, he may have lost his place in Drew Brees' targeting progression. FFToday updated projections show Snead at 60-806-5.

5) Today's Fantasyfootballcalculator ADP shows Julio Jones as the No. 3 selection, behind David Johnson and Le'Veon Bell.

I'm going to have to disagree with this one. Jones has become a "yardage monster," but he's only averaging 6.7 touchdowns per season since 2014. Antonio Brown, Odell Beckham and Jordy Nelson all are averaging 11.6 TDs over their last three seasons and all three receivers saw more targets than Jones. Even Mike Evans is averaging nine touchdowns per season. Sure, Jones averaged a gaudy 17.0 ypc last season, more than the other guys, but that included a once-in-a-lifetime 12-catch, 300-yard afternoon against Carolina. He's also played 16 games just once in the past four seasons. I like both Brown and Nelson better than Jones and I think Evans will be his equal in 2017.

---
Steve Schwarz served as the fantasy sports editor of The Sports Network and is the 2014 FSWA Football Writer of the Year.