Itís Thursday, April 28, 2016. I am sitting on my friendís couch anxiously awaiting the start of this yearís NFL Draft. Youíd think an old guy walking up to a podium 32 31 times over the course of three hours and announcing names wouldnít be that exciting. Yet, every year, I watch the NFL Draft.

This year was different, though. My beloved Dallas Cowboys had a top four pick. The Cowboys hadnít had a pick in the single digits since 2011, which coincidentally, is the draft following the last time Tony Romo broke his collarbone midseason. Well before the day of the draft, we all knew Jared Goff and Carson Wentz were going 1-2. So we fast forward to pick No.3 Ė the San Diego Chargers. Iím nervously glaring a hole through the TV, hoping the Chargers take anyone but Jalen Ramsey. Roger Goodell steps up to the podium and announces the pick: Joey Bosa. Iím ecstatic. For the past few years, the Cowboys have been drafting smart: offensive lineman, defensive players, not taking the players hyped up by the mainstream media.

And then it happens. Jerry Jones reverts back to his old ways. The Cowboys take Ezekiel Elliott. I wanted to throw things at the TV, but given that I was at a friendís house, I felt it would be in poor taste. But make no mistake about it; I was angry at this selection. In the year 2016, running backs in the NFL simply do not matter like they used to. Last year, the Cowboys had one of the worst secondaries in the league. Orlando Scandrick tore his ACL in training camp and was impossible to replace. Meanwhile, DeMarco Murray left in free agency and the Cowboys still had a top 10 rushing attack behind the ghost of Darren McFadden. So why take a running back at fourth overall?

After that somewhat lengthy tirade, youíre all probably thinking Iím about to blast Ezekiel Elliott the player. Nothing could be farther from the truth. Much to my chagrin, I had to accept the fact that the Cowboys actually took ďZekeĒ at fourth overall. It took a while, but now that Iíve accepted it (even though I still think it was the wrong move), I can actually tell you what I think about him. He is going to be fantastic. Last year, the Cowboys (and the Chiefs and Steelers, to name a couple more) proved that in the right system, behind the right offensive line, any moderately talented running back can succeed. Ezekiel Elliott is much more than ďmoderately talented.Ē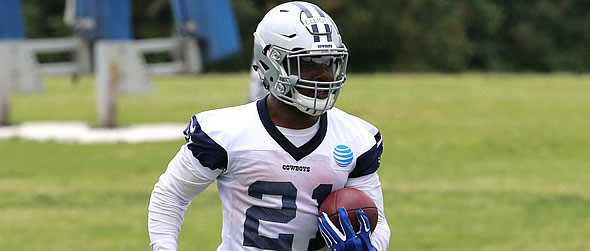 With McFadden (elbow) on the shelf until mid-August, the Elliott hype train is moving full steam ahead.


Historically, there will be an average of just over one rookie running back finish in the fantasy top 12 each season. If we get one this season, there is little doubt it will be Zeke. The difference between past rookie RB1s and Zekeís upside is that Elliottís ceiling is already built into his price. For comparison purposes, last yearís rookie RB1 David Johnson had an ADP of RB48 (11.02) and while bonus rookie RB1 Todd Gurley went much higher with an ADP of RB26 (5.07) (acknowledgement: had he been healthy from day 1, he probably wouldíve gone in the 2nd round). In 2014, the only rookie RB1 was Jeremy Hill with an ADP of RB38 (8.10) and drafted at the absolute highest in round six. I could go on and on, but the point is clear: even though a rookie running back or two will emerge as a RB1, they are rarely drafted as such.

I have little doubt that Zeke will be an RB1. Iíve seen him ranked as high as No.1 and as low as No.12 among running backs. When itís all said and done and weíre ready to draft in late August / early September, we will see Zeke settle in at an early 2nd round ADP, around the RB5-8 position.

Should you draft him at that expected price? The short answer: yes. Why? Itís no secret that the starting running back for the Dallas Cowboys carries tremendous value. They have the best offensive line football and proved last year that without their two most important offensive players (Tony Romo & Dez Bryant), they can still produce strong rushing numbers. If Elliott is as good as advertised and touches the ball 250-plus times, he will be an RB1 and live up to his draft value.

The primary concerns amongst detractors are valid. Heís never experienced the speed of the NFL. Heís getting acclimated to a new system and the NFL as a whole. We know how good heís supposed to be, but we also knew how good Trent Richardson and Montee Ball were supposed to be. The Cowboys still have Darren McFadden and signed Alfred Morris this off-season. These are two veteran backs that haven proven track records of success. Are the Cowboys really going to keep them on the sidelines? If Zeke is the future of this backfield, are the Cowboys ready and willing to put the weight of the entire backfield on his shoulders as a rookie?

The concerns are legitimate but every other first round back has concerns as well. LeíVeon Bell is coming off a devastating knee injury. Todd Gurley plays on one of the worst offenses in the league with a rookie quarterback in the toughest defensive division. David Johnson has only five games under his belt as a starter. Jamaal Charles is coming off another devastating knee injury. Adrian Peterson is 31 years old. Lamar Miller is on a new team, learning a new offense, and has never handled a full workload.

If you made Elliott the first running back on your draft board, how could I fault you? His concerns are only more worrisome than those of the other backs if you decide them to be. Zeke is obviously unproven at this juncture, but he has both the talent and situation to succeed immediately. Injury is always a concern, especially for running backs, and would be the most likely scenario preventing Zeke from finishing in the top 8 at the position. Over 16 games, I see no reason he canít total 1200-1400 yards and flirt with 12 touchdowns. Do not be afraid to draft the Cowboys rookie running back early and with confidence.