Bye Weeks: Arizona, Green Bay, Jacksonville, Los Angeles, N.Y. Giants, Tennessee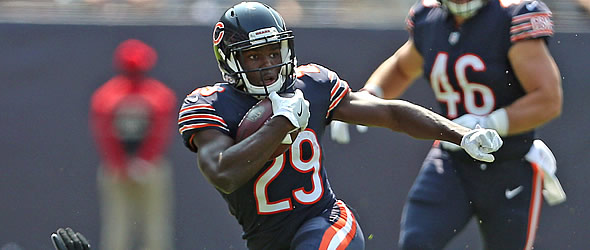 Cohen had one touch for 70 yards last week against Carolina. Expect more opportunities in Week 8.
Grab a Helmet

Jay Ajayi @ BAL (Thu): We aren't expecting much in the way of fireworks on Thursday night, but if Miami's smart, they'll pound the rock with Ajayi against a defense that is stout on the back end and suspect on the front end. The Dolphins seem to know that Ajayi is their most deserving mouth to feed, despite underwhelming returns so far as he's carried the ball 20 or more times three weeks running, all wins. In fact, he's only been out-touched by Le'Veon Bell during that stretch. Meanwhile, the Ravens are surrendering 145.3 rushing yards per game (worst overall) and have yielded a staggering 359 the past two weeks. Matt Moore is good enough to keep Baltimore honest and I think that allows Ajayi to do one thing he hasn't done through seven weeks, find the end zone. He's getting the looks and now come the results. Start him.

Jordan Howard or Tarik Cohen @ NO: The Bears attempted an astounding seven passes last Sunday against the Panthers, in rookie Mitch Trubisky's third start. If you're scoring at home, that's 48 career passing attempts for the overall No.2 draft pick, or 4 fewer than Derek Carr attempted last week alone. It's also the fewest number of passing attempts in a game since 2006, when Chris Weinke (coached by John Fox, incidentally) also attempted seven. There's conservative game-planning to protect your franchise investment and then there's what Fox and the Bears appear to be doing. It's hard to be too critical if the wins keep coming, but one wonders how long this can go on. Nevertheless, Howard's going to keep getting 20+ touches and Cohen will be the chief beneficiary if New Orleans forces the Bears to diversify their attack. I like either RB to perform down in the Big Easy.

Jalen Richard or DeAndre Washington @ BUF: Marshawn Lynch's preposterous peacekeeping mission cost him a one-game suspension, but possibly even more than that. If suspicions he was actually protecting best bud Marcus Peters instead of quarterback Derek Carr prove accurate, he could also have lost the trust of his Oakland teammates. It'll be interesting to see how it plays out, for sure, but in the meantime, no Lynch means plenty more Richard and Washington at Orchard Park this Sunday. And between you and me and the fencepost, I'm not sure the Raiders will miss him that much. Buffalo's been chewing up and spitting out between-the-tackles backs like him all season and neither Richard nor Washington fit that mold. Expect another 45+ passes from Carr and plenty of check-down opportunities for both as they team up to fill the void left by Beast Mode. Gun to my head? I'd go Richard.
Grab a Gatorade

Latavius Murray @ CLE (in London): Murray finally looked like a legitimate meal ticket for the Vikes last Sunday, rushing for 113 yards and a score on 18 carries in the win over Baltimore. Understandably, he's a hot waiver wire add heading into Week 8. I'm not buying it for one second. As discussed above, the Ravens field the worst rushing defense in the league and we would expect even below-average options to make some hay against them. Murray is a below-average option, for sure, and now faces a Cleveland squad that is surprisingly stingy against the run. Tennessee's bruising tandem of DeMarco Murray and Derrick Henry combined for only 72 yards on 31 carries last Sunday. On the year, the Browns are giving up just 3.0 yards/carry, tied with Denver for best overall. It's crash-back-down-to-earth time for Murray and the Minnesota rushing game this Sunday on the Twickenham pitch.

Carlos Hyde @ PHI: Hyde seems to have stiff-armed the recent threat to his workload, personified by rookie Matt Breida. Since essentially sharing the backfield with Breida in Week 5, the Niners' main man has carried the ball 36 times to the rookie's 7 and outscored him by 24 fantasy points. This regular work makes the former Buckeye one of the more reliable backs in the league, despite playing for (arguably) its second worst team. There are reasons to be dubious of his continued success, however. First, he's never made it through a complete season unscathed. Second, he's got some rough matchups dead ahead, starting with the Eagles this Sunday. Philly's allowing the fewest rushing yards/game so far, mostly because they've allowed the fewest rushing attempts. It's hard to run the football consistently when you're constantly playing catch-up. The Niners will be for sure in Week 8, so beware Hyde.

Frank Gore @ CIN: Gore has mostly defied the over-30 stereotypes, notching three 1,000-yard seasons and a near miss (967 in 2015) since he reached that ripe old running back age in 2013. He's starting to show some signs of slippage, however. The long-time 49er is averaging just 3.4 yards/rush, a career low, and is projected to garner only 200 or so carries, which would be his fewest since 2005, the year he debuted. His explosive understudy, Marlon Mack, has had a lot to do with that, of course, but so has the absence of Andrew Luck and the Colts' continued mediocrity. It's all adding up to a fairly disappointing season for a guy who's been remarkably consistent for over a decade. With six teams on byes and plenty of other muddled backfield situations, you may not be able to sit him down. If you can, though, it's probably advisable.


Quarterbacks | Running Backs | Wide Receivers