Bye Weeks: Cleveland, Kansas City, New England, N.Y. Jets

Grab a Helmet

Alshon Jeffery v. DET: Jeffery was so good on Monday Night that you could almost excuse John Gruden for thinking there were two of him out there. It wasn't until the former Gamecock hauled in a third-quarter touchdown, though, that Chucky stopped calling him "Jefferies," an oversight easily forgiven on a night when the Bears broke a five-loss skid at Lambeau. Aaron Rodgers' injury certainly helped, but Jeffery's victimization of the smallish Green Bay corners played a huge part in the win. Defenses can't afford to double him (Brandon Marshall deserves that attention) and that's meant big numbers for him several times this season, including during the Week 4 loss at Ford Field (five grabs, 107 yards, one TD, a 27-yard reverse, and a two-point conversion). Getting Jay Cutler back for the rematch would be great, but Chicago's fine with Luke McCown running the show and Jeffery will be too.

T.Y. Hilton v. STL: Does anyone else find it interesting that Wade Phillips got tagged to be Houston's interim coach just days after his Texan defenders were single-handedly destroyed by Indy's diminutive touchdown-maker? Follow along with me here. The Colts were trailing by three scores very early in the contest and thus forced to throw it. They had no semblance of a running game to start with. Their next most productive receiver was Griff Whalen (who?). And yet somehow Hilton was continually able to find holes in the Houston secondary or, on one crucial play, behind it as he amassed 121 receiving yards and three scores on the night, including the game winner with four minutes left. Yup, that Phillips is just a real straight shooter with upper management written all over him. Hilton's clearly headed for the corner office too if he can keep translating that game-breaking speed into game-breaking scores.

Golden Tate @ ATL: I promised myself he'd never grace these pages again after he attempted to take credit for that infamous fake touchdown against my Packers last September. I doubled down on that promise just recently when he shamefully taunted Rams safety Rodney McLeod on the way to an 80-yard score. I mean, I went to Notre Dame for a spell, folks, and that ain't the kinda sportsmanship the Jesuits taught. Nevertheless, here I am recommending you start the former Golden Domer this week against Atlanta. Let's just call it objective journalism and leave it at that? He's a knucklehead, certainly, but he's a pretty talented one who's also Seattle's most viable playmaker in the passing game. He's become even more valuable now that Sidney Rice is out. Start him against the poor Falcons' secondary on Sunday and hope he doesn't do something idiotic that might get him kicked out of the game.

Grab Some Wood

James Jones v. PHI: Aaron Rodgers' secret red zone threat was back on the field last Monday night after missing the better part of three games, a fact that had to encourage fantasy owners who were patient enough to ride out his injury. No sooner had the combo reunited, however, than Rodgers suffered the collarbone crack heard round the football world, leaving Jones without a legitimate battery mate and Packers fans sobbing into their Schlitzes. Predictably, Jones snared just one of Seneca Wallace's three targets on the evening for a paltry 17 yards, perhaps foreshadowing a coming dry spell for the former San Jose St. Spartan. I won't sit his running mate, Jordy Nelson, most likely, but the Pack's gonna look a lot different this coming Sunday and I don't think we can go even two receivers deep any longer. Sit down Jones until Rodgers returns (if Rodgers returns).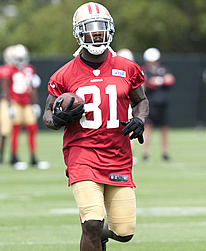 Anquan Boldin is living in the wrong fantasy neighborhood.

Anquan Boldin v. CAR: If you take out Boldin's outlier performance, the 26.8 point bomb he exploded in Green Bay's faces to open the season, he's averaging just 5.75 points per contest. That would rank him about 68th on the wide receiver rankings, just south of Jeremy Kerley and just north of Marques Colston and Mike Williams. That's not what I'd call a very respectable neighborhood. Of course, you can't really take that scintillating effort away from Boldin, but you can take into account how long ago it occurred (over two months ago). It's a "what have you done for me lately" game we play here, people, and the fact of the matter is that Boldin hasn't done much of late. I'm not sure how that changes this weekend against perhaps the league's best defense. If Boldin's not a key part of your receiving corps, give him the day off.

Vincent Jackson v. MIA: The bizarre bullying situation in Miami is starting to really unravel as I type these last few thoughts and I've a suspicion heads are gonna roll at the very top of the organization before it's all said and done. That type of behavior, whether secretly encouraged or not, bespeaks lousy leadership. Lousy leaders just don't last very long in the NFL. Think the rest of the Dolphins would like to block all of it out and play some football for a few hours? Me too. They haven't played since last Thursday when they stunned the Bengals in overtime and now draw one of the state's (and league's) two remaining winless teams. Miami has allowed exactly one touchdown to opposing wide receivers in 2013 (Aaron Dobson in Week 8) and should be able to roll all kinds of coverage Jackson's way. Don't expect miracles if you're playing catch-up on Monday night.
Good luck, folks!

Quarterbacks